This sous vide turkey is made with a bone-in turkey breast and an herbed butter. We used a sear, sous vide, sear, roast method to get it perfectly moist on the inside and crispy on the outside. It's perfect for a smaller Thanksgiving or if you need to free-up space in your oven.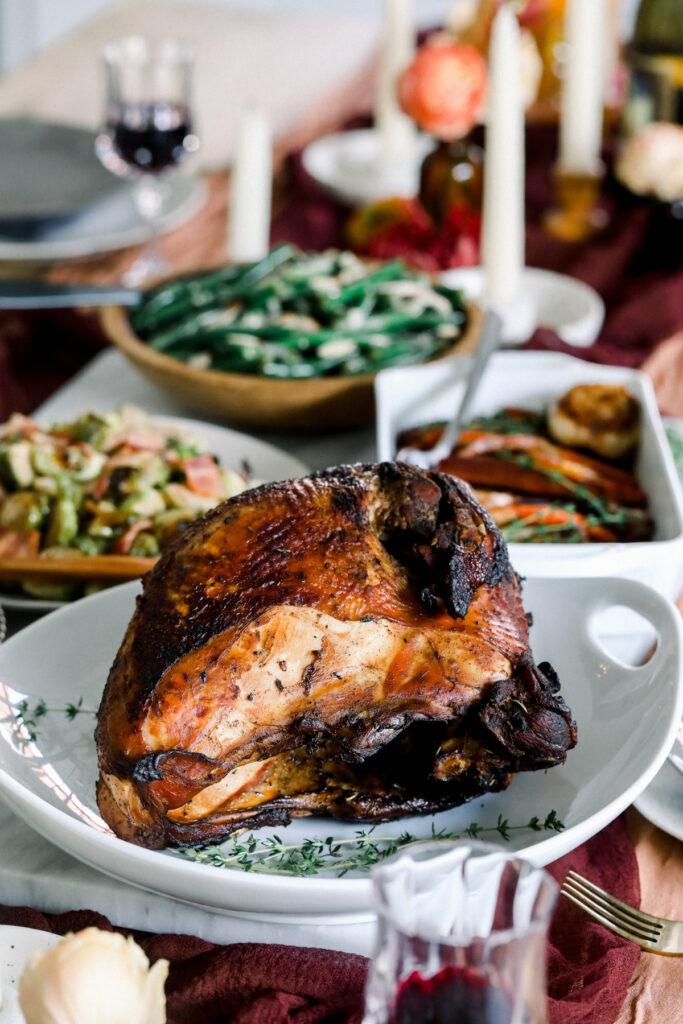 We have been cooking our meat sous vide for years now and it's truly one of our favorite methods to get perfectly cooked meat throughout the entire cut. Turkey meat can easily dry out, but we're here to teach you how to sous vide turkey so that you can get that moist and juicy turkey you know and love.
We love this recipe because It's made with a bone-in turkey breast instead of a whole Thanksgiving turkey. The key to this recipe is using ALL white meat. White and dark meat need to be cooked to different temperatures, which is why the sous vide is perfect for one cut of meat.
A quick rundown: Rub a simple herbed butter beneath the turkey skin and then sear it in butter to get it nice and crispy. Vacuum seal it and cook it for 12 hours in a 165ºF water bath. Finally, roast it at 400ºF for 20 minutes.
What You Need for Sous Vide Turkey
Sous vide machine, vacuum seal or plastic bag, and large container or a sous vide oven
7-9 lb. bone-in turkey breast
Fresh herbs like rosemary, thyme, and sage
Butter, salt, and pepper
Kitchen twine and sharp carving knife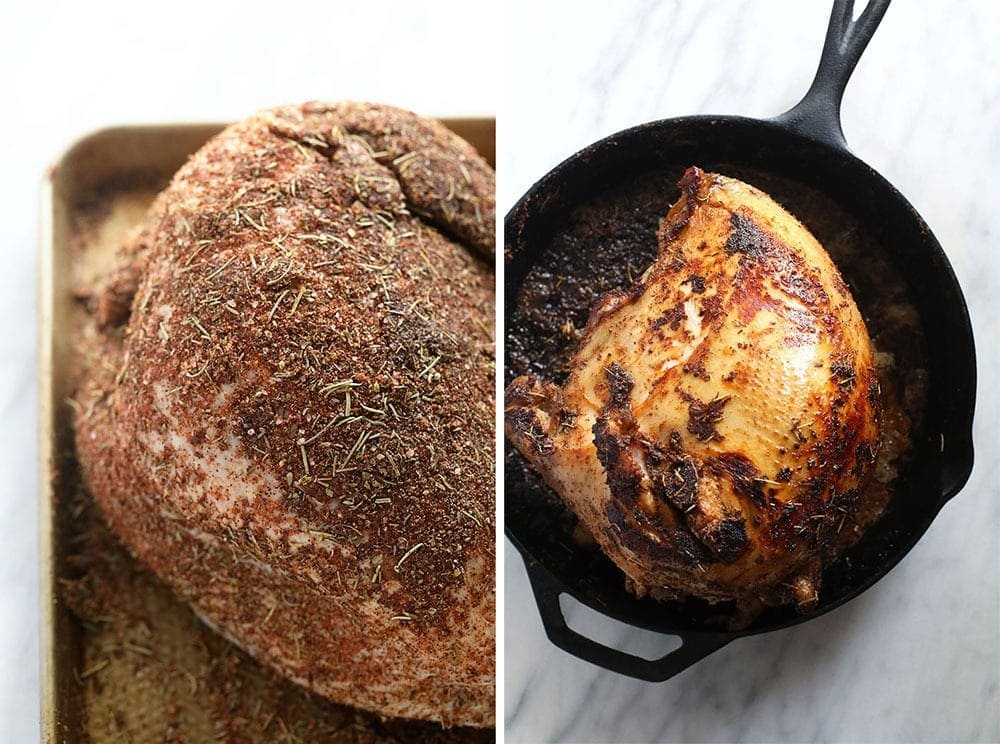 How to Choose a Turkey for Sous Vide
Whether you are having a Friendsgiving, Thanksgiving, or just a fun turkey dinner party, knowing what turkey to buy can be hard.
1.5 lbs. of turkey per person
On average for a bone-in turkey, you should account for 1.5 lbs. per person.
Because there are bones and other portions of the turkey that you will not consume, counting 1.5 lbs. per person is a guideline to help you find the right turkey for you and your guests. Don't worry, each guest won't be eating 1.5 lbs. of turkey on their own.
For example, if you are feeding 4 people, you would multiply 1.5 lbs. x 4 = 6 lbs. That means you would look for a 6-lb. bird! Easy, peasy.
Variations
Herbs: Venture beyond the classic trio with oregano, marjoram, or a pinch of nutmeg.
Butter: Olive oil or ghee are wonderful alternatives for a different flavor profile.
Spices: A dash of paprika or garlic powder can add a delightful twist.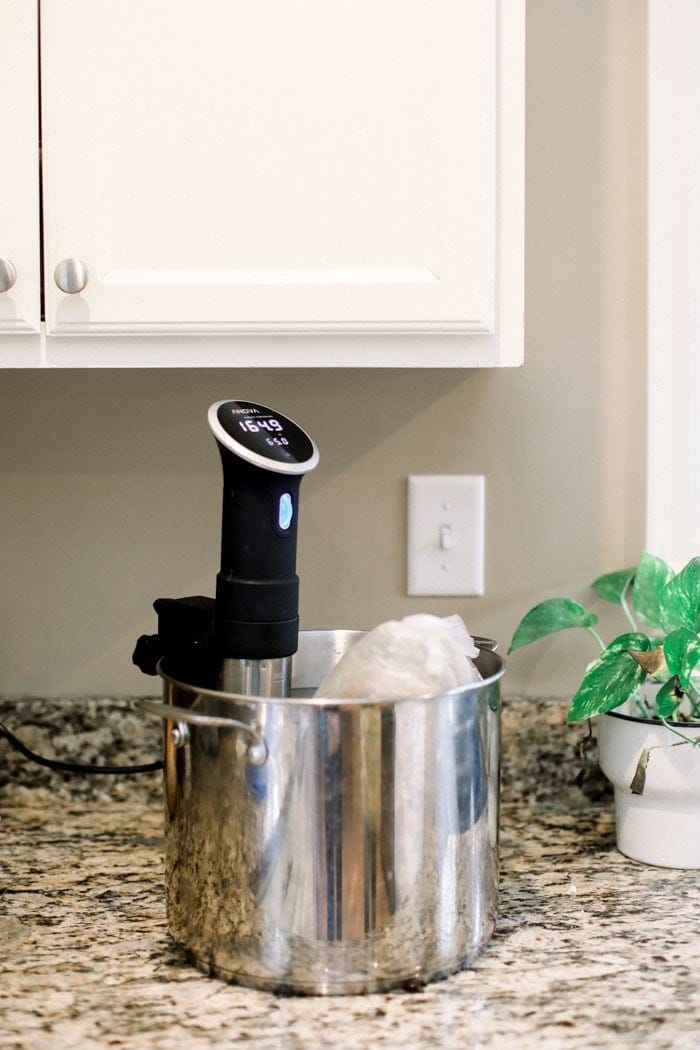 Can you sous vide a full turkey?
We do not advise using a full turkey in the sous vide because the white meat and dark meat have different cook temperatures and cook times.
Is sous vide turkey safe?
Sous vide turkey is safe. Just like any other meat in the sous vide, you bring the meat to a safe cook temperature, and then let it sous vide to tenderize the meat to juicy deliciousness.
Can I use oven bags for sous vide?
We have never used an oven bag in the sous vide. We use a food saver vacuum sealer and food saver bags.
Can you sous vide turkey overnight?
Yes! We recommend that you sous vide turkey overnight or for at least 12 hours if you are using a bone-in young turkey breast.
How do I get crispy skin on my turkey if I sous vide it?
The key to getting crispy skin and delicious flavor for sous vide turkey is to sear the turkey BEFORE and AFTER you sous vide it as well as a quick roast in the oven.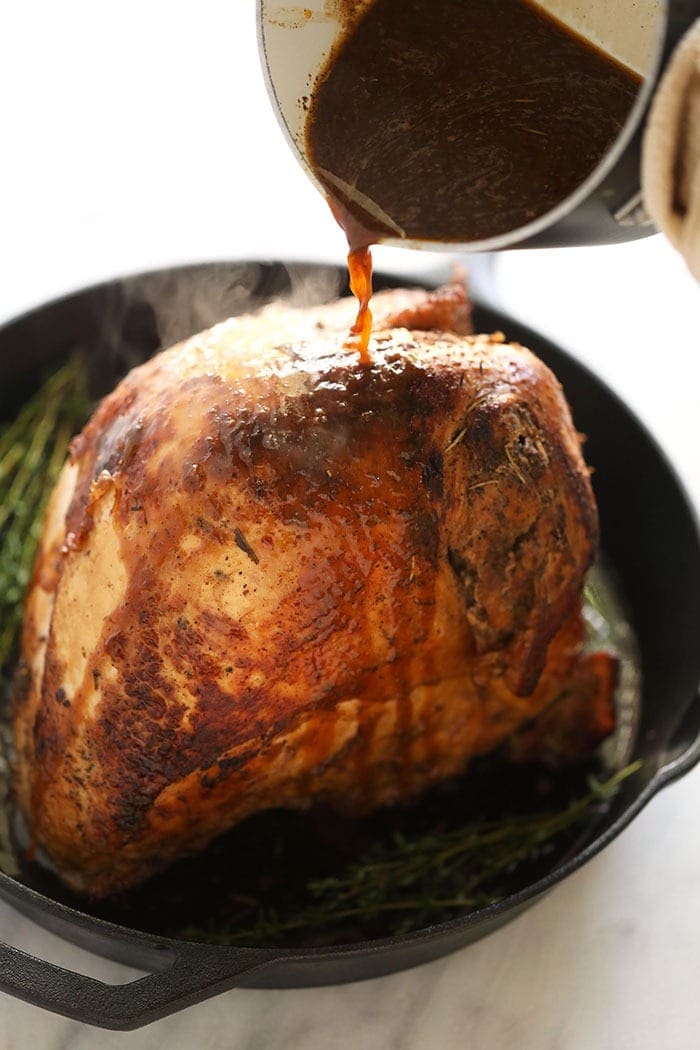 Storage
Store leftover turkey in an airtight container for up to 5 days in the fridge. Feel free to shred it and make turkey salad or turkey wild rice soup.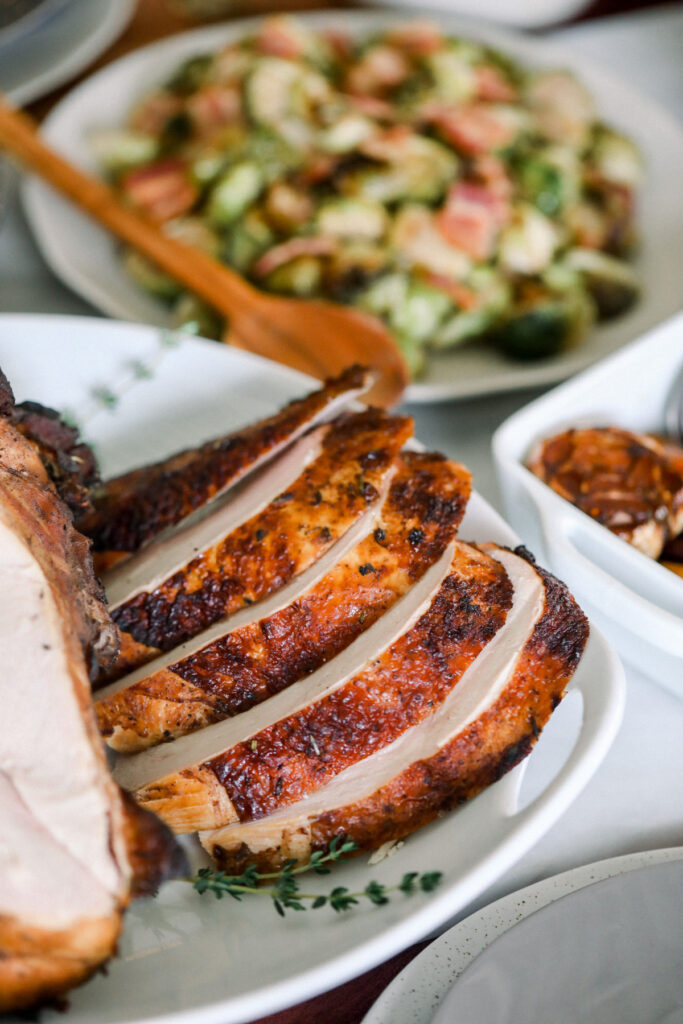 How to Serve Your Sous Vide Turkey
Follow our turkey gravy recipe to use your drippings to make gravy. Then, serve your sous vide turkey with a side of creamy mashed potatoes, a vibrant cranberry sauce, and a heap of roasted brussels sprouts.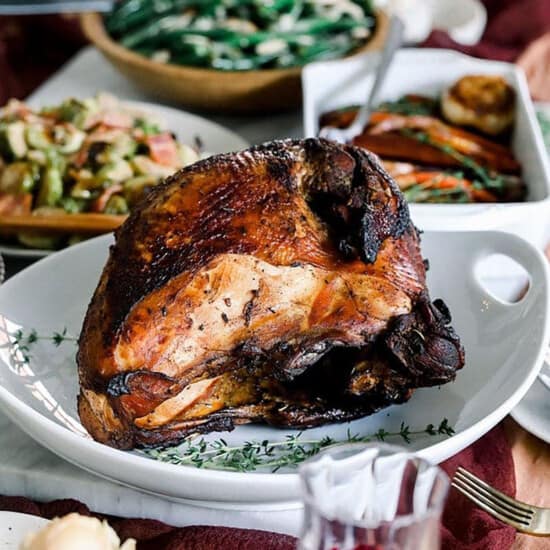 Sous Vide Turkey
This sous vide turkey is the most tender and delicious turkey you will ever taste! If you're looking for a turkey recipe that you can prepare before Thanksgiving day or friends giving, then this sous vide turkey is for you!
Prep:40 minutes minutes
Cook:12 hours hours
Total:12 hours hours 40 minutes minutes
Fat 16
Carbs 12
Protein 25
Instructions 
First, prepare sous vide water bath by filling a 14 qt. pot (or larger) with water. You'll want enough water to cover your turkey when submerged.

Set the sous vide to 165ºF and bring water to temperature.

Next, remove thawed turkey breast from the refrigerator and remove gravy packet. Use paper towel to remove any excess moisture from the turkey breast and set aside.

Place dried thyme, rosemary, oregano, brown sugar, garlic powder, salt, pepper, chili powder, and paprika into a small bowl and mix until combined.

Next, sprinkle the dry rub over the turkey breast and use your hands to rub it into every part of the turkey until all meat is generously covered. Let the turkey sit with the dry rub for at least 20 minutes or up to 2 hours (for a more intense flavor, let sit for longer).

Next, sear the turkey by placing 3-4 tablespoons of butter into a large cast-iron skillet. When butter is fragrant, place turkey skin side down onto the cast-iron skillet. Let cook for 3-4 minutes on each side.

Remove from the cast iron skillet and place turkey breast into a large food saver bag. We used an 11-inch food saver roll, and it fit an 8 lb. turkey perfectly.

Make an herb bundle with the fresh rosemary, fresh thyme, and fresh sage and then add it to the bag along with white wine.

Use your food saver machine to remove as much air out of the bag as possible and then seal. Double bag your turkey by placing it into another 11-inch bag to prevent tears and leaking. Remove air and seal.

Place the turkey into the sous vide water bath and clip it into place so it doesn't move. Make sure the turkey is submerged in water. If it's not, we suggest placing a pot on top of it to hold it under water.

Let the turkey breast cook in the sous vide at 165ºF for at least 12 hours or up to 24 hours. Once your turkey is fully cooked, remove it from the bag and set it aside.

Then, preheat oven to 400ºF.

Discard herbs from the bag, but pour the excess liquid from the plastic bag through a sieve and into s bowl and set aside.

Check the internal temperature of the turkey and make sure it is between 163º and 165ºF.

Then, melt 3-4 tablespoons of butter in a large cast iron skillet. When the butter is melted and very hot, place the turkey breast into the pan, skin-side down. Sear for 3-4 minutes or until browned, and then repeat on the other side. Turn heat off and pour sauce over the turkey breast.

Next, place the turkey into the oven and roast at 400ºF for 20 minutes, basting the turkey with the sauce every 5 minutes. Once golden brown, remove turkey from oven and let rest for 10-15 minutes before slicing and serving.

Transfer sauce from cast iron skillet and thicken as desired, or serve as-is on top of the sliced turkey breast.
Tips & Notes
Turkey gravy: to make a simple turkey gravy, combine 1 cup of turkey drippings with 3 cups of broth in a medium saucepan. Heat over medium/high until boiling. Remove 1 cup of the liquid and whisk 2 tablespoons of cornstarch into the liquid. Whisk until there are no lumps. Pour the mixture back into the saucepan and whisk over medium/low heat until the mixture thickens (about 5 minutes). If you wish for a thicker gravy you can remove 1 cup more of the liquid and add 1 tablespoon of cornstarch to that cup. Whisk and pour back into the saucepan.
Nutrition facts
Calories: 306kcal Carbohydrates: 12g Protein: 25g Fat: 16g Fiber: 1g Sugar: 7g