Creamy mushroom stroganoff is what dreams are made of. The flavor combo between the mushrooms and savory stroganoff sauce is unbelievable.
This mushroom stroganoff recipe is made with hearty mushrooms, Greek yogurt/sour cream, broth, and fresh thyme that are folded in with egg noodles to create the most comforting dinner.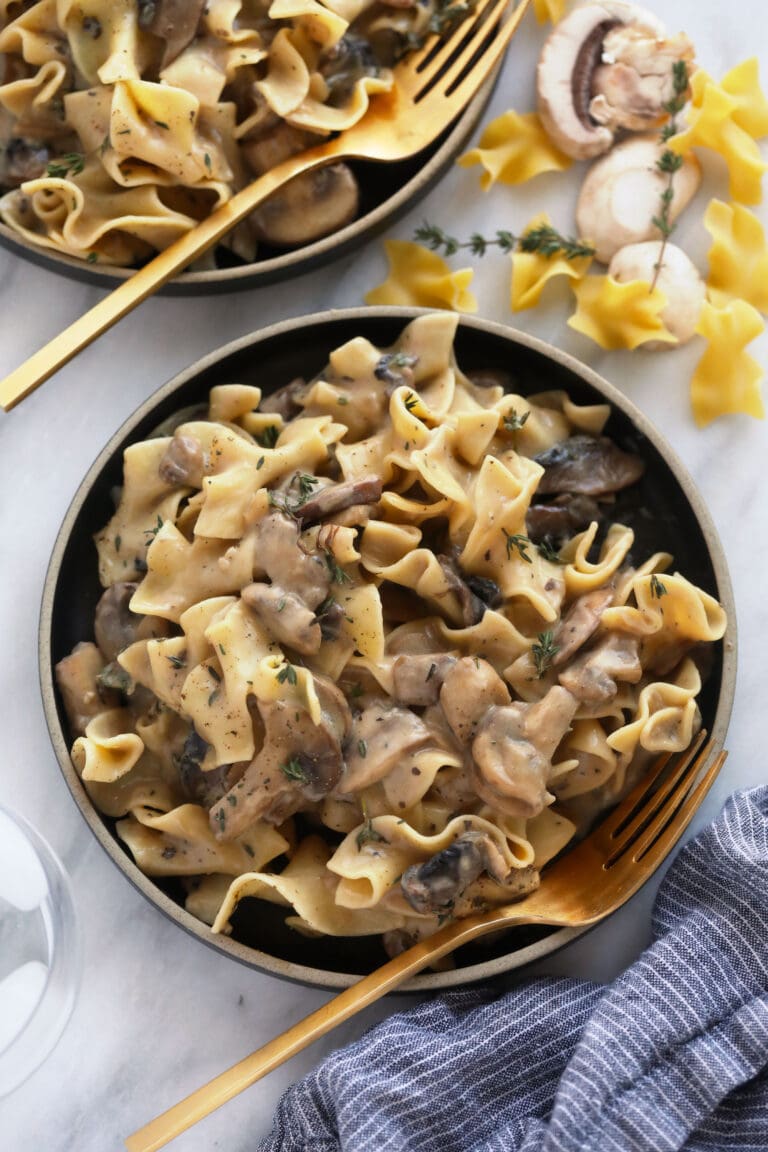 Everyone has that one meal that they choose when they crave comfort food and stroganoff does it for me! I am obsessed with the flavor of umami and this vegetarian stroganoff is a must you're anything like me.
Typically I like to make one of our beef stroganoff recipes for my family because my husband is a big meat eater, but I love that this is a vegetarian take. Plus, it only takes 30 minutes!
We also made this stroganoff sauce extra special by using Greek yogurt instead of sour cream to add a boost of protein.
What is in mushroom stroganoff sauce?
Stroganoff sauce is traditionally made with sour cream and a roux, which is a mixture of butter, flour, and milk or broth. Most stroganoff sauces have onion, mushrooms (even beef stroganoff), and Worcestershire sauce.
We went with a more nutritious version of a creamy and delicious sauce for this mushroom stroganoff with triple the amount of mushrooms and Greek yogurt instead of sour cream. Here's what else you need:
Vegetable broth – we've made this recipe using beef broth (which isn't vegetarian) and that also works, too. 
Yellow onion – white onion or shallt works too.
Garlic – garlic is a must for this sauce. It adds so much savory flavor.
Mushrooms – Mushrooms are the star of the show. Scroll down to see which ones we recommend.
Worcestershire sauce – a little bit of vinegar really helps bring out all of the umami flavors.
Greek yogurt or sour cream – we have used both yogurt and sour cream. So, feel free to use whichever you want.
Flour – flour helps thicken the sauce. We used white whole wheat flour, but all-purpose flours works too.
What kind of mushrooms should you use?
There is no rule on what kind of mushrooms to use in this mushroom stroganoff recipe. We used a mixture of Bella mushrooms, white mushrooms, and shiitake mushrooms.
Feel free to experiment with any kind of mushrooms that you'd like such as portobello!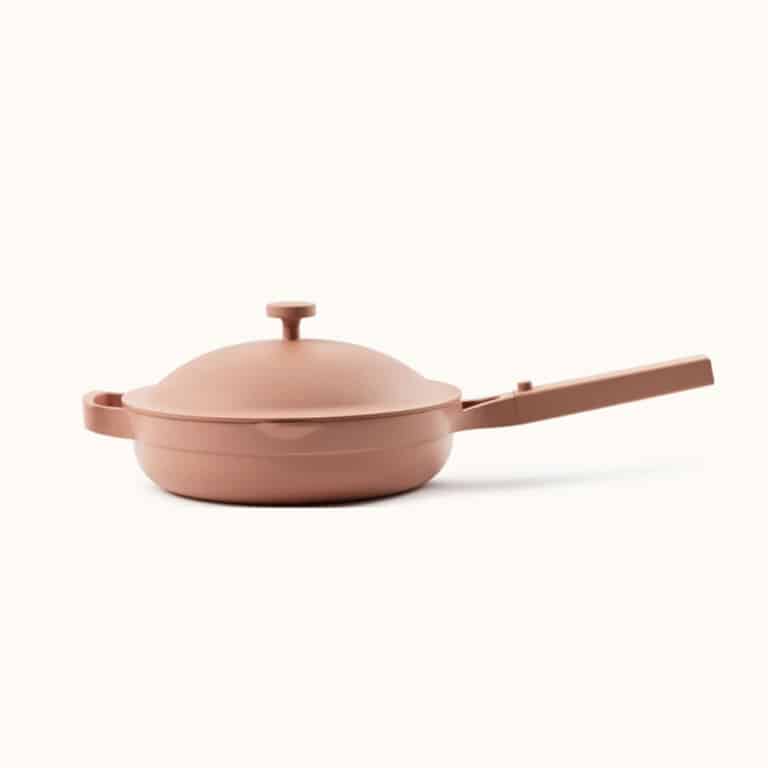 Try it!
Always Pan
The Always Pan is our favorite pan for sauteing, steaming, frying, and simmering. It's a nonstick pan that we highly recommend.
Buy now!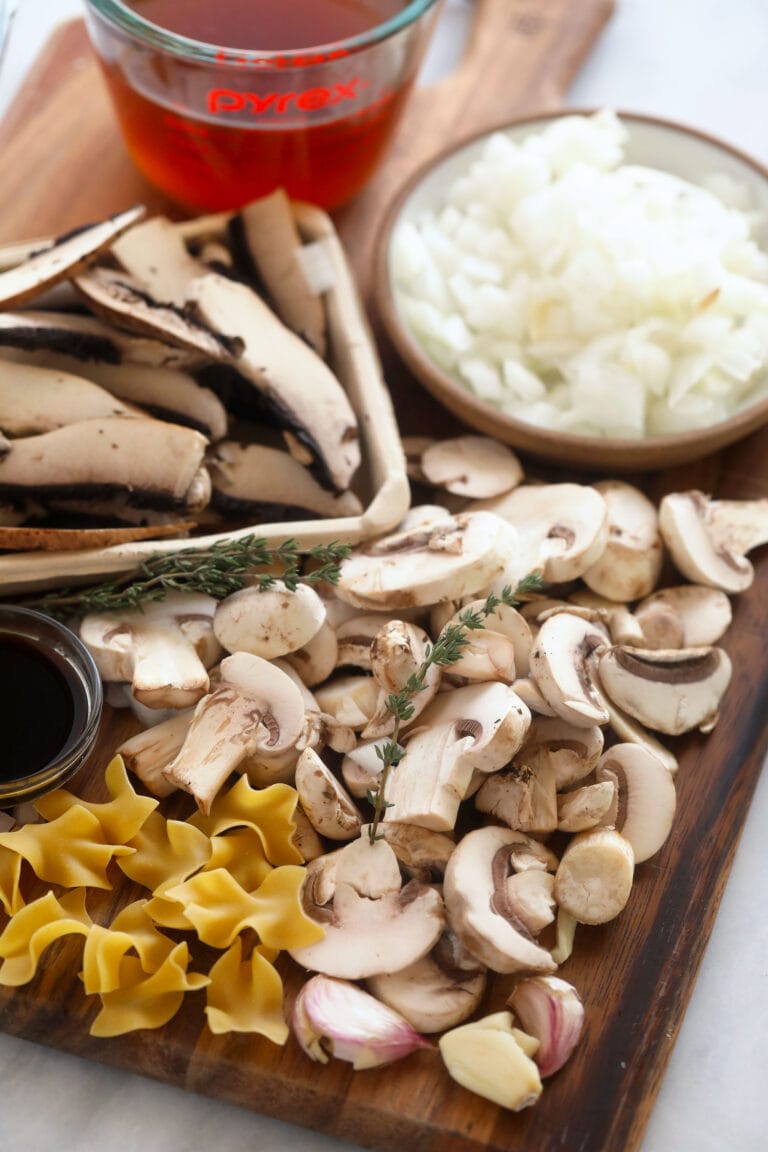 Variations
If you're looking to add more sustenance or veggies to your stroganoff, we're here to tell you that is a great idea. Sauté other vegetables with the mushrooms when you add the onions into the pan. Here are some ideas:
Peas
Carrot
Potatoes
Shallot
You can also add any kind of protein to this dish. We've made it with ground beef and flank steak, but chicken or ground turkey work too.
want a more traditional stroganoff sauce?
We are huge fans of Greek yogurt, but you are more than welcome to swap it out for sour cream, which is much more traditional. You could even go 50/50 Greek yogurt and sour cream. Your choice!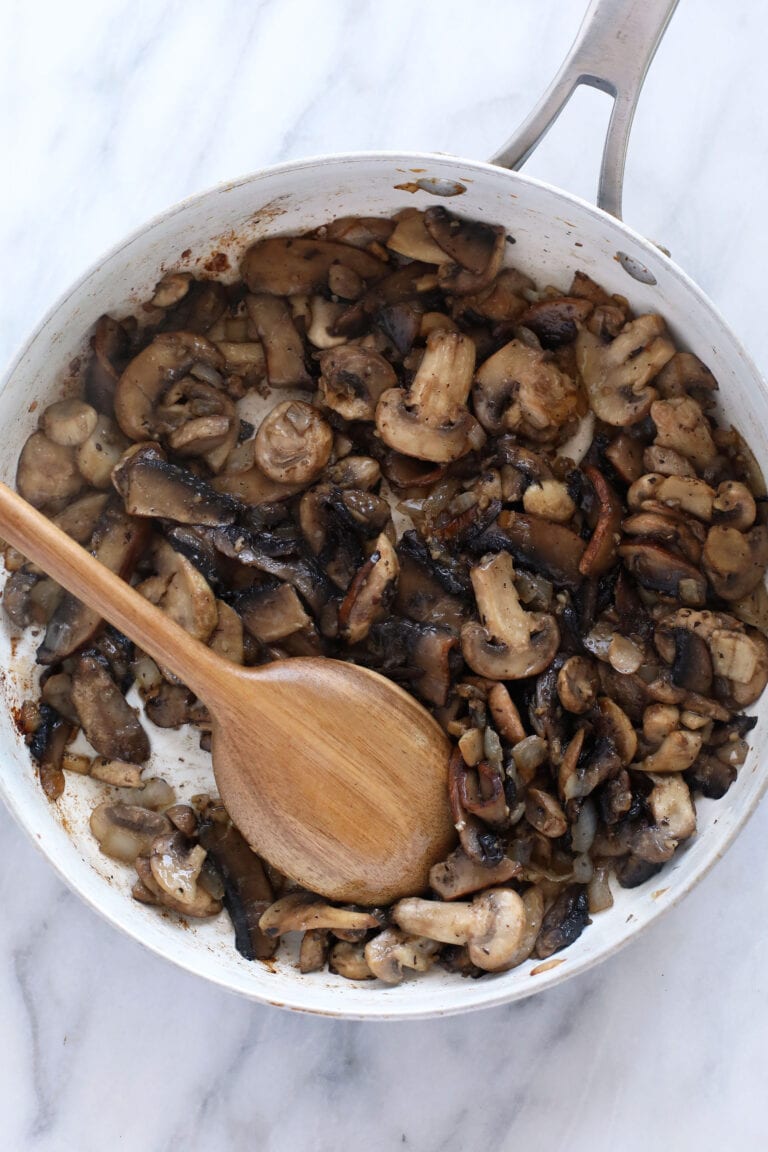 Mushroom Stroganoff FAQ
How do you thicken mushroom stroganoff?

We used flour to thicken this mushroom stroganoff as we found the taste is much better than a corn starch slurry.
Can I substitute milk for sour cream in mushroom stroganoff?

The best substitute for sour cream (which is used in traditional stroganoff) is Greek yogurt, not milk. Greek yogurt has the same tang and thickness as sour cream.
How do I make mushroom stroganoff gluten-free?

To make mushroom stroganoff gluten-free, use gluten-free pasta and gluten-free all-purpose flour for thickening.
Is this stroganoff vegan?

This recipe is not vegan or dairy-free because it calls for Greek yogurt or sour cream. It is, however, vegetarian.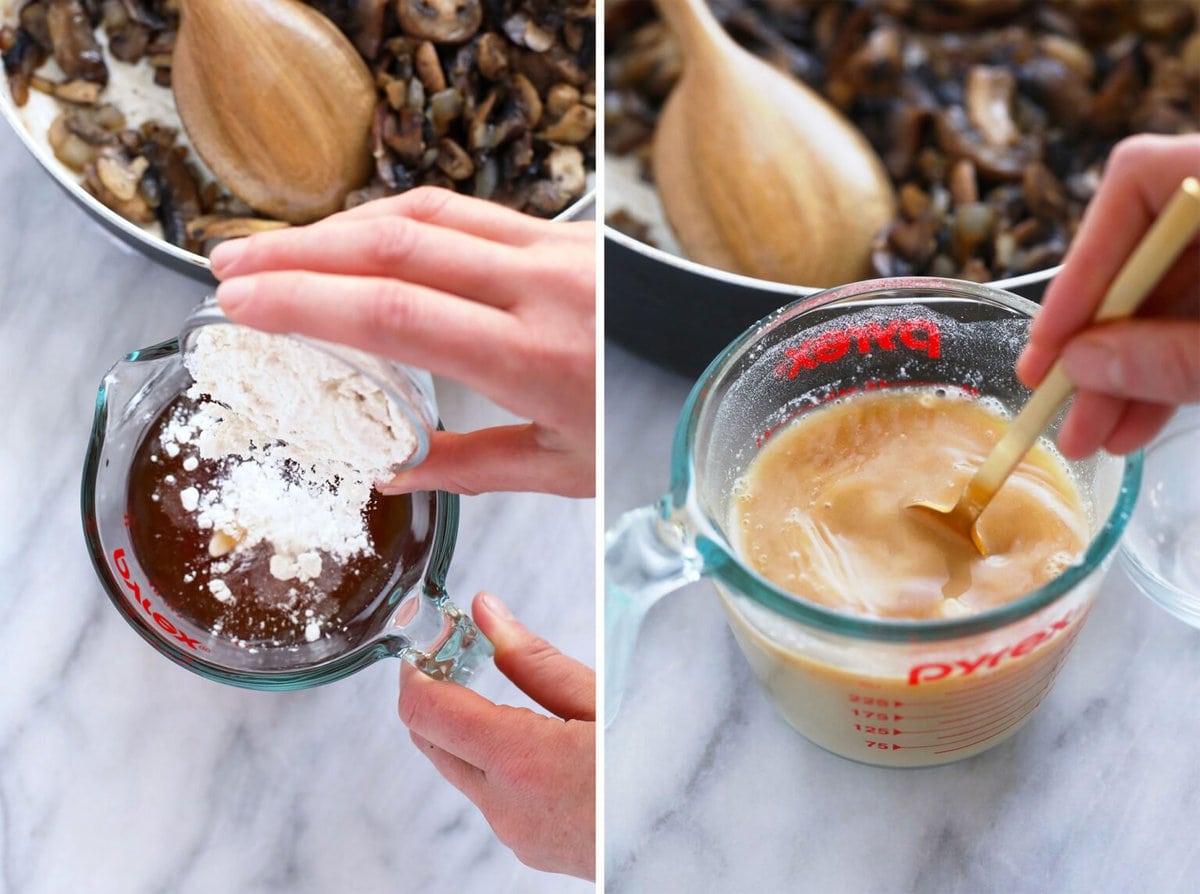 Storage
Let stroganoff cool completely. Then, transfer into an airtight container and store for up to 3-5 days.
Can you freeze stroganoff?
Because stroganoff is a noodle-based dish, we don't recommend freezing it because the noodles will likely get soggy.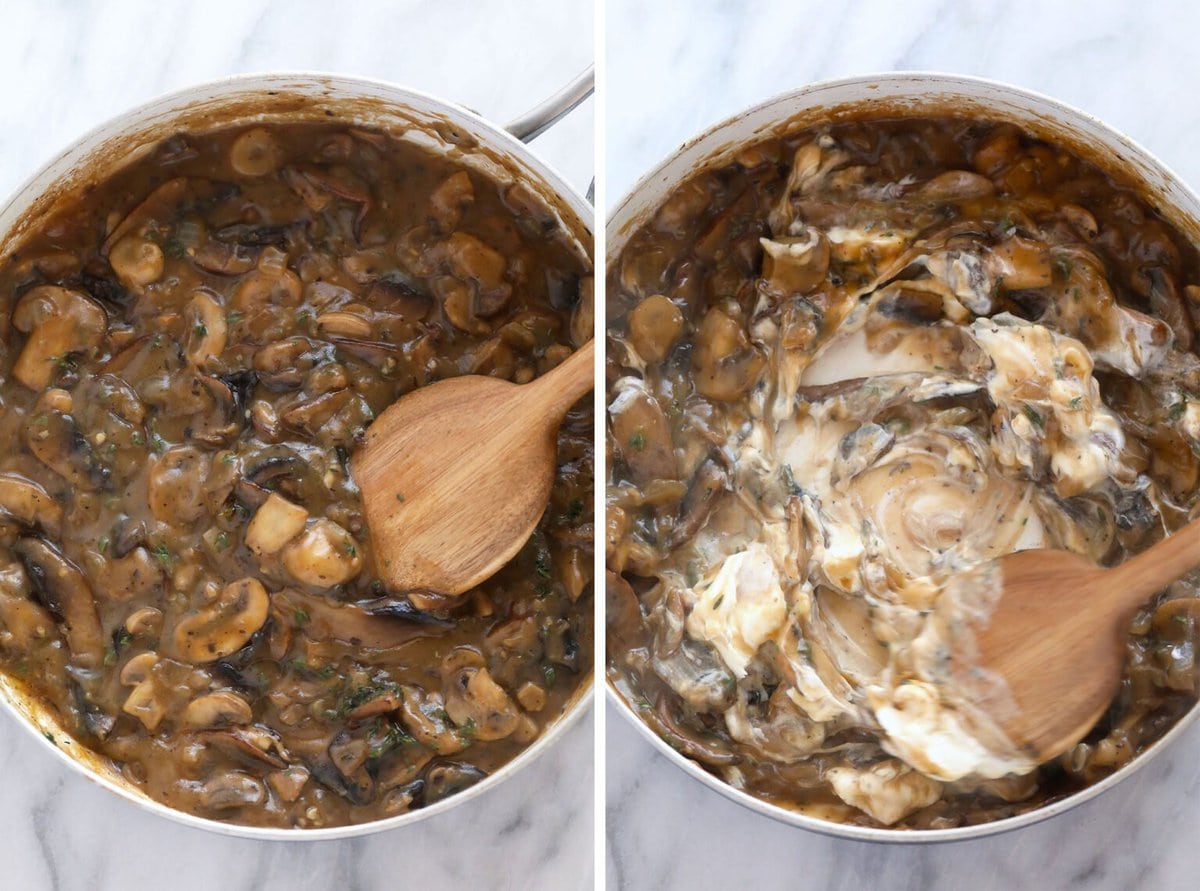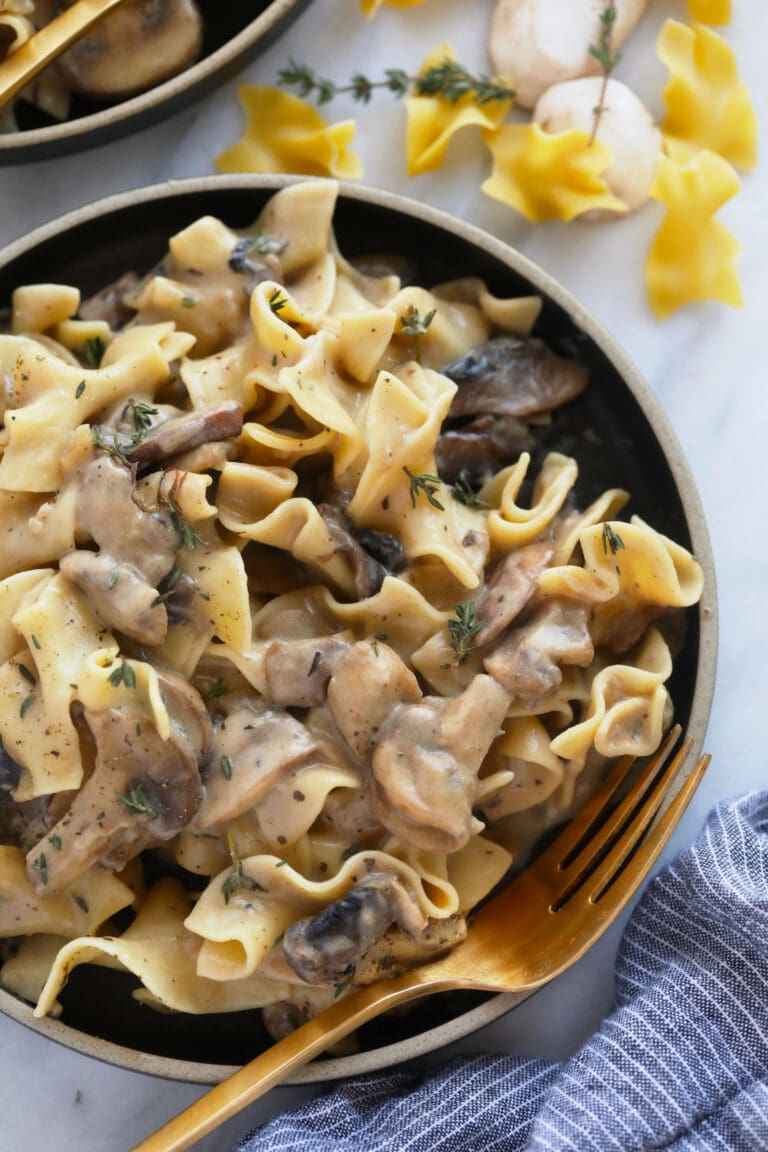 Serving Suggestions
Since mushroom stroganoff is a well-rounded meal in itself, we typically serve this in a bowl with a piece of sourdough. However, if you could serve it next to more veggies such as sautéed green beans or air fryer broccoli.
Mushroom Stroganoff Recipe
Our vegetarian mushroom stroganoff is made with hearty mushrooms, Greek yogurt, broth, and fresh thyme that are folded in with egg noodles to create the most comforting dinner!
Prep:15 minutes minutes
Cook:20 minutes minutes
Total:35 minutes minutes
Fat 14
Carbs 14
Protein 10
Ingredients
10

oz.

wide egg noodles

4

tablespoons

olive oil

separated

20

oz.

mixed mushrooms

thinly sliced (we used portobello and white mushrooms)

1/2

large white onion

diced

5

cloves

garlic

1/2

teaspoon

salt

separated

1/2

teaspoon

ground pepper

2

cups

vegetable broth

separated (or any kind)

3

tablespoons

white whole wheat flour

1/2

cup

2% Greek Yogurt

option to use sour cream instead
Instructions 
Follow the package instructions on the back of your egg noodles and bring a large pot of salted water to a boil. Add egg noodles. 

Let the egg noodles cook until they are al dente and then strain the water from the noodles.

Rinse the noodles with cold water and set them aside. 

Next, heat a large skillet (or Dutch oven) over medium-high heat and add  3 tablespoons olive oil. 

When the olive oil is fragrant, add all of the mushrooms and 1/4 teaspoon of salt to the pan and turn the heat to medium/low heat. 

Let the mushrooms sauté for 6-8 minutes, tossing them every 3-4 minutes. 

Add 1 more tablespoon of olive oil to the mushrooms as well as the onion and garlic. Mix everything together and sauté for an additional 2-3 minutes. 

While the vegetables are cooking, add the flour to 1 cup of broth and whisk until the flour is mostly dissolved. 

Turn the heat to medium-high heat and slowly pour the flour and broth mixture into the pan and whisk consistently until the mixture thickens. 

Remove the stroganoff from the heat and let it cool for just a minute so that the Greek yogurt doesn't curdle when you add it in. Then, slowly add the rest of the broth, Greek yogurt, pepper, and fresh thyme to the pan and mix until combined. 

Bring the mixture to a boil and then turn to low heat. 

Fold the egg noodles into the mushroom stroganoff sauce and let the mixture heat over low heat until the noodles are hot and ready to eat. 
Tips & Notes
Salt the mushrooms: It is important you don't skimp on the oil or the salt. The salt helps to draw the moisture out of mushrooms.
Start sautéing the mushrooms on medium heat, not high heat. You want to slowly sauté at first and then brown the mushrooms on medium-high heat for the last few minutes to brown them.
Try not to push the mushrooms around too much in the pan. Let the mushrooms sit and seep their liquid.
You know when the mushrooms are ready when they are still plump, but golden brown.
Nutrition facts
Calories: 217kcal Carbohydrates: 14g Protein: 10g Fat: 14g Fiber: 3g Sugar: 5g
Source link