These smooth and creamy mashed sweet potatoes are made with roasted sweet potatoes, an entire head of garlic, and a little Greek yogurt. They're a delicious side dish for any weeknight or holiday meal!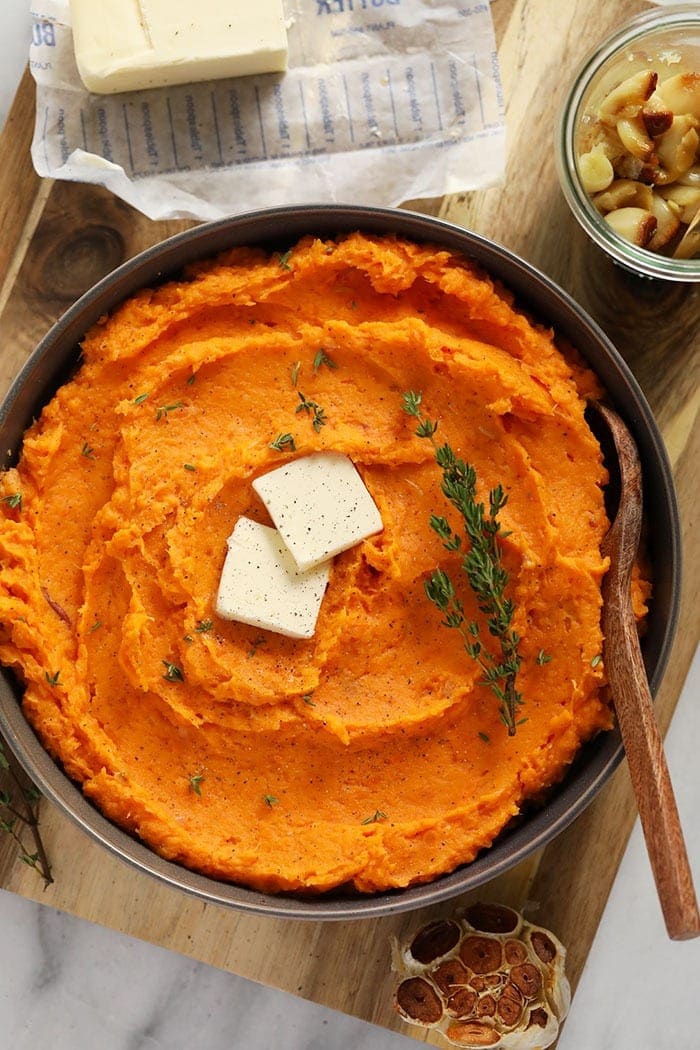 Don't get me wrong, we love mashed potatoes (and mashed cauliflower, too!), but these mashed sweet potatoes are just as good. They're the perfect combination of sweet, savory, and creamy that pairs wonderfully with just about any meal!
We tested this sweet potato mash recipe with a few different sweet potato cooking methods, and loved how they turned out when we roasted the sweet potatoes first. There was more flavor and more sweetness than our version with boiled sweet potatoes.
Once the potatoes are roasted, mix them with a little butter and Greek yogurt (our secret ingredient!), and serve. This is a pretty hands-off recipe which we appreciate, especially if making these for Thanksgiving.
What is in mashed sweet potatoes?
These mashed potatoes are made with just a few wholesome ingredients. You'll need:
Sweet Potatoes
Olive Oil
Salt + Pepper
Butter
Greek Yogurt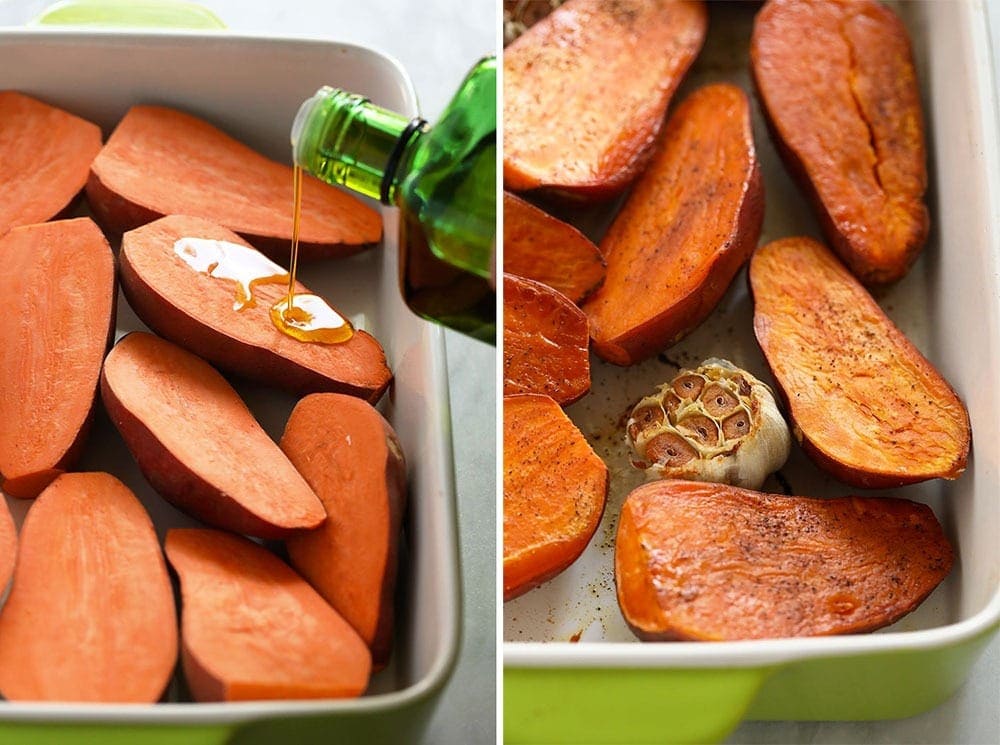 Mashed Sweet Potato Variations
This mashed sweet potatoes recipe is totally versatile and there are many ways to customize this side dish to your preferences. A few ideas:
Cooking Method
Instead of roasting the sweet potatoes first, boil them. Here's how:
Wash the sweet potatoes and chop them into quarters (skin on or off, your choice).
Place the sweet potatoes in a large pot and cover them with water. Add 1-2 teaspoons of kosher salt.
Bring the water to a boil over high heat. Once boiling, reduce the heat to medium and let the potatoes simmer until they are fork tender (about 20-30 minutes).
Drain the water from the potatoes and continue with the recipe as written.
Mashing Method
When it comes to the mashing the sweet potatoes, you have options. To avoid stringy mashed potatoes, make sure the sweet potatoes are fork tender before mashing.
Here's the down-low on the kinds of textures you'll get with each method.
Potato Masher: Lumpy with bites of texture.
Food Processor: Super smooth and creamy.
Hand Mixer or Immersion Blender: Mostly creamy with few lumps. We used an immersion blender!
Fun FlavorS
Sweet: Mix in 1 tablespoon or maple syrup or brown sugar for a little sweetness.
Spicy: Give the mashed sweet potatoes a kick! Mix in a pinch of red pepper flakes or 1/2 teaspoon of cayenne pepper.
Spice Mix: Sprinkle 1-2 teaspoons of your favorite seasoning on top of the mashed sweet potatoes for a pretty garnish and extra flavor. Our homemade everything bagel seasoning or homemade ranch seasoning are both great options.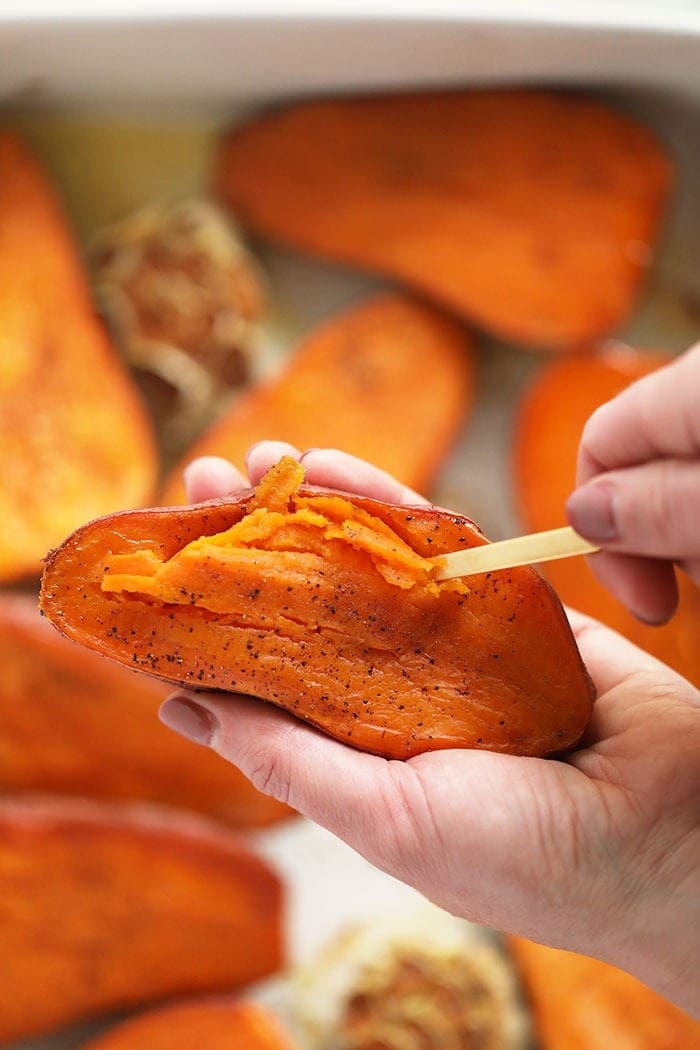 FAQ
How do you know when the sweet potatoes are fully cooked?

Sweet potatoes are fully cooked when they become darker in color and are fork tender. Depending on how large your sweet potatoes are, you may need to cook them for an additional 5-10 minutes.
Should you leave the skin on or off of the sweet potatoes?

This is totally personal preference. For the smoothest, creamiest mashed sweet potatoes, we like to only use the roasted sweet potato flesh. If you like the texture that the sweet potato skin adds, feel free to add in the sweet potato skins, too.
Can you make these mashed sweet potatoes vegan?

Definitely. Swap the butter for vegan butter and the Greek yogurt for a dairy-free yogurt.
Storage
This recipe for mashed sweet potatoes is a great make-ahead Thanksgiving recipe! Free up oven space by making these mashed sweet potatoes up to 5 days ahead of time. Let the mashed sweet potatoes cool completely, transfer to an airtight container, and refrigerate for up to 5 days.
When ready to serve, warm the potatoes up in the microwave or transfer to an oven-safe baking dish and heat until warmed through. You may need to mix in a splash of milk or a dollop of Greek yogurt to thin the potatoes out a little bit.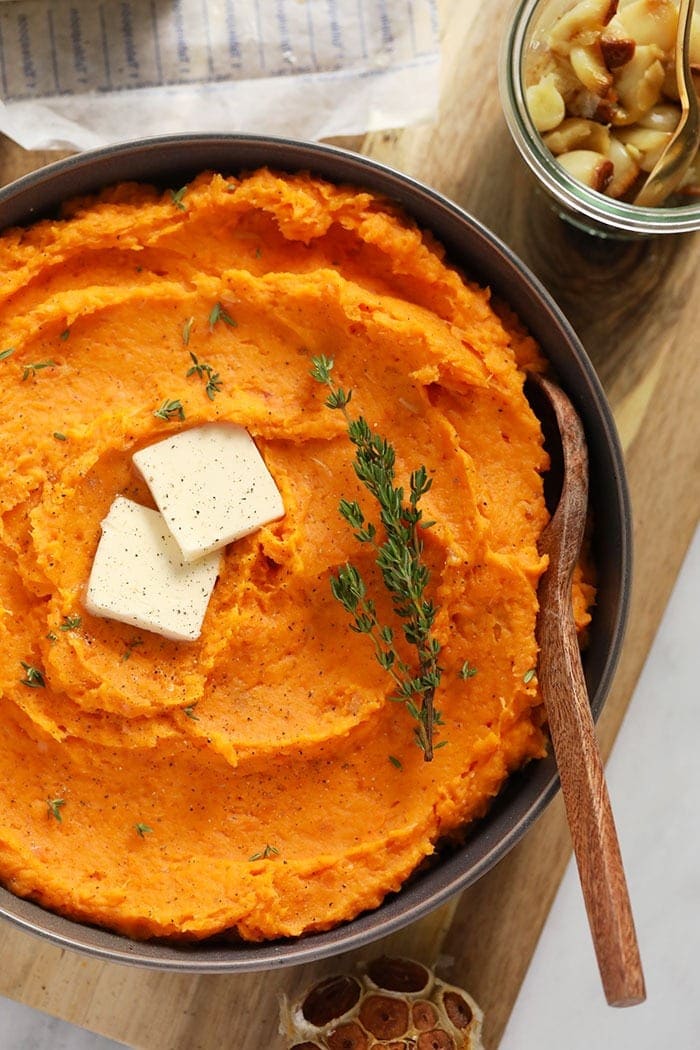 Serving Suggestions
We love serving these mashed sweet potatoes alongside hearty main dishes or as part of a holiday menu. Here are a few of our favorite recipes to pair with mashed sweet potatoes:
Weeknight Main Dishes: Instant Pot pork chops, crispy baked chicken thighs, spinach stuffed chicken breast, and baked pork tenderloin.
Holiday Recipes: Smoked turkey breast or roasted turkey tenderloin, healthy green bean casserole, mushroom gravy, and sausage stuffing.