There is nothing quite like a big mug of hot apple cider to warm up a chilly fall day! This Instant Pot apple cider recipe is a quicker alternative to making it on the stovetop yet tastes like it has been cooking all day.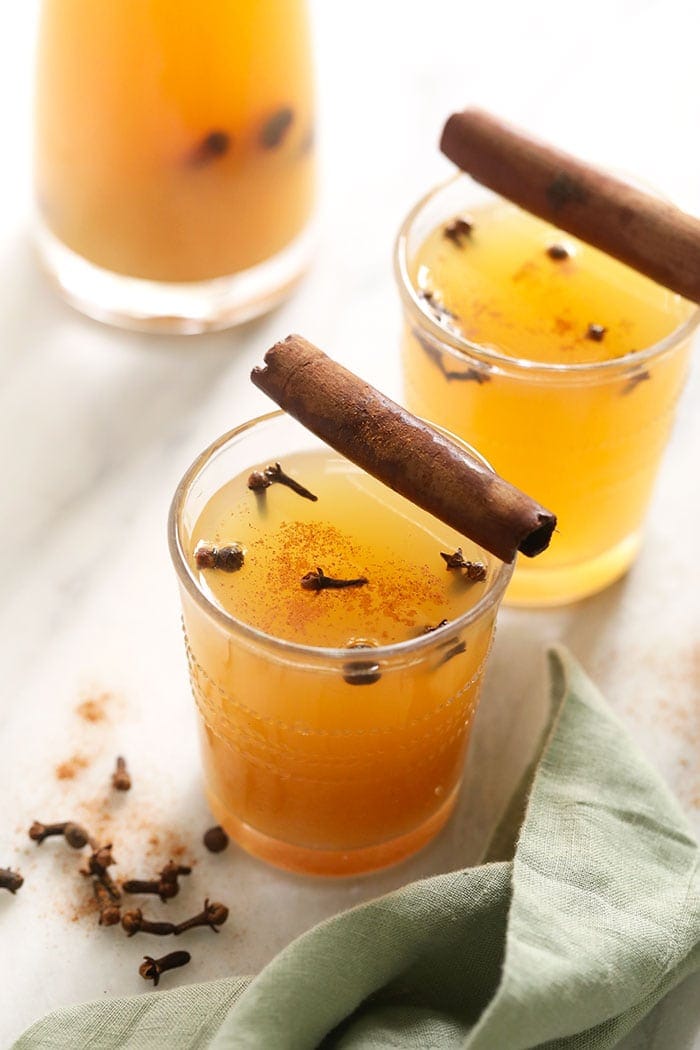 As soon as the leaves start changing, the wool socks come out and it's apple cider time! We have so many amazing apple orchards here in Minnesota, so delicious apple cider is always available at every coop in town. You're never far from a warm mug of delightfully spiced cider.
Our homemade apple cider tastes like it's straight from the apple orchard, but made in the comfort of your own home. Apples, citrus, and our favorite fall spices cook together in the Instant Pot, then are mashed and strained for perfect apple cider every time.
Featured Comment
"The compliments were pouring (pun intended) over this last night. And I've never made apple cider before but it was super easy!" – Jack
What is in homemade apple cider?
You only need a few simple, wholesome ingredients for Instant Pot apple cider. Here are the stars of this cozy cider recipe:
Apples: We love using a combination of sweet and tart apples, but it really doesn't matter what kind you use. No apple left behind!
Citrus: Fresh orange and lemon help preserve the apple cider, offer a welcome brightness, and offset the sweetness.
Warming Spices: Think cinnamon sticks, whole cloves and allspice, nutmeg, and cardamom – cozy spices that we love this time of year. When these warming spices are pressure cooked, they deepen the delicious apple cider flavor.
Sweeteners: We use pure maple syrup and a little coconut sugar (both natural sweeteners) to sweeten this apple cider. The maple syrup compliments the apple cider wonderfully!
Water: Water is the base of this homemade apple cider. The water soaks up the fruit, spices, and sweeteners as the ingredients pressure cook.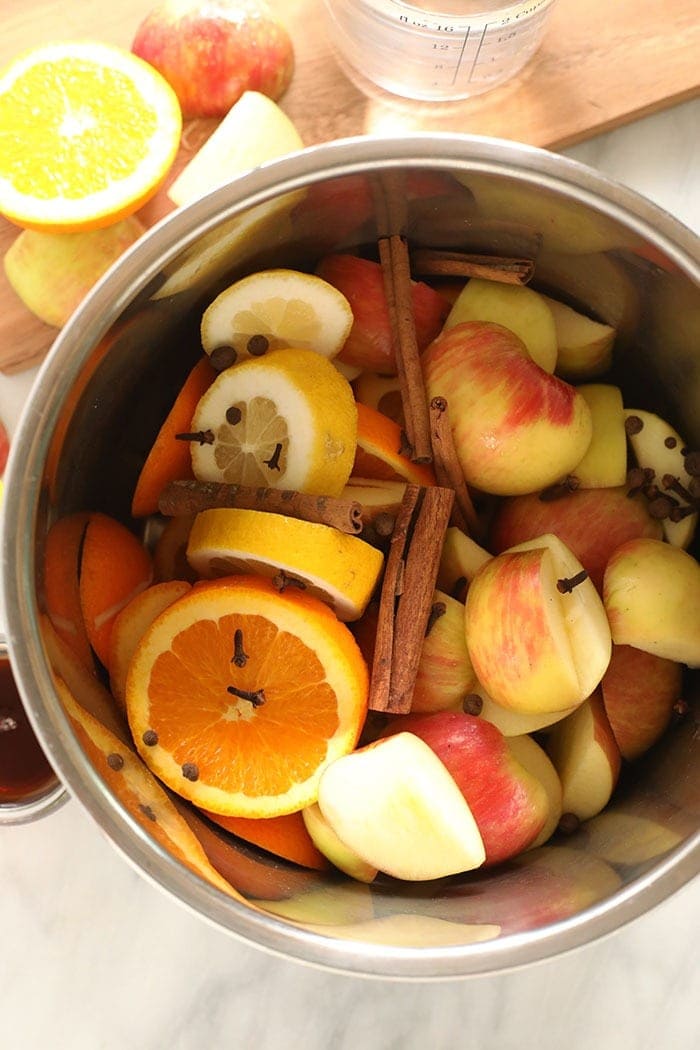 Instant Pot Apple Cider Variations
Apples: We mean it – use whatever apples are on sale, that you have on hand, or that you love. There are no bad apples for this apple cider recipe!
Sweetness: Once the apple cider is made, give it a taste! If it isn't sweet enough, add a teaspoon of pure maple syrup at a time until it reaches your desired sweetness.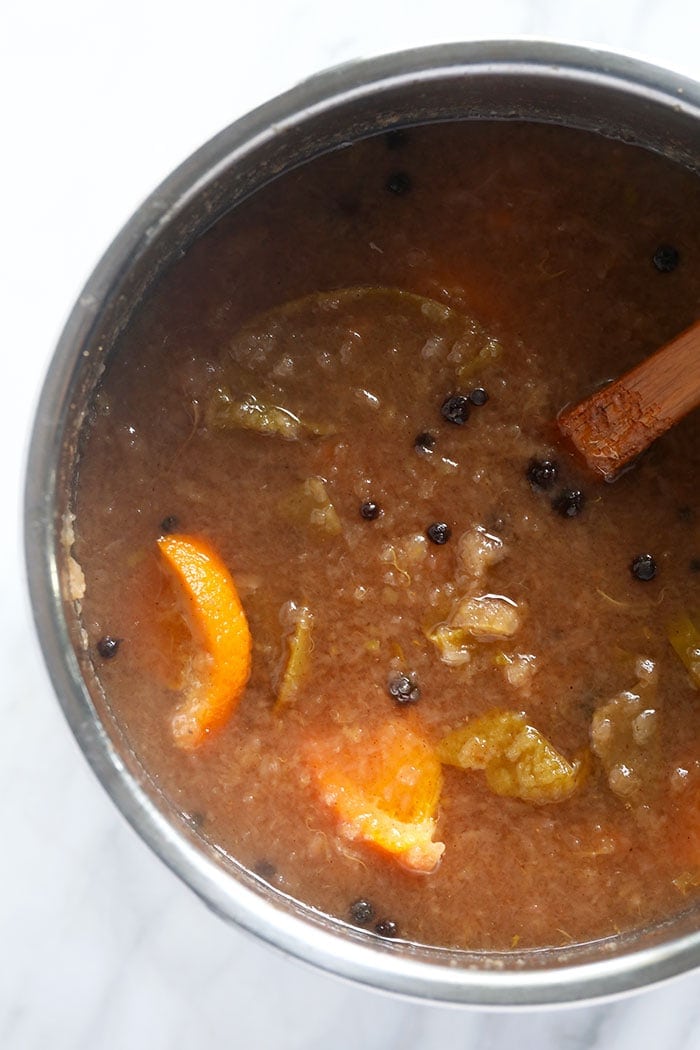 FAQ
Do you need to peel the apples first?

Nope! Simply core and quarter the apples for apple cider. No peeling needed!
Should apple cider be served hot or cold?

It's up to you! It's delicious straight from the fridge and ultra comforting when warmed up.
Storage
Store apple cider in the refrigerator for up to 7 days. The flavor will intensify the longer it sits! Enjoy homemade apple cider straight from the fridge or warm it up before serving.
Freezing Apple Cider
Did you know you can freeze apple cider? Enjoy the best flavors of fall all winter long! Transfer apple cider to any size of freezer-safe container(s) and freeze for up to 3 months.
We like to make apple cider ice cubes (for a little pop of flavor in fall cocktails like our apple cider cocktail) or pour into silicone soup cubes (the perfect amount for 1 cozy mug of apple cider). Let thaw and enjoy cold or heat until warmed through. 
Serving Suggestions
Apple cider pairs perfectly with any of your favorite fall recipes. Try it with a slice of apple cinnamon bread, as part of your Thanksgiving menu, alongside any game day food, or in our spiked apple cider or apple cider hot toddy.