These air fryer chicken nuggets come out so crispy on the outside and moist on the inside and there is no frying in oil involved!
Are you looking for a chicken nugget recipe that leaves you with crispy and delicious bites of heaven? Using an air fryer to cook chicken nuggets will seriously change your life (speaking from experience)!
Simply dredge your chicken pieces in an egg wash and then into a panko + seasoning mixture. Air fry at 400ºF for about 5 minutes. Serve your air fryer chicken nuggets with your favorite sauce or freeze them for later!
While you don't need cups of oil to fry these nuggets, our secret is a nice olive oil drizzle before air frying to get them nice and crispy!
Ingredients You Need for Air Fryer Chicken Nuggets
Chicken breast: white meat is best when making homemade chicken nuggets. Make sure to buy boneless, skinless chicken breast.
Breadcrumbs: for this recipe, you can either use plain breadcrumbs, whole wheat, or gluten-free. Any of these options will work. Heck, you could even use Italian-flavored breadcrumbs!
Eggs: eggs are used as an egg wash to make sure the breadcrumb topping sticks.
Olive oil: olive oil helps crisp up the breadcrumbs. Don't skip this part!
Spices: spices used in the topping include garlic powder, thyme, paprika, salt, and pepper. Feel free to add whatever else you are craving.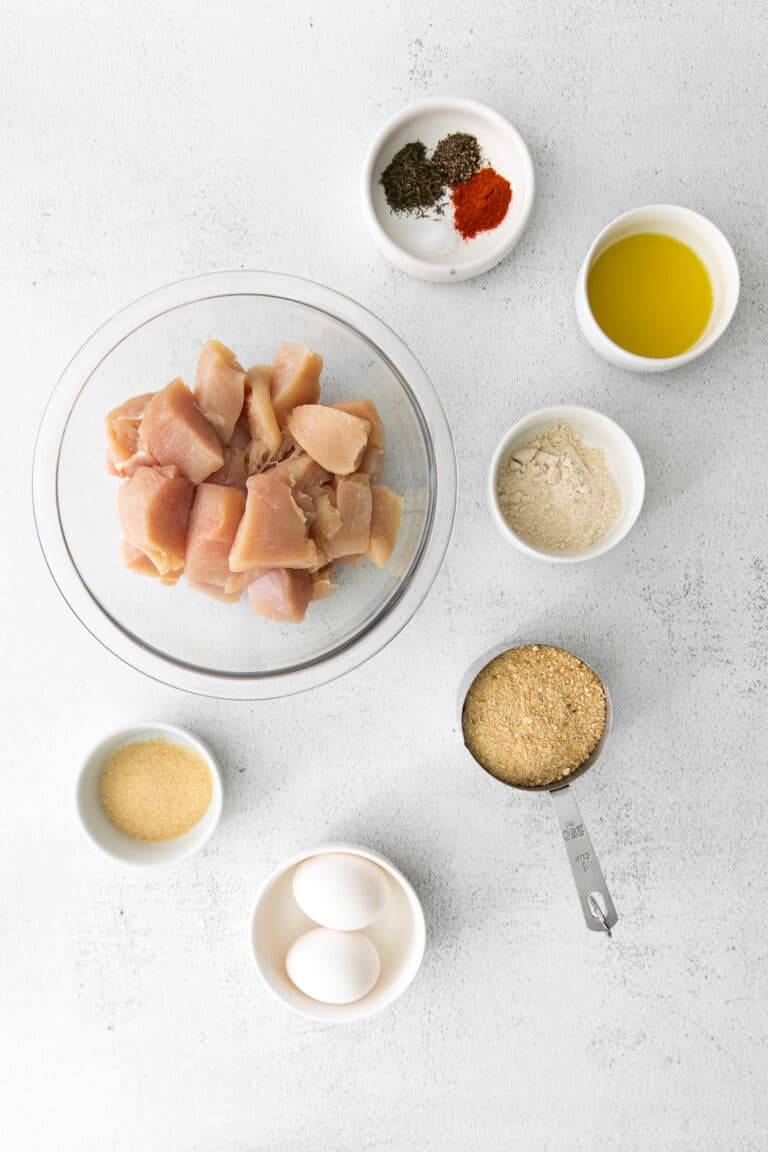 Variations for Chicken Nuggets in Air Fryer
Make them spicy
If you want to spice these air fryer chicken nuggets up add a 1/4 teaspoon of any of the spices below to the spice mixture and you'll be left with a little kick.
cayenne pepper
red pepper flakes
dried adobo pepper
bread crumbs substitute
If you don't have regular bread crumbs, no fret! You can use panko bread crumbs, gluten free bread crumbs, or even crushed up corn flakes.
go for the spice mixes
Another way to take the flavor profile of the air fryer chicken nuggets up a notch is to skip the spices in the recipe and add a couple of teaspoons of any of the spice mixes below to the bread crumbs.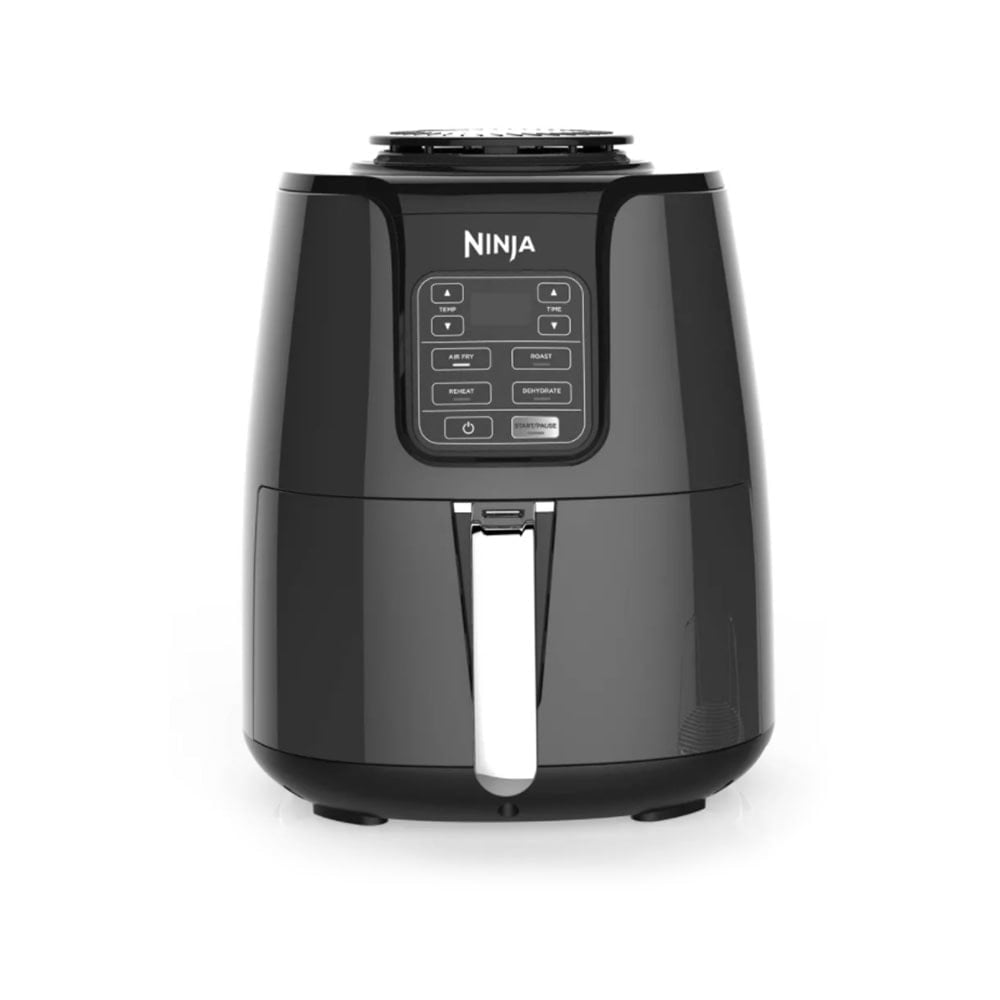 the best
Air Fryer
If you are looking for an air fryer for 2, the Ninja Air Fryer is one of the highest rated air fryer on the market!
Get One!
FAQ
How do you cook chicken nuggets in an air fryer?

Cook chicken nuggets at 400ºF for around 5 minutes in the air fryer.
How do you make chicken nuggets crispy?

The best way to get crispy chicken nuggets is by air frying them. They will come out nice and crunchy.
What is the breading on chicken nuggets made of?

Chicken nugget breading is typically made from a mixture of breadcrumbs and spices.
Why are my chicken nuggets not crispy?

Your chicken nuggets are not crispy because you likely overcrowded your air fryer. Make sure that your chicken is not touching so that they can get nice and crispy.
How long should you fry chicken nuggets?

Air fry your chicken nuggets for around 5 minutes at 400ºF.
Are chicken nuggets healthy?

Homemade chicken nuggets are high in protein and a healthy dinner option.
Why do I have to air fry the chicken nuggets in batches?
You want to cook your chicken nuggets in batches because you don't want to overcrowd the air fryer basket when you are making chicken nuggets. You want the oil and the air to be able to circulate around the chicken nuggets so the WHOLE nugget gets crispy and delicious.
Can I cook these in the oven?
Yes, you can cook these in the oven. Place a wire rack on a baking sheet and place the chicken nuggets on the rack. Bake them for 14-16 minutes at 400ºF, flipping them half way through.
Storage
Got leftovers? Simply let your baked chicken nuggets cool completely. Then, transfer them into an airtight container and store them in the fridge for up to 3-5 days.
Can I freeze chicken nuggets?
Let chicken nuggets cool completely and ten, transfer them to a baking sheet.
Freeze for 1 hour.
Transfer the partially frozen chicken nuggets into an airtight container or gallon-size plastic bag.
Freeze for up to 3 months.
Serving Suggestions
These amazing chicken nuggets are so delicious served next to our air fryer sweet potato fries or baked potato wedges and your choice of sauce.
Dipping Sauce Options
If you are looking for a delicious dipping sauce for your chicken nuggets, we suggest any of the delicious dipping sauces below.
Crispy Chicken Nuggets in Air Fryer
Air fryer chicken nuggets come together with an egg wash and seasoned panko mixture. Then, they're air fried at 400ºF for 5 minutes.
Prep:10 minutes minutes
Cook:13 minutes minutes
Total:23 minutes minutes
Fat 6
Carbs 14
Protein 31
Instructions 
Preheat the air fryer to 400ºF and spray the basket with non-stick cooking spray. 

Prepare the chicken breasts by cutting the chicken into 1-inch chicken nugget pieces. Set aside. 

Next, add the panko, flour, garlic powder, paprika, thyme, salt, and pepper to a large bowl and stir everything together until combined. 

Crack eggs into a separate bowl and whisk the eggs until combined. 

Then, dip each chicken nugget into the egg wash, completely coating each piece of chicken. Then, dip the nuggets into the bread crumb mixture, coating each side. It's easiest if you do this one at a time to make sure that the chicken gets fully coated.

Place the chicken nuggets into the air fryer basket being sure not to overcrowd the basket. You may have to do this in batches to make sure the chicken nuggets don't touch.

Drizzle the chicken nuggets with olive oil and cook the chicken nuggets for 4 minutes at 400ºF in the air fryer. Flip and cook for an additional 1 minute or until the internal temperature reaches 165ºF. 

Remove the chicken nuggets from the basket and repeat steps 6 and 7 until all the chicken nuggets are cooked. 

Serve with honey mustard, bbq sauce, ketchup, or any other dip. 
Tips & Notes
Oven directions: place a wire rack on a baking sheet and place the chicken nuggets on the rack. Bake them for 14-16 minutes at 400ºF, flipping them half way through.
Make sure your nuggets are the same size: The key to getting perfectly cooked chicken nuggets in the air fryer is to be sure all the chicken nuggets are relatively cut the same size. You want them all to cook for the same amount of time.
Use enough oil: Yes, you don't need to use a cup of oil to get these chicken nuggets crispy, but you still need to drizzle oil over the chicken nuggets in a bit in the bottom of the air fryer so the chicken nuggets "fry" up.
Don't let the chicken nuggets touch: We said it once and we'll say it again. Be sure not to let your chicken nuggets touch or else they will not fully cook.

 
Nutrition facts
Calories: 234kcal Carbohydrates: 14g Protein: 31g Fat: 6g Fiber: 2g Sugar: 1g
Source link