Hakodate is a charming and picturesque seaside city in Hokkaido that offers tasty seafood, relaxing onsens, and breathtaking night views.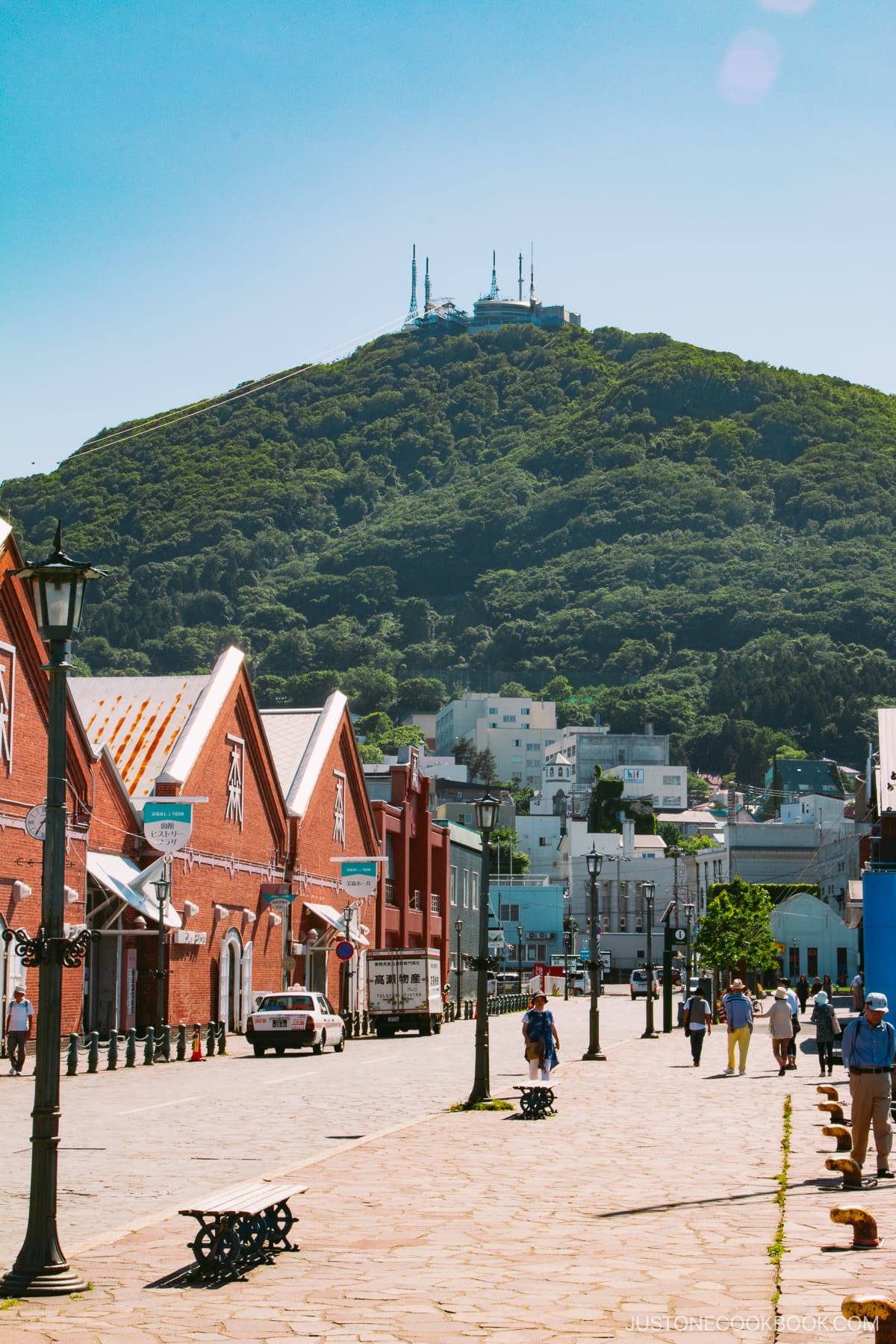 Hakodate is located at the southern tip of Hokkaido. This charming and picturesque seaside city offers tasty seafood, relaxing onsens, and breathtaking night views. If you're planning a trip to Hokkaido, we recommend taking a couple of days to visit Hakodate.
Where is Hakodate?
Hakodate (函館) is Hokkaido's 3rd largest city, located at the island's southern tip. It has a much longer history than Sapporo, the current capital of Hokkaido prefecture, dating back to the 1400s.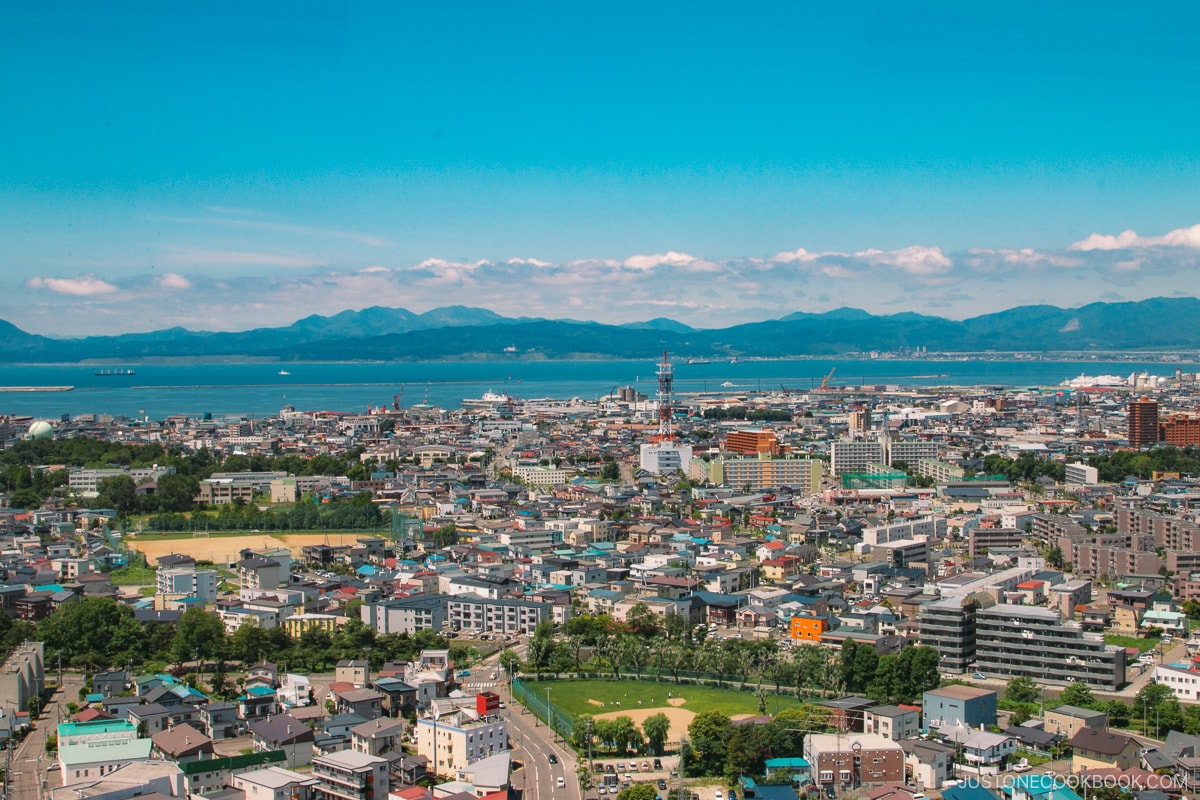 Hakodate was the first Japanese city to open its doors to foreign trade in 1854. Its international connections have had a large influence with many of the first consulates being built there. Remarkably, Hakodate has still kept much of its original charm, avoiding significant damage during World War II. While walking around the city, you'll be able to see many well-preserved buildings and architecture from the 1800s.
Over time, Hakodate has slowly diminished in prominence compared to other Japanese cities but remains a magical destination with its unique allure. One notable attraction is one of the Three Great Night Views in Japan, which continues to attract thousands of visitors across the world. 
How to get to Hakodate?: Transportation Options and Routes
If you're planning to visit Hakodate, there are numerous transportation options and routes to get to the port city:
Car or Bus
From Sapporo, driving to Hakodate takes approximately 4 to 4 and a half hours. Hakodate is connected by the National Highways to the rest of Hokkaido and Honshu as well. However, there are toll fees that you should take into consideration. There are buses that run several times throughout the day from Sapporo to Hakodate and it takes almost 6 hours.
Train
You can hop on a train from Sapporo to Hakodate, taking the JR line (Hokuto or Super Hokuto about 3 hr 30 min each way). Alternatively, if you are coming from Tokyo or the Honshu region, you can get to Hakodate using The Hokkaido Shinkansen (bullet train), which takes around 4 hours. This arrives at Shin-Hakodate-Hokuto, which is approximately 20 minutes north of Hakodate. From there, you can take a local train or the JR Hakodate line to reach the city center. 
Flights
If you are in Honshu or the southern regions of Japan, flying will be the most convenient option. Hakodate Airport (HKD) is connected to most major cities like Tokyo and Osaka. From Haneda Airport, it takes 80 minutes. From the airport, it is easily accessible to the city center by bus, train, or taxi. 
Bus Tours
Since we were staying in Sapporo, we booked a tour package from Sapporo that included round-trip transportation. Typically tour companies in Japan provide all-inclusive package plans including round-trip bus rides, hotel stays, breakfasts and dinners inside the hotel, and a day tour. While it may not be at the top of a Japan travel list for everyone, it does provide a way to explore Hakodate without breaking the bank. These tour packages are typically very reasonably priced (all included for USD $200 – $300).
The four-hour bus ride was comfortable, allowing us to relax and enjoy Hokkaido's scenery along the way. The bus made frequent rest stops and a lunch stop so we could stretch our legs and explore some local souvenir shops.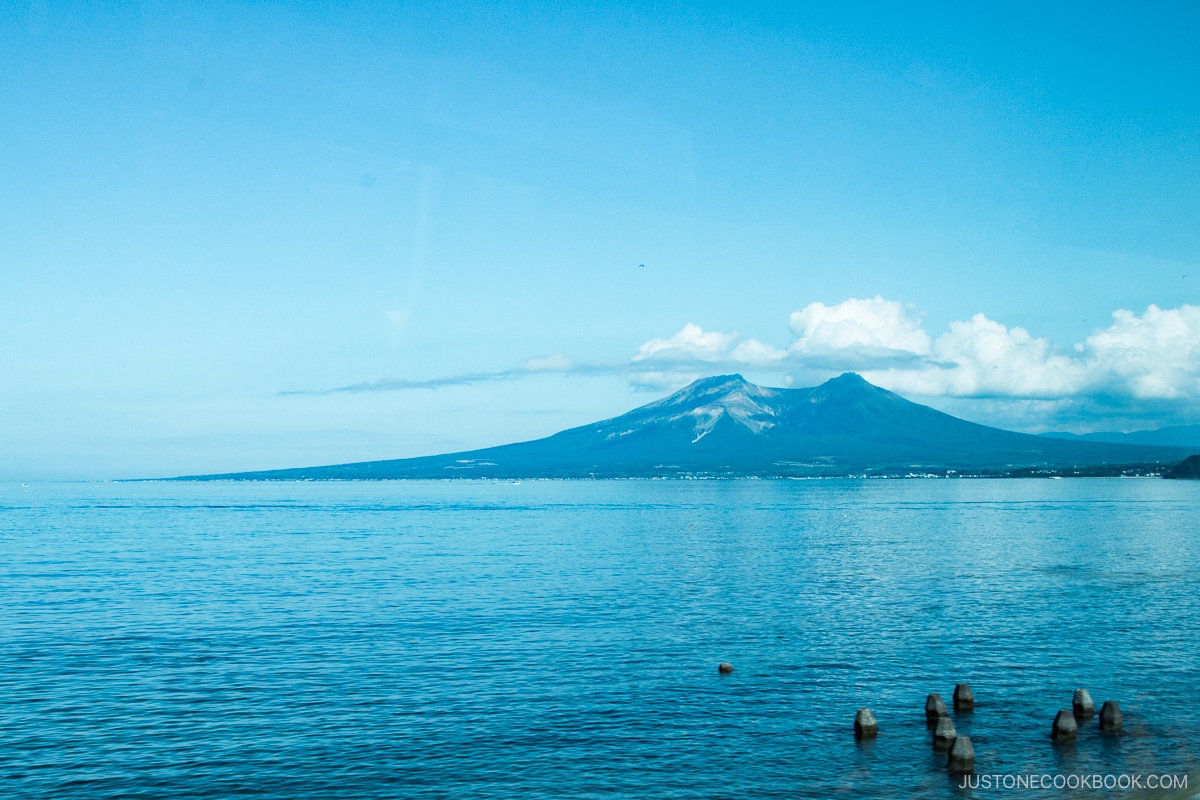 When we saw Mt. Komagatake along the ocean, we knew our destination was slowly approaching. If you are traveling by car, and have the time, we recommend stopping at Onuma Quasi-National Park as there are some amazing views of Mt. Komagatake, and is a great place to take a relaxing walk!
Sightseeing in Hakodate: Must-Visit Attractions and Experiences
Once you're in Hakodate, there are a few major sightseeing spots you should not miss. Here's a breakdown of the city's different areas and the attractions they offer: 
1. Hakodate Morning Market (函館朝市): Perfect for Food Lovers
When in Hokkaido, it's time to eat! I consider Hokkaido the food heaven of Japan, thanks to its unique surroundings, climate, and abundant resources. From fresh seafood to dairy and vegetables, you are not spoilt for choices. Hakodate, in particular, is well known for its delicious, fresh seafood!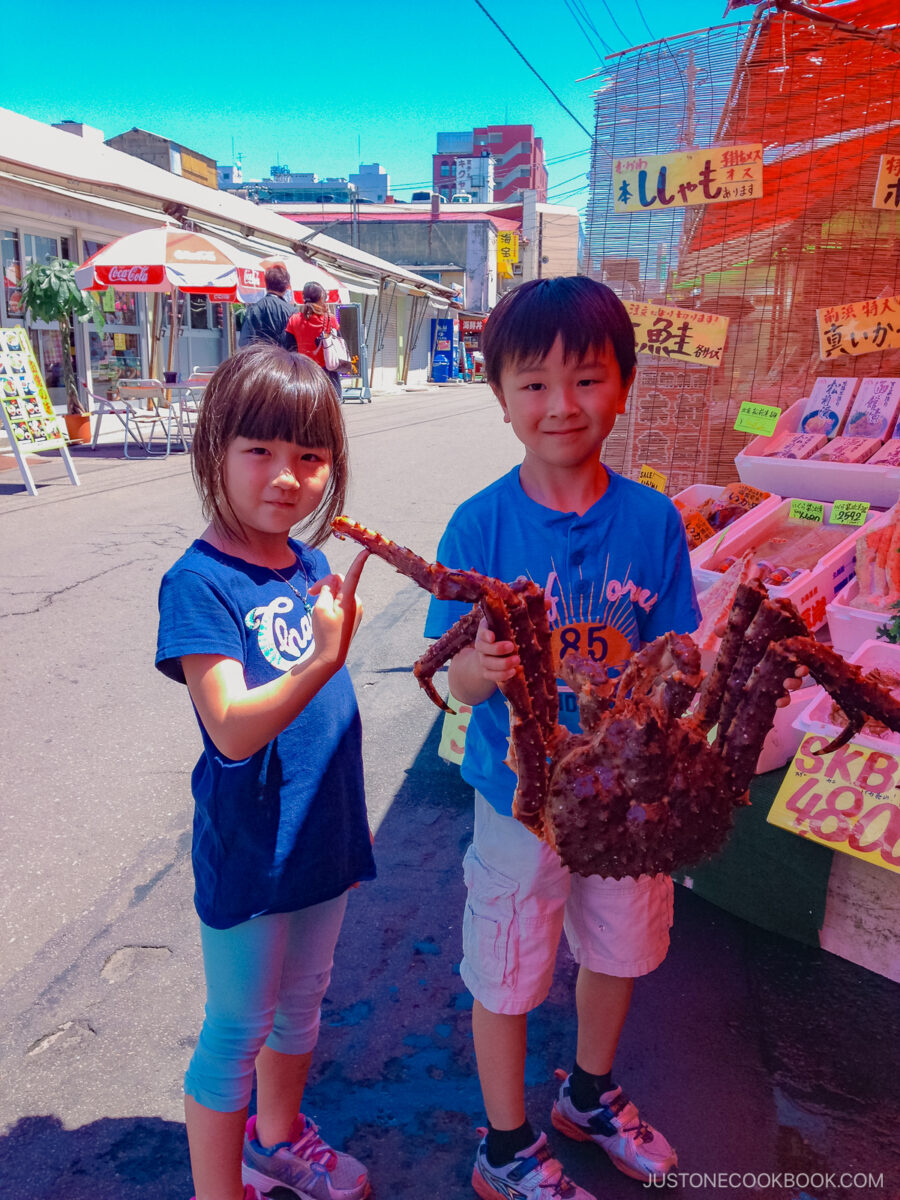 The Hakodate morning market is about 3 city blocks filled with dozens of vendors and restaurants. Vendors often offer you bits of food to try as you walk along the stalls. You'll find various seafood options that may be unfamiliar but are most definitely tasty. While walking in the market, one of the vendors even let my children hold a king crab! Everything is also reasonably priced; I don't think I've ever seen seafood offered at these prices in Japan. 
For lunch, all the restaurants are competing for your business asking you to go in and sit down. The value is exceptional with prices I have rarely seen for seafood. For less than USD $10,  you can enjoy a small bowl of seafood donburi (rice bowl) and miso soup. The freshness and price of seafood in Hokkaido are unbeatable! 
Besides eating, my children also got to fish for squid and the lady at the shop cut the live squid to make sashimi for us. Just dip in soy sauce with a bit of ginger to enjoy. It was a fun (and scary – look at my baby girl's expression!) experience for them.
2. Kanemori Red Brick Warehouses (金森赤レンガ倉庫): Hakodate Souvenirs
As you finish eating your breakfast or lunch at the morning market, take a stroll along the waterfront towards Mt. Hakodate and you'll end up at the Red Brick Warehouses, which were built in 1909.
The historic warehouses have been renovated into a vibrant shopping destination. Inside, you can find an array of gift shops, a beer hall, and various other stores. When you're there, don't forget to buy Royce's Nama Chocolate, a local favorite!
If you fall in love with these soft chocolates, you can always make them at home using my Nama Chocolate and Green Tea Chocolate recipes. They taste just like ROYCE's!
3. Motomachi District (元町エリア): Hakodate's Historic Architecture
During the 1800s, when Hakodate opened its doors to foreign trade, merchants from around the world started to settle in the city. Today, remnants of that era can be found in the Motomachi District, where historic churches and consulates still stand, such as the Old Public Hall of Hakodate Ward and the Hakodate Orthodox Church. Walking through the district is like a step back in time, where you can soak in the rich history and beautiful architecture. 
Within the district is Motomachi Park, which offers breathtaking views of the Hakodate Bay area, which is a must-go. 
4. Fort Goryokaku (五稜郭): A Star-Shaped Fortress
Alright, it's time to hop on the trolley and head on over to Fort Goryokaku, a 13-minute walk (1.1 km) from the nearest station. This unique star-shaped fort was built based on designs from 16th-century Europe, which strategically reduced the blind spots in gun battles. It also played a pivotal part in Japanese history as it was also the site of the Battle of Hakodate and marked the end of the Tokugawa shogunate era. The fort is now mainly known as Goryokaku Park, where you can enjoy scenic walks and also learn about its history. 
Upon arriving at the fort, you'll find the new Goryokaku Tower for the park stands alongside the old tower. The new tower is an impressive 107 meters tall, allowing you to see the entire park, as well as views around Hakodate City. Part of the floor in the tower is glass and you can see down!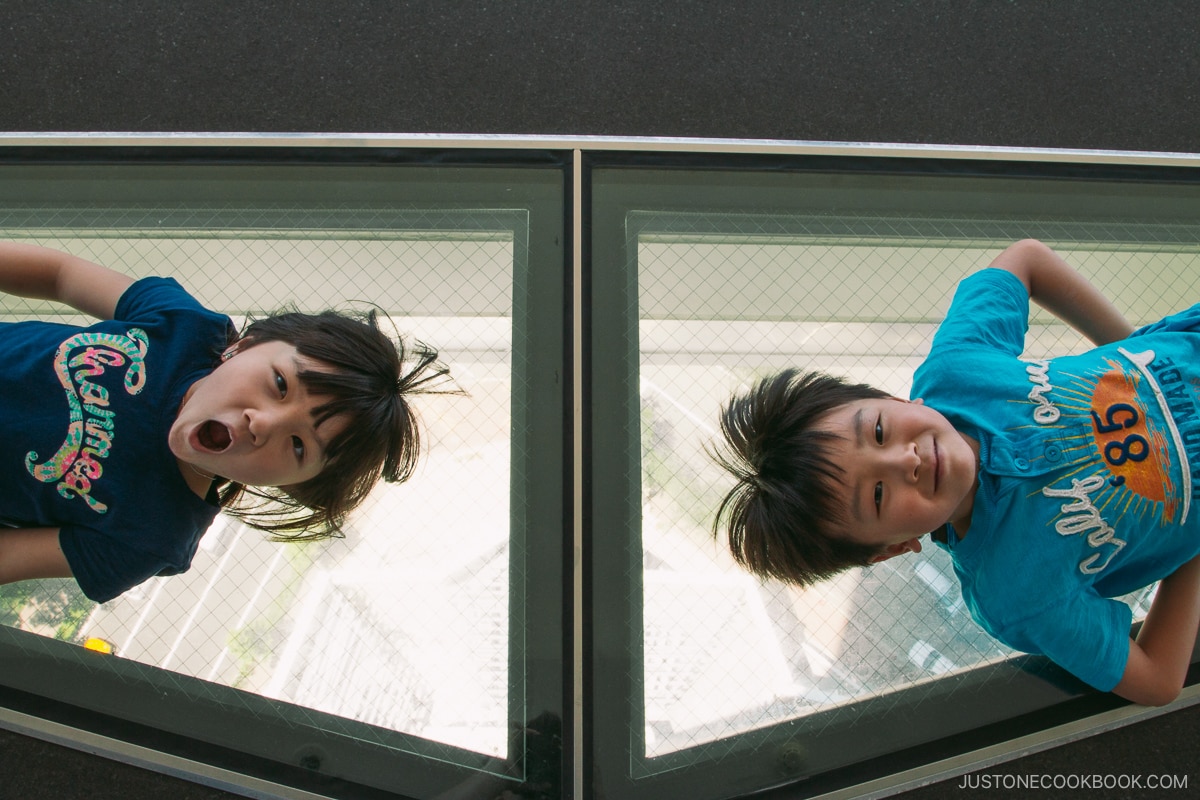 5. Hakodate Park
Just at the base of Mt. Hakodate, at the southern tip is Hakodate Park. It was originally founded in 1874 but was reformed and the layout was changed in 1879, proposed by Richard Eusden, the British Consul of Hakodate. During cherry blossom season, it is one of the most popular spots in all of Hokkaido to see the ephemeral pink and white flowers.
Similar to other parts of Hakodate, you can see some Western influences throughout the park. 
6. Mt. Hakodate (函館山): Panoramic Views over Hakodate
One of the highlights of Hakodate is the spectacular views that can be enjoyed from Mt. Hakodate. You can check all opening times and ropeway times (as they depend on the season) here!
The view was breathtaking, and we can now check one of Japan's Three Great Night Views off our list. With the clear sky, you could see miles and miles away, as the city light sparkled in the night. You could see the entire harbor and the city in its entirety. We spent about 30 minutes up there enjoying the scenery before taking the cable car down. I recommend getting there just before sunset to see how the city changes into its evening atmosphere! 
If you are not planning to visit, you can enjoy the cable car ride video below! Here's the video on Mt. Hakodate Ropeway on our YouTube Channel! Enjoy!
7. Cape Tachimachi: Views to Aomori
Traveling even further south from Hakodate Park is Cape Tachimachi. After reaching the observatory, you can enjoy the stunning cliffs of Hakodate that overlook the Tsugaru Strait.
On clear days, you can enjoy beautiful views over the sea and even all the way to Shimokita Peninsula, the northernmost peninsula in Honshu Island, and even Aomori! From June to December, fishermen catch squid over the strait. In the evening you can also see some dotted lights over the sea from the fishing lamps on the boats.
8. Hakodate Hot Springs (Onsen)
Yunokawa Onsen (湯の川温泉) is a well-known onsen located on the outskirts of Hakodate City and is considered to be one of the three major hot springs in Hokkaido.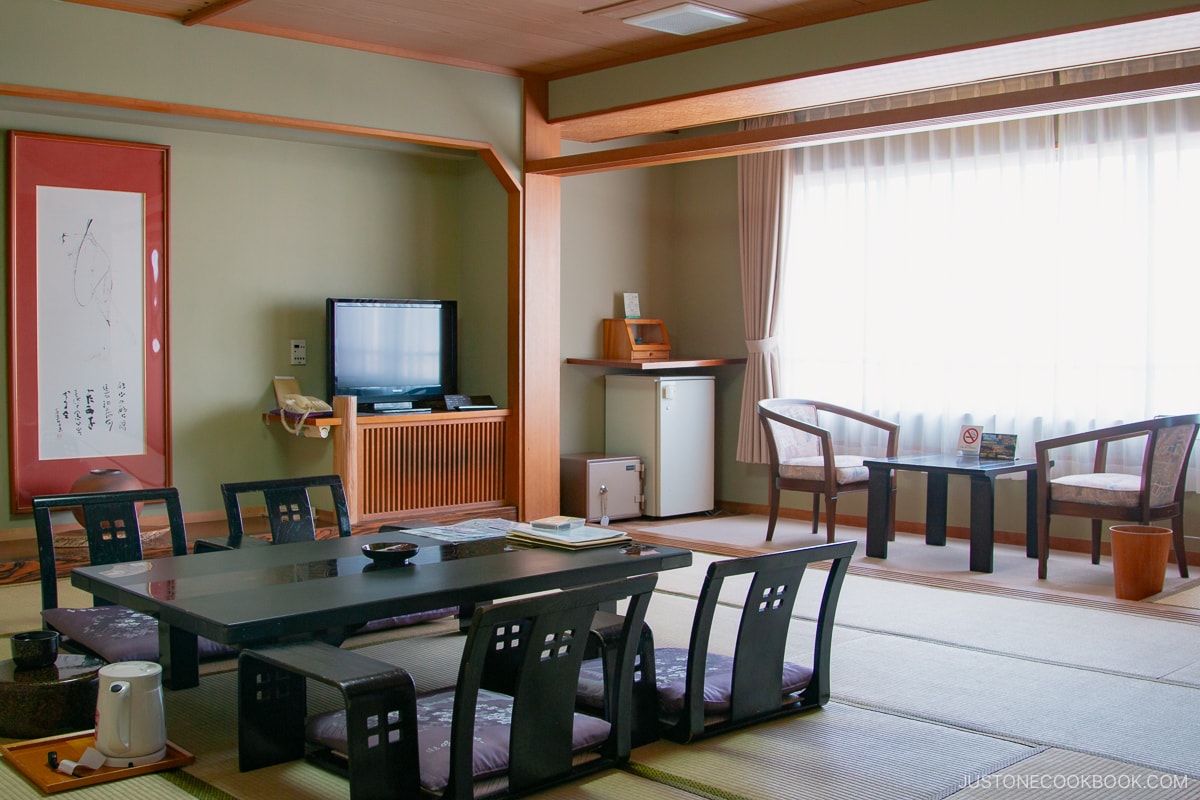 If you decide to stay in a hotel or ryokan around this area, make sure there is onsen inside the hotel as some of them do not have one. Since we were on a budget package, our hotel rooms were not in pristine condition and the hotel itself could use some update. However, the hot spring at the hotel was still very enjoyable and relaxing.
After a day of walking, time to soak and relax. My children love soaking themselves in the onsen. They change into Yukata (summer kimono) and get ready to relax in a hot bath.
We hope you enjoyed our guide for Hakodate and consider visiting this charming seaside town in Hokkaido.