Skip the sandwich party platter and make these turkey pesto sandwiches instead! Packed with sandwich favorites like roasted red peppers, spinach, and cheese, each turkey pesto sandwich is grilled to perfection in a matter of minutes.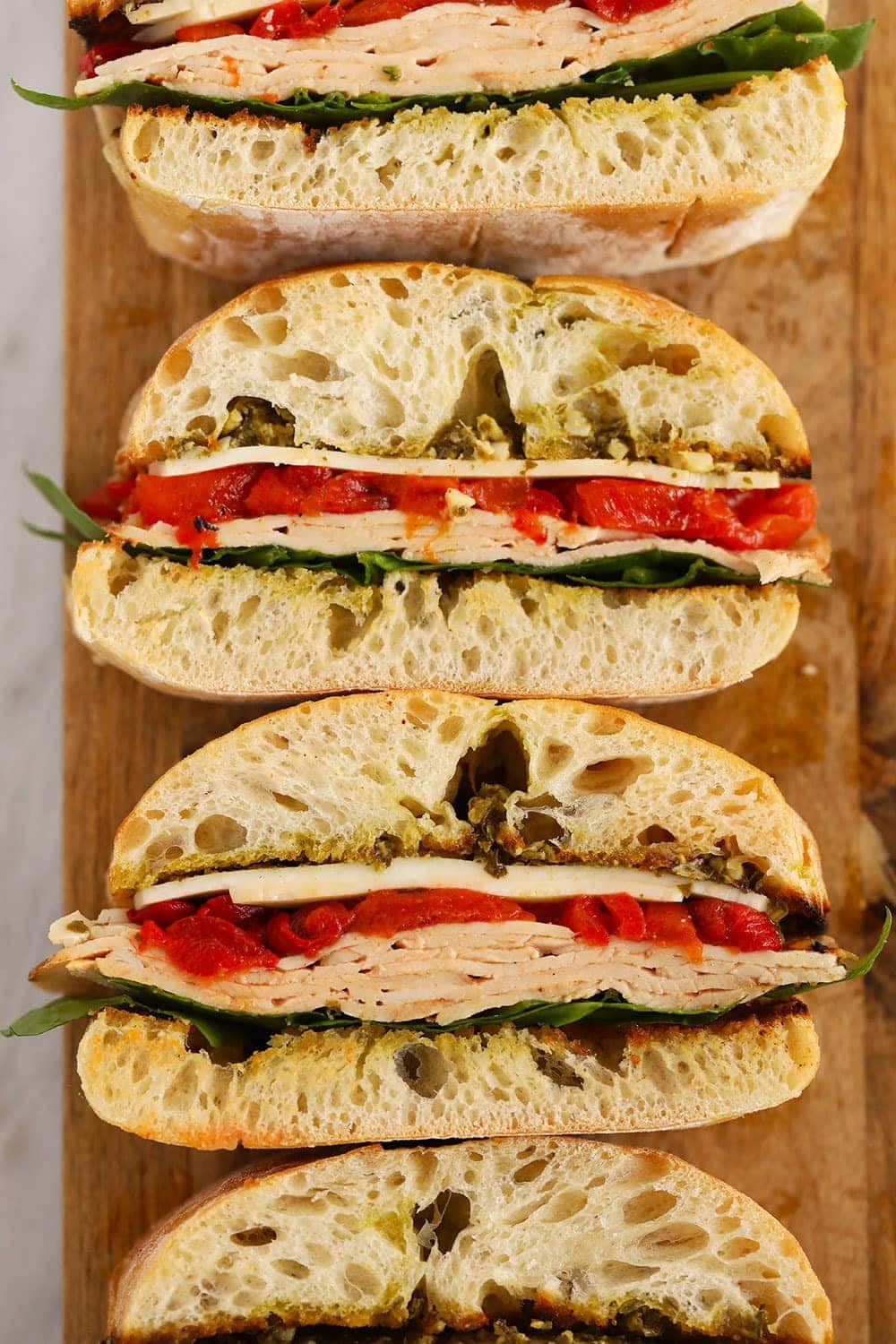 Sandwiches are always a good idea! I love a loaded sammie on chewy-yet-crunchy bread and this turkey pesto sandwich variation is delicious. These grilled sandwiches are meant to serve a small group of people all at one time – they're great for groups, BBQs, or dinner parties!
Simply toast the bread cut-side down for 3-5 minutes before adding your sandwich fixings. To really elevate your sandwich game, wrap each assembled sandwich in foil and pop them back on the grill to get everything warm and toasty.
Featured Comment
"Made this weekend at the cabin using ciabatta buns on the grill. They were a HIT!! Can't wait to make again. Love finding ways to make a healthy sandwich interesting. Thanks for the great recipe. This will be a keeper for sure!" – Lisa
What You Need for Turkey Pesto Sandwiches
We kept this sandwich simple yet packed with flavor. Here's what you need:
Loaf of ciabatta bread
Olive oil
Sliced deli turkey
Sliced provolone cheese
Roasted red peppers
Fresh spinach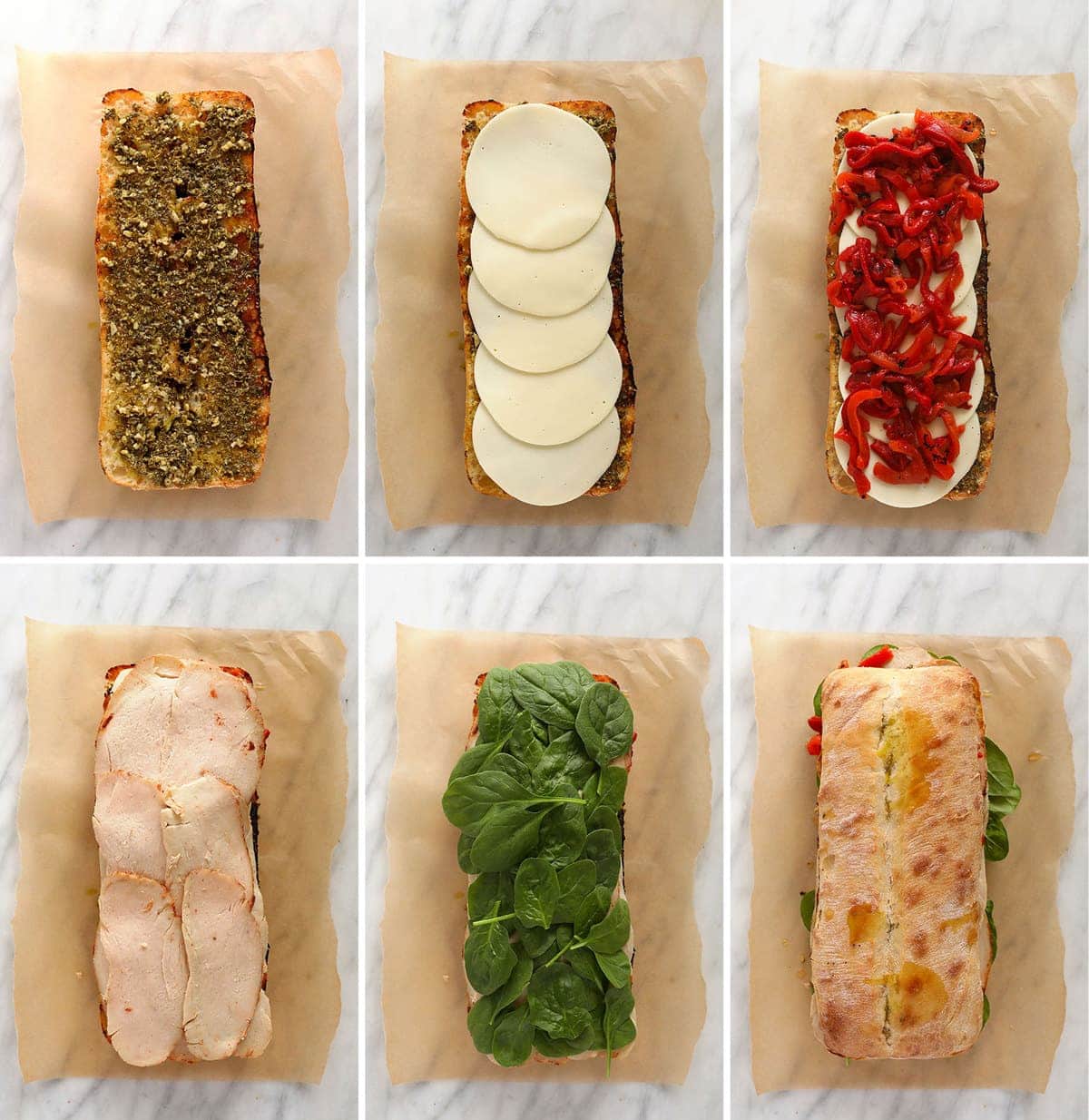 Sandwich Variations
These turkey pesto sandwiches are totally customizable to your preferences and what ingredients you have on hand. Feel free to mix these up!
Bread: We used ciabatta, but you could use a french loaf, Italian loaf, or any loaf you can get your hands on.
Meat + Cheese: Don't have turkey or provolone? Use your favorite kind of sliced deli meat and cheese.
Vegetarian: Replace the deli meat with cucumbers, tomatoes, or any other delicious veggies.
Pesto: Use any store bought pesto or make our basil pesto, kale pesto, or vegan pesto. Don't skip it – pesto gives these sandwiches amazing flavor!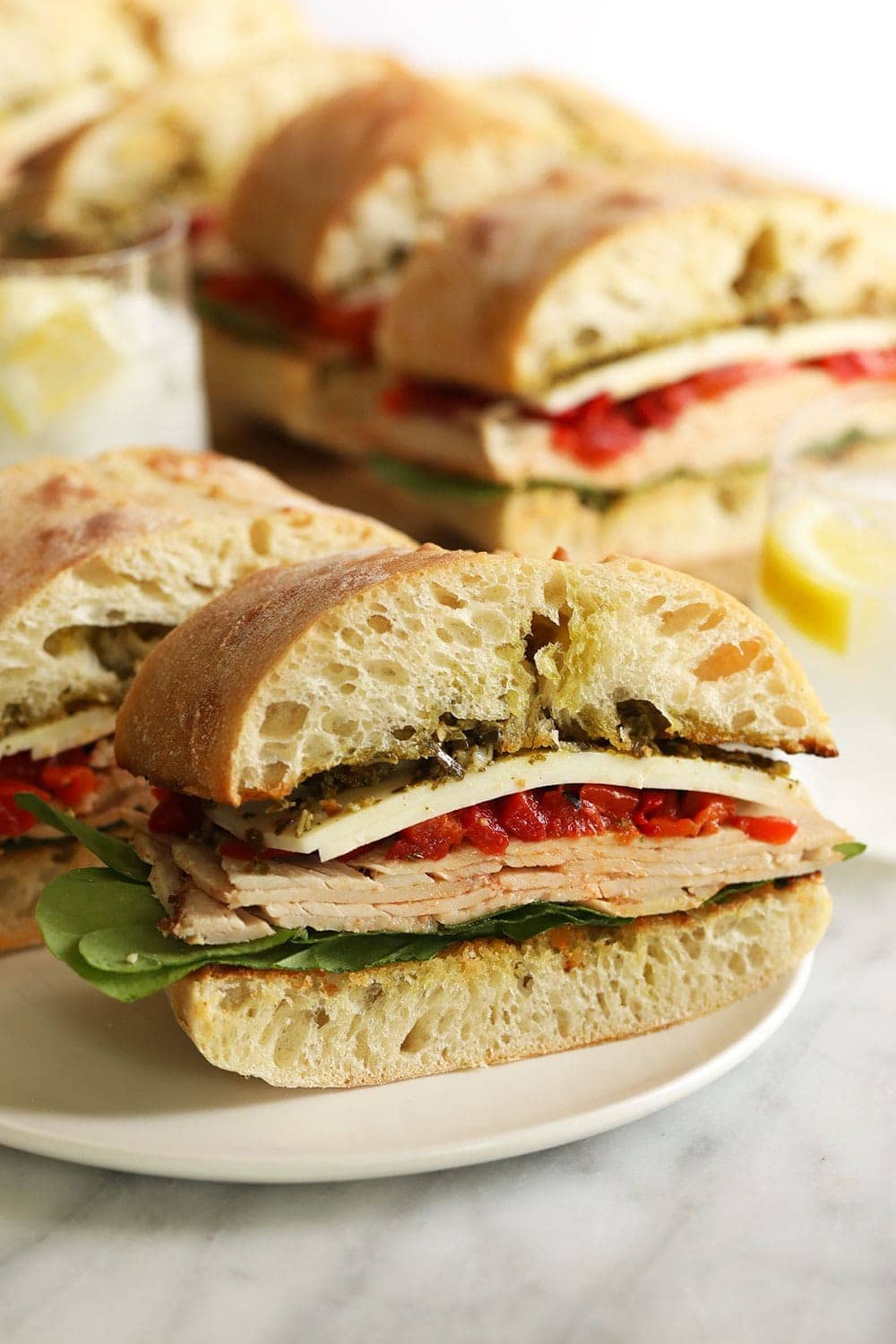 FAQ
Can you make these sandwiches without a grill?

Yes! Instead of grilling the bread, use your oven's broil setting. Slice the loaf of bread in half as instructed in the recipe. Place the two halves of bread cut-side up on a baking sheet and drizzle with olive oil. Place the baking sheet into the oven and broil on high for 2-4 minutes. Cook time may vary so watch the bread closely!
How do you make the sandwich warm all the way through?

If you want ALL of the sandwich ingredients to be warm, follow the directions in the recipe card for grilling the bread and assembling the sandwiches. Place the entire sandwich in a tin foil boat. Seal the tin foil so no air can escape and place the sandwich on the grill for an additional 5 minutes. This will melt the cheese, wilt the spinach, and warm up the meat!
Can you make these without meat?

Definitely! For vegetarian sandwiches, double up on cheese and/or add your favorite fresh veggies. This is a great way to use up leftover roasted vegetables, too!
More Pesto Recipes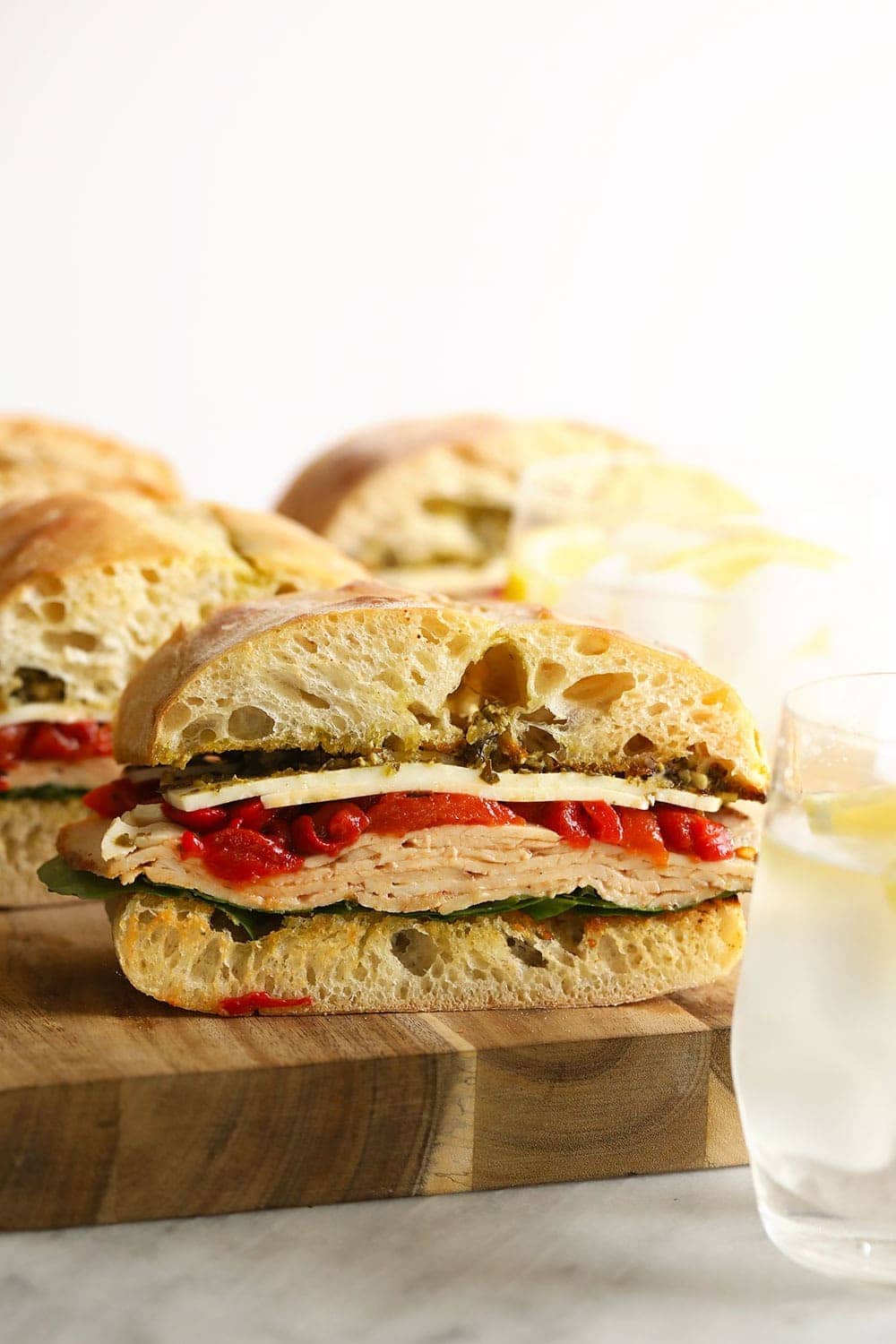 Storage
These sandwiches are great as leftovers! Store in an airtight container in the refrigerator for up to 3 days.
Turkey Pesto Sandwich Serving Suggestions
Everyone has different preferences when it comes to sandwich sides. We love these turkey sandwiches with classic potato chips, salad (like our strawberry spinach salad, broccoli salad, or cucumber tomato salad), and oatmeal cookies for a little sweet treat.