Have your healthy peanut butter cup and rice crispy treat too! These rice crispy peanut butter cups are made with just 5 simple ingredients and make for the perfect after dinner healthy treat.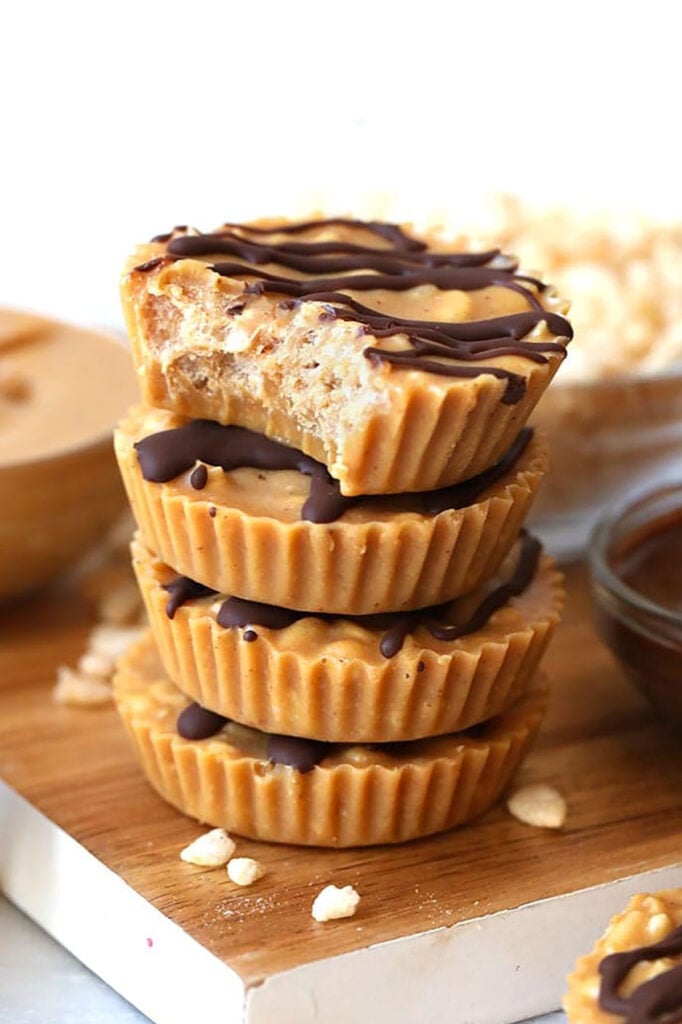 Peanut butter cups are a Fit Foodie Find specialty and this variation has to be my favorite. I've made this exact recipe at least 10 times over the course of the years and it always hits the spot.
They're similar to our healthy peanut butter cups, but have rice crispy cereal in them to give them a nice crunch.
What is in these rice crispy peanut butter cups?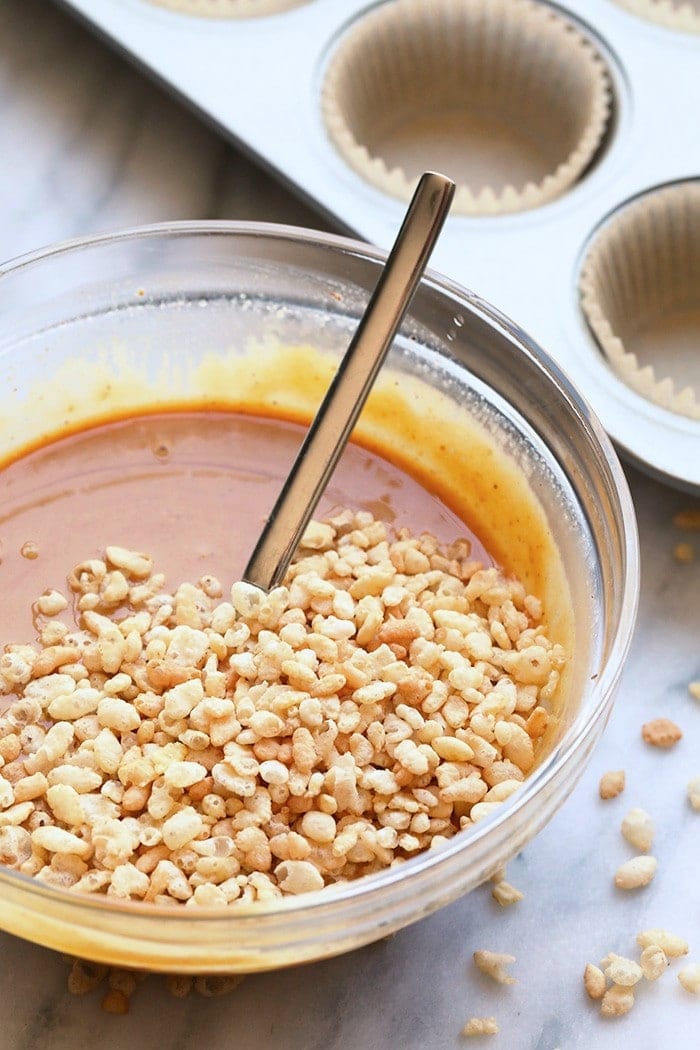 Ingredient Swaps and Variations
Nut Butter: If you have a peanut allergy you can absolutely swap the peanut butter for a different nut butter such as almond or cashew.
Make it Chocolate: Try using a chocolate crispy rice cereal for a chocolate variation and heck, add some cocoa powder too to make it extra chocolatey.
Sweetener: You've got options when it comes to sweeteners. We used honey, but maple syrup and agave work too.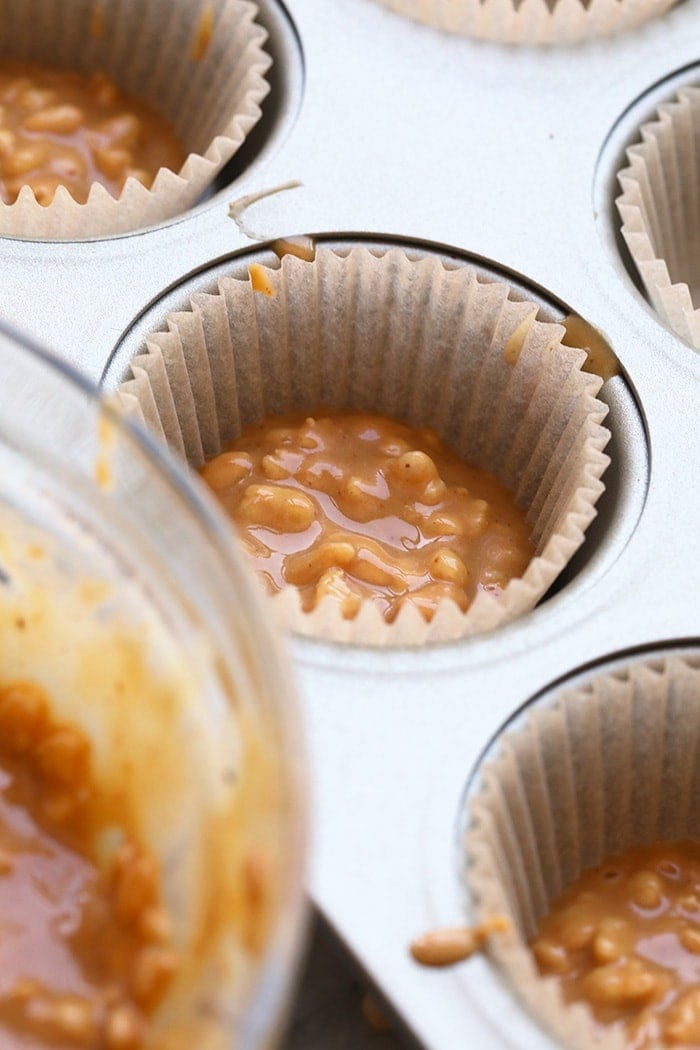 Storage
We recommend storing these in the freezer. Once they've frozen solid, you can remove them from the muffin tin and transfer them into an airtight container. Store in the freezer for up to 3 months.
When you're ready to eat, let them thaw for a few minutes and enjoy!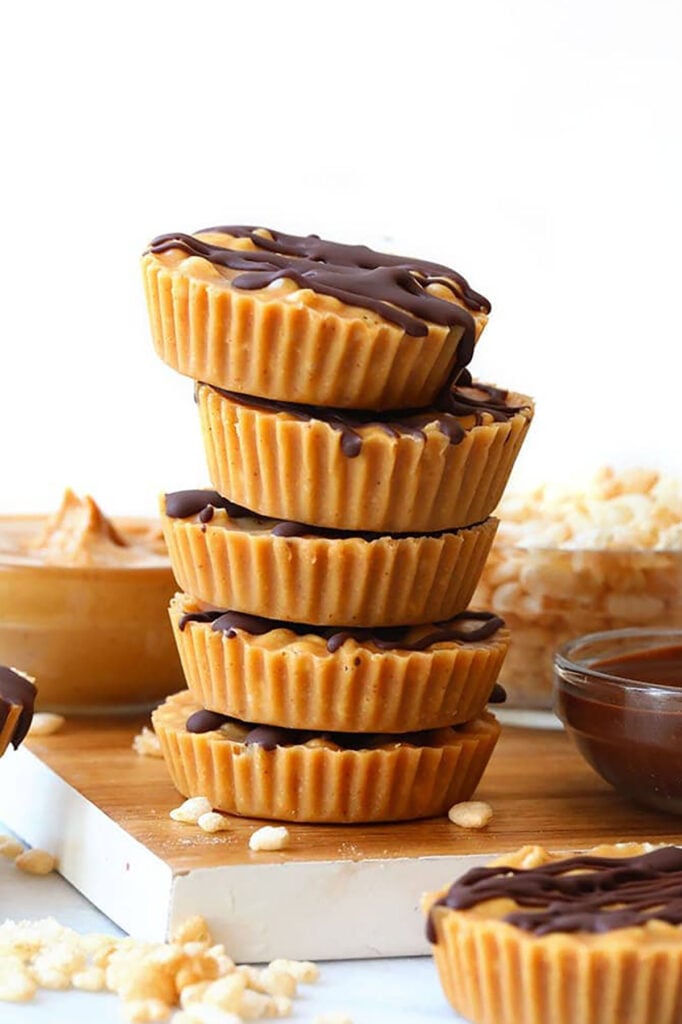 Instructions 
First, line a muffin tin with cupcake liners and set aside. You can sue a normal-size pan or mini. You can also use a silicone mold, for best results.

Place peanut butter, melted coconut oil, vanilla, and honey into a medium-sized bowl and mix until combined.

Then, add in rice crispy cereal and mix again.

Using a tablespoon as your scoop, scoop a heaping tablespoon of batter into each muffin liner. Repeat until you've evenly distributed into 12 liners.

Place in freezer for at least 20 minutes or until firm.

Prepare optional chocolate drizzle by placing chocolate chips and coconut oil into a small bowl and microwaving for 30 seconds to a minute, or until melted. Stir until combined.

Once the peanut butter cups have firmed up in the freezer, remove and drizzle with chocolate mixture and a sprinkle of sea salt.
Tips & Notes
If your batter isn't easily poured into the cupcake tin, add more melted coconut oil. You do not want your batter to be too thick and sometimes thickness is dependent on how oily your nut butter is.
Option to replace honey with maple syrup.
Option to replace peanut butter with any other nut butter such as cashew or almond.
Store in the freezer for up to 3 months.
Nutrition information does not include chocolate drizzle.
Nutrition facts
Calories: 146kcal Carbohydrates: 9g Protein: 3g Fat: 12g Fiber: 1g Sugar: 6g