These chocolate quinoa crisps are a fun twist on chocolate bark. Made with toasted quinoa folded into melted chocolate, drizzled with peanut butter and then frozen to bark perfection. Enjoy right out of the freezer!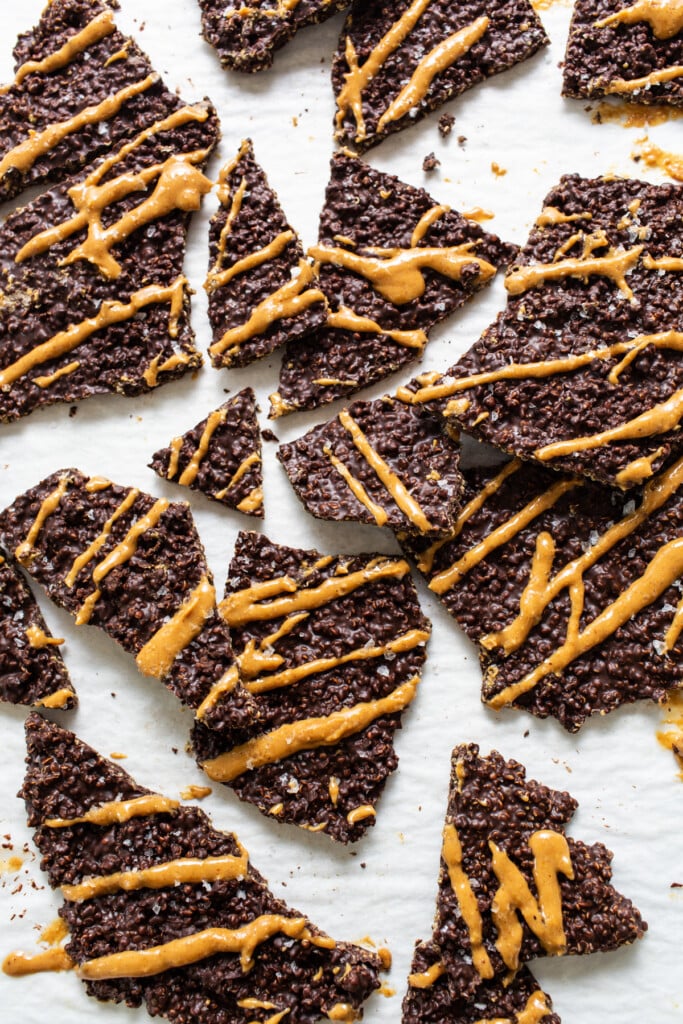 These chocolate quinoa crisps are a delightful fusion of crunch and indulgence. Instead of the typical bark texture, you'll absolutely love the nutty crunch of oven-toasted quinoa, folded into rich dark chocolate.
The touch of coconut oil ensures a perfect melt while the drizzle of peanut (or any nut!) butter, combined with flakey sea salt, balances sweetness with a salty kick. Not only is this treat tasty and decadent, but it can be stored for up to three months, making it an ideal freezer-ready dessert.
What You Need for Chocolate Quinoa Crisps
Quinoa: Quinoa is the star of this recipe, adding a nutritious twist to the conventional chocolate bark. When toasted, quinoa becomes crispy, giving the chocolate bark a delightful crunch, while also adding a boost of protein and fiber.
Dark chocolate chips: Dark chocolate is the primary base that holds all the ingredients together in this bark.
Coconut oil: Coconut oil helps in melting the chocolate to a smooth consistency. It also adds a subtle hint of tropical flavor, complementing the dark chocolate and ensuring the mixture remains pliable enough to mix with the quinoa.
Peanut butter: Peanut butter offers a creamy contrast to the crispiness of the toasted quinoa and the richness of the dark chocolate.
Flakey sea salt: The flakey sea salt enhances the sweetness of the chocolate and peanut butter while also acting as a flavor amplifier. Don't skip it!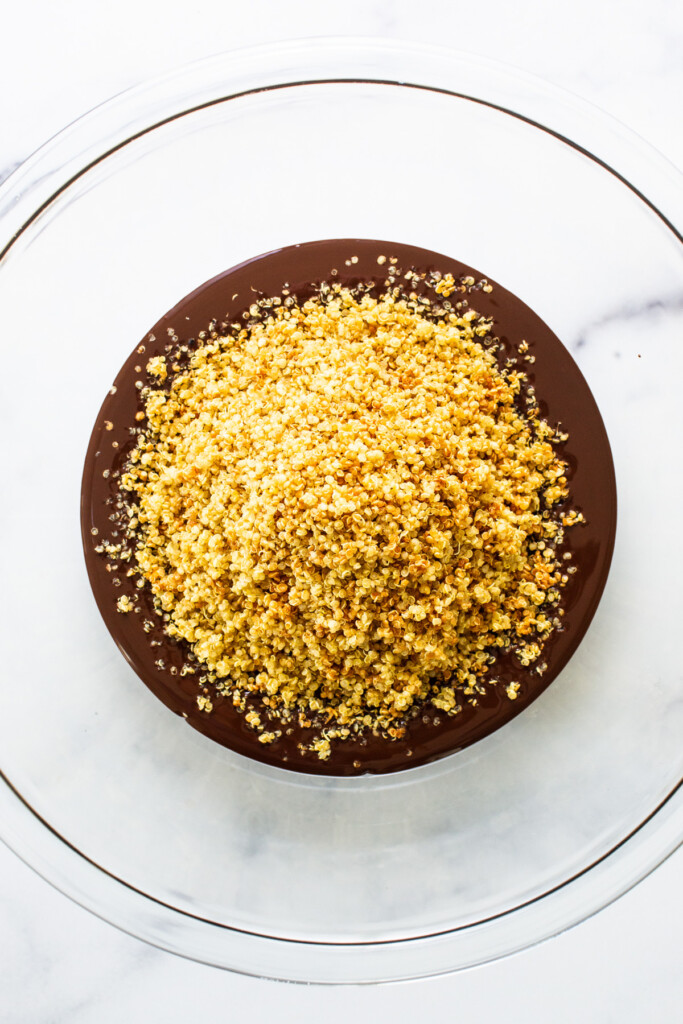 Top Tips
Toast Quinoa Properly: Ensure the quinoa is spread out evenly on the baking sheet for consistent toasting. Tossing it periodically will help it brown evenly and prevent burning. Properly toasted quinoa adds a delightful crunch to the crisps.
Monitor Melted Chocolate: When microwaving chocolate, always use short bursts and stir frequently. Chocolate can easily burn or seize if overheated. If you prefer, you can also melt the chocolate using a double boiler method, which gives you more control over the heat.
Setting the Crisps: Ensure the chocolate quinoa mixture is spread out and compressed slightly, so everything sticks together after freezing. This helps you get bark-like pieces once it's set.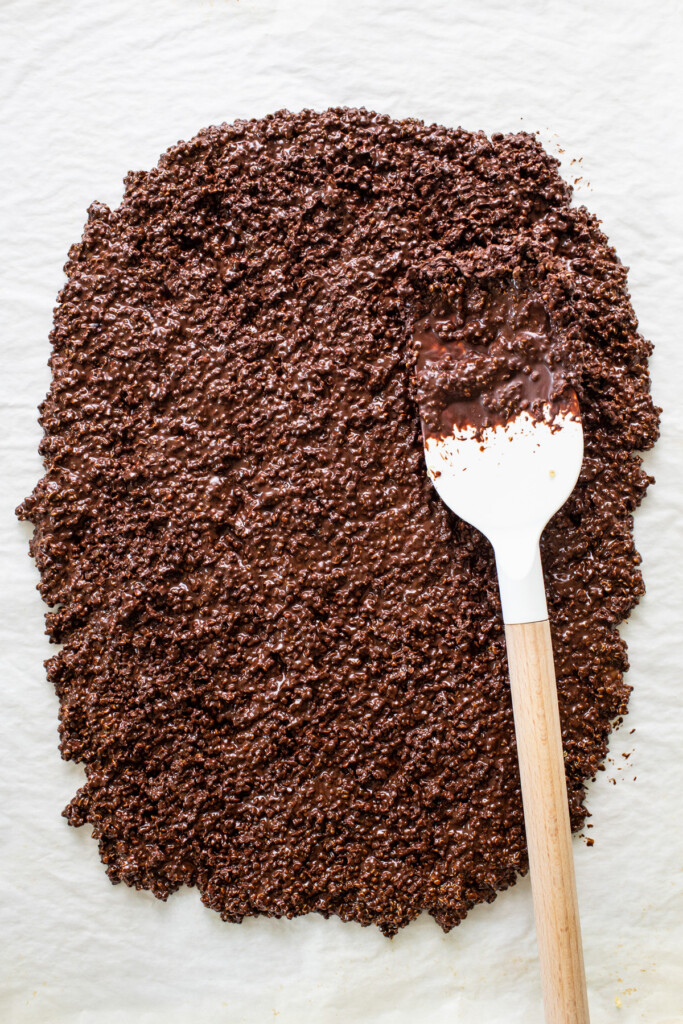 Substitutions & Variations
Cooked Quinoa: If you're out of quinoa or looking for a different texture, you could use puffed rice or puffed amaranth. They'll still give you a crispy texture but with a slightly different taste.
Dark Chocolate Chips: You can replace these with milk chocolate or white chocolate chips, depending on your taste preference. Semi-sweet chocolate chips are also a good choice if you want a middle ground between dark and milk chocolate.
Peanut Butter: Almond butter, cashew butter, sunflower seed butter, or tahini can be used in place of peanut butter. Choose one that complements the flavor profile you're aiming for.
Flavor Variations: This recipe is quite versatile. Consider adding dried fruits, seeds, or even a sprinkle of chili flakes if you like a hint of heat with your chocolate.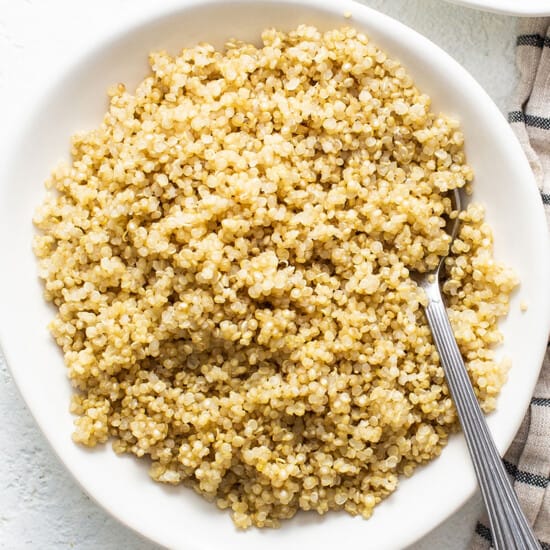 try it!
How to Cook Quinoa
Looking for perfectly cooked quinoa? This guide will walk you through all our favorite ways to cook quinoa in your own kitchen.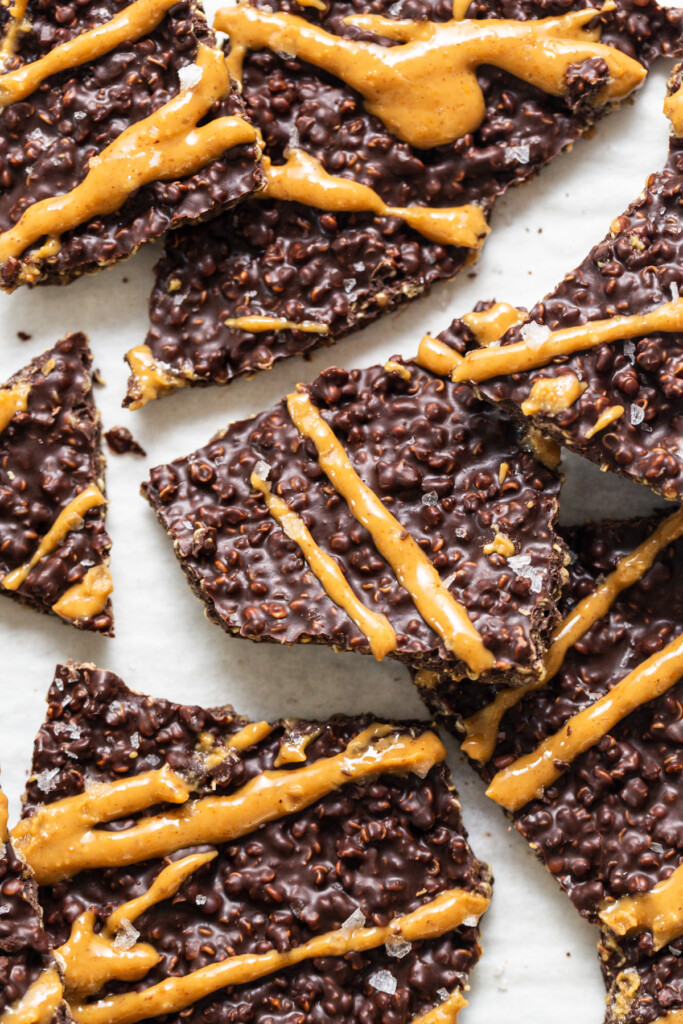 FAQs
Can you make this recipe vegan?

To make these chocolate quinoa crisps vegan, make sure to use dairy-free chocolate chips.
Storage
Once broken into bark pieces, store these chocolate quinoa crisps in an airtight container in the freezer for up to 3 months.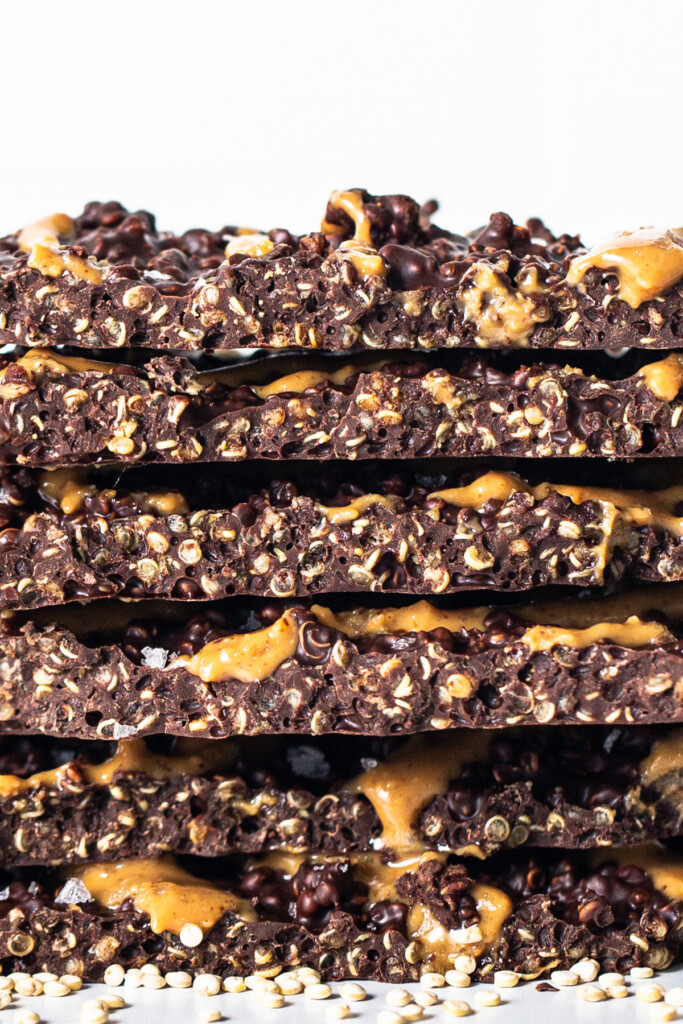 Ingredients
3

cups

cooked quinoa

1.5

cups

dark chocolate chips

1

tablespoon

coconut oil

3

tablespoons

peanut butter

any kind of nut butter works

1

teaspoon

flakey sea salt
Tips & Notes
Any type of chocolate can be used in place of dark chocolate.
You can prepare the quinoa yourself or buy precooked quinoa at the grocery store.
Nutrition facts
Calories: 421kcal Carbohydrates: 47g Protein: 10g Fat: 22g Fiber: 5g Sugar: 17g
Photography: photos taken in this post are by Ashley McGlaughlin from The Edible Perspective.