Perfectly crispy and tossed with a sweet and spicy buffalo sauce, these healthy baked chicken wings are a delicious addition to game day. Baked not fried, this healthy appetizer is ready in under 30 minutes!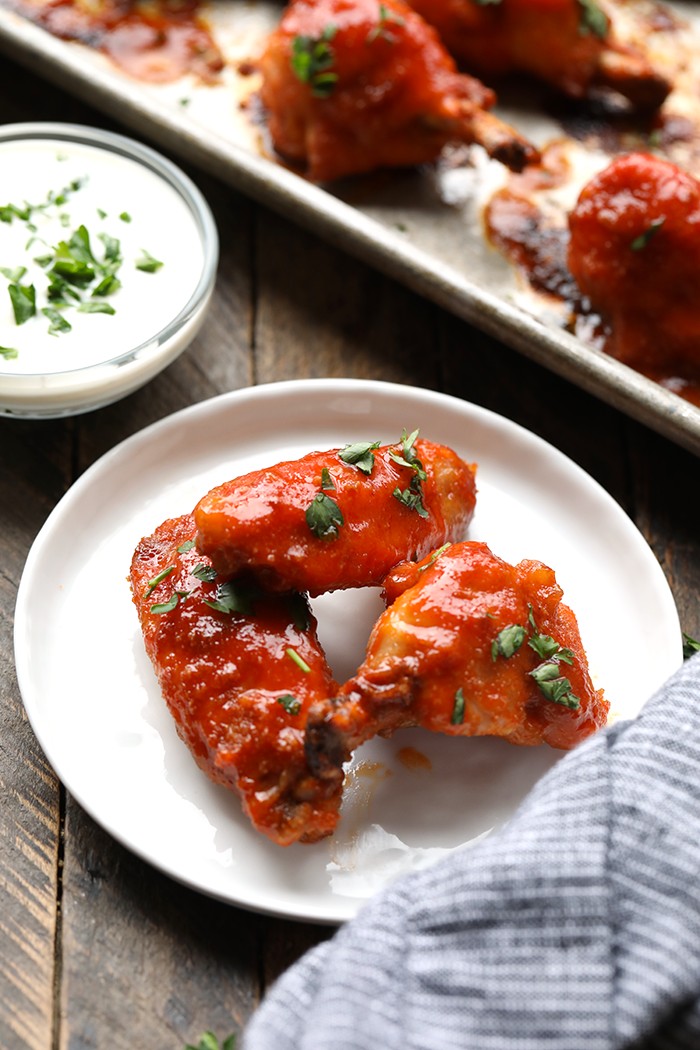 These buffalo baked chicken wings are by far one of my favorite healthy appetizers (our cauliflower wings are a close second!). Not just because of my love for chicken wings, but because they are so simple to make. Just 6 ingredients and 5 minutes of prep time needed for wonderfully saucy baked wings!
Whether you're making these buffalo chicken wings, our BBQ chicken wings, or even these vegetarian asian zing cauliflower wings, we've got a wing ding for you!
What you need for buffalo baked chicken wings
These baked buffalo chicken wings are everything we love about classic buffalo wings, taken up a notch with added flavor before (dry rub) and after (sauce) baking. And, you get the healthy baked goodness of cooking them in the oven matched with the perfect amount of sauciness at the end. It's a flavor explosion!
Dry Rub: Garlic powder, coconut sugar, and salt.
Sauce: Frank's hot sauce and maple syrup.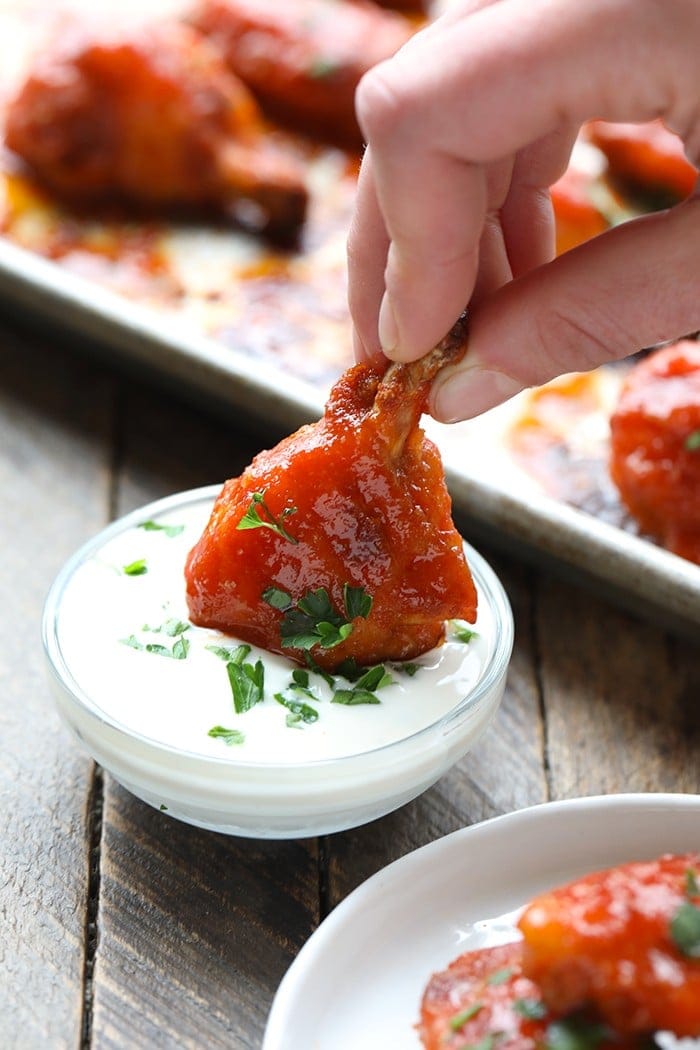 Variations
Chicken: You'll need 1.5 pounds of wingettes and drummies. If you are unable to find them pre-separated, purchase full chicken wings and separate them yourself.
Spice: For even more heat, add a pinch of cayenne pepper to the dry rub.
Maple Syrup: Try honey instead of maple syrup in the sauce.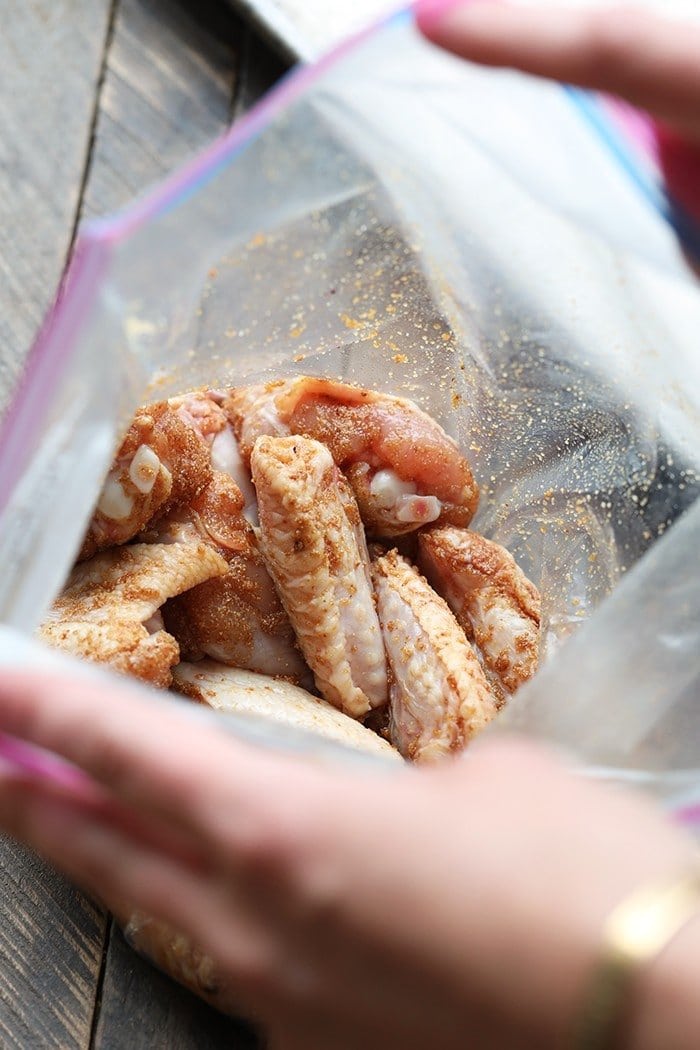 FAQ
Can chicken wings be healthy?

Yes, chicken wings can be healthy! Baking them (instead of frying), automatically makes them healthier. Chicken is a great source of protein and if the sauce is low in sugar, these are definitely a healthier appetizer or meal option.
How do you make baked chicken crispy?

Typically, chicken wings are fried which gives them that delicious crispy texture that people are used to. To make these baked chicken wings crispy, we use coconut sugar in the dry rub which caramelizes and crisps in the oven.

Another way you can make baked chicken crispy is by tossing the chicken in an egg wash and adding a crushed coating like a crushed corn flake cereal, crushed nut, or even coconut (like our coconut crusted chicken fingers).
How long do wings take to bake?

About 30 minutes. Remove them at the 25-minute mark to toss with the sauce and place back in the oven for 5 more minutes. This creates a hot and tangy sauce!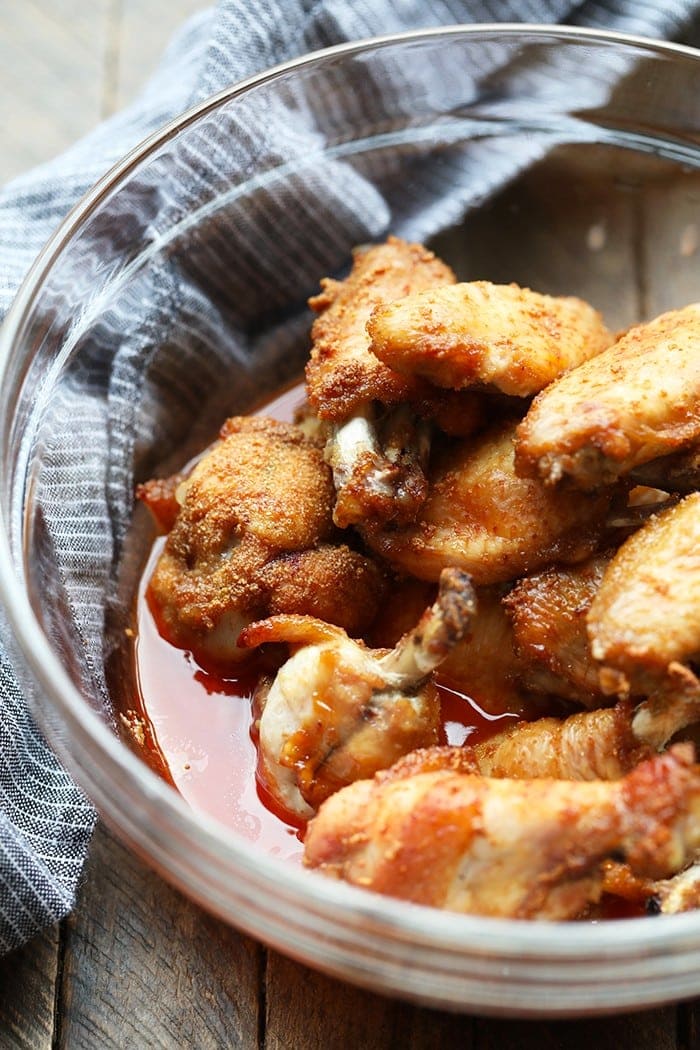 Storage
Store completely cooled chicken wings in an airtight container in the refrigerator for up to 3 days.
To reheat chicken wings: Use a lower oven temperature – about 325ºF. Place the chicken wings on a baking sheet and place them in the oven for 10-15 minutes. After your wings are reheated, feel free to toss them in more sauce and place them back in the oven for an additional 5 minutes.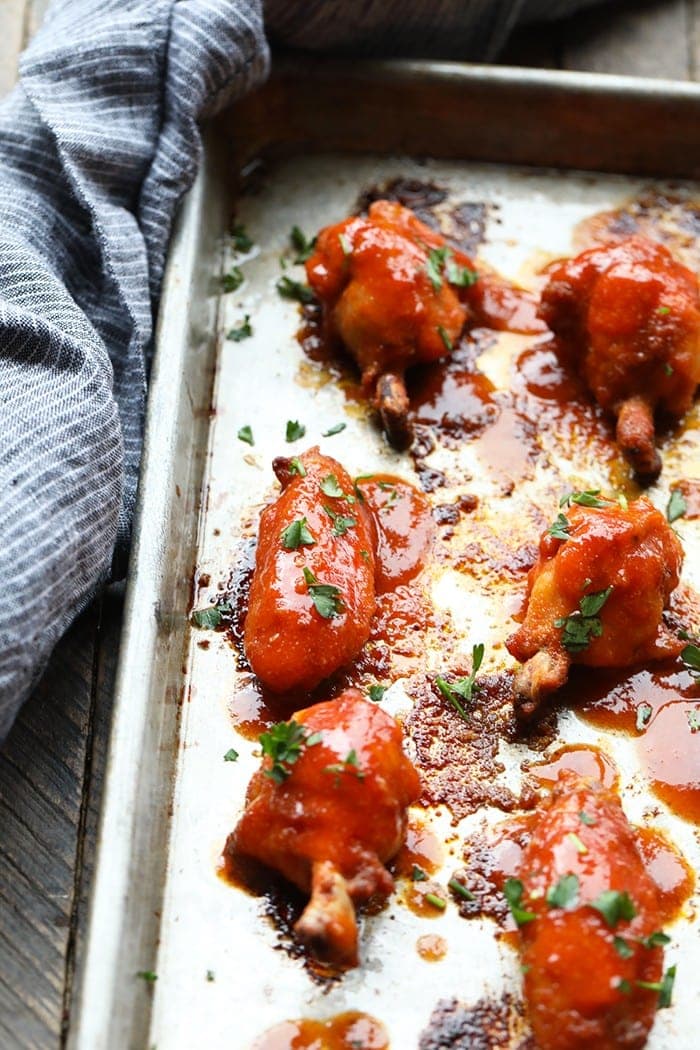 Serving Suggestions
I can't have chicken wings without blue cheese dressing! A few of our other favorite wing dipping sauces are homemade ranch, creamy green goddess dressing, and avocado cilantro lime dressing.
More Wing Recipes
Still in the wing ding mood?! We've got you covered with a plethora of wing recipes on Fit Foodie Finds (both chicken and vegetarian variations!):