Ready to enjoy in under 2 hours, these quick pickled spicy peppers are a great way to easily preserve peppers. They add a spicy sweet touch to any dish!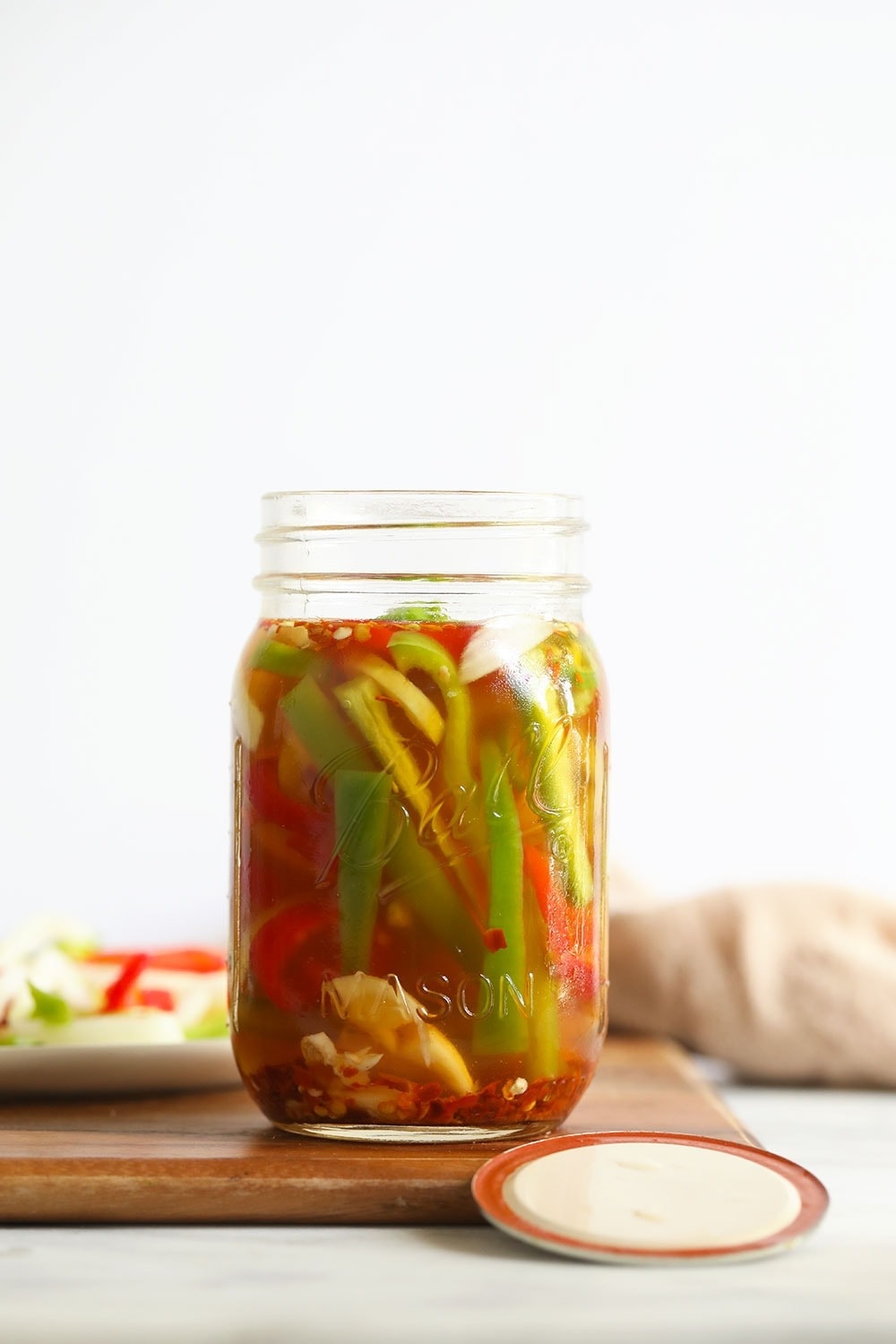 We're big fans of quick pickling peppers and onions. Not only are they a delicious addition to many of our favorite dinner recipes, they're wildly easy to make. Simply make the brine in a jar, add the peppers, shake, and refrigerate. After 2 hours, they're ready to go!
We like to keep a jar of these on hand in the studio at all times – they add a flavorful punch that instantly elevates a dish. And, this quick recipe is easily adaptable to your sweet/spice preference! Once you try pickled peppers, you'll never look back.
Featured Comment
"These are amazing!! They'll be a staple from here on out!" – Katy
What you need for pickled peppers
Like all pickled recipes, there are 2 parts to pickled peppers: a brine and in this case, peppers. The spicy brine and variety of peppers yields perfectly pickled peppers every time.
Brine
Vinegar: Classic white + apple cider vinegar is the base.
Red Pepper Flakes: For an extra kick and depth of flavor.
Honey: A little sweetness offsets the spice.
Peppers
Our favorite peppers for pickled peppers:
Poblano
Jalapeño
Anaheim
Serrano
This combination of all 4 peppers is what sets these pickled peppers apart from others we've tried. Don't forget to add a few cloves of garlic and diced onion for a little something extra!
Variations
We like pretty spicy pickled peppers, but there are a couple options for sweeter pickled peppers:
Remove the seeds of spicier pepper varieties before pickling
Eliminate spicier peppers, like jalapeños from this recipe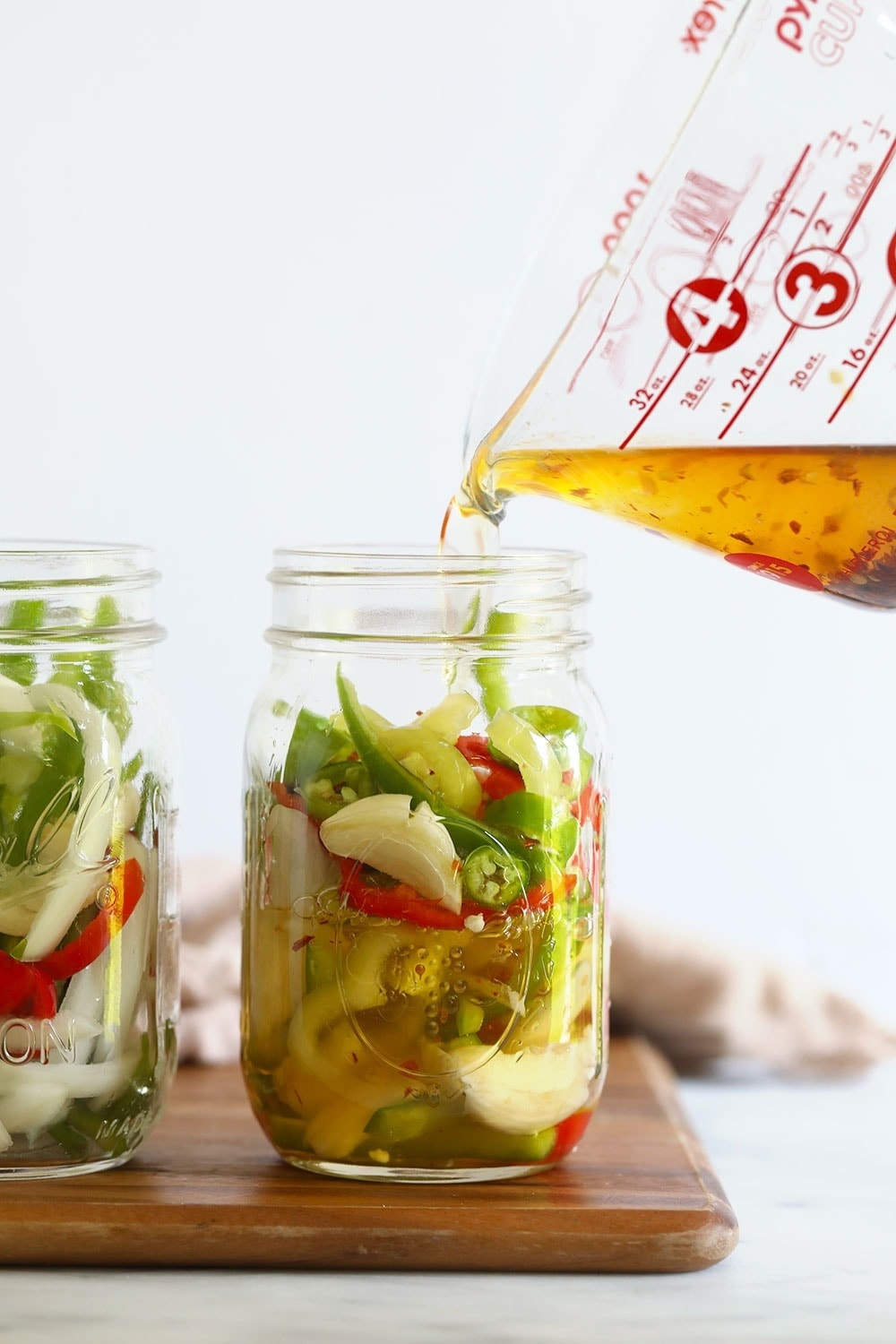 FAQ
How long does it take to pickle peppers?

The longer you pickle, the spicier the result! We love quick pickling for at least 2 hours to bring out the delicious spicy flavors, but if you have time to pickle overnight, that is ideal for maximum heat.
What kind of container should I use for pickling?

Any kind of air-tight container works great for pickled peppers. We like to use 16 ounce mason jars with a lid but any size works. If you have smaller jars, just divide the ingredients between 2 smaller containers. Another option are air-tight food storage containers.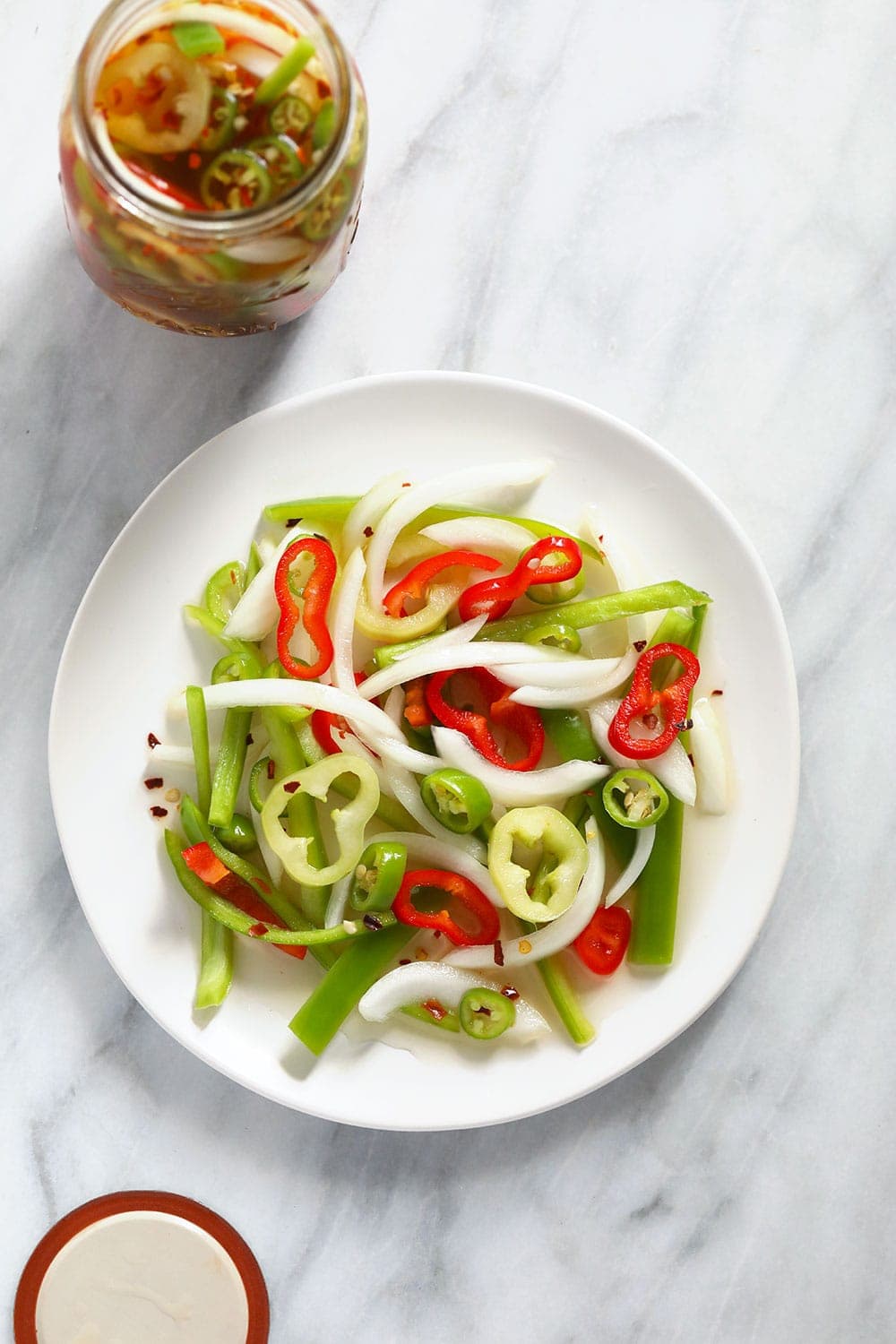 Storage
Pickled peppers last for up to 2 weeks in an air-tight container in the refrigerator. To save time (and dishes), use a mason jar with a lid so you can pickle and store them in the same container!
Serving Suggestions
Spicy pickled peppers add a welcome pop of flavor to many of our favorite recipes! They're great toppers for:
PS: Add pickled peppers to your next bloody mary for an extra kick!
Ingredients
2

cups

white vinegar

1/2

cup

apple cider vinegar

1

tablespoon

red pepper flakes

1

teaspoon

salt

1

teaspoon

honey

1

poblano pepper

sliced or chopped

1

red or green Anaheim pepper

sliced

1

jalepeño pepper

sliced and deseeded

1

Serrano pepper

chopped

1/2

small white onion

diced

5

cloves

garlic

peeled and mashed
Instructions 
Place apple cider vinegar, white vinegar, red pepper flakes, salt, and honey into a mason jar. Screw the cover on and shake the jar until the salt and sugar have dissolved.

Then, add the cut peppers, sliced onion, and mashed garlic cloves into the jar. Be sure that all of the peppers are covered in vinegar.

Place the lid back on the jar and give it one more shake.

Finally, place the jar in the refrigerator for at least 2 hours or overnight for the optimal quick pickled peppers!
Tips & Notes
Sweeter Pickled Peppers: For sweeter pickled peppers, remove the seeds of spicier pepper varieties before pickling or eliminate spicier peppers, like jalapeños, from this recipe.
Spicier Pickled Peppers: Refrigerate the peppers overnight for maximum spice.
Jars: We like to use these 16 ounce mason jars for pickled peppers.
Nutrition facts
Calories: 25kcal Carbohydrates: 3g Protein: 0g Fat: 0g Fiber: 0g Sugar: 1g
Source link