Moist and decadent, this chocolate zucchini bread is a flavorful twist on our classic zucchini bread recipe. Made with a simple list of baking ingredients and 1 heaping cup of shredded zucchini, this quick bread is ready in just over an hour.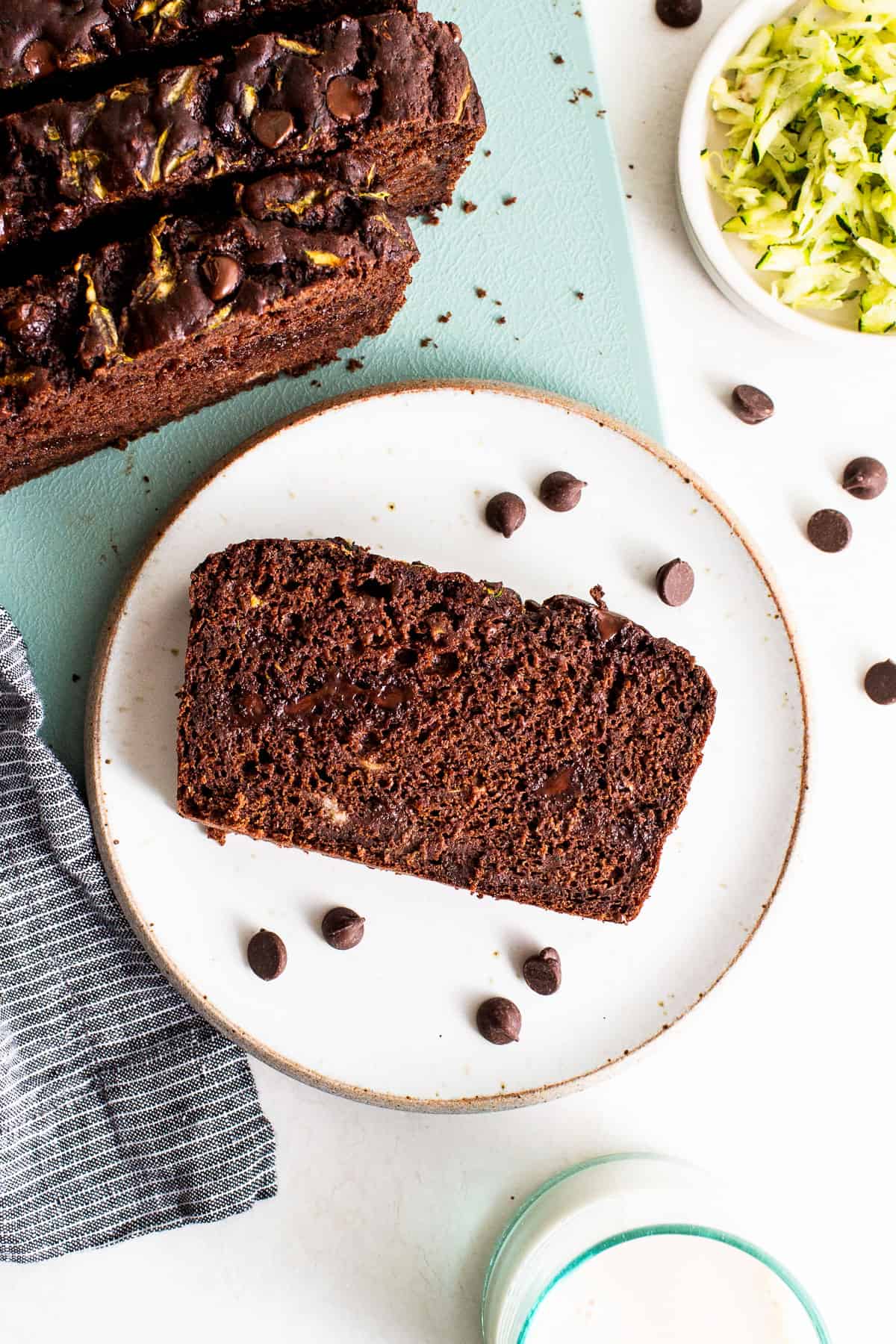 It's zucchini season, people! There's no shortage of zucchini in Minnesota this time of year, so we're always thinking of fun and delicious ways to incorporate summer's favorite veggie into our recipes. We used our classic zucchini bread recipe as a starting point to create this incredibly decadent double chocolate version.
Made with simple ingredients and sweetened with maple syrup and bananas, this chocolate zucchini bread comes out incredibly moist every time. This is a must-make summertime staple!
What is in chocolate zucchini bread?
There's a double dose of chocolate in this quick bread recipe – you'll find cocoa powder in the batter and chocolate chips studded throughout. And with a short ingredient list, you likely already have everything on hand!
Chocolate Zucchini Bread Ingredients
Flour: All-purpose flour is the base of chocolate zucchini bread.
Cocoa Powder: Unsweetened cocoa powder creates a chocolatey batter.
Zucchini: You need 1 cup of shredded zucchini (about 1 medium-large zucchini). Make sure to squeeze as much moisture out of the zucchini as possible before using it in the recipe to prevent mushy bread.
Chocolate Chips: While totally optional, we tested this recipe with and without chocolate chips and the version with chocolate chips was a clear winner!
Brown Sugar + Maple Syrup: Sweeten the bread.
Butter + Almond Milk: Add moisture and flavor.
Eggs: Bind everything together.
Bananas: Add sweetness – the riper the better.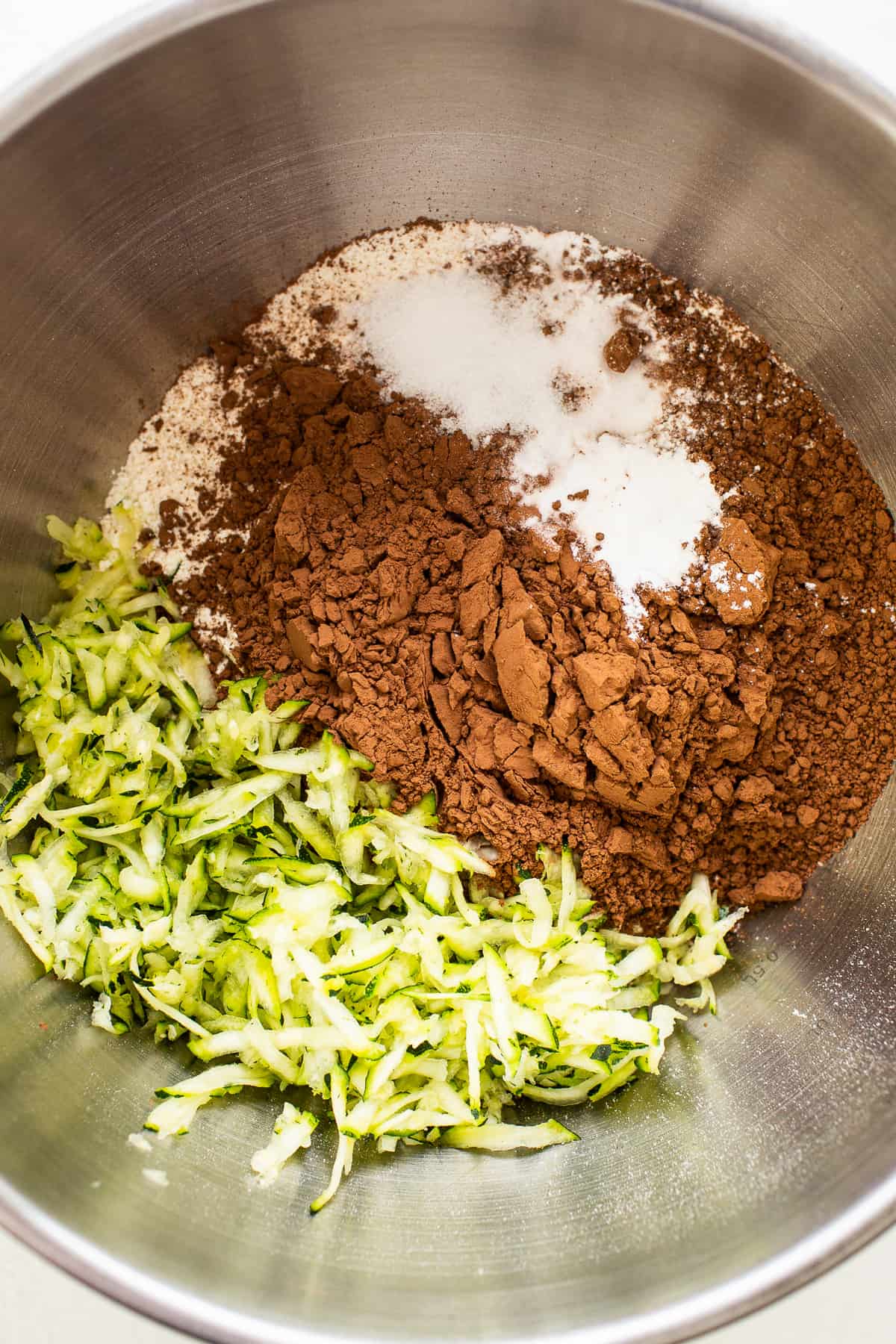 Substitutions
A couple substitutions and swaps you can try in this chocolate zucchini bread:
Flour: We don't recommend subbing all whole wheat flour for all-purpose flour, but try half whole wheat and half all-purpose flour. The bread will be more dense.
Chocolate Chips: Use your favorite kind – dark, white, mini, etc.
Eggs: Instead of eggs, use 2 flax seed eggs.
Bananas: Use 1 cup of applesauce instead of mashed banana.
Milk: Use any kind of dairy or non-dairy milk.
try it!
Easy Zucchini Bread
If you love this chocolate zucchini bread, try our traditional zucchini bread recipe!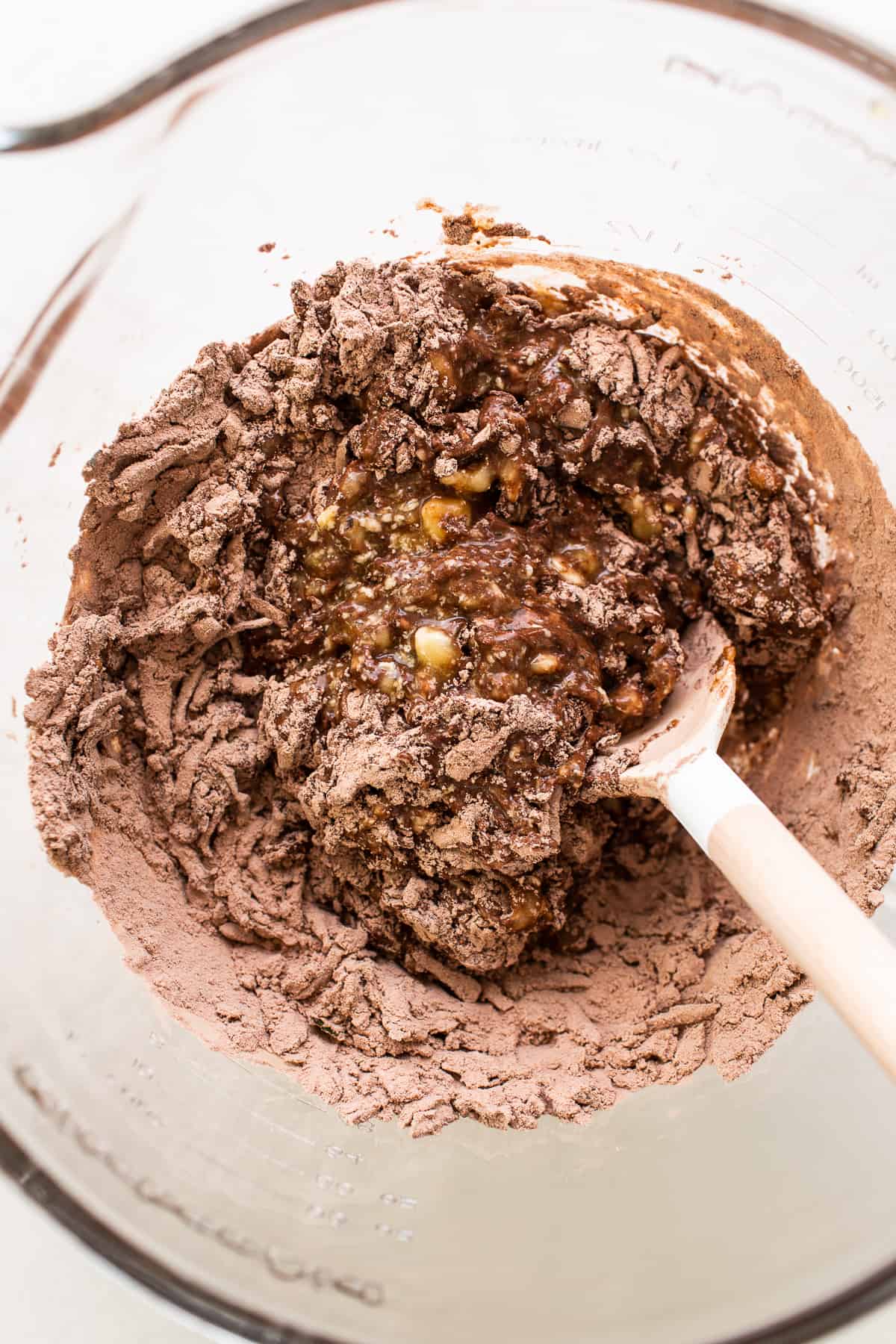 FAQ
Should you peel the zucchini first?

No need to peel the zucchini! It adds great color and nutrition, and it's a lot less hearty of skin compared to other vegetables. All of that said, feel free to peel the zucchini before grating it if you're not a fan of the skin.
What's the best way to grate zucchini for zucchini bread?

To grate zucchinis for zucchini bread, use the largest grate on a box grater, food processor, or your grater of choice.
Why is my zucchini bread soggy?

There's likely too much moisture in the batter from the zucchini. After grating the zucchini, it's really important to place it in a tea towel or paper towel and wrap it up. Squeeze as much moisture as you can out of the grated zucchini.
How do you prevent the top of the bread from burning?

If the top of your bread is browning too quickly, tent it with a piece of foil halfway through baking.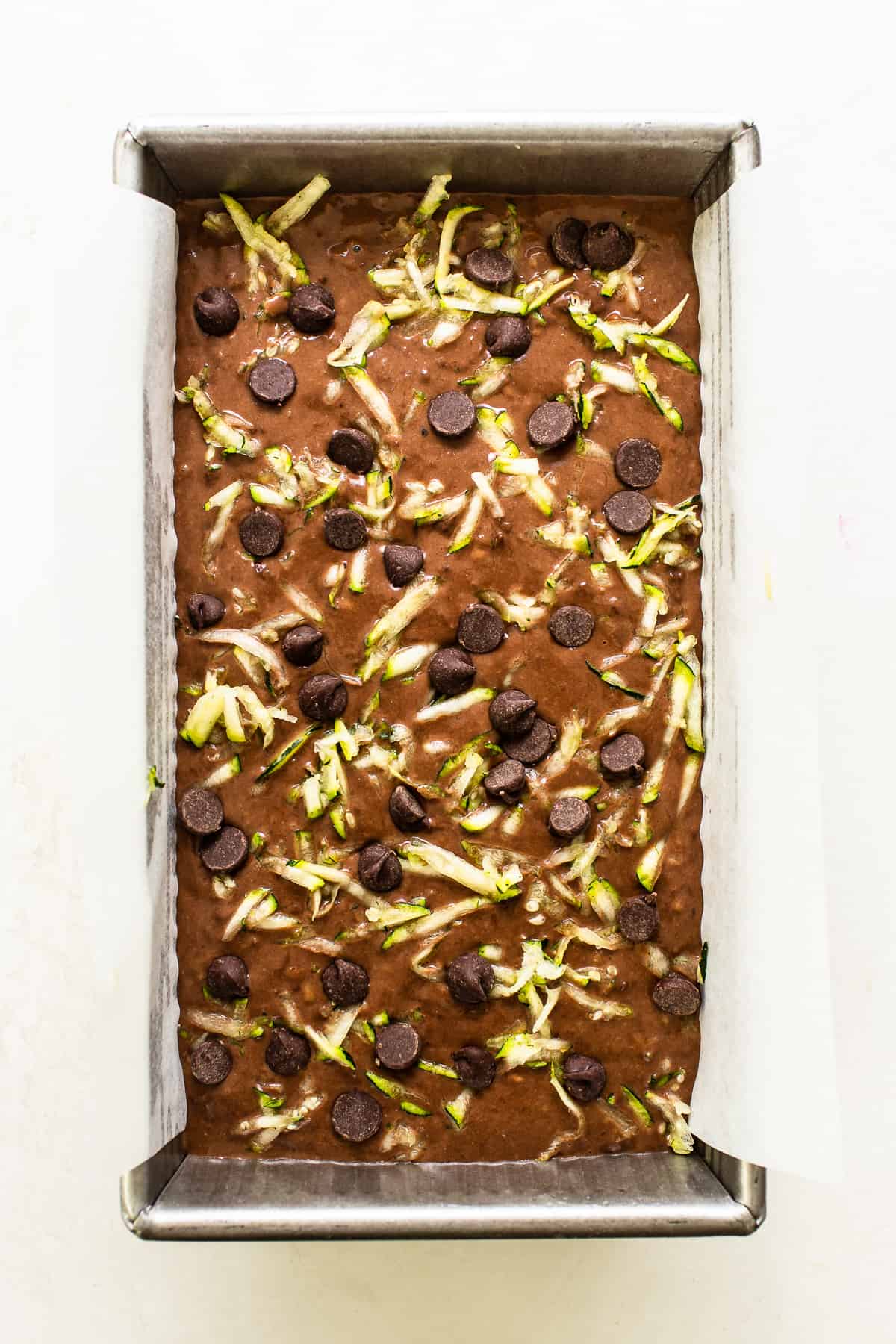 Storage
Once the chocolate zucchini bread is cool, wrap tightly or place in an air-tight container and store at room temperature for up to 3 days or in the refrigerator for up to 5 days (fridge is best).
To freeze chocolate zucchini bread, let the loaf cool completely before wrapping it up in a freezer-safe bag, plastic wrap, or container. Freeze for up to 3 months.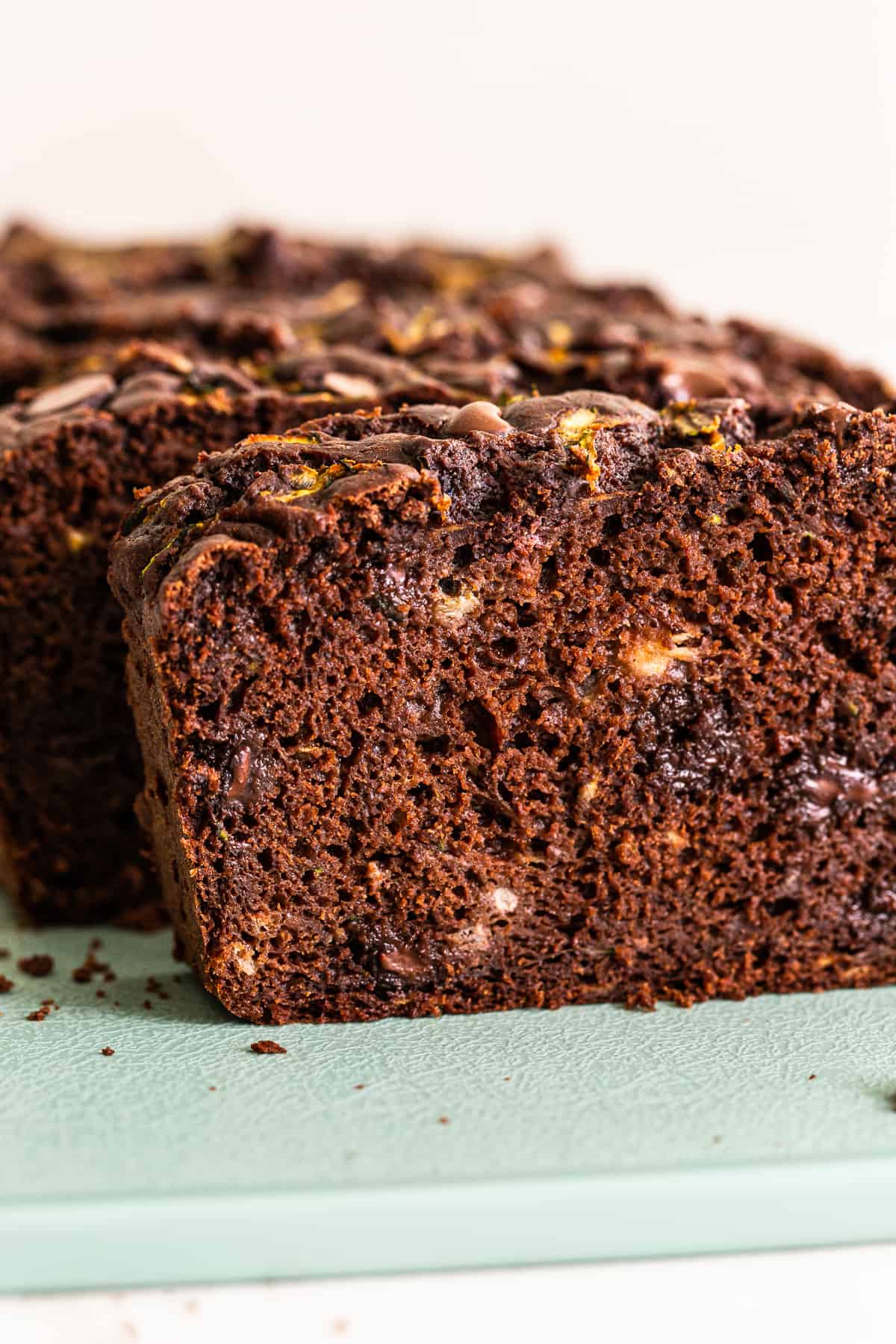 How to freeze zucchini for baking
Freezing zucchini is as easy as 1-2-3. If you have a plethora of zucchini from the garden or if zucchini is on sale at the grocery store, freeze it for next time. Here's how:
Wash the zucchini and shred it into a bowl (we usually use a box grater).
Place the shredded zucchini in the middle of a tea towel or in between layers of paper towel. Squeeze the water out of the zucchini.
Transfer the zucchini to a freezer-safe container or bag. Label the container with the date and place it in the freezer for up to 6 months.
When you are ready to use the zucchini, remove it from the freezer, let it thaw, and repeat the process of squeezing excess water out of the zucchini. Your zucchini is ready for this chocolate zucchini bread, zucchini oatmeal cookies, and zucchini oatmeal cups!
Ingredients
Wet Ingredients
3

tablespoons

unsalted butter

melted

¼

cup

maple syrup

2

large eggs

1

cup

mashed banana

1

cup

unsweetened plain almond milk
Instructions 
First, preheat the oven to 350ºF and spray a standard loaf pan with non-stick cooking spray or line the pan with parchment paper.

Remove moisture from the zucchini by using a coarse grate cheese grater to grate the zucchini. Keep the skin on and grate zucchini. Next, place grated zucchini in the middle of a tea towel or cheesecloth and ring out as much moisture as possible. Then, measure 1 cup.

Next, place the flour, cocoa powder, baking soda, baking powder, salt, and shredded zucchini into a large bowl and mix to combine. Set aside.

In a separate large bowl use a hand mixer to cream the brown sugar, butter, and maple syrup together. Add the egg and mashed banana to the creamed ingredients and mix to combine.

Next, add the dry ingredients to the wet ingredients and mix. Add the almond milk and mix again. Fold the chocolate chips into the bread batter.

Transfer the batter into the greased loaf pan and bake for 30 minutes at 350ºF.

Place a tin foil tent over the zucchini bread and bake for an additional 25-30 minutes.

Remove from the oven when the bread is done (stick a toothpick in the bread and if the toothpick comes out clean, it's done.).

Let cool for 10 minutes before removing from the loaf tin to continue cooling.
Tips & Notes
Zucchini: We don't peel the zucchini before using it in this recipe. The zucchini skin adds great color and nutrition, and it's a lot less hearty of skin compared to other vegetables. All of that said, feel free to peel the zucchini before grating it if you're not a fan of the skin.
Nutrition facts
Calories: 229kcal Carbohydrates: 38g Protein: 5g Fat: 7g Fiber: 3g Sugar: 19g
Photography: photos taken in this post are by Ashley McGlaughlin from The Edible Perspective.