Minnesota's largest city has plenty of activities for visitors, especially during the beautiful summer months. Learn about things to do in Minneapolis and its adjoining city, St. Paul, in this travel guide.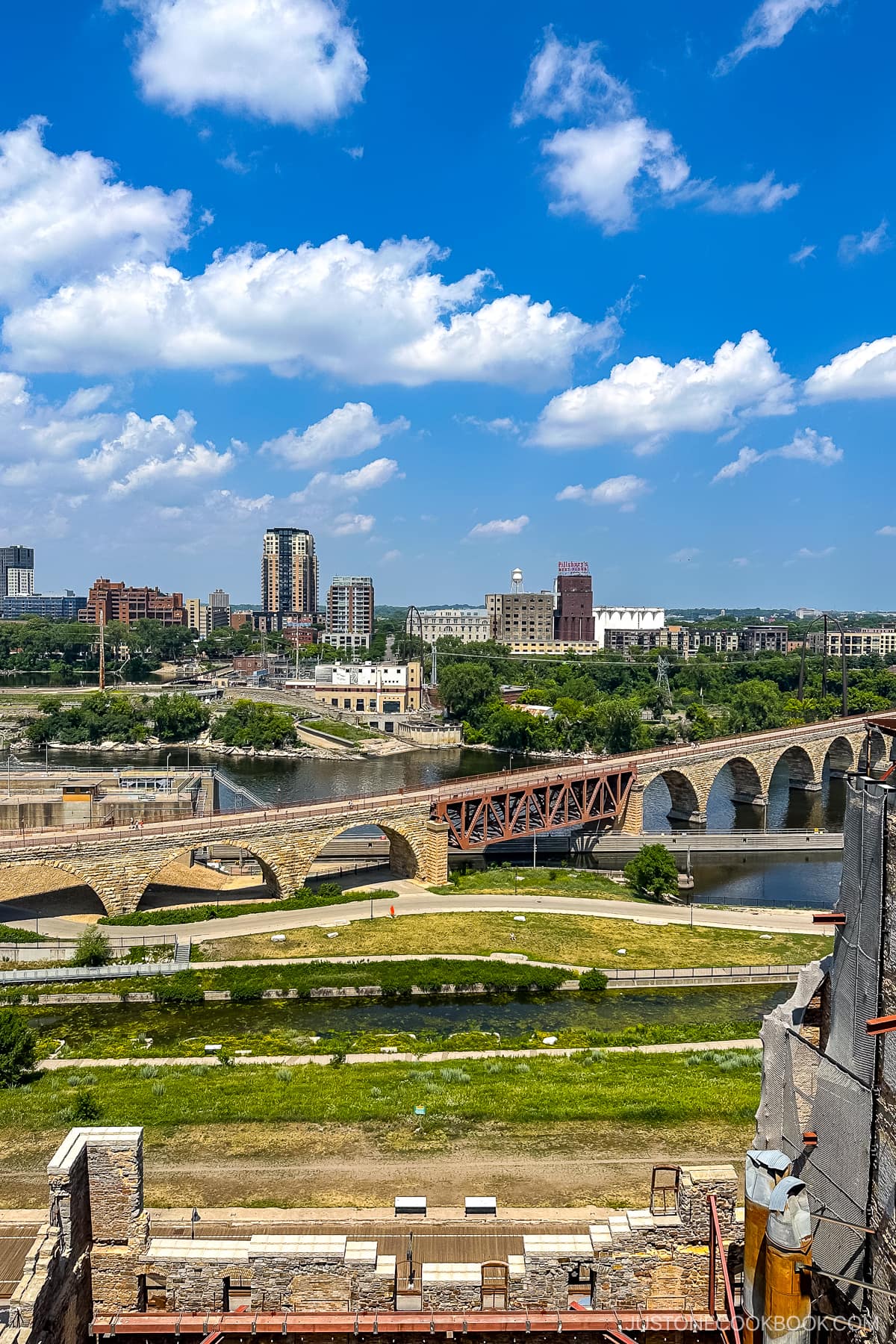 The dynamic duo of Minneapolis and its neighboring counterpart, St. Paul, are vibrant places to visit during the summer and fall seasons. We had a chance to spend several days in the Twin Cities and saw many of its highlights.
Come join our journey as we take you on a quick tour around this charming metropolitan area. Our good friends and JOC Team member Reese's family hosted us for over 3 three days during our trip and we had the absolute best time!
Tips for traveling in Twin Cities Area:
The places to visit cover a large area so highly recommend renting a car.
Check the weather before traveling there. The region is known for its distinct seasons, and winter can last a long time.
Bring comfortable shoes as there are many places that require walking.
There's no specific sequence to visiting the locations as the traffic is not terribly heavy. Feel free to arrange them for what's most suitable for your schedule.
Places to visit in Minneapolis
Minneapolis Chain of Lakes Regional Park
Minnesota is known as the "Land of 10,000 Lakes" and Minneapolis Chain of Lakes Regional Park is nestled southwest of downtown Minneapolis. This park is made up of Brownie Lake, Cedar Lake, Lake of the Isles, Bde Maka Ska (formerly Lake Calhoun), and Lake Harriet. The lakes, diverse in size and shape, boast scenic trails for walking and biking. We visited several of the lakes and enjoyed the relaxing atmosphere.
Both Bde Maka Ska and Lake Harriet feature family-friendly beaches and encompassing pathways, providing a haven for leisure entertainment. As we stroll the trails around the lakes, we saw kids swimming, people fishing, biking, kayaking, and participating in various other outdoor activities. Since the area is relatively flat, we recommend renting a bike and enjoying most of the lake surroundings.
The tranquil Lakewood Cemetery, situated between Bde Maka Ska and Lake Harriet, features the splendid Byzantine Chapel and The Lyndale Park Rose Garden.
Lake Minnetonka
One of the largest lakes near Minneapolis is Lake Minnetonka (9th largest in MN). It is a popular spot for waterfront restaurants and outdoor pursuits such as boating, sailing, and fishing.
We took a boat tour of the lake from the Port of Excelsior. It was a hazy morning, but it didn't deter anyone, including us from enjoying the ride. The boat took us around the lake while the guide told us the history of the lake. Stories about the islands, the yacht clubs, and the fabulous mansions that sit on the lakeside. It was so interesting to see so many grand mansions surrounding such a large lake. I later learned that Lake Minnetonka has been mentioned numerous times in popular culture.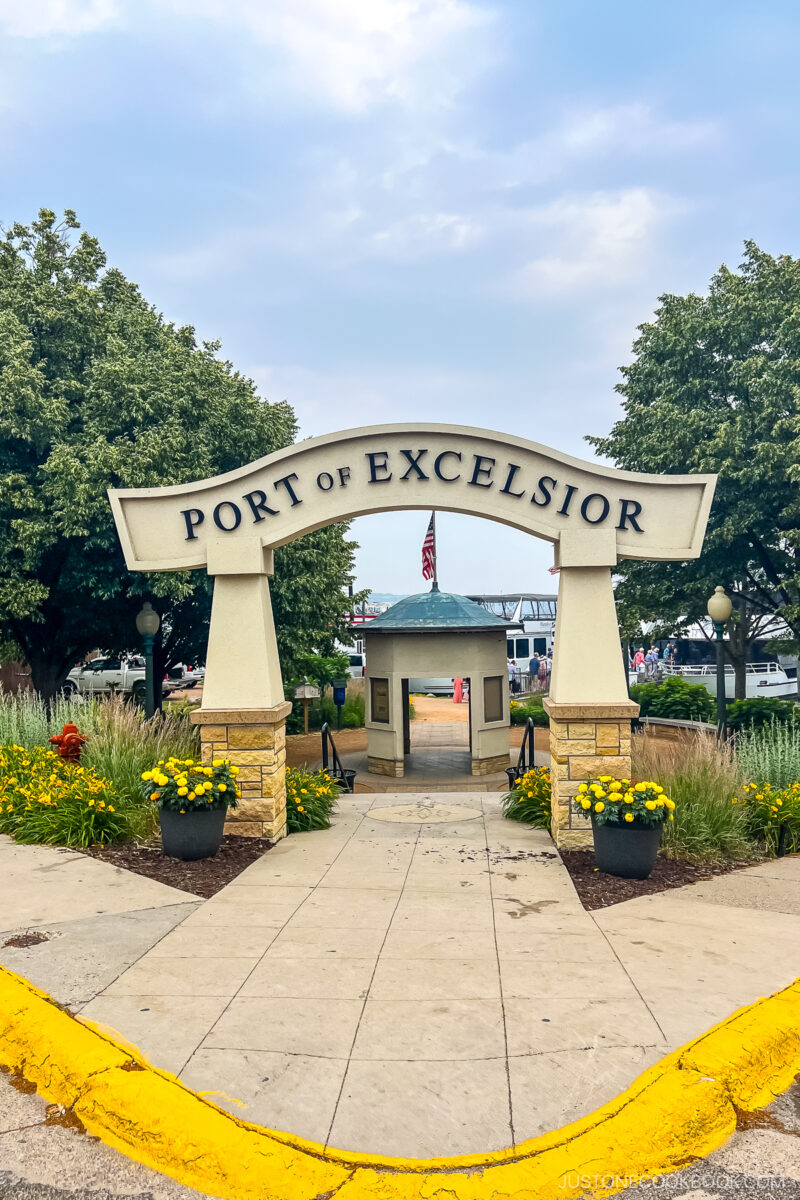 Minnehaha Regional Park and Minnehaha Falls
Head south from downtown Minneapolis and another large park in the area with lots of walking paths is Minnehaha Regional Park. It is one of the oldest parks in Minneapolis and is best known for the grand 53-foot Minnehaha Falls. There is also disc golf, the historical John H. Stevens House Museum, gardens, and the Wabun Playground in the park.
Minnehaha Regional Park is nearby the airport so if you arrive early or leave later in the day, it's a great park to spend some time.
George Perry Floyd Jr. Place
Heading back towards downtown, one of the stops we made was at George Perry Floyd Jr. Place. It's where George Floyd tragically lost his life. Today, the cross intersection of the street is a memorial and tribute to him, and a reminder of the need for societal progress.
Minneapolis Institute of Art
One of our favorite activities to visit in a new city is the art museum and we got to spend some time at Minneapolis Institute of Art or fondly known as Mia. Mia has an astounding collection of art spanning 5,000 years of world history. It is one of the largest museums in the US.
The collection is a tapestry woven with Asian art and artifacts, Western masterpieces, and contemporary creations. We were impressed to see the standout features which include a meticulously crafted replica Japanese tea house and a captivating Chinese village room. Mia is free to all visitors so don't miss it during your visit.
Another notable museum worth visiting in Minneapolis is the Weisman Art Museum on the University of Minnesota campus. It houses both permanent collections as well as thought-provoking presentations imbued with cultural, social, and historical contexts.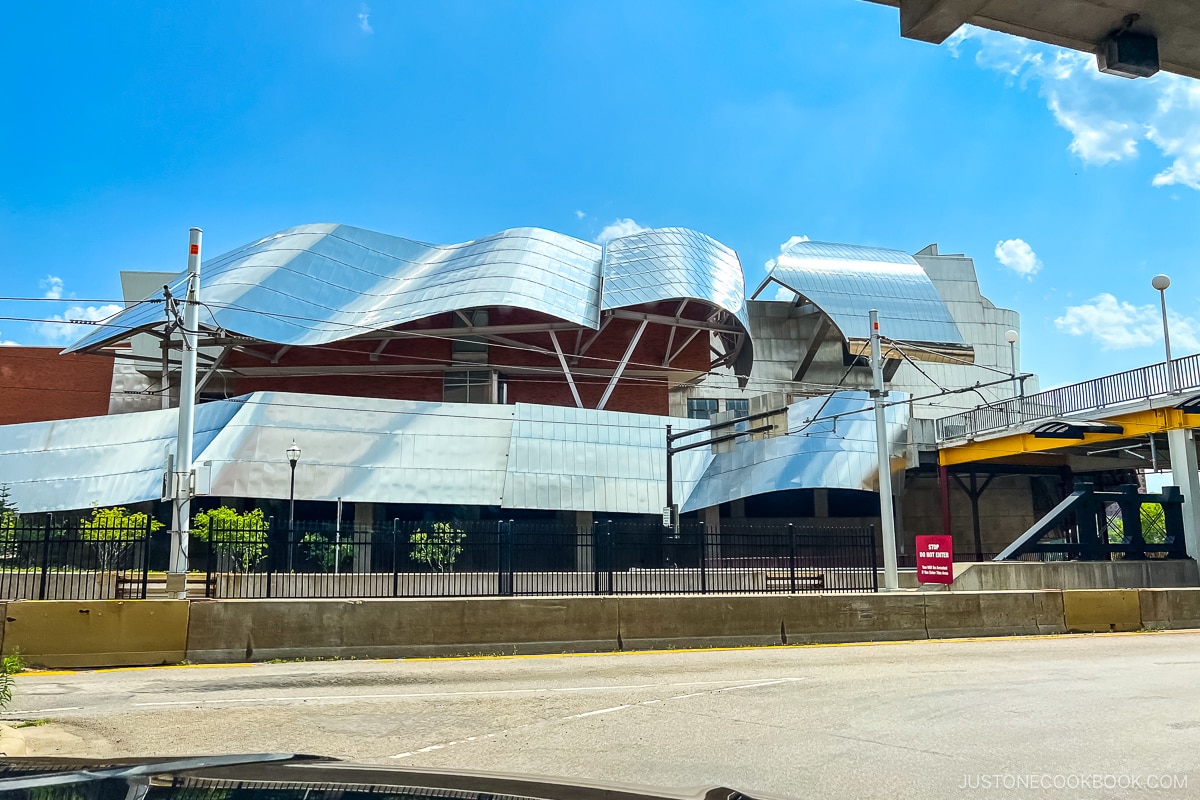 Minneapolis Sculpture Garden
Continuing on the art theme, Minneapolis Sculpture Garden is located in close proximity to Mia. The sculpture garden is an 11-acre outdoor park with over 40 installations. The centerpiece of the garden is "Spoonbridge & Cherry" by Claes Oldenburg and Coosje van Bruggen. The garden is managed by the nearby contemporary museum Walker Art Center.
Basilica of Saint Mary
Across the I-94 from Minneapolis Sculpture Garden is one of the beautiful churches we saw over and over again as we drove around the city: the Basilica of Saint Mary. The original was the first basilica established in the US in 1871, and the current basilica was completed in 1908. This sacred sanctuary evokes awe with its striking design and intricate details, mirroring Masqueray's handiwork at the Cathedral of Saint Paul.
Things to do in Minneapolis Downtown
Downtown Minneapolis is made up of several districts including the Warehouse District, Gateway District, North Loop, and Downtown East lining the western bank of the Mississippi River, together create a captivating urban tableau. The area is filled with restaurants and activities to do. The downtown highlights from our trip are the Mill City Museum and Guthrie Theater.
Mill City Museum
Mill City Museum is located at the former ruins of Washburn A Mill, the former flagship mill for General Mills. At the time of its completion in 1880, it was the world's largest and most advanced flour mill. The mill closed in 1965 and a fire gutted the mill in 1991. The Mill City Museum opened in 2003 and houses a museum that tells the rich history of milling in Minneapolis as well as what caused the explosion in 1878.
We really enjoyed the immersive Flour Tower elevator show, the flour explosion demonstration, and the rooftop vantage point that provides panoramic views of the surrounding landscape.
Mill Ruins Park and Stone Arch Bridge
Nearby the museum is the Mill Ruins Park and the Stone Arch Bridge landmarks. The Mill Ruins Park is home to abandoned flour mills. Visitors can see signs of the former mills with exposed concrete structures along the riverbanks.
The Stone Arch Bridge is a former railroad bridge now a pedestrian and bicycle-only bridge thoroughfare to the Mississippi River. Constructed in 1883, it once facilitated commercial connections between Minneapolis and St. Paul.
Don't forget to stop by the St. Anthony Falls visitor center and learn about the hydroelectric power that was used to power the mills.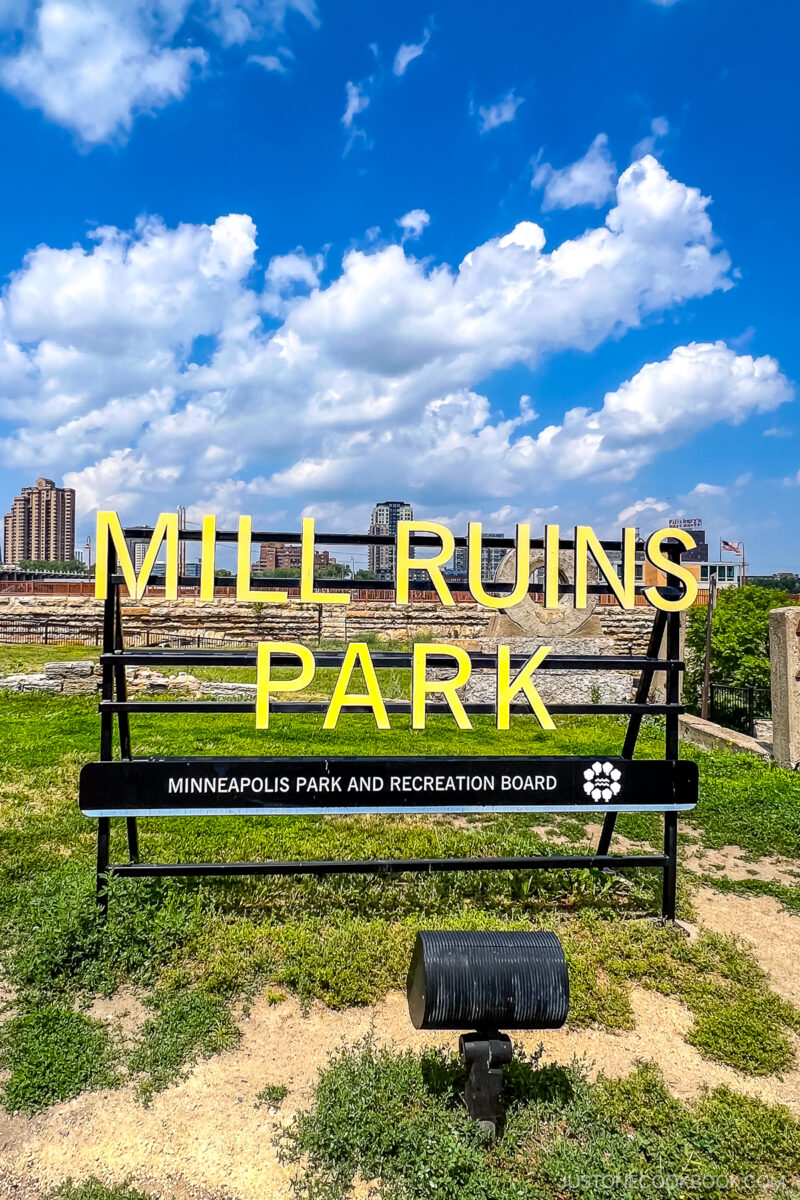 Guthrie Theater
Our last stop in downtown Minneapolis is the Guthrie Theater. The grand and futuristic Guthrie Theater is located right next to Mill City Museum and is home to Wurtele Thrust Stage, McGuire Proscenium Stage, and Dowling Studio.
The blue steel building is designed by Jean Nouvel with unique architectural features. Which includes The Endless Bridge, screen-painted steel panels, and other interesting details. Reese and family treated us to a showing of Murder on the Orient at the theater and we'll remember the experience forever.
Cathedral of Saint Paul
We didn't get to spend as much time in Saint Paul on the trip but did make a few stops. The first is the Cathedral of Saint Paul, the third largest cathedral in the US. The Cathedral of Saint Paul opened in 1915 and was designed by Emmanuel Louis Masqueray. The interior has an open design and you could see the altar and pulpit from almost everywhere within the cathedral. Intricate stained glass windows, alongside the awe-inspiring 186-foot-high dome, contribute to the cathedral's opulent aura.
James J. Hill House
A block away from the cathedral is the Jame J. Hill House, where visitors can tour the 36,000 sq. feet house built and once owned by the railroad magnate James J Hill. The house sits on top of a hill with a view of St. Paul and the Mississippi River. A tour of its opulent interior reveals a wealth of craftsmanship. Highlighted by intricate woodwork and a striking pipe organ housed within the art gallery.
Summit Ave Victorian Houses
After the James J Hill House, we walked along Summit Avenue, which is the longest avenue of Victorian homes in the US. The street continues for four and a half miles west all the way to the Mississippi River. Notable residences, including the F. Scott Fitzgerald House and the Minnesota Governor's Residence, grace this thoroughfare, providing a glimpse into an era of architectural opulence. It was easy to imagine ourselves in a set of a period film, where aristocratic families and horse-drawn carriages once traversed the cobbled streets.
What We Ate In Minneapolis
As food enthusiasts, we arrived with a list of restaurants we were eager to experience. Personally, I was captivated by the vibrant culinary landscape of the Twin Cities. While there were several James Beard award-winning establishments I had hoped to sample, their reservations were fully booked. Thus, we decided to enjoy our evenings at Sooki & Mimi, Hai Hai, and Kado no Mise instead.
Sooki and Mimi
Sooki and Mimi is a Mexican-Korean restaurant by James Beard Award-winning Chef Ann Kim (Netflix Chef Table: Pizza). Set in a warm and chic setting with exposed wood beams and wood furniture, the restaurant felt very inviting. They offer an à la carte menu with plenty of options to choose from. We tasted a variety of tacos and they were all so good! The dynamite tacos dorados served on a dinosaur dish were so clever and fun.
We loved all the dishes but the galbi jjim dish was most memorable, be sure to give it a try if you visit.
Hai Hai
Our second dinner was at Hai Hai and we didn't know what to expect only knowing it was Southeast Asian food. The decor of the restaurant is tropical with plants scattered all over and the lights had Asian lampshades. The staff helped us with a selection of recommended dishes and we couldn't wait to try.
With a strong Vietnamese influence, chef Christina Nguyen's flavors and the texture of the dishes were so unexpected. The dishes were flavorful, punchy, and just flat-out delicious. With the right amount of sour, sweet, spicy, and salty, it was a journey for our taste buds and the only wish we had was we had Hai Hai in San Francisco so we can visit more often.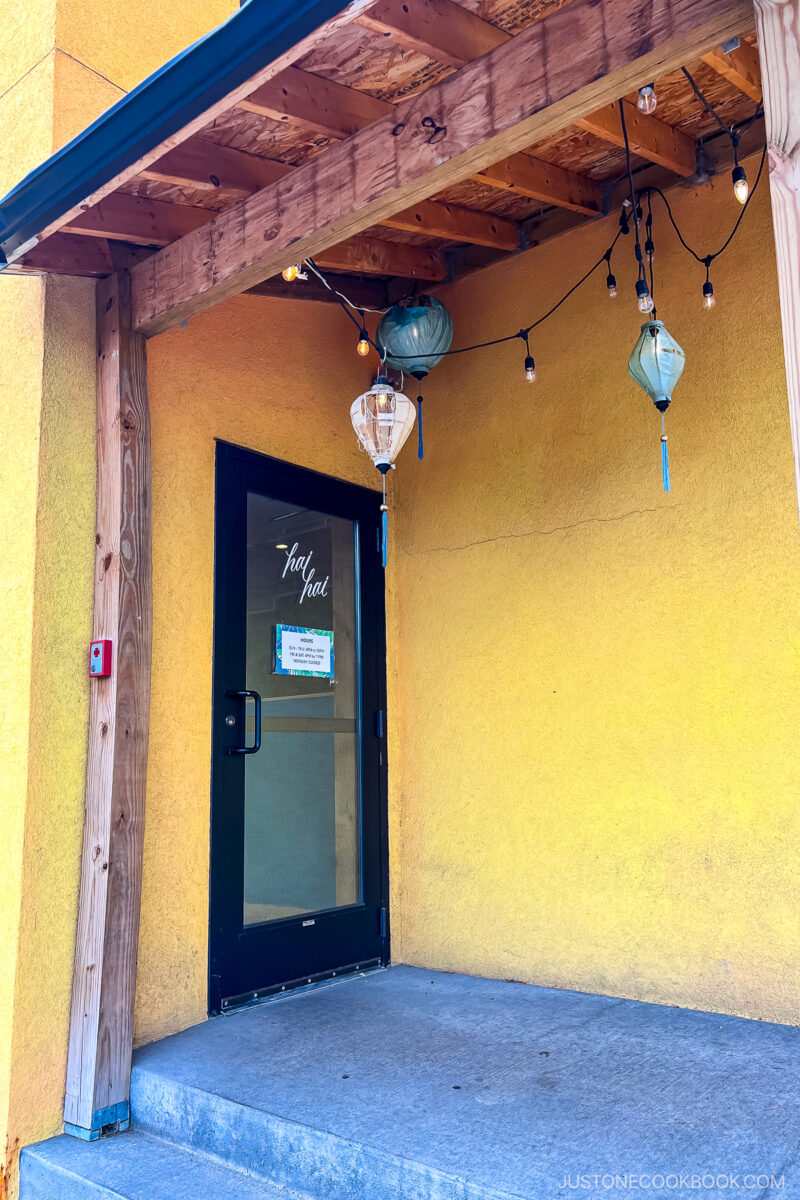 Kado No Mise Japanese Restaurant
We spent our last evening at Kado no Mise, an elevated Japanese restaurant, tucked in a corner of the same building as the Federal Reserve Bank of Minneapolis.
From the moment we stepped inside, the ambiance exudes an air of traditional elegance combined with modern flair. The decor was minimalist Japanese, and that's how we liked it—cozy and intimate at the same time. We were greeted immediately by the attentive staff who brought us to our counter seats and introduced us to Chef Hasegawa. The chef could tell that Nami was Japanese so he immediately warmed up to our group.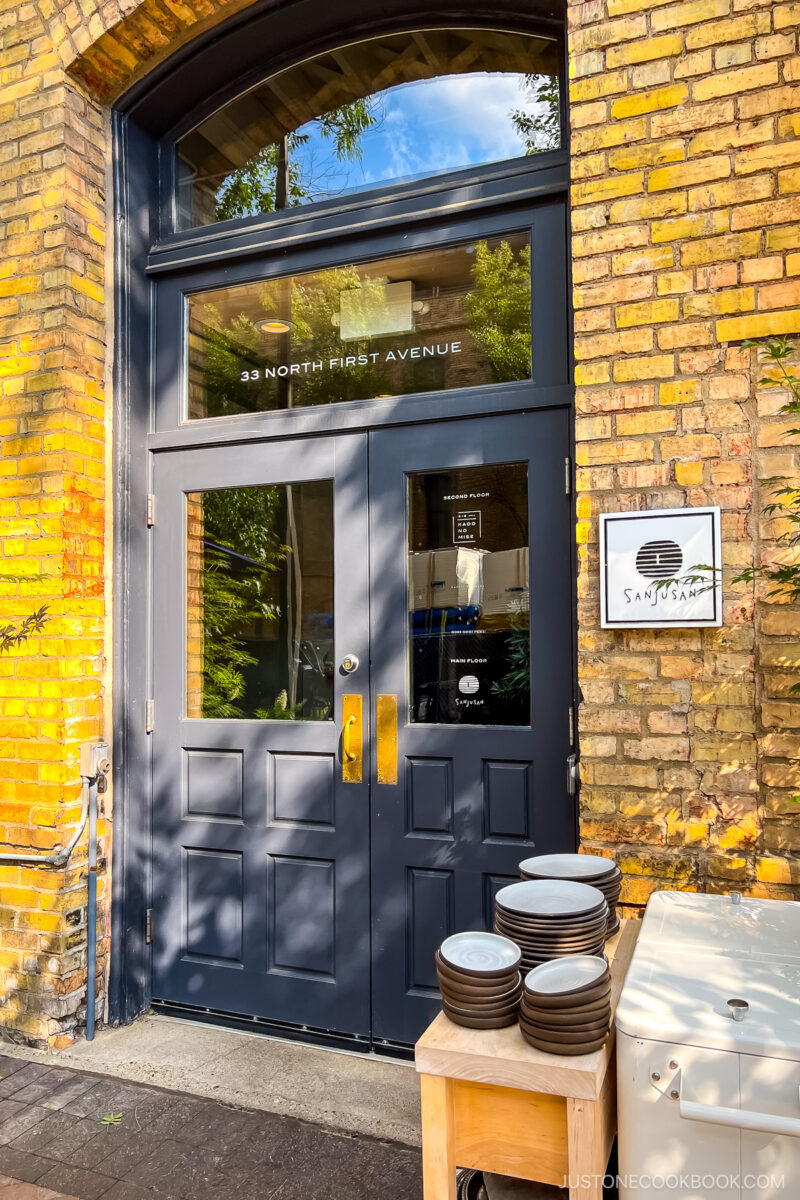 Chef Hasegawa began by serving us an array of small-plate appetizers like simmered eggplant, minazuki tofu, shiitake chawanmushi, and seasonal miso soup featuring okra. Each dish was prepared with authentic Japanese methods, precision, and artistic flair. When it came to Edomae-style sushi, Chef Hasegawa led us through a progression of flavors and textures, starting with milder, more delicate whitefish and leading into the bolder fish.
As we chatted over the courses, we learned that they source their ingredients from the best places, including the fresh wasabi from Half Moon Bay Wasabi Company, the well-known wasabi farm not too far from where we live!
When Nami asked the chef whether he has seen an increase in interest in authentic Japanese food in the Midwest, he nodded and replied, it was more difficult to serve traditional Japanese food to the guests, but it has been improved. It made us very happy, knowing that there is more recognition of Japanese food beyond sushi and ramen.
Chef Furukawa's Mission – Real Japanese Cuisine
The owner and chef Furukawa overheard us speaking Japanese, so he came by to join us in the conversation. He was friendly and down-to-earth and was eager to answer any questions we had.
When asked how and why he decided to open a traditional restaurant in Minnesota, Chef Furukawa said he was very sad when he had to make Americanized Japanese sushi like caterpillar sushi roll when he first moved here, so he took a big leap of faith and started Kado no Mise. It is now his mission to introduce real Japanese food and food culture here.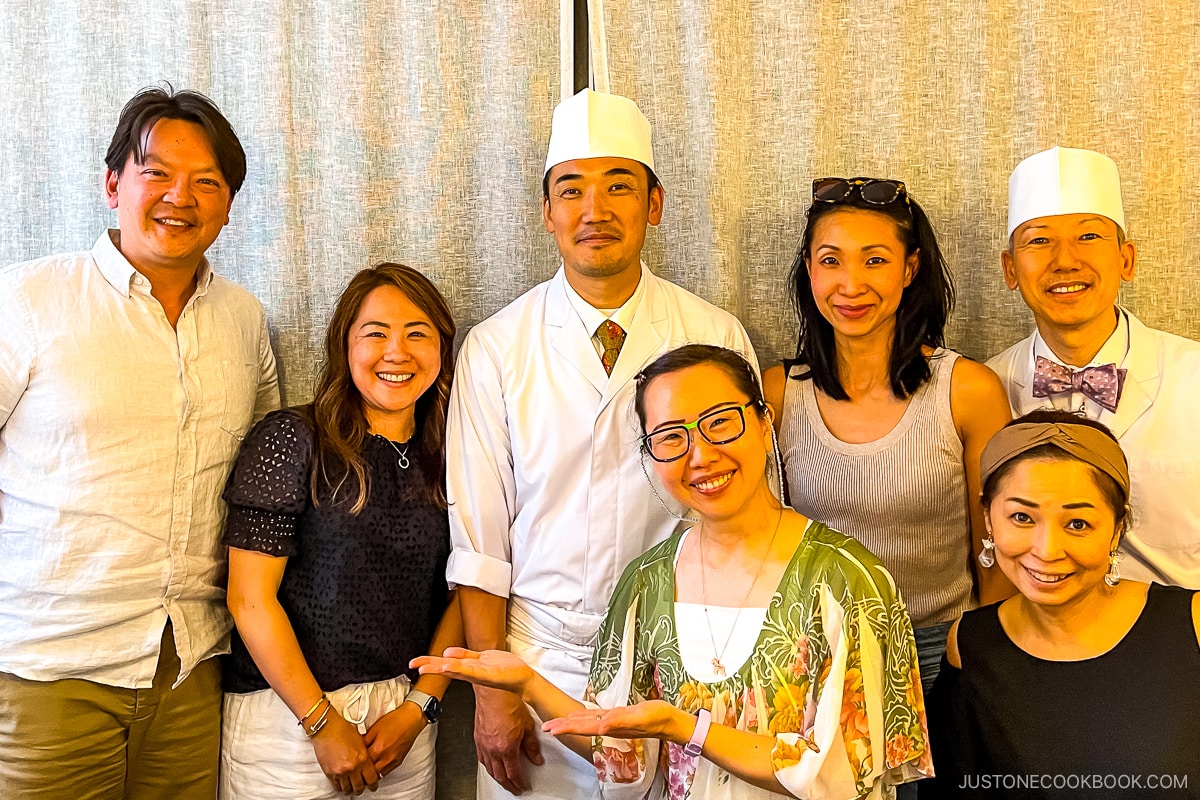 Kado no Mise is undoubtedly a haven for food enthusiasts seeking the finest Japanese cuisine Minneapolis has to offer. If you live in the area or happen to visit, I hope you get a chance to dine at the restaurant.
They also have an intimate Japanese whisky bar, Gori Gori Peku, which is on the second floor of the building, and Sanjusan, serving a wildly popular Japanese-Italian creative fare, located on the main floor.
Can't Wait to Visit Minneapolis Again
Twin Cities has been a genuine surprise to us, and we were glad to discover so many great places and their rich history. Reese and her family have made us promise to visit again in the fall to see the foliage. They said winter in Minnesota can be fun and a one-of-a-kind experience, although this will take a little more convincing for Nami as she couldn't handle any temperatures below the 40s. That said, we will definitely love to visit again in the near future!