This Caesar salad dressing is not your classic Caesar dressing. Our recipe is unique because it doesn't include eggs! We highly suggest smothering this Caesar dressing on salads, wraps, and vegetables.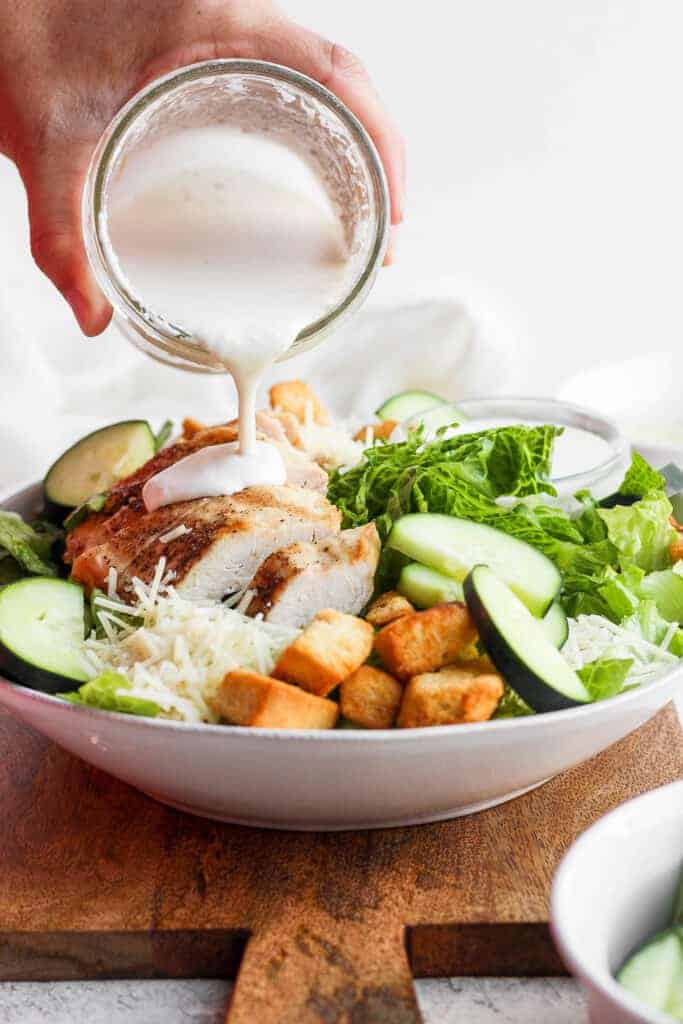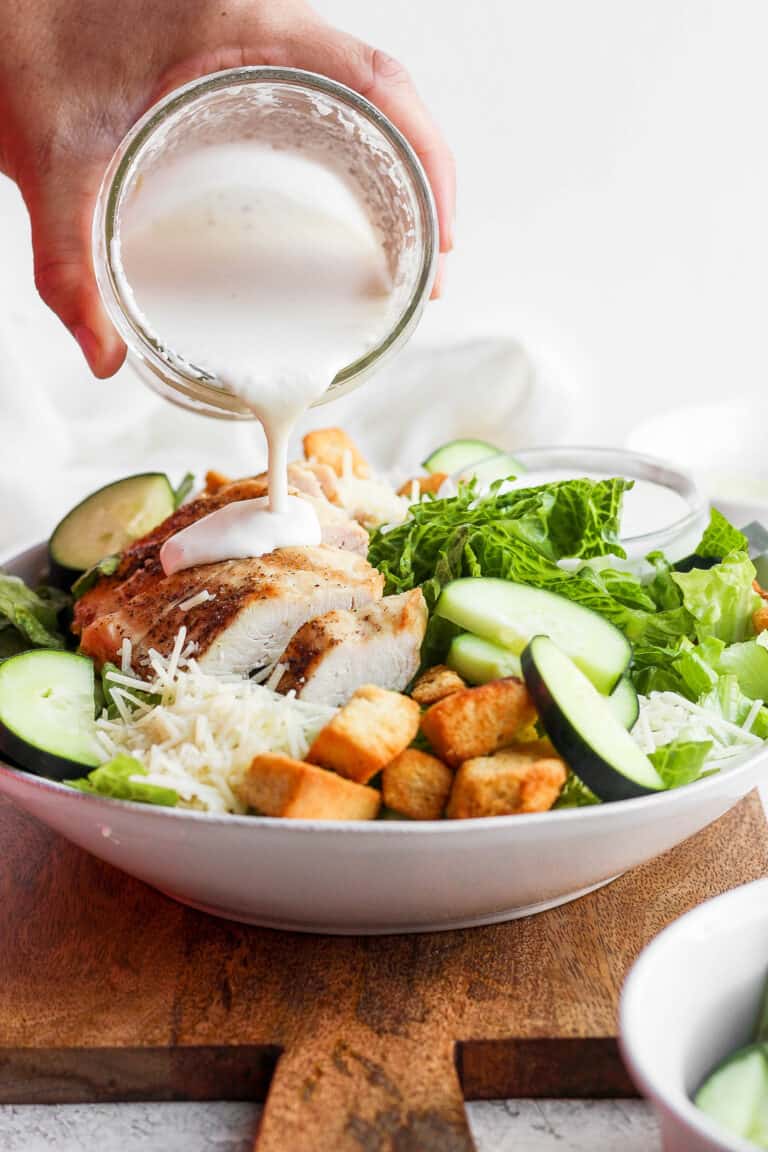 Our refrigerator is always fully stocked with some kind of Caesar dressing. When we have the time to make a homemade dressing, this Caesar salad dressing is one that we return to over and over. Especially when we are whipping up a chicken Caesar salad.
We tested this recipe multiple times, testing it with eggs and without. We all preferred the eggless recipe with anchovy paste, but everyone also really enjoyed the freshness that the lemon zest added.
What is in this Caesar Dressing?
Greek yogurt- Caesar dressing is traditionally creamy from egg yolks and parmesan cheese. We got rid of the eggs and added Greek yogurt. You can use any plain Greek yogurt that you would like!
Mayonnaise- adding a little mayo to this Greek yogurt gives it that creamy and eggy flavor and texture.
Grated parmesan- don't skip the parmesan cheese in this recipe. Finely grated parmesan cheese makes this dressing. We're talking the finely grated, almost powder-like parmesan cheese. It adds saltiness and thickens up the dressing.
Anchovy paste– no need to go and buy a tin of anchovies that you will only use one time. We love buying a tube of anchovy paste. It is heaven-sent. You can order anchovy paste online or find it near the tomato paste or olives in your grocery store.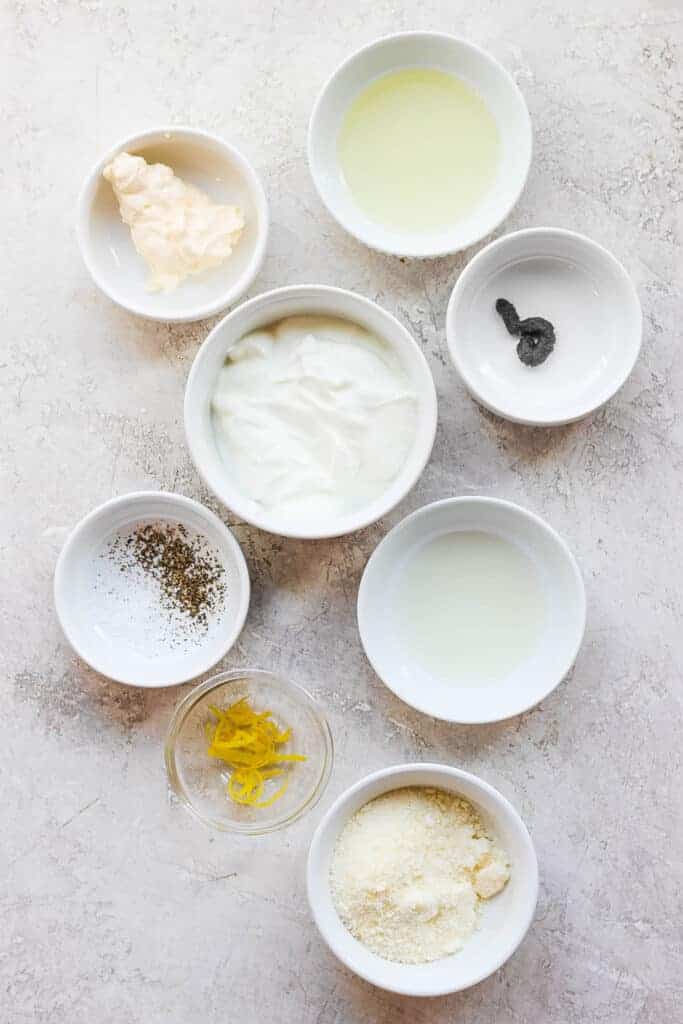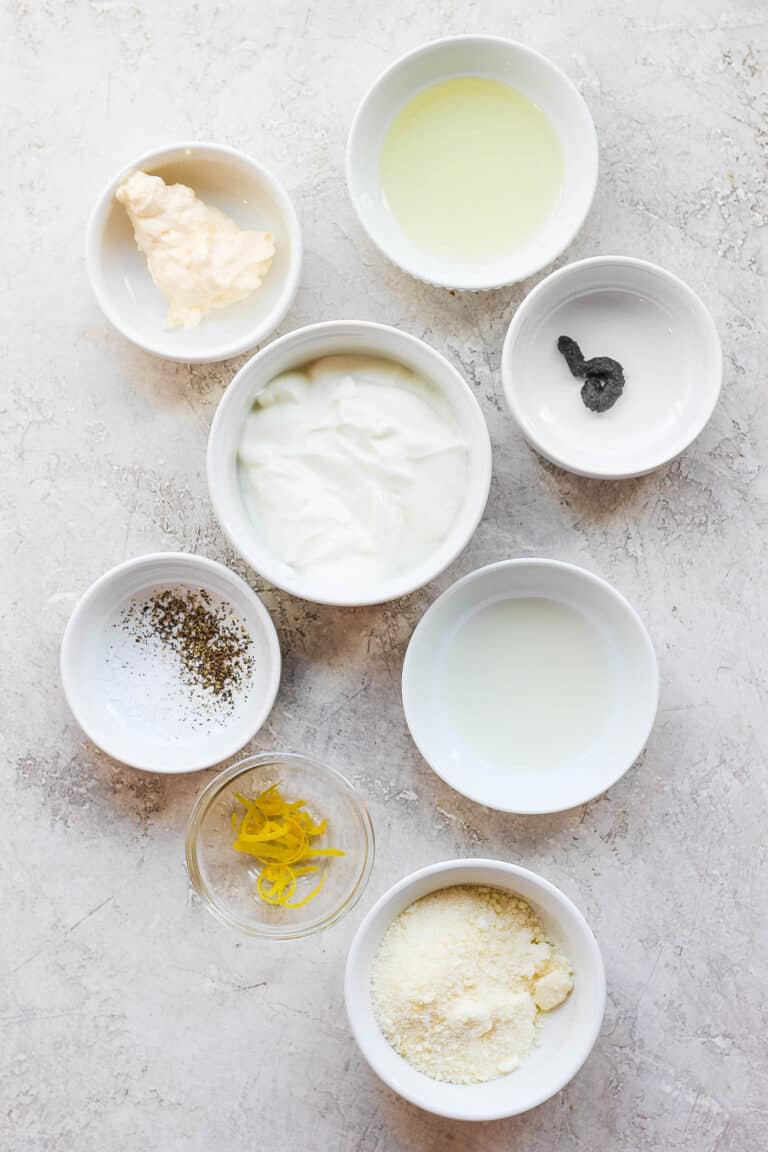 Ingredient Swaps
Not into some of the ingredients in this salad dressing? We get it. Here are a few easy ingredient swaps you can make.
olive oil —> grape seed oil or avocado oil
anchovy paste–> fish sauce
Greek yogurt–> more mayonnaise
Mayonaise–> egg yolks (if you are feeling the classic Caesar dressing)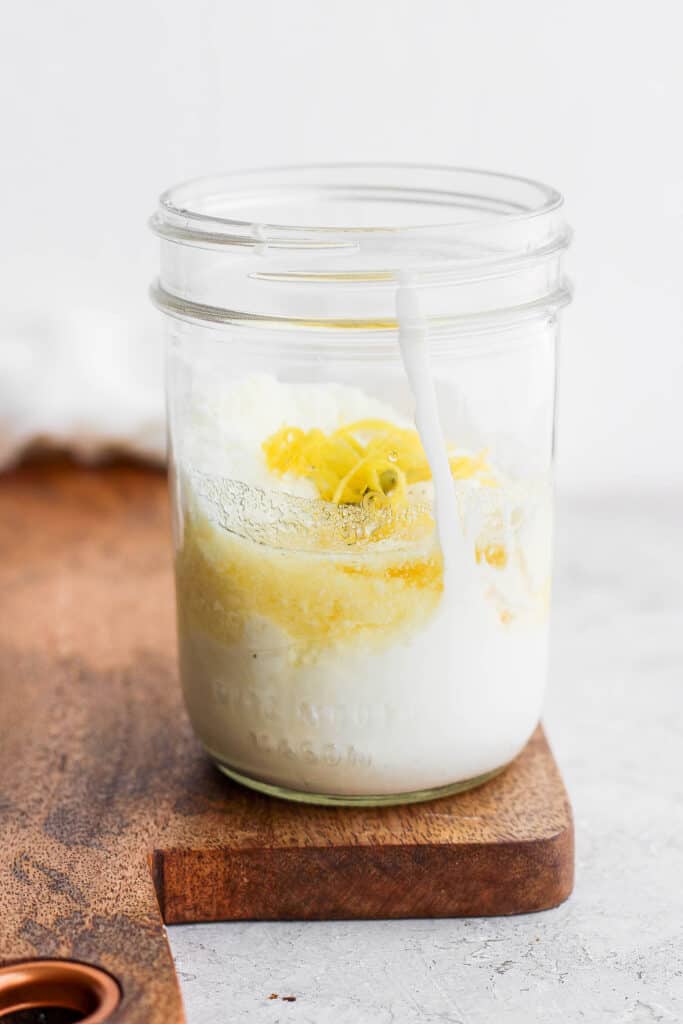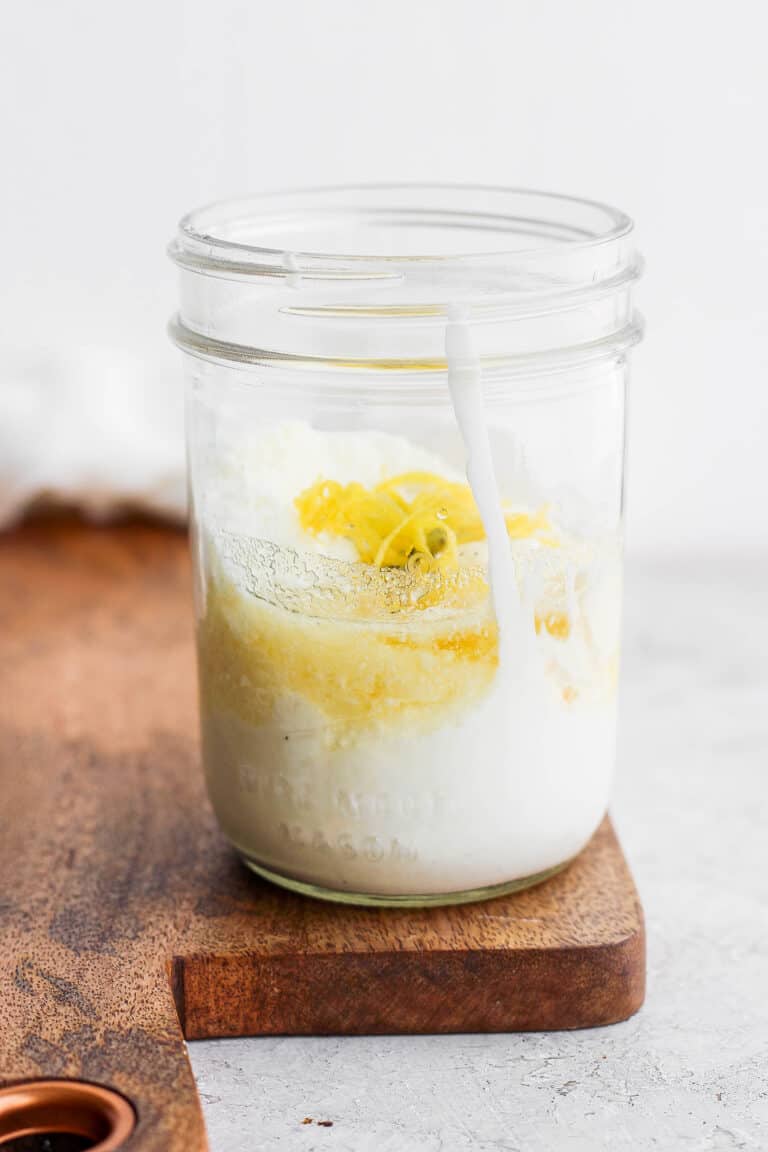 Variations + Substitutions
For a vegan version, substitute anchovy paste with capers and use nutritional yeast instead of Parmesan.
To make it dairy-free, omit Parmesan or use a dairy-free alternative.
If you prefer a little extra heat, consider adding a pinch of red pepper flakes.
FAQ
What lettuce to serve with Caesar salad dressing?

Classic Caesar salad is made with romaine lettuce with caesar salad. But you can use whatever lettuce you would like.
Is this Caesar dressing healthy?

Yes, this caesar dressing is a healthier version of caesar dressing, especially compared to a store-bought caesar dressing.

Using Greek dressing lightens up the dressing and adds a bit of protein to the dressing recipe.
Can I make homemade anchovy paste?

Yes, if you can't find anchovy paste feel free to make your own.

To make anchovy paste, place anchovies into a small food processor and blend until it turns into a paste.
What else can I add to Caesar dressing?

To change up the flavors in this caesar salad dressing you can add a teaspoon of dijon mustard or Worcestershire.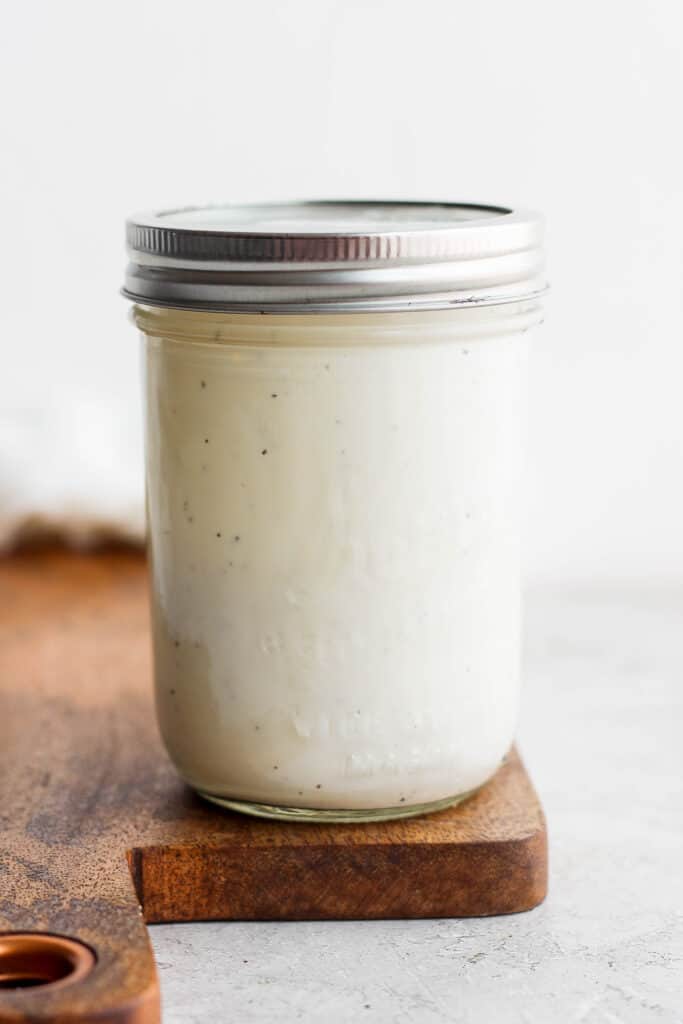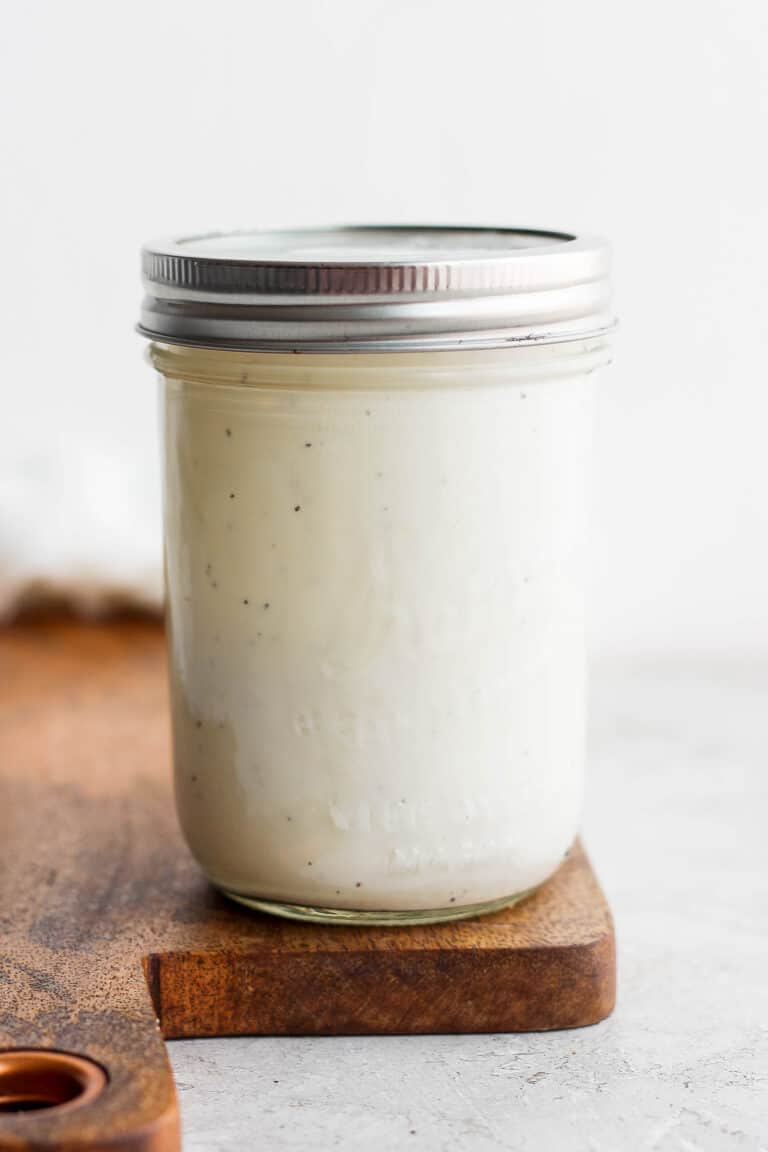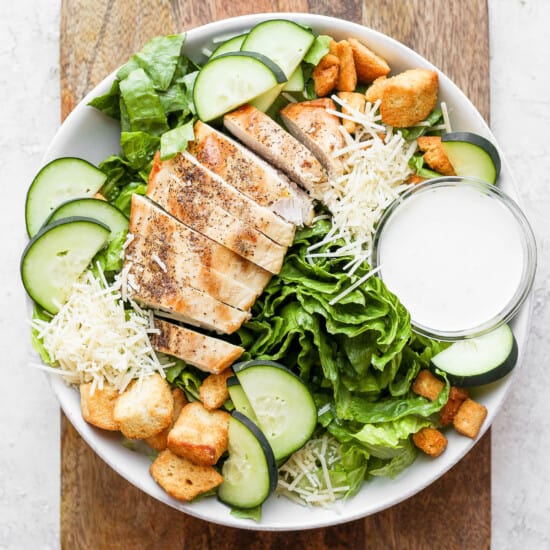 Chicken
Caesar Salad
This Caesar dressing is made for this chicken Caesar salad. Eat it as a salad or wrap it right up in a tortilla.
Storage
This Caesar Dressing can be stored in an airtight container in the refrigerator for up to a week. Make sure to give it a good stir or shake before using it again.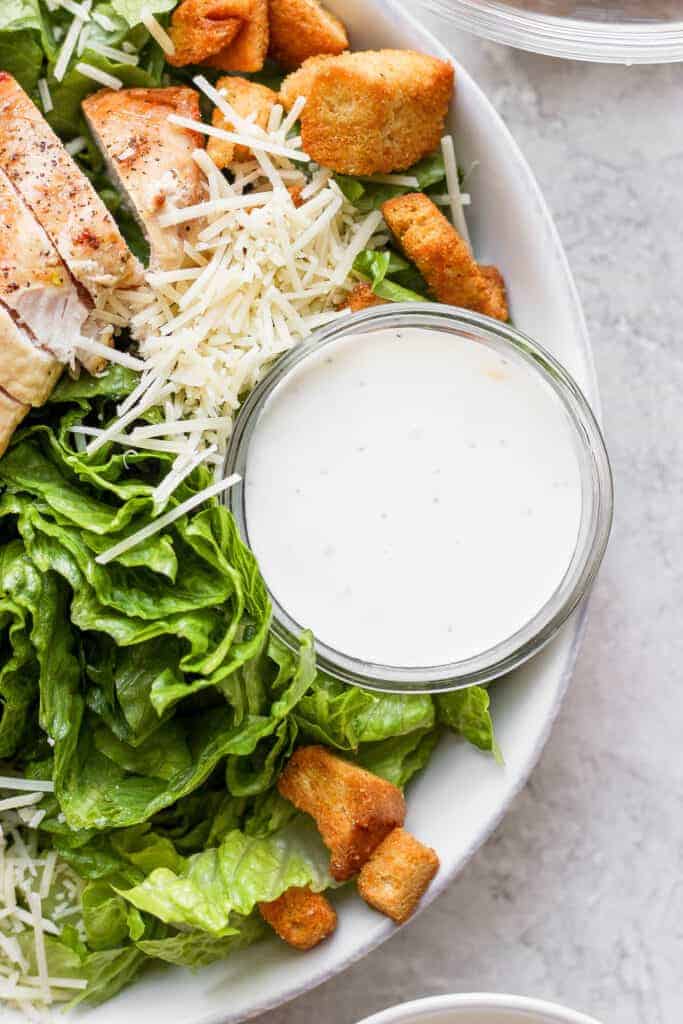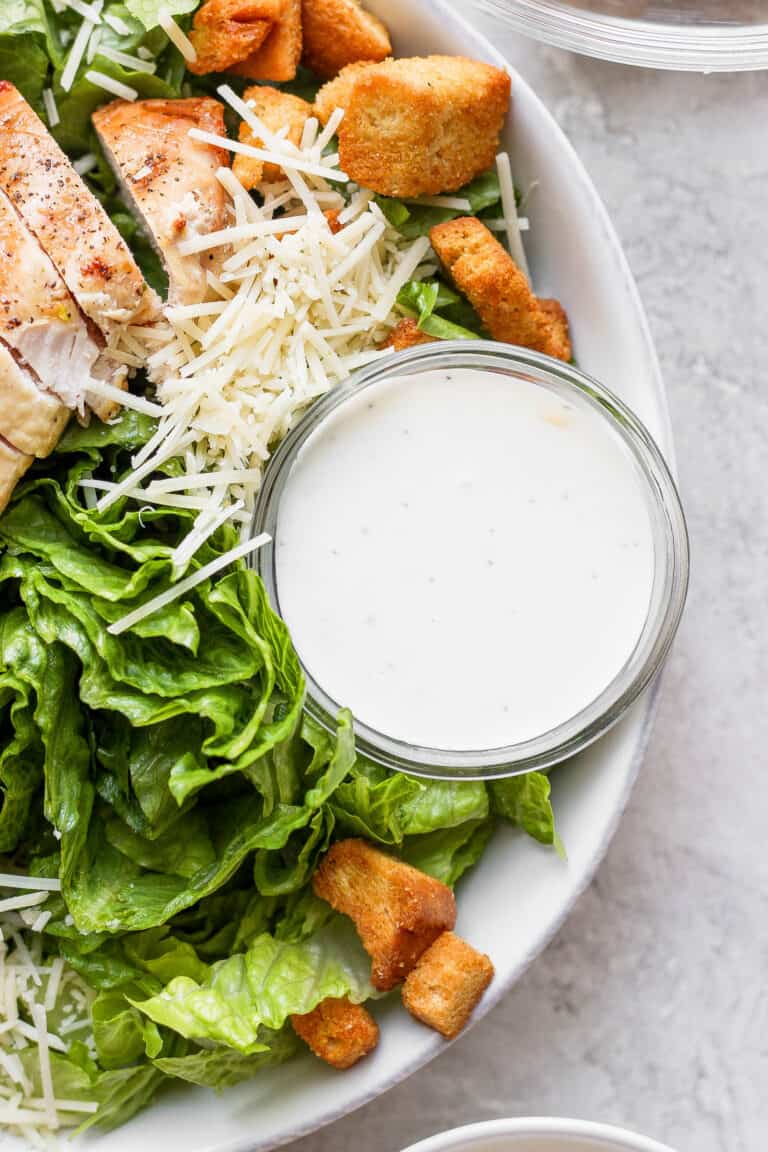 Serving Options
While the classic pairing is with romaine lettuce and croutons for a traditional Caesar Salad, don't limit yourself. Try it on a wrap, as a marinade for chicken, or even as a dip for veggies or chips. The versatility of this dressing will definitely amplify the taste of your meals.
Another GREAT option is to make yourself some shredded chicken (check out preparation options below) and toss it with Caesar dressing for limitless recipe options.
Photography: photos taken in this post are by Erin from The Wooden Skillet.