From green smoothie recipes to a basic strawberry smoothie, we've got all the smoothie inspiration you need right here!
Check out 100+ healthy smoothie recipes and learn how to make your own unique healthy smoothies at home with our basic fruit smoothie recipe.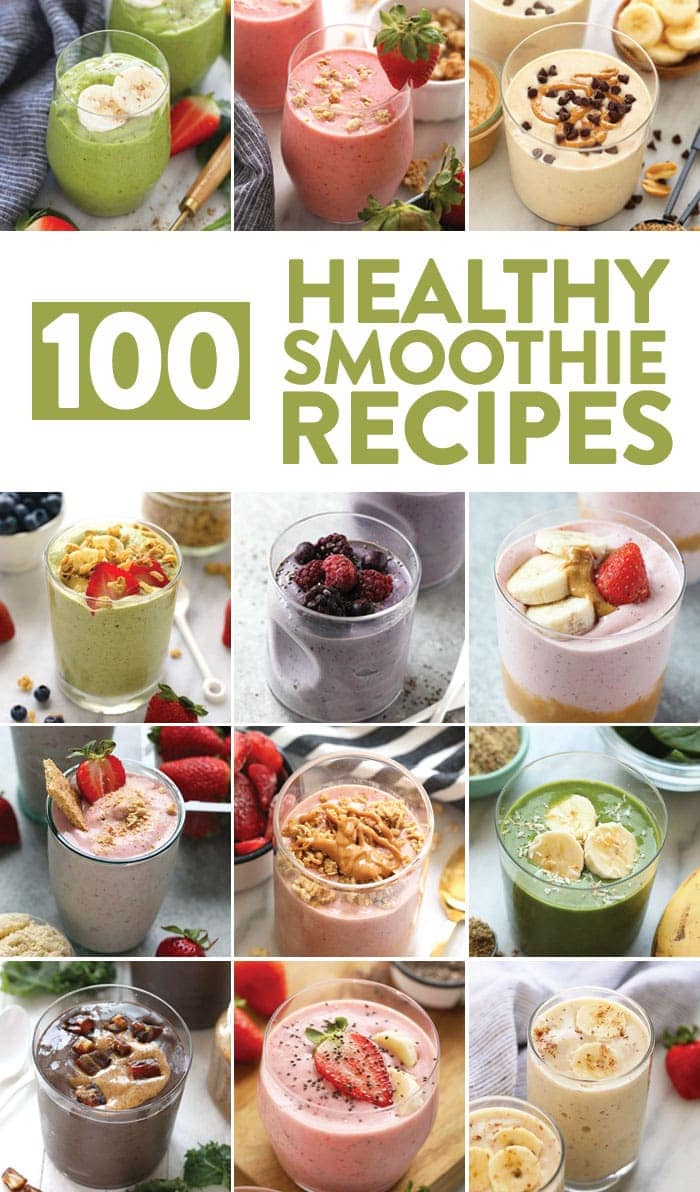 Say hello to the most beautiful smoothie recipes on the internet! Smoothies are such a great healthy breakfast idea and, speaking from experience, dinner idea too! That's right, it's my go-to when I don't have anything to eat.
Smoothies are all about finding that perfect ratio of fruit to liquid. That's why you'll see in our basic smoothie recipe, we have about 1 cup of liquid to 2 cups of frozen fruit.
PS: Check out our best Protein Shake Recipes, too!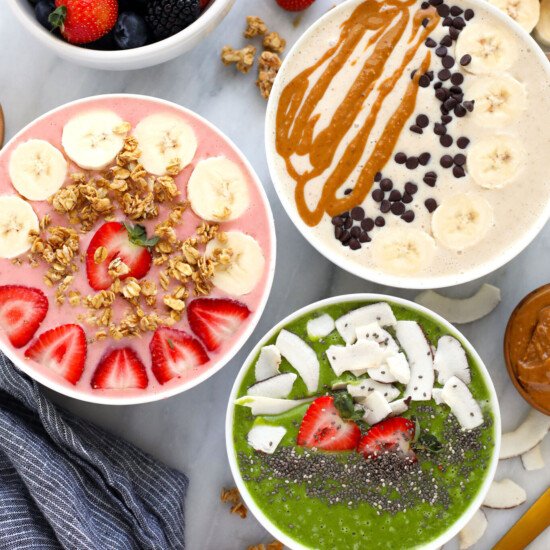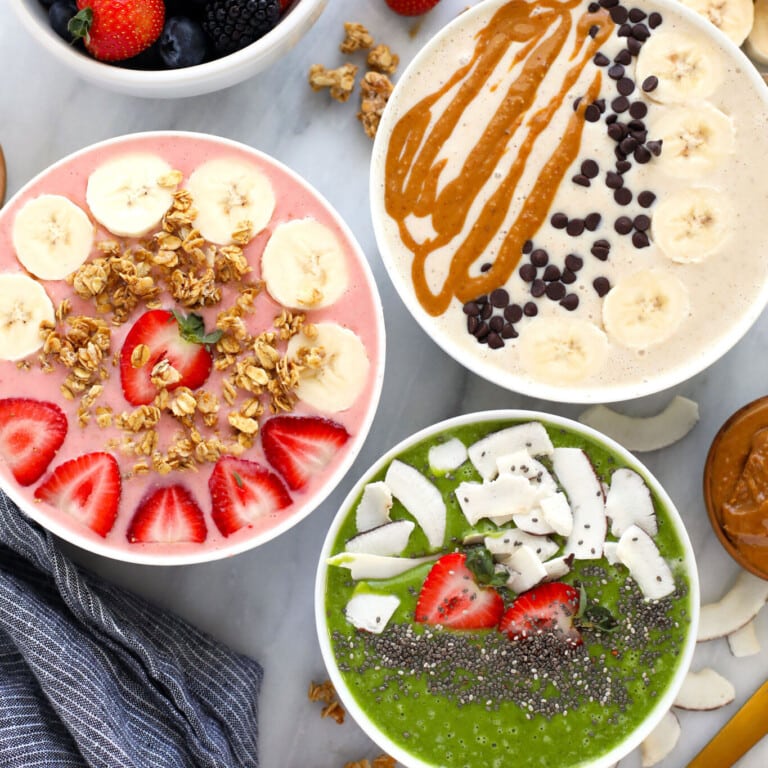 Three
Smoothie Bowl Recipes
3 easy smoothie bowl recipes that come together in less than 10 minutes. Choose from: strawberry smoothie bowl, green smoothie bowl, or peanut butter banana smoothie bowl.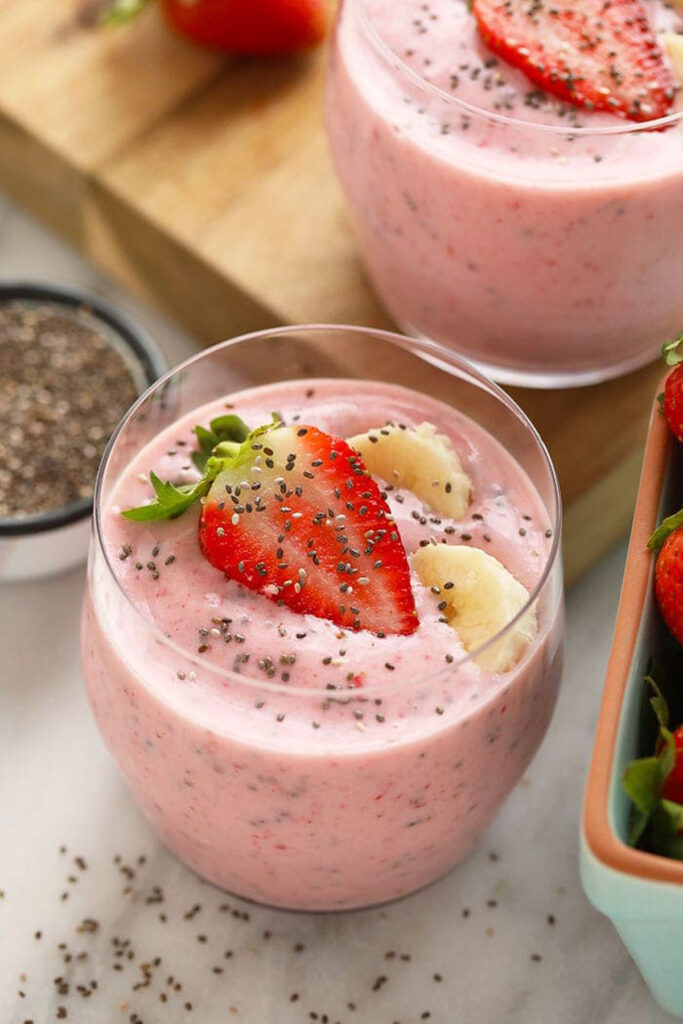 What goes in a smoothie recipe?
One unique thing about our smoothie recipes, is that we do not use ice. Instead, we use a 2:1 ratio of frozen fruit to liquid.
2 cups frozen fruit (banana, strawberries, mixed berry, pineapple, tropical blend, etc.)
1 cup liquid (orange juice, almond milk, coconut water, coconut milk, water)
We say 2:1 with a grain of salt because everyone has their own preference. Some people like to drink smoothies with a straw and others like it thick enough to be eaten with a spoon. So, start with 1 cup of liquid and add more as you wish.
In addition to the 2:1 ratio of fruit to liquid, you can also add other ingredients such as protein powder, greens, Greek yogurt, seeds, etc.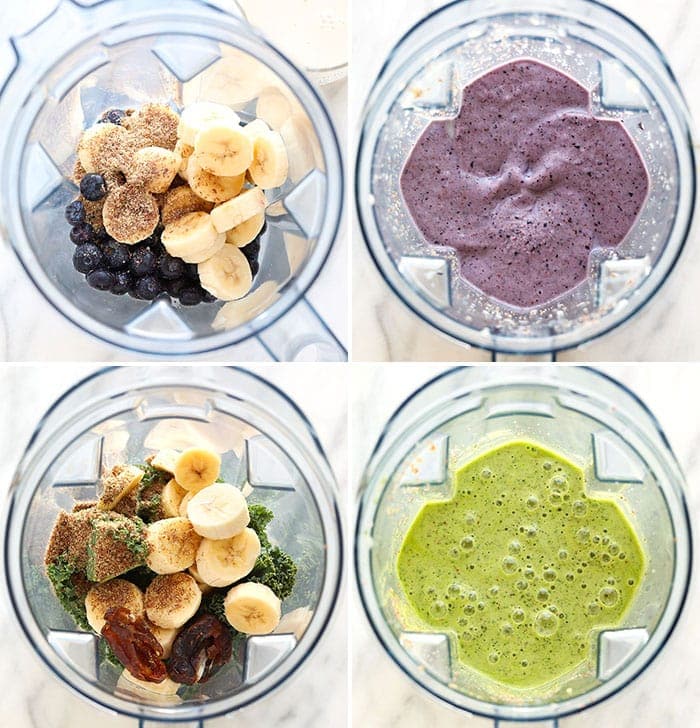 Best Blender for Smoothies
We have a Vitamix and it runs you about $350 on Amazon. I do not have a single bad thing to say about this beast. It's super powerful, easy to clean, and it makes making smoothies along with other things a breeze. I can tell you right now that this is the best blender I have ever owned and there's no turning back.
If you're looking for something a bit smaller and the perfect size for smoothies, we recommend the Beast Blender. We actually just got it a few months ago and it works like a charm and is much cheaper than the Vitamix.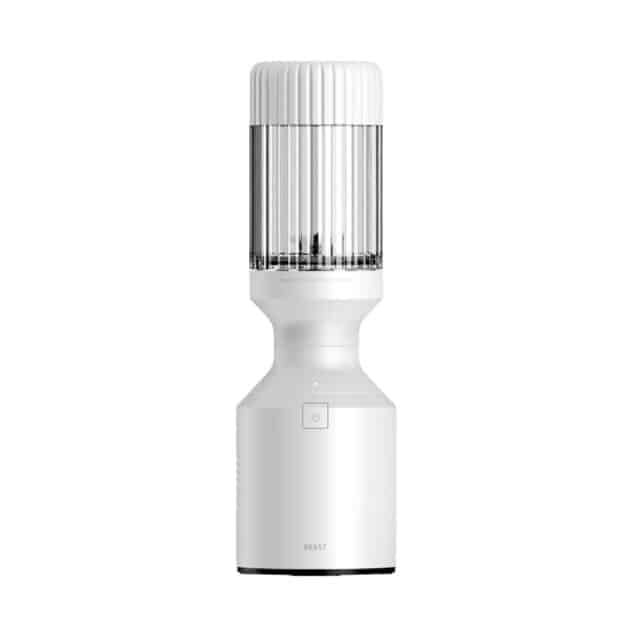 Our Favorite
Beast Blender
The Beast Blender is our go-to blender for smoothies, dips, soups, and everything in between. It's the perfect size and moderately priced. Oh, and oh-so powerful!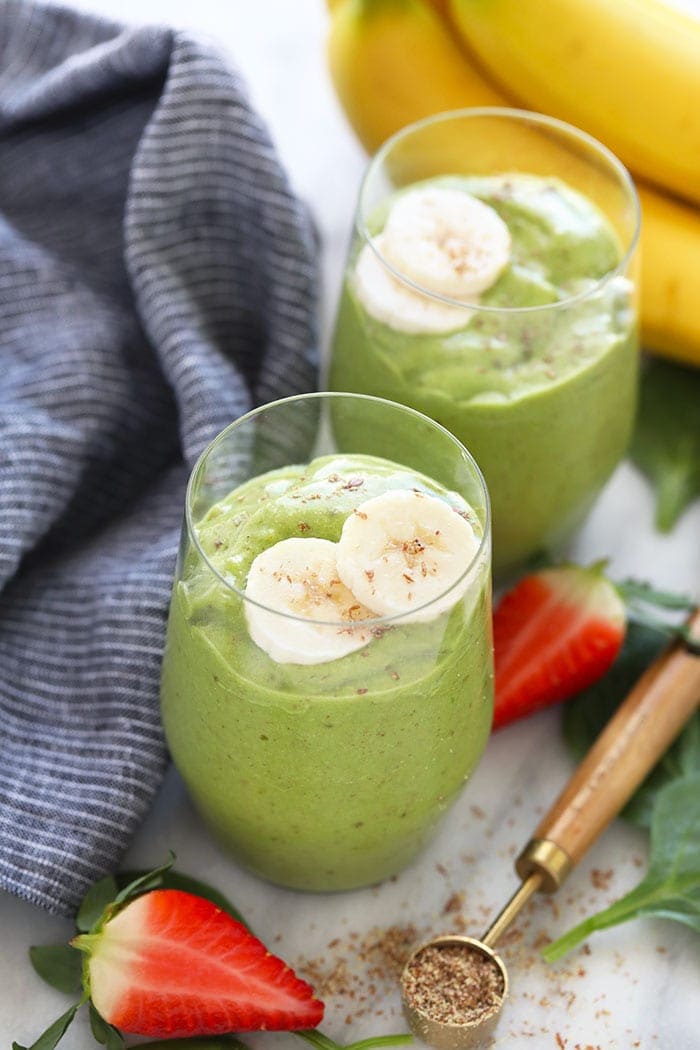 Smoothie Toppings Ideas
Don't forget about the toppings. If you're anything like me, you don't skimp when it comes to toppings. Here are some of my favorites:
FAQ
What are the best things to put in a smoothie?

Start off with frozen fruit and then add a liquid 2:1, frozen fruit to liquid. From there, add your favorite flavors such as peanut butter, protein powder, and greens.
Are smoothies good for weight loss?

Smoothies are a great way to get a lot of nutrition very easily. Pack in the greens, frozen fruit, and even frozen veggies into your smoothies!
Do smoothies need yogurt?

You do not have to use yogurt in order to make a delicious smoothie recipe.
How do you make a good smoothie?

A good smoothie starts with a ratio of 2:1 frozen fruit to liquid. From there, other delicious ingredients such as Greek yogurt, peanut butter, and protein powder are added for flavor and nutrition.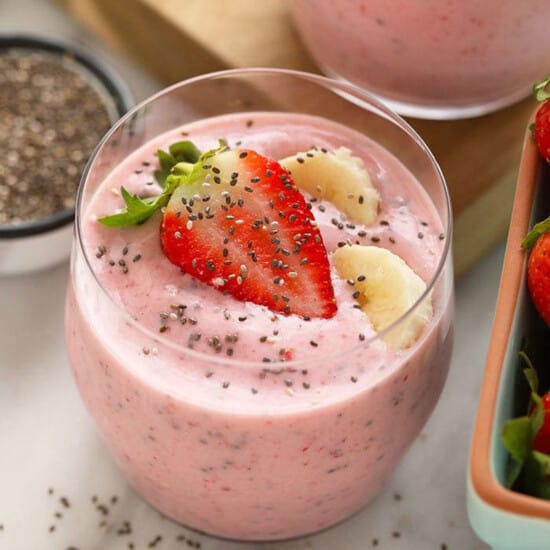 How to Make a Smoothie
Looking to make healthy smoothie recipes? With just 2 basic ingredients you can make yourself any flavor combo of smoothie in the whole wide world. Here is an "equation" for a basic smoothie recipe that will never disappoint.
Prep:10 minutes minutes
Cook:0 minutes minutes
Total:10 minutes minutes
Ingredients
2

cups

frozen fruit

(bananas, berries, watermelon, etc.)

1

cup

liquid

almond milk, orange juice, water, etc.
Optional add-ins
1/2

cup

nonfat Greek yogurt

or any kind of yogurt

1/2

tablespoon

ground seeds

flax or chia

1/4

cup

protein powder

whey, plant-based, soy, etc.

handful of greens

spinach, kale, etc.
Instructions 
Place frozen fruit, liquid, and any optional add-ins into a high-speed blender.

Blend on high until smooth. You may need to add a little bit more liquid depending on how thick you like your smoothie.

Serve immediately and top with your favorite toppings.
Tips & Notes
Nutrition information was calculated with 2 cups of frozen mixed berries and 1 cup of unsweetened plain almond milk.
Nutrition facts
Calories: 85kcal Carbohydrates: 18g Protein: 2g Fat: 2g Fiber: 4g Sugar: 11g
More Healthy Smoothies
Here are some of my favorite Fit Foodie Finds healthy smoothie recipes as well as the best of the best from around the web! Enjoy.