Ready for the most delicious Instant Pot Chicken Thighs recipe on the internet? Say hello to these sticky, sweet Instant Pot Honey Garlic Chicken Thighs.
First, sear the chicken thighs in the Instant Pot. Then, slather them with honey garlic sauce, and pressure-cook them for just 5-7 minutes!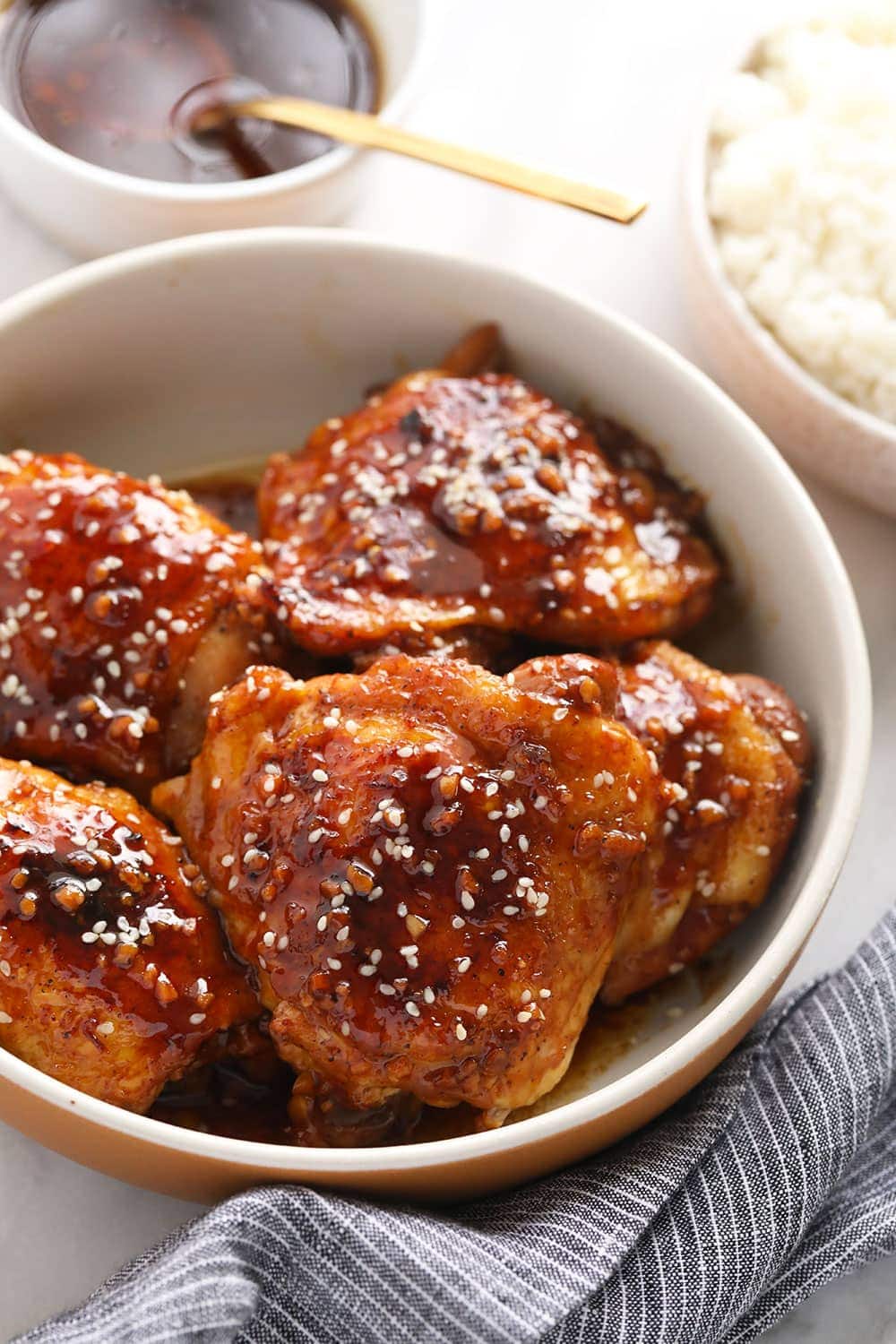 This is one of our most popular Instant Pot Chicken Thigh recipes! So many of you have made these Instant Pot chicken thighs and rated it 5 stars and rightfully so. The honey garlic sauce is incredibly flavorful and easy to make and your chicken comes out perfect every time.
Whenever I'm in need of a quick weeknight dinner, I make these thighs and serve them next to white rice and steamed broccoli. All you have to do is sear your chicken thighs in the Instant Pot for 2-3 minutes and then add the honey garlic sauce. Cook on high pressure for 5 minutes with a quick release.
PS: check out our Slow Cooker Honey Garlic Chicken for a similar recipe made in the Crockpot!
What kind of chicken thighs should I use for Instant Pot chicken thighs?
The good news for you is that we tested this recipe many times with all different kinds of chicken thighs. Love skin-on chicken thighs? Or boneless chicken thighs? Both work! So feel free to use around 2 lbs. of the following:
Bone-In
Boneless
Skin-On
Skinless
If you're wondering what kind of thighs we prefer, it's hands-down bone-in with the skin on. However, boneless skinless chicken thighs are also pretty dang delish.
#1 Tip for Instant Pot Chicken Thighs
Our #1 tip for perfect IP Chicken Thighs is to sear BEFORE you pressure cook! This will give your chicken thighs gorgeous color and the texture of seared chicken thighs without having to use your stovetop.
Plus, it will actually help preheat your Instant Pot, cutting the pressurizing time almost in half. Whatever you do, do not skip this step.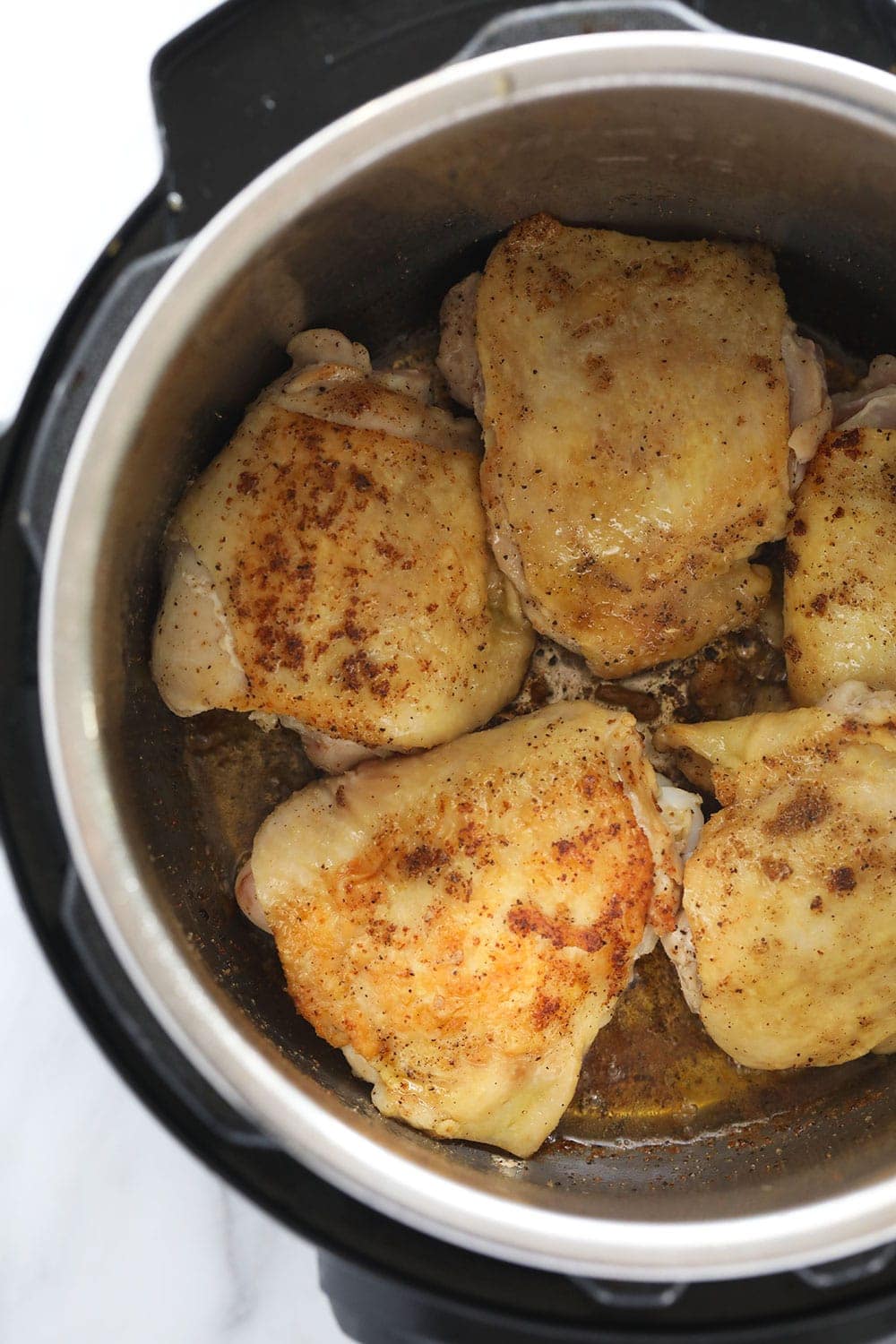 How long to cook chicken thighs in Instant Pot
From frozen: cook frozen chicken thighs and sauce (or water) for 15 minutes on high pressure with a quick release.
From thawed: sear chicken thighs for 2-3 minutes on both sides. Then, cook chicken thighs with sauce in your pressure cooker on high for 5-7 minutes.
here's a tip
Chicken thighs can vary greatly in size and thickness. The goal is to get the internal temperature of the chicken to be 165ºF. So, if you have larger thighs, you may need to cook a bit longer to reach a safe temperature.
Best Honey Garlic Sauce
If you've ever had our Crock Pot Honey Garlic Chicken, you know how delicious our honey garlic sauce is. This is a slightly modified version of that sauce, but equally as delicious.
Here's what you need: honey, minced garlic, soy sauce, chili garlic sauce, and cornstarch.
do I have to use cornstarch?
The sauce is then thickened with a little bit of cornstarch, but you always have the option to skip that step. If you don't have cornstarch, feel free to use tapioca starch instead.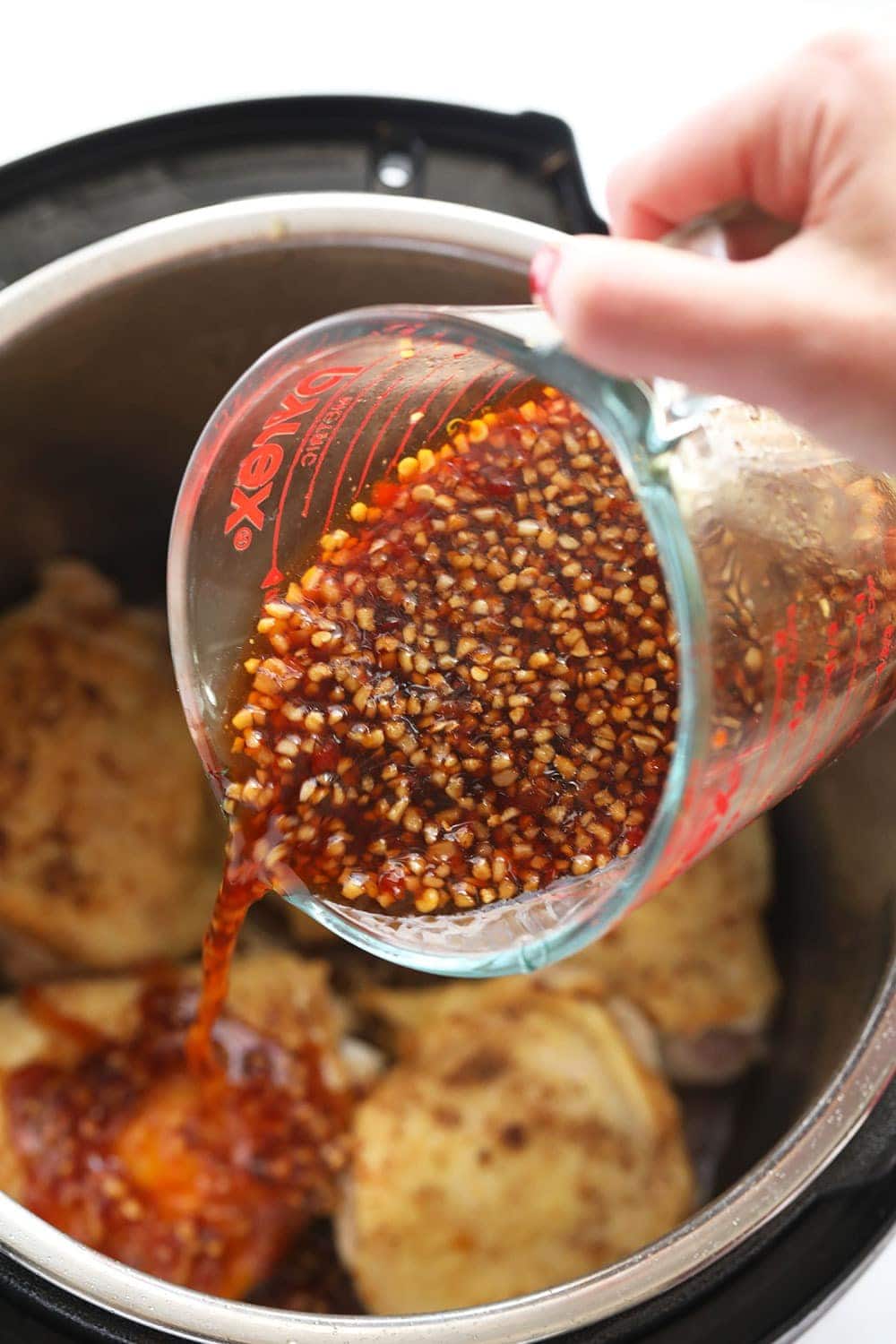 Chicken Thighs Instant Pot Q&A
Can you stack chicken thighs in an Instant Pot?

You can absolutely stack chicken thighs in your Instant Pot, however, we only recommend doing this if you plan to shred the chicken.
Stacking your thighs is going to reduce the crunchiness of the skin, which makes it perfect for shredding. However, if you want each thigh to have an amazing texture, make sure you do NOT stack them.
What setting do you cook chicken on in an Instant Pot?

To get the most perfect chicken thigh Instant Pot recipe with sauce, first, saute your thighs in olive oil on both sides for about 2-3 minutes. Then, add your sauce and close the Instant Pot. Turn the valve to seal and cook on high for 5 minutes. Once the timer goes off, do a quick release.
How do you cook frozen chicken thighs Instant Pot?

Cooking frozen thighs in the Instant Pot is rather easy. Add frozen thighs to the Instant Pot and then add in your sauce (or you can sub with water). Then, cook on high for around 15 minutes.
Do you have to use a trivet in Instant Pot?

Technically, you do not HAVE to use the trivet when cooking chicken thighs in the Instant Pot. However, it is helpful for preventing the burn notice from appearing.
All Instant Pot's are different. Our older Instant Pot is much less finicky when it comes to trivets and we usually don't use one when making Instant Pot Chicken Thighs. However, our new one almost always gets the burn notice, so a trivet is a must!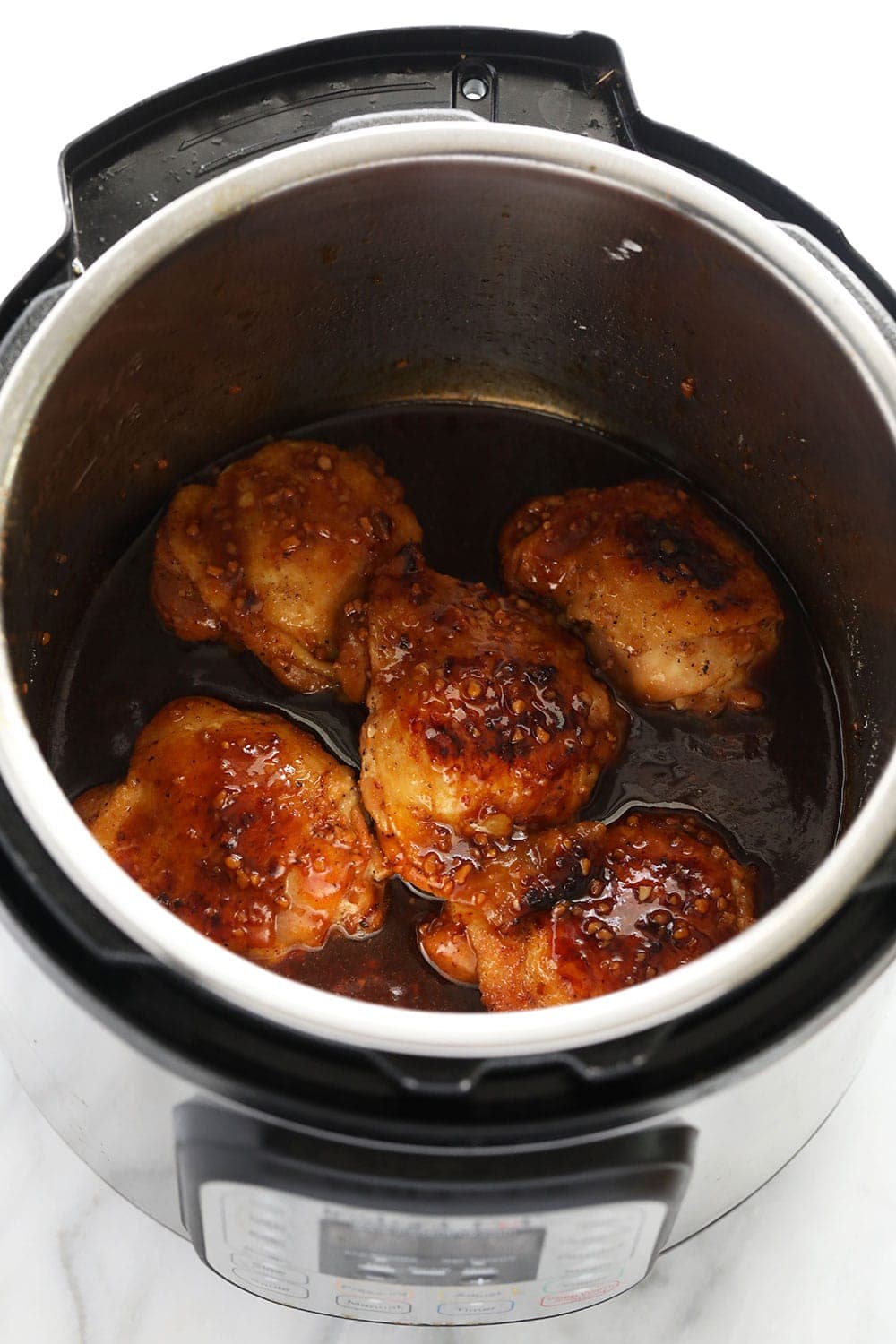 Storage
Let chicken thighs cool completely. Then, store IP chicken thighs in an airtight container in the refrigerator for up to 3-5 days.
Freezer Instructions
After Cooked: Let Instant Pot Chicken Thighs cool completely. Then, transfer them to a freezer-safe gallon-size bag and remove as much air as possible. Seal and freeze for up to 3 months.
Before Cooked: Place all raw ingredients (minus the cornstarch and sesame seeds) into a freezer-safe gallon-size bag. Remove as much air as possible and seal. Freeze for up to 3 months.
When you are ready for cooking, transfer the frozen contents of the bag directly into your Instant Pot. Then, seal Instant Pot and cook on high pressure for 15 minutes with a quick release. Thicken sauce as directed in recipe card.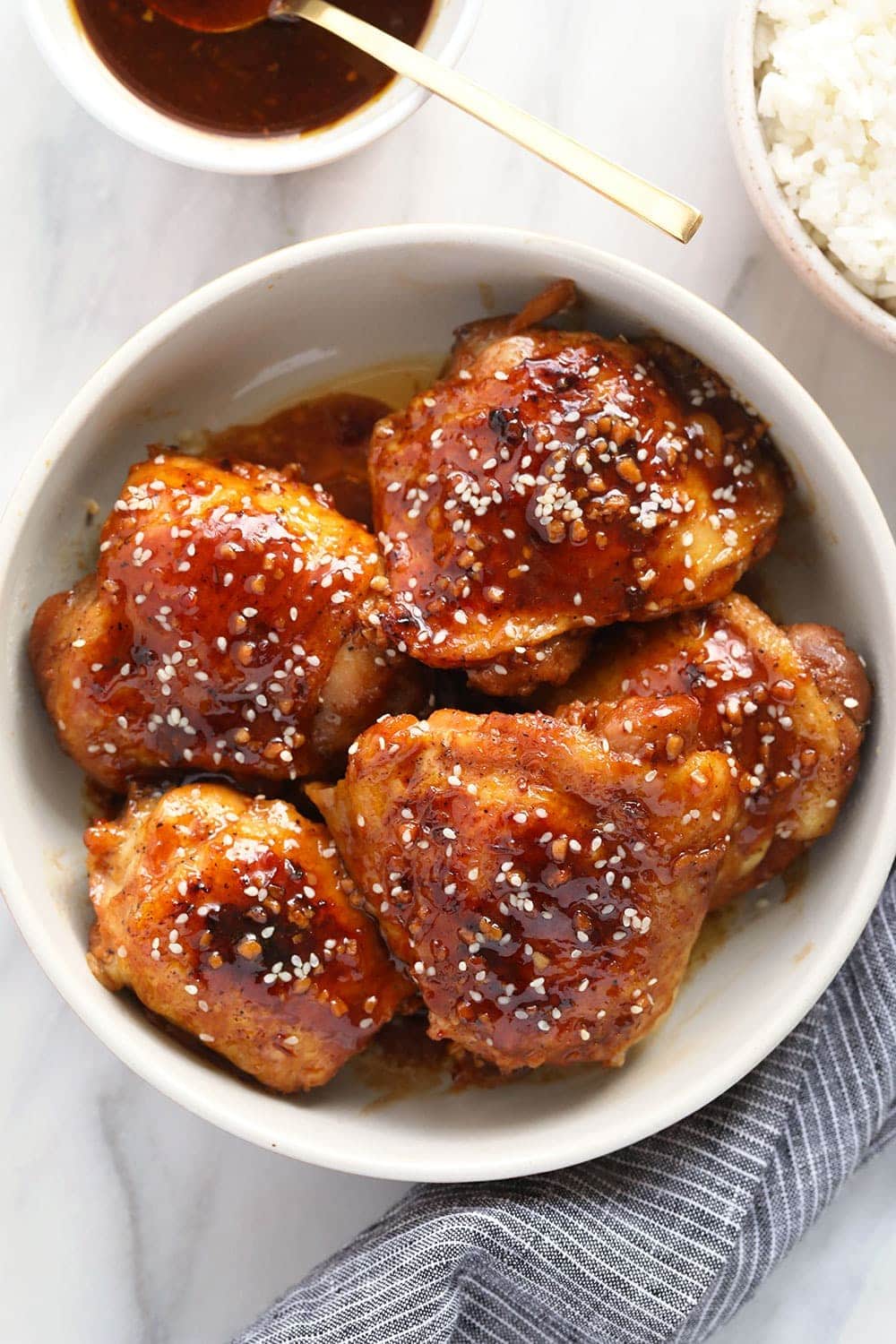 Serving Suggestions
Make your honey garlic chicken Instant Pot recipe a complete meal by serving it with a grain and your favorite veggie. Here are some ideas: shrimp fried rice, coconut rice, quinoa, roasted broccoli, or sauteed green beans.
Best Instant Pot Chicken Thighs with Honey Garlic Sauce
Let's make the best Instant Pot Chicken Thighs on the internet! This recipe is made with chicken thighs and the most delicious Asian-inspired honey garlic sauce you'll ever taste.
Prep:25 minutes minutes
Cook:5 minutes minutes
Total:30 minutes minutes
Fat 9
Carbs 17
Protein 30
Instructions 
First, use a few pieces of paper towel to remove as much moisture as possible from your chicken thighs.

Next, turn on the Instant Pot's sauté feature. Add olive oil and then sear both sides of each chicken thigh for 2-3 minutes to give them a nice brown.

While the chicken thighs are sauteing, prepare the honey garlic sauce. Mix together minced garlic, honey, soy sauce, and chili garlic sauce.

Once the chicken thighs are done browning, turn off the sauté function and then pour on the honey garlic sauce. If your Instant Pot easily gets the burn notice often, feel free to use your trivet for your chicken. We have never gotten the burn notice when making this recipe, but feel free to use the trivet just in case.

Close your Instant Pot and turn the valve to seal. Turn your Instant Pot to manual > high pressure > and set the timer for 5 minutes. It will take around 10 minutes for the pressure to build before it starts counting down from 5 minutes.

When the timer goes off, quick release your Instant Pot by opening the valve.

Remove the lid and then check the internal temperature of the chicken. If they are at least 160ºF – 165ºF, then they are done and you can remove them. If they aren't done, put the lid back on and cook for 1-3 more minutes.

Option to serve immediately and pour the sauce over the chicken thighs. Or, you have the option to thicken your sauce with a cornstarch slurry. To thicken, turn on the Instant Pot's saute feature (you need the heat to ignite the thickening agent). Then, whisk together cornstarch and water until the cornstarch dissolves to create a cornstarch slurry. Pour the slurry into the sauce and whisk until the sauce thickens.

Pour the sauce over the chicken and serve with sesame seeds and your favorite grain and veggies.
Tips & Notes
Type of chicken thighs: We tested bone-in with skin AND boneless, skinless and they both work!
From Frozen Directions: Place frozen chicken thighs and the rest of the sauce ingredients minus the cornstarch and sesame seeds into your Instant Pot. Seal and cook on high pressure for 15 minutes with a quick release. If you plan to use this method, we recommend boneless, skinless thighs and shredding your chicken at the end. Follow directions to thicken the sauce above. 
Nutrition was calculated using boneless chicken thighs and includes only the chicken.
Nutrition facts
Calories: 284kcal Carbohydrates: 17g Protein: 30g Fat: 9g Fiber: 0g Sugar: 16g