We've tested every style of lululemon shorts (for workouts and everyday wear!), and rounded up all our favorites.
Read on for each of our go-to lululemon shorts and top picks for different activities!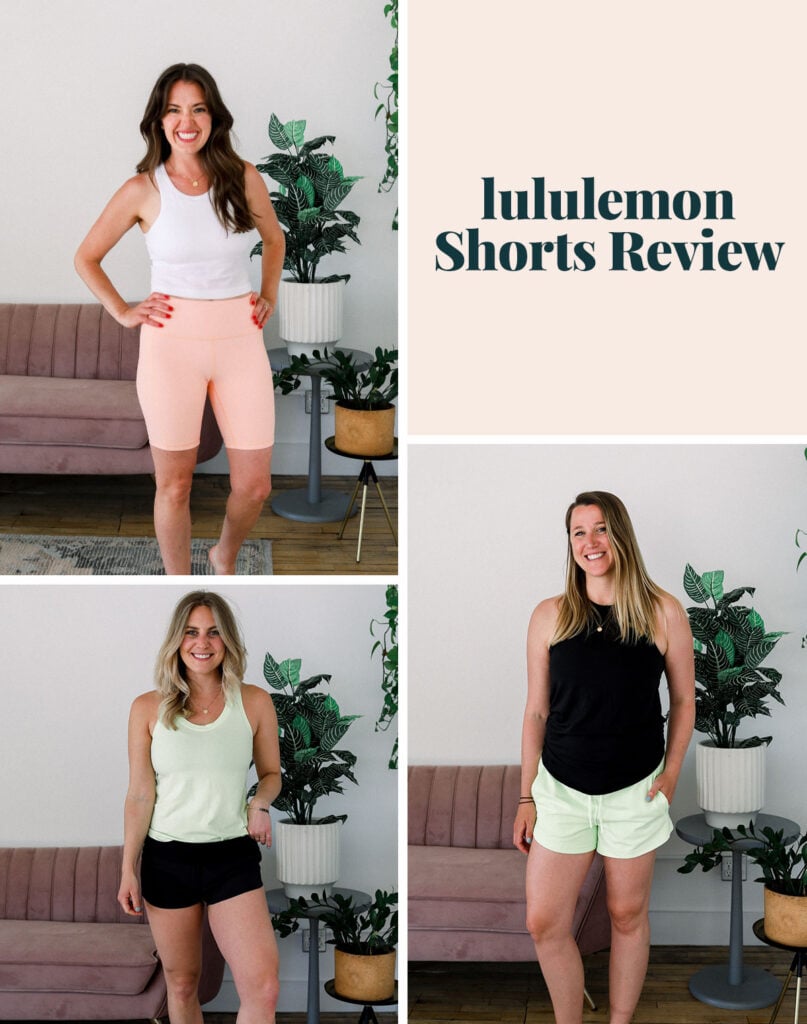 This post was updated on July 14, 2023, with lululemon's latest women's shorts styles.
As you know, we're huge fans of lululemon over here at Fit Foodie Finds. Not only do we wear their clothes during workouts, but it's pretty much all we wear during the day (and night, too).
We've been wearing lululemon since the early 2000s and can safely say that we're experts when it comes to testing out the gear.
Each one of these lululemon shorts reviews is sweaty workout-approved, and the shorts that we selected we truly recommend, love, and wear on a daily basis both during workouts and everyday life.
Our shorts sizes
Lee (5'7″): – jean's size: 28 – lululemon shorts size: 8/10
Linley (5'3″): – jean's size: 25 – lululemon shorts size: 4
Emily (5'9″): jean's size 28/29 – lululemon shorts size: 8/10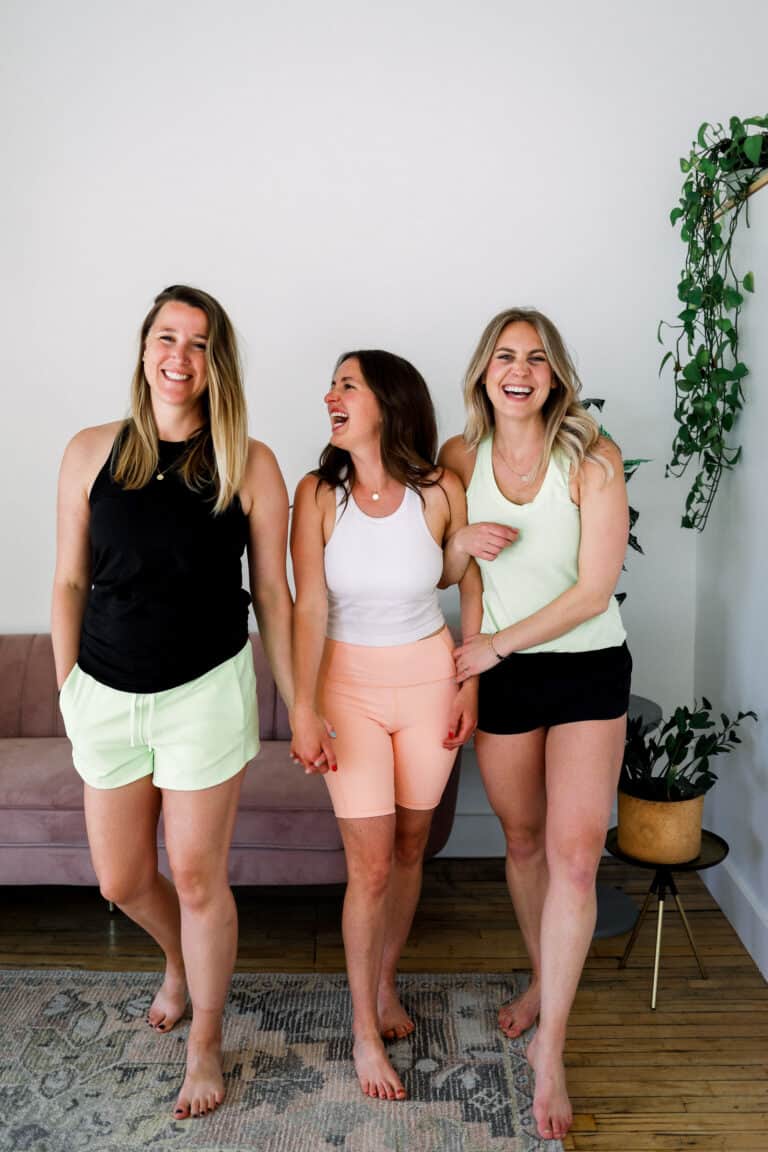 Top lululemon Shorts for Women
We're getting right to the point, sharing our top picks. If you want more information on why we're suggesting each one, keep on scrolling.
Speed Up Shorts
The Speed Up Shorts are Lee and Em's go-to shorts for HIIT workouts and running. We love these shorts because they have a wider waistband that doesn't ride up as well as a wide leg opening (hello quad squad!) that allows for free-flowing movement.
The Speed Up Shorts come in a variety of waist styles and inseams. Em is wearing the Mid Rise Speed Up Shorts with a 4-in. inseam and sized up to a 10 for later pregnancy and postpartum. The stretchy waistband is perfect for this!
Lee is wearing the Low Rise Speed Up Shorts in a 2.5-in. inseam in a size 8. Originally there used to only be a low-rise version of this short, but now that they have come out with mid-rise and high-rise, Lee prefers either of those. Furthermore, the 4″ is also newer and is preferred because it's less likely to give you a wedgie.
Align Shorts
The Align Shorts offer all the buttery soft goodness of the Align Leggings, but with 4 short length options, and some with pockets. Not only are these great for yoga and cycling, but for everyday wear too thanks to current fashion trends 😀
Linley loves these shorts for yoga and cycling and has them in 3 lengths (size 4).
Em has worn align shorts pretty much every single day of her pregnancy because the fabric is perfectly stretchy and not too tight.
A note from the big quad gal: We wanted to make a note that if you have big quads like Lee, these may not work for you. You'll either have to size up to make sure the quad opening doesn't squeeze your leg too much above the knee, or only buy the 4-inch version.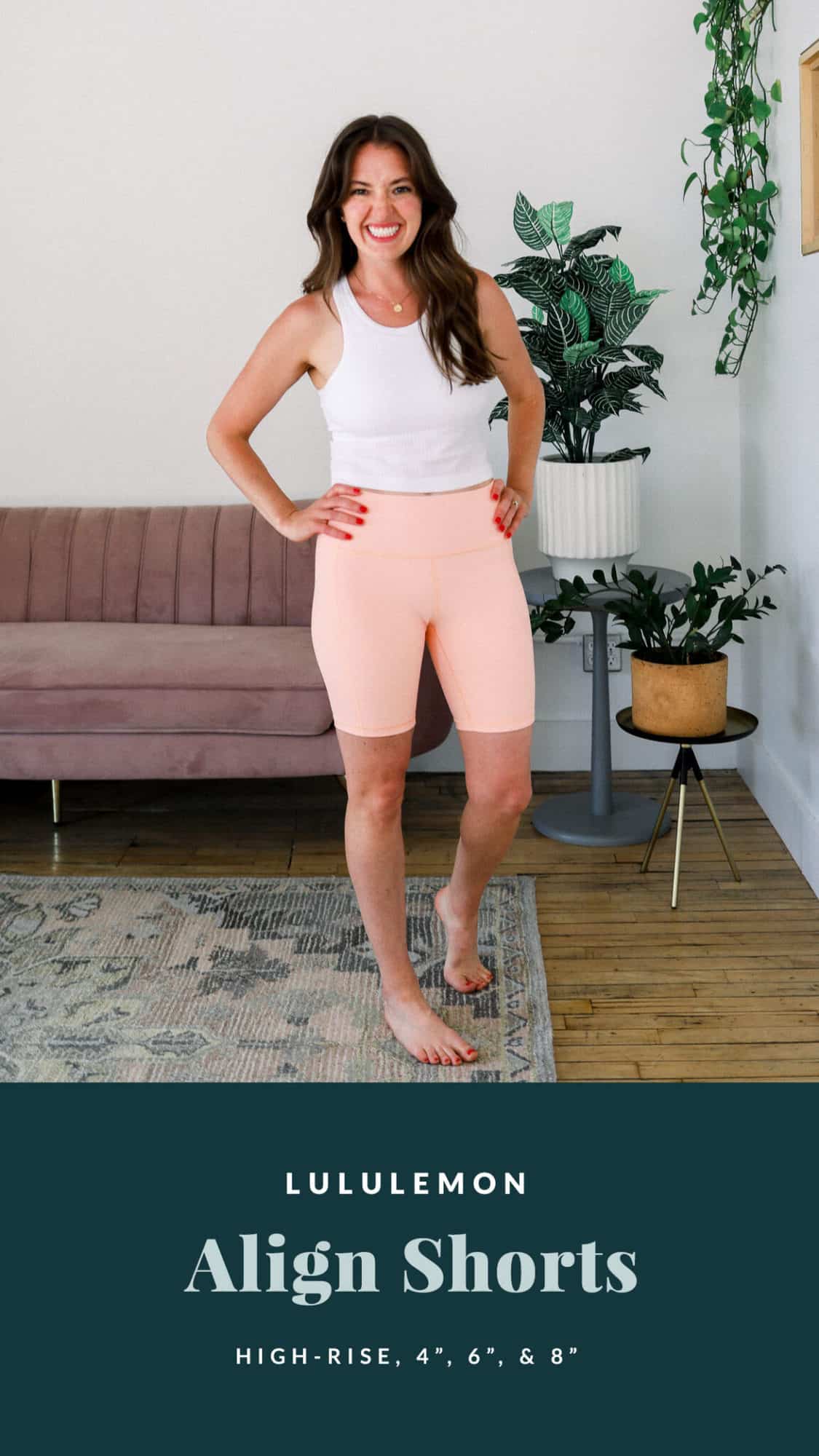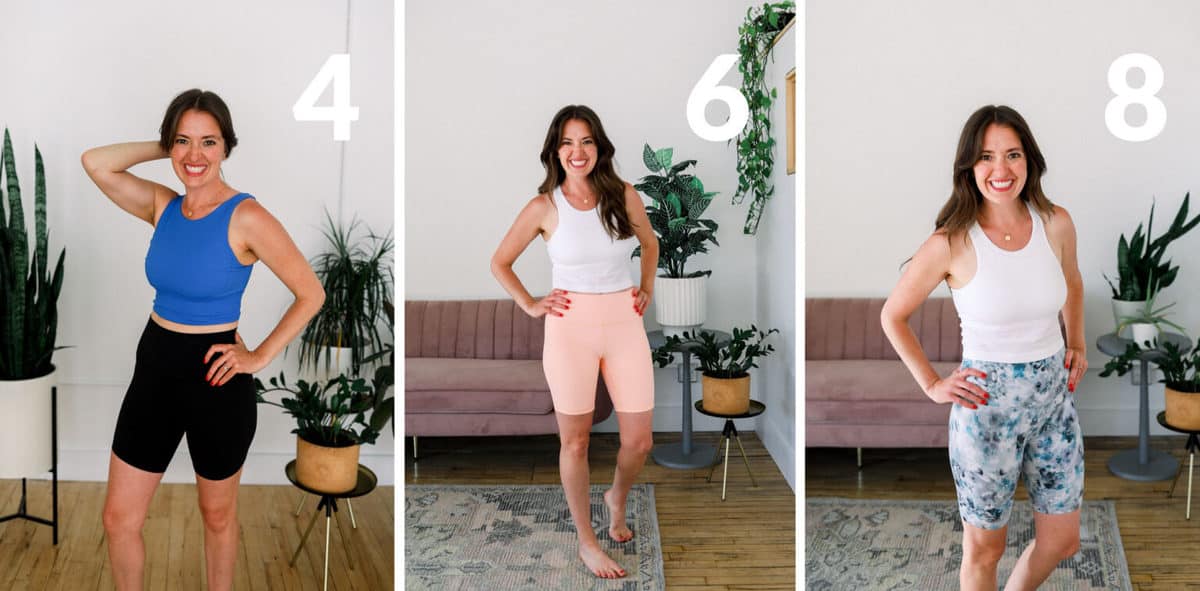 Track That Hid-Rise Shorts
We love the Track That Hid-Rise Shorts for running because they're super free-flowing with a wider leg opening and they have a small zipper pocket on the side that's perfect for carrying money or keys while running.
The waist on these lululemon shorts is super stretchy and doesn't dig in while running (Linley is wearing a size 4). This short now comes in 2 lengths – 3″ and 5″.
Lee wore these shorts during her entire pregnancy (no need for pregnancy shorts, people!). She sized up and pulled the waistband below her belly.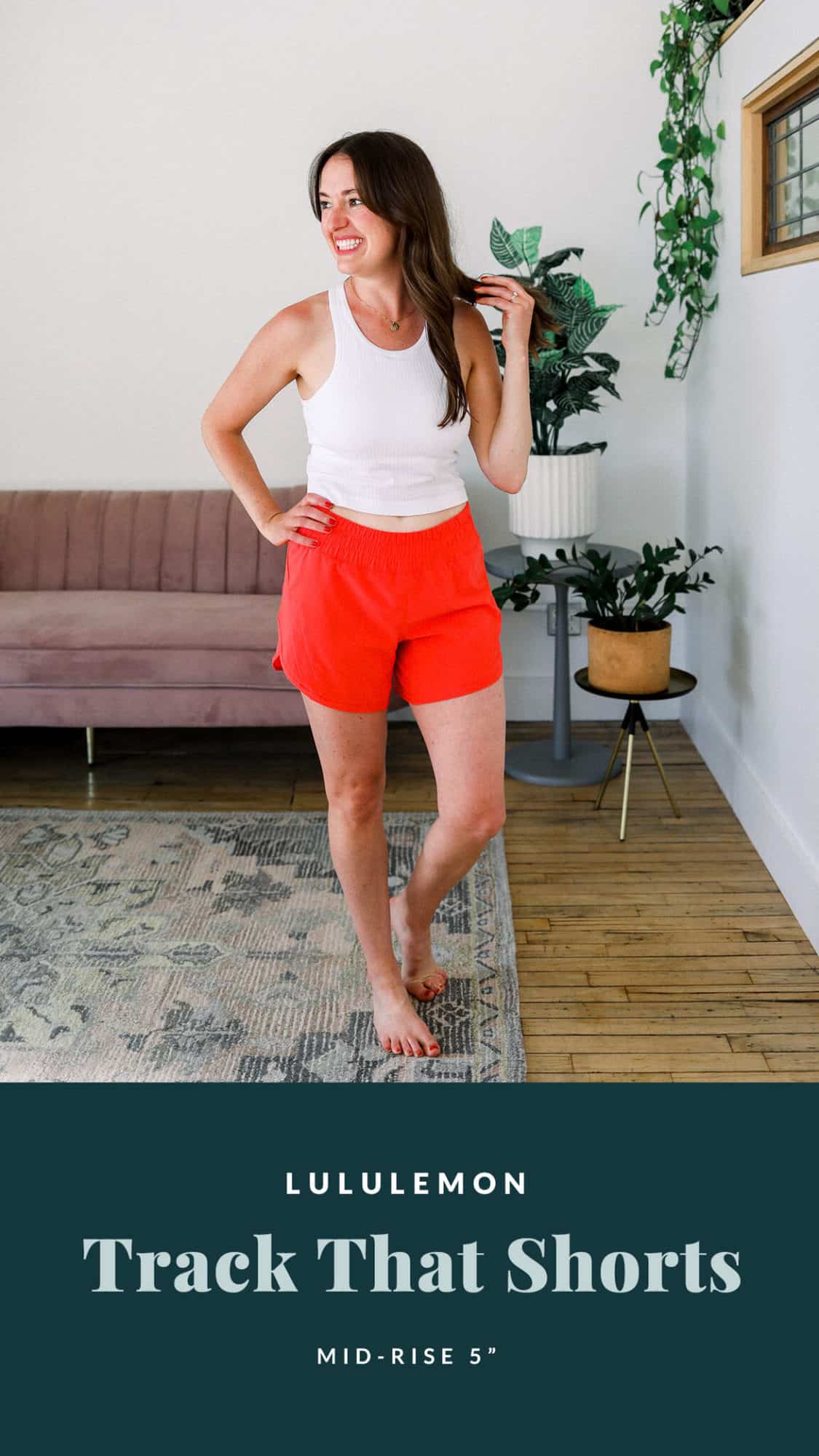 Inner Glow Shorts
The Inner Glow Shorts have been Em's go-to comfy shorts for postpartum (wearing a size 8). They're super soft and comfy, and have pockets to keep your hands free for all that baby holding 😀
We love that the quad opening is on the larger side and that the fabric is ultra-soft. Because they're high-rise, these shorts would also be great for any mama recovering from a c-section birth.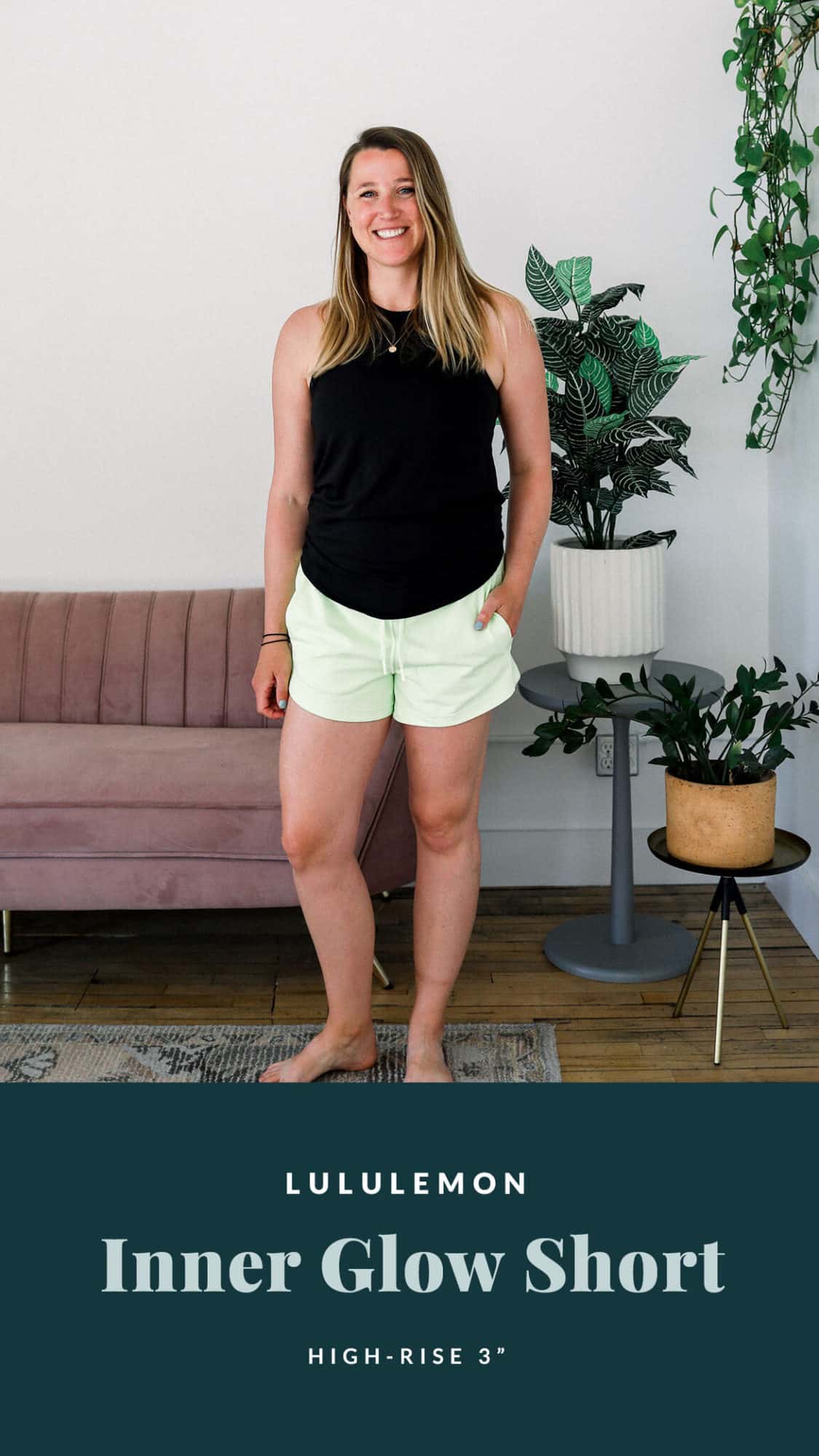 Hotty Hot 4″ Short
The Hotty Hot 4″ Short is a great option if you're a runner, especially during the warm summer months. The fabric is lightweight and there is a great zipper option for your key or I.d.
Emily loves this short because it has a wider quad opening and a 4-inch inseam gives you a little bit more coverage.
A note from Lee: I I were going to choose between the Hotty Hot Short and the Track That Short, I would choose the Track That Short because the Hotty Hot has 2 seams on the front that make you look a bit wider than you are.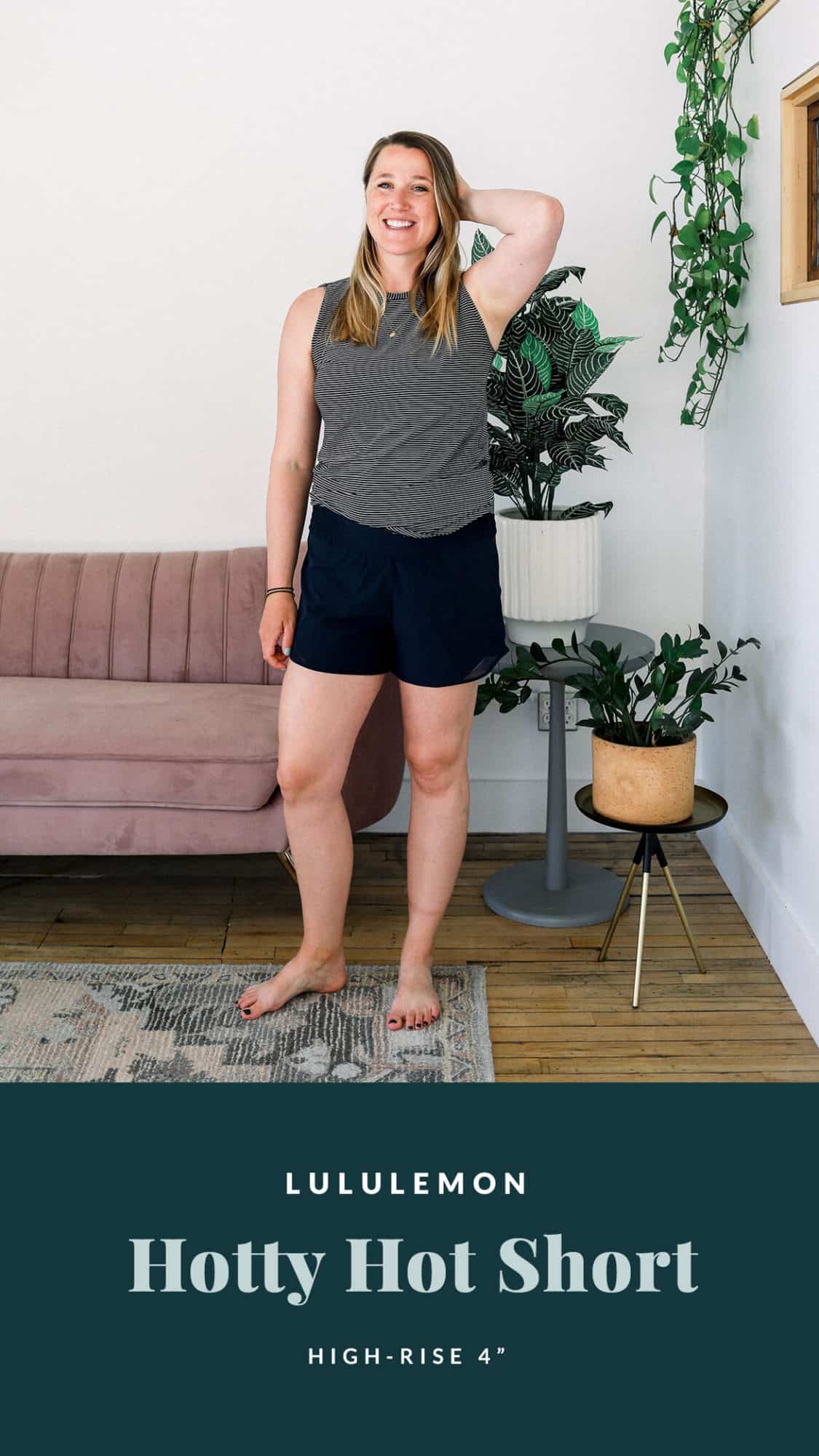 Top lululemon men's shorts
The Fit Foodie Husbands are big fans of lululemon's men's shorts, too. Some of their top picks include:
Workout: Pace Breaker Short (5 in., 7 in., and 9 in. inseam) are the guys' go-to short for working out. The super light and breathable fabric is sweat-wicking and allows for movement with HIIT workouts to running and everything in between. Our guys prefer the 7″. It's short, but not booty short like the 5″ or pant-like with the 9″.
Lounging: At Ease Short (7 in. inseam) are great for weekend lounging while looking nice enough to wear out and about. Mark and Bryce pair these with their At Ease Hoodies.
Boxers: Always in Motion (5 in. and 7 in. inseam) boxers are super breathable with a comfy waistband and ergonomic design making them perfect for workouts and everyday wear.
Disclaimer: This post is sponsored by lululemon. We were compensated and all opinions are our own. Thank you for supporting Fit Foodie Finds!