Wine slushies are a refreshing, frozen cocktail made with your favorite bottle of wine, frozen fruit, and ice!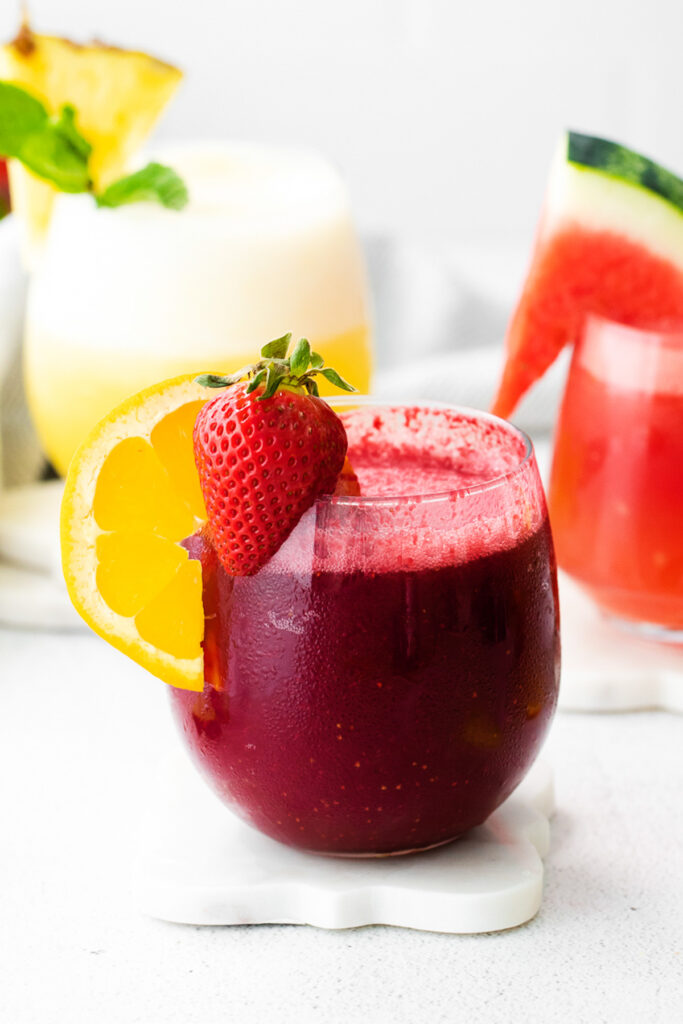 We Love Wine Slushies
Tis the season for frozen cocktails and what better way to celebrate the warm weather than with wine slushies!
What is a wine slushie? A wine slushie is a refreshing boozy slushie made with wine, frozen fruit, and ice. It's blended in a high-speed blender until you get a slushie consistency.
We know you'll love all 3 of these recipes because they are refreshing, easy to make (just like our frozen margarita), and serve a crowd.
What You Need for Wine Slushies
Wine: is the most important part of wine slushies because it's where your slushie gets most of its flavor. Each of these recipes features a different variety of wine. PS: you're going to need an entire bottle.
Sauvignon Blanc – any dry white works.
Rosé – make sure to rosé with no bubbles. Our go-to brand is Yes Way Rosé.
Pinot Noir – any kind of house red or a red blend works.
Frozen Fruit: instead of using all ice, we thought we'd use frozen fruit to not only add more slush but to also add all-natural flavor.
Ice: ice gives extra slush. We 100% recommend ice to make your wine slushies extra slushie.
Add-Ins: add ins such as other liquors, flavors, and juices will enhance the flavors in your wine slushies.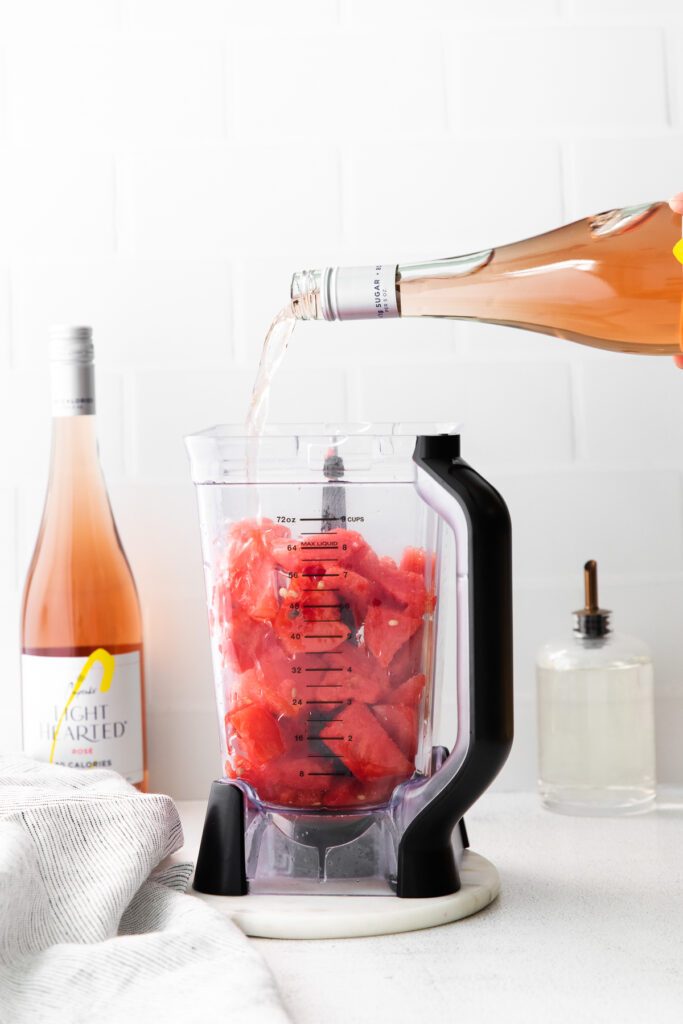 How to Make Wine Slushies
Wine slushies are ready to go in less than 10 minutes and with just 3 simple steps. Here's how to make wine slushies.
Assemble Ingredients: first, assemble your ingredients. Measure out everything that you need, while working quickly so that your frozen fruit and ice don't melt.
Blend, Blend, Blend: add all ingredients into a high-speed blender. Blend on high for 30-60 seconds or until everything is smooth. Option to add more ice as desired.
Serve: serve your wine slushie immediately with garnishes of fresh fruit and herbs. Enjoy!
Want it slushier? If you want more slush, simply add more ice! Sometimes your wine slushy can melt as it sits or your fruit may not be frozen enough. So, add more ice. If your blender isn't big enough, you can do this in sections.
#1 tip for wine slushies
Our #1 tip for perfect wine slushies is a high-speed blender. You need to have a blender that can pulverize the fruit and ice so that it turns into a slush.
Check out our favorite high-speed blender here!
3 Flavor Variations
Tropical Wine Slushies
This tropical wine slushie recipe is made with a yummy bottle of Sauvignon Blanc, frozen pineapple, and coconut rum. It tastes like a tropical vacation!
Sauvignon Blanc
Frozen pineapple
Coconut rum
Lemon juice
Simple syrup
Ice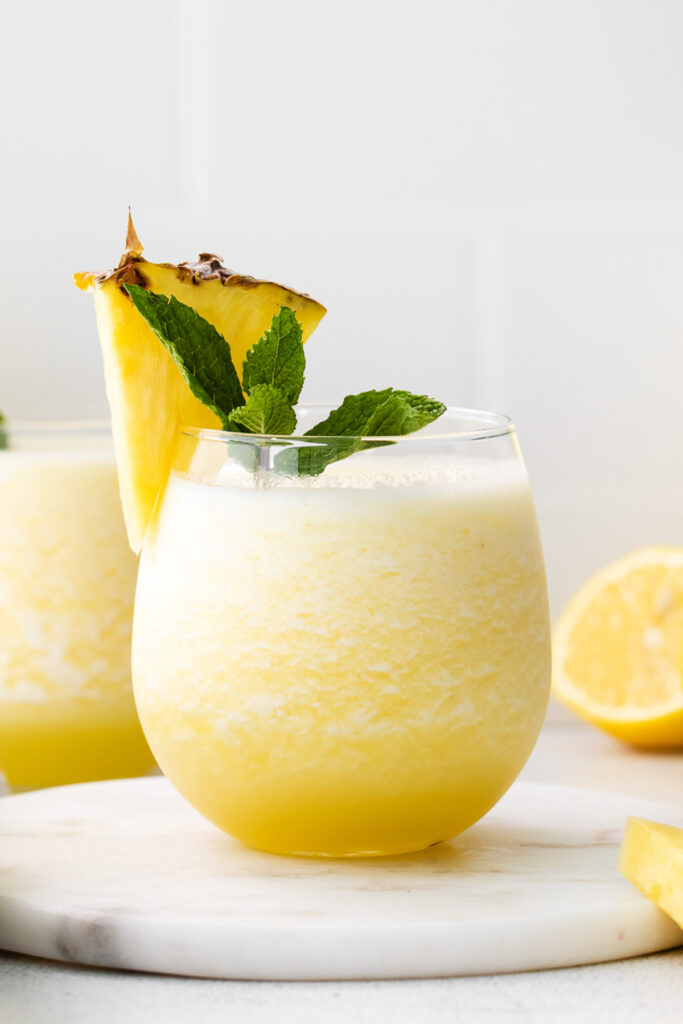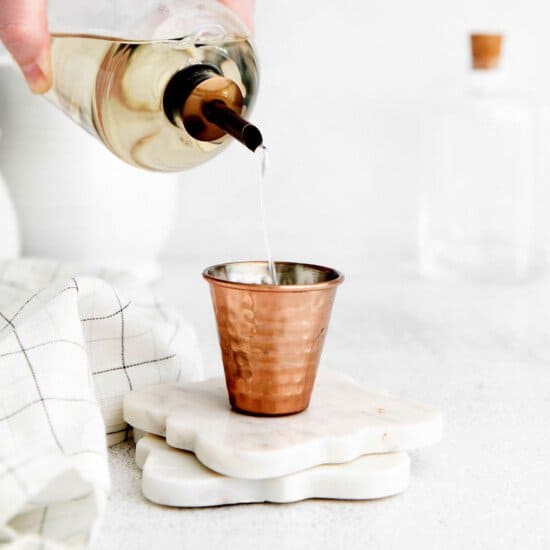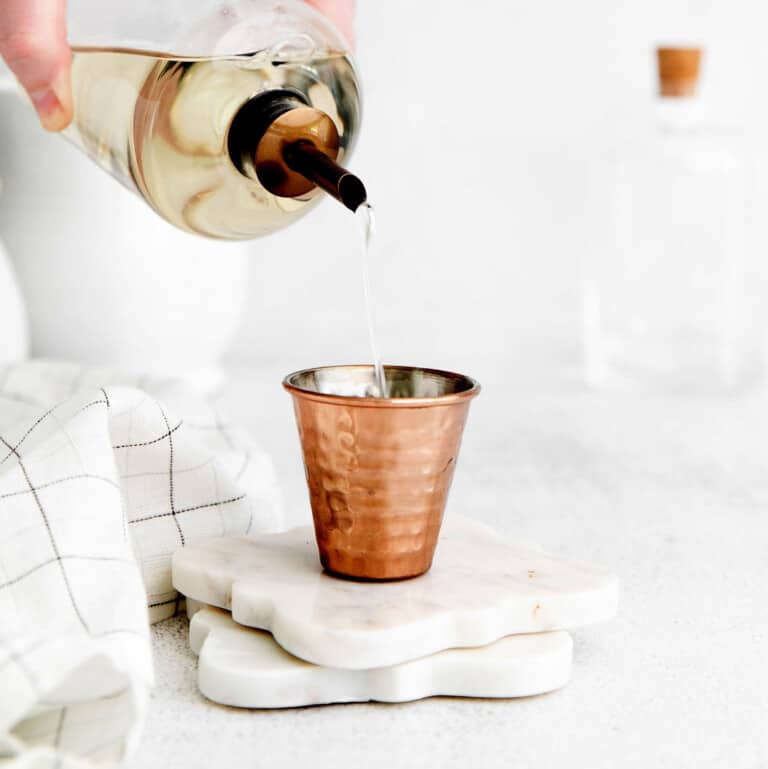 Tutorial
How to Make Simple Syrup
Simple syrup is a must to keep on hand for cocktails and cakes. Wondering how to make simple syrup? All you need is water, sugar, and a saucepan.
Watermelon Frosé Wine Slushies
Frosé all day with this incredible watermelon frosé wine slushie recipe! It's made with our your favorite bottle of rosé, frozen watermelon, and simple syrup!
Rosé
Frozen watermelon
Simple syrup
Ice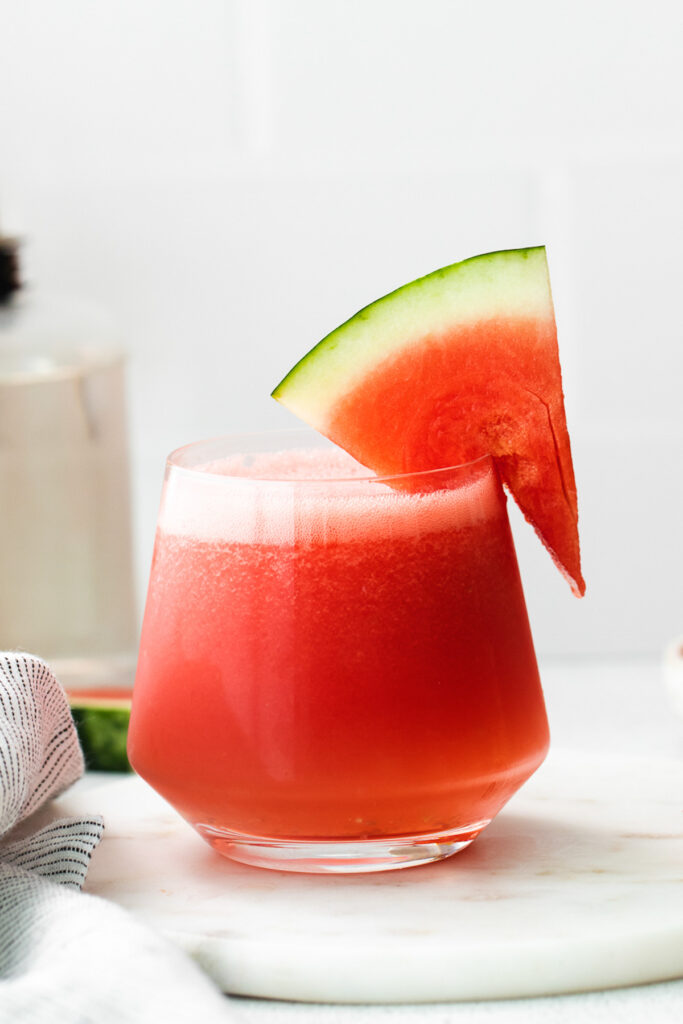 Sangria Wine Slushies
Sangria lovers, you are going to absolutely adore these Sangria Wine Slushies made with an entire bottle of Pinot Noir, frozen strawberries, and a little orange liquor.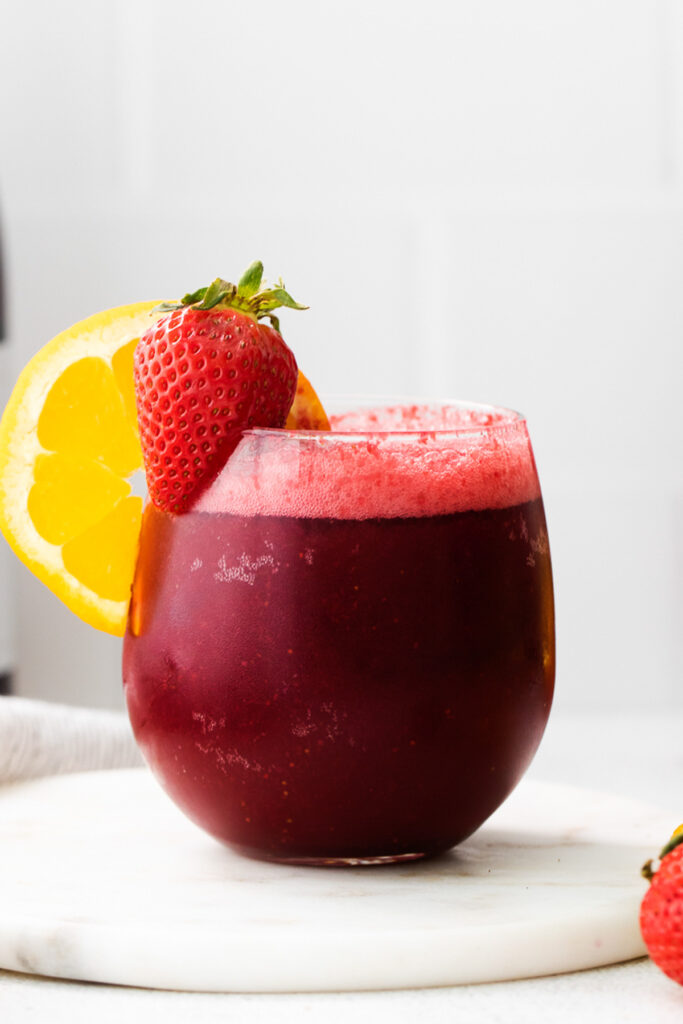 Turn Them in Freeze Pops!
Boozy freeze pops are all the rage on social media. You can easily turn these wine slushies into popsicles. Here's how to do it:
Blend up your wine slushies as directed in the recipe card.
Then, carefully pour the mixture into individual plastic freeze pop sleeves. Only fill to the line. Then remove as much air as possible and seal. Option to use a popsicle mold instead.
Transfer them to a plate or a baking sheet and freeze them for at least 8 hours or until frozen.
Disclaimer: This post is sponsored by Cupcake LightHearted. We were compensated and all opinions are our own. Thank you for supporting Fit Foodie Finds!