This Triple Berry Protein Smoothie is packed with clean ingredients and a whopping 12g of protein per serving.
Made with mixed berries, banana, protein powder, almond milk, and chia seeds, this protein smoothie will start your day off right!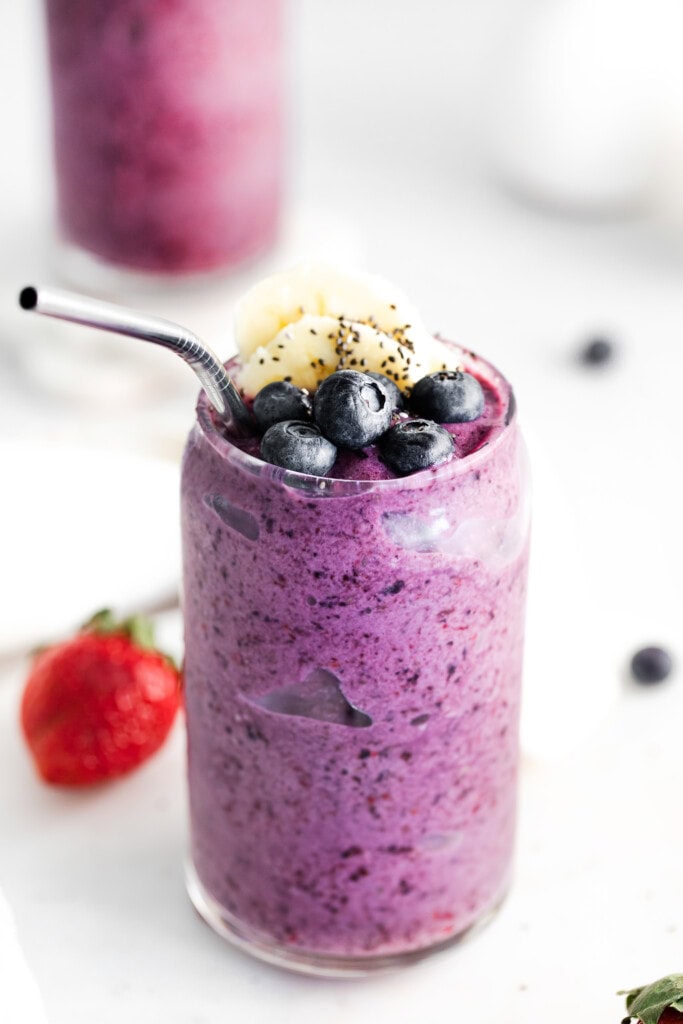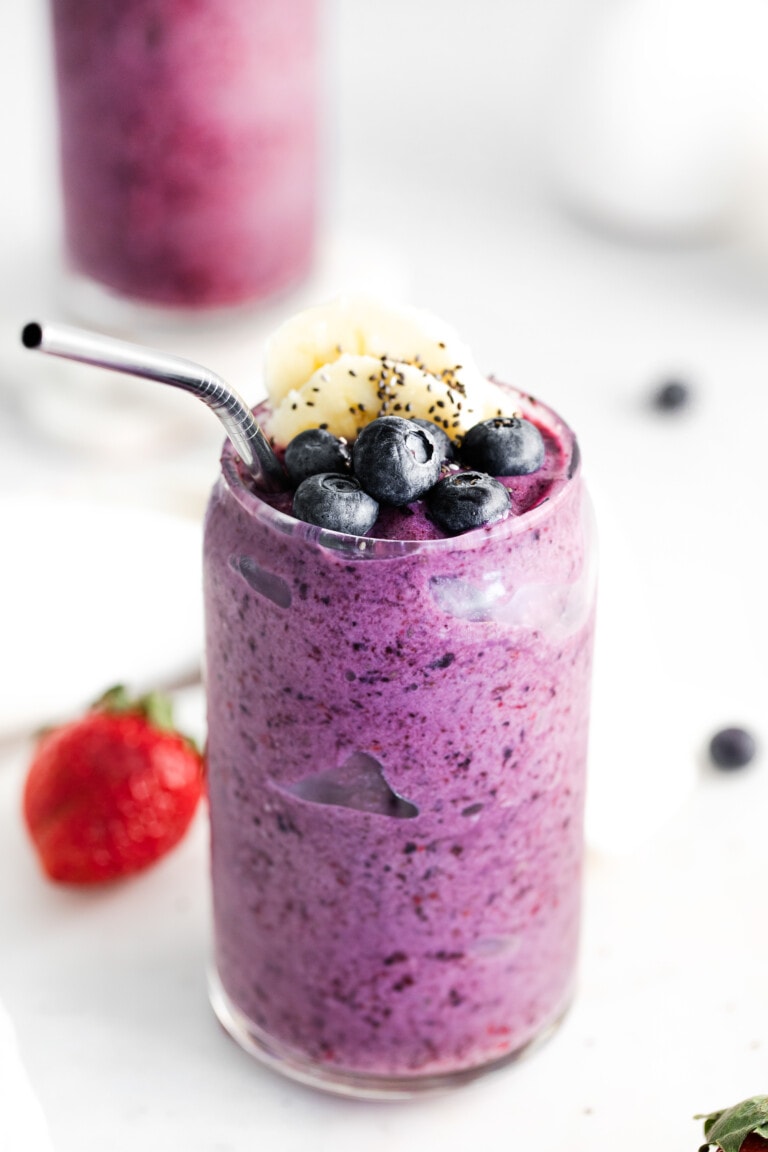 The Berry Protein Smoothie You Need!
Does anybody else love starting their day off with a healthy and protein-packed smoothie?! Even in the dead of winter, I still love a good smoothie in the morning. And this one is just the perfect combination of fruits, protein, and milk to make you want to make it morning after morning.
If you're not a berry person, but looking for protein smoothie ideas, check out our strawberry protein smoothie (tastes like cheesecake) or chocolate protein smoothie (tastes like a Frosty).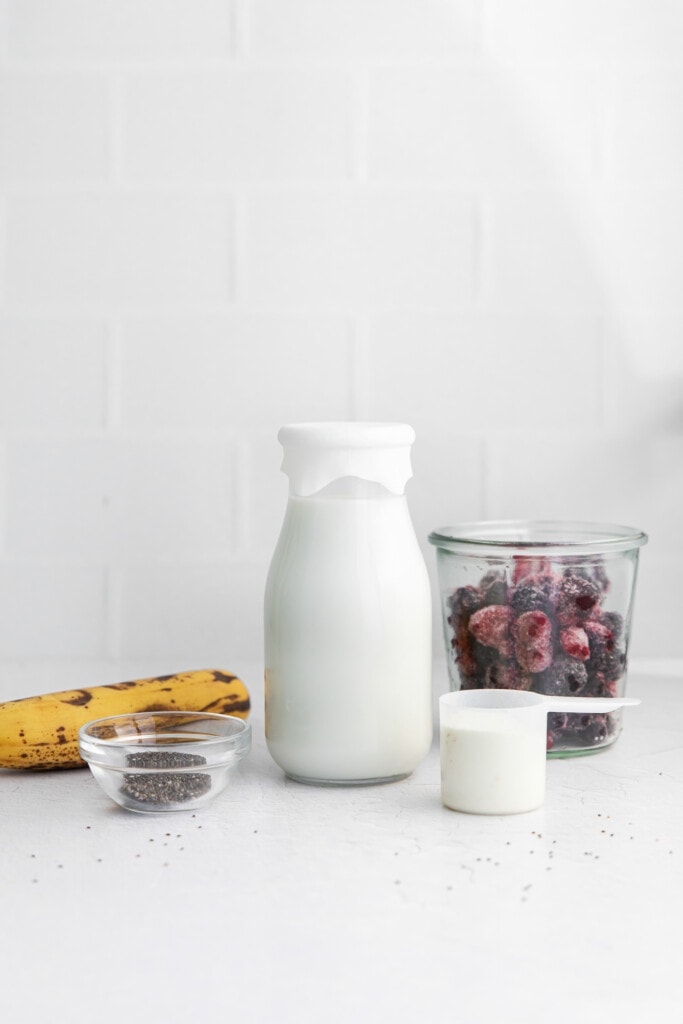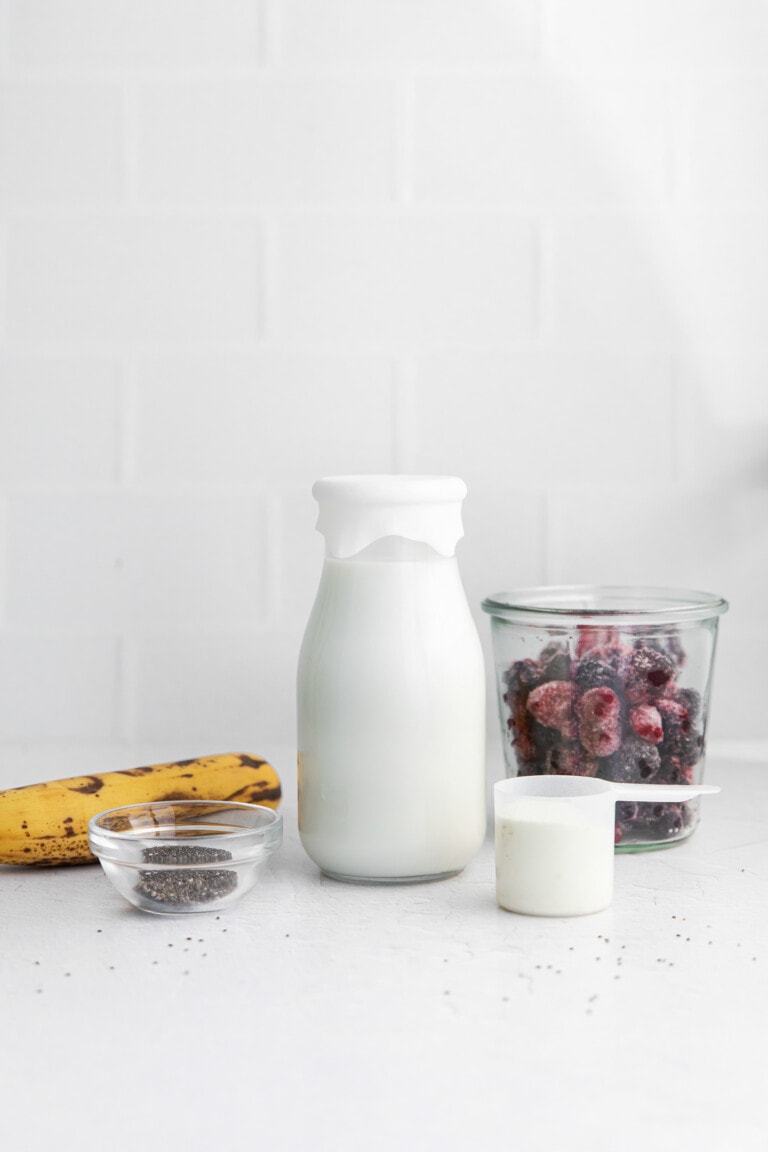 How to Make a Triple Berry Smoothie
This smoothie will legit only take you 5 minutes to whip up. And you likely have most (if not all) of the 5 ingredients it calls for already on hand in your kitchen:
What You Need
frozen mixed or triple berries (most grocery stores will have a variety of this already bagged together in the freezer section). Got fresh berries? Learn how to freeze berries.
vanilla protein powder: check out some of our favorites below.
almond milk
And all you have to do is combine these ingredients together in your high-speed blender and blend up til it's smooth. So easy. So delicious.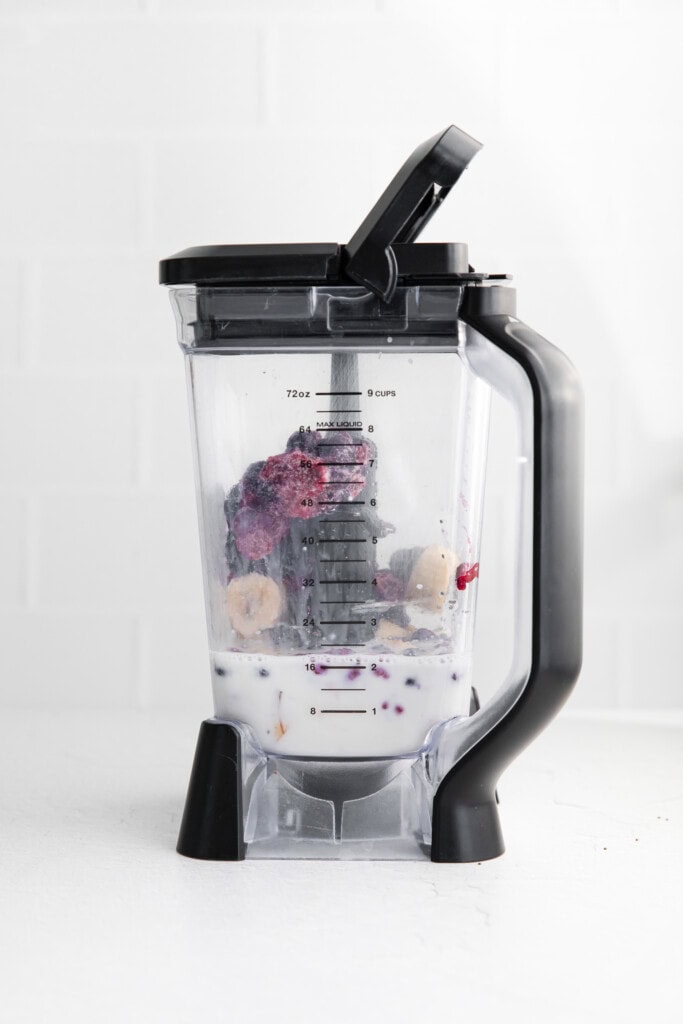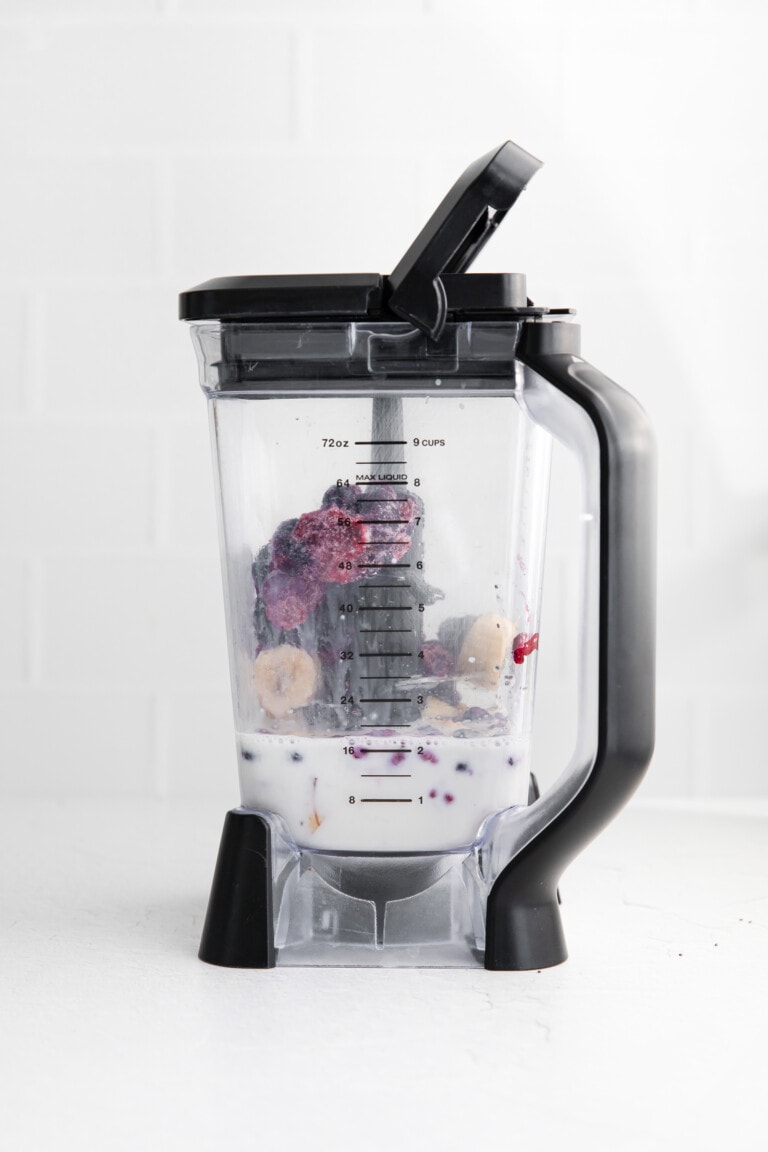 Protein Smoothie Tips
guide to protein powder
Looking for the best protein powder to buy? Check out our Guide to Protein Powder where we share our top plant-based and whey protein powders.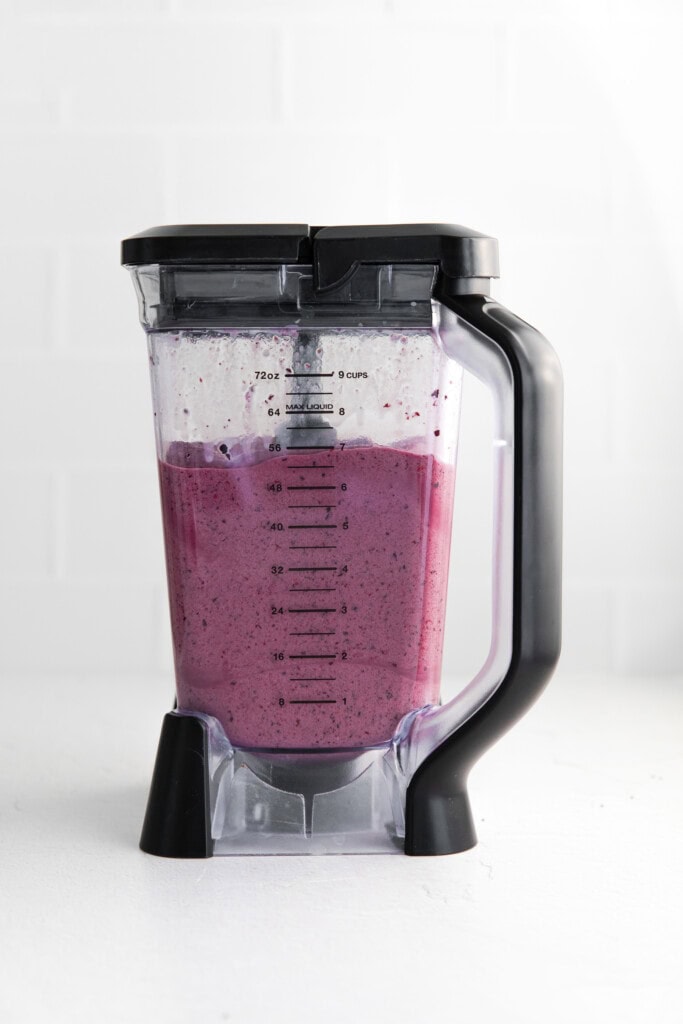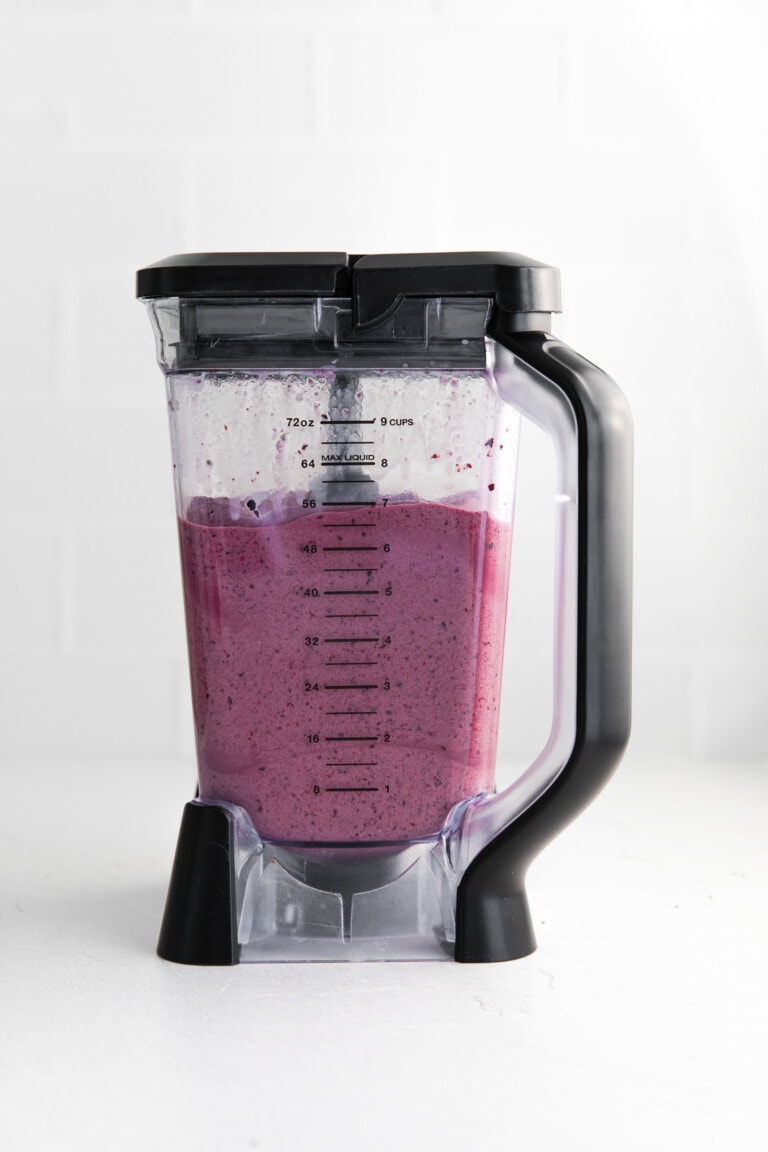 Smoothie Toppings
Don't forget about the smoothie toppings. If you're anything like us, you don't skimp when it comes to toppings. Here are some of our favorites:
Meal Prep it with Smoothie Ice Cubes!
While we've made smoothies in a bag before for meal prep, we've got another idea up our sleep for you –> Smoothie Ice Cubes!
Make the smoothie as directed.
Then, transfer the smoothie into a reusable ice cube container and freeze for at least 12 hours or overnight.
When you're ready for a smoothie, remove a few cubes and blend with milk, juice, or, water.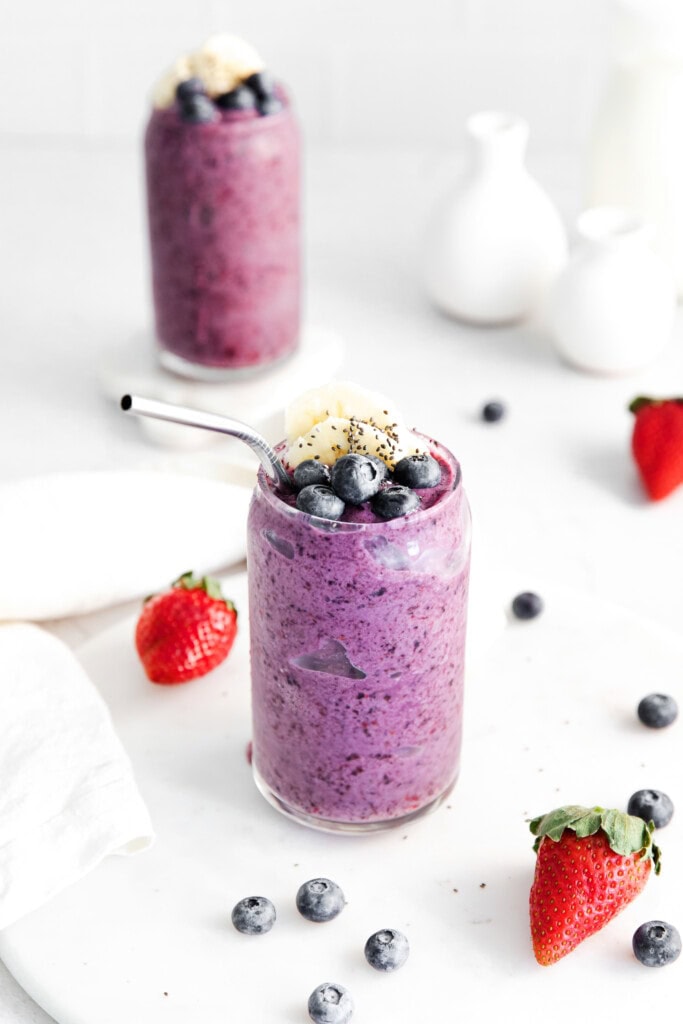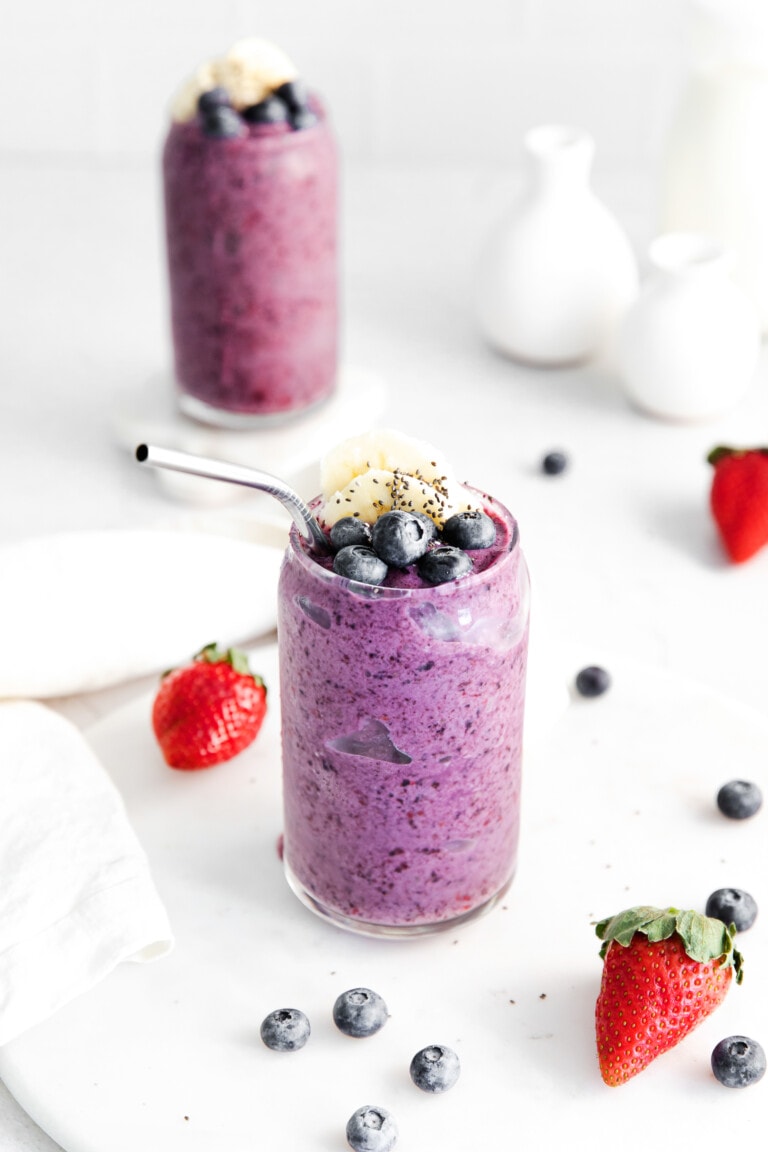 Ingredients
1.5

cups

frozen triple berry mix

1

medium frozen banana

1/2

tablespoon

chia seeds

1/4

cup

vanilla protein powder

1.25

cups

unsweetened almond milk
Instructions 
Place all ingredients in a high-speed blender.

Blend on high until smooth. If necessary, add more almond milk to thin it out or more frozen berreis to make it thicker.
Tips & Notes
Option to add more almond milk by the ¼ cup depending on how thick or thin you like your smoothies.
Nutrition facts
Calories: 196kcal Carbohydrates: 32g Protein: 12g Fat: 3g Fiber: 8g Sugar: 16g