Have you ever wondered how to cook bacon in the oven? Good news! All you need is bacon, a metal baking rack, and a tin foil-lined baking sheet to make the most perfect oven baked bacon every time.
Whether you like crispy bacon or thick and chewy bacon, cooking bacon in the oven is fool-proof and seriously the best way to cook bacon ever!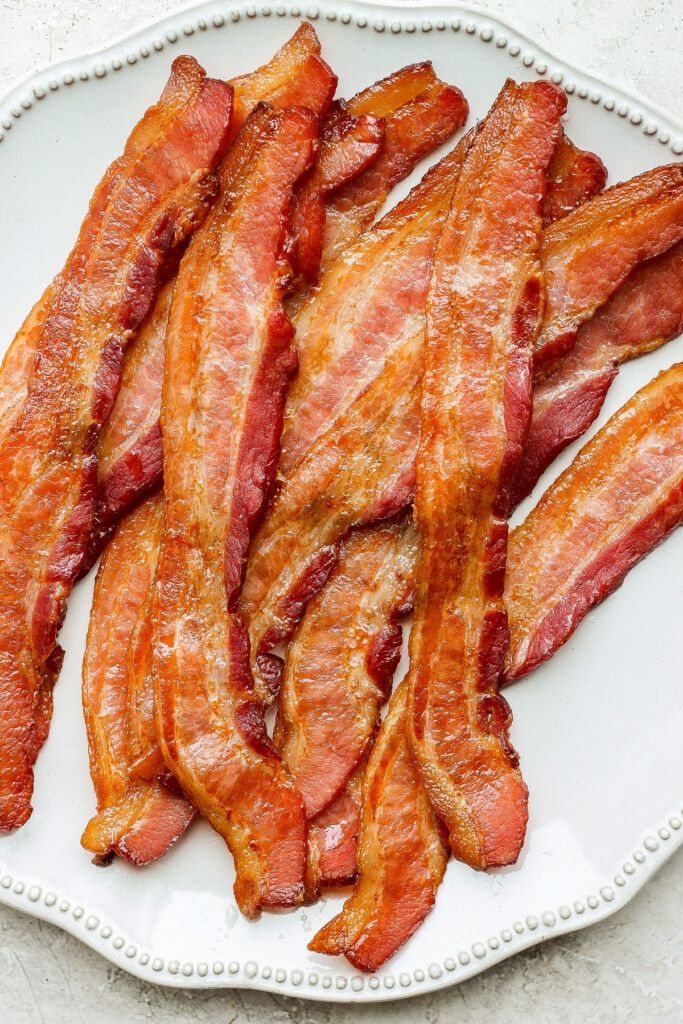 Best Bacon in the Oven (any thickness!)
Want to get perfectly cooked, chewy bacon every single time you make it? Baking bacon is truly the way to go for foolproof bacon.
Cooking bacon in the oven is easier than you think, and we're here to show you how to do it. All you need to cook bacon in the oven is your favorite cut of bacon, a wire rack, and a baking sheet.
The DL on Cooking Bacon in the Oven
There are many different ways to make bacon. You can pan fry it, air fry it, grill it…heck, you can even microwave it. But, hands down the best way to cook bacon is in the oven. Here's why:
Hands-Off: There is no sautéing or flipping involved. Once you line your bacon on the wire rack, pop it in the oven until it's done!
Less of a Mess: No splatter means a super simple clean-up! When cooking bacon on the stove, bacon grease gets literally everywhere. By cooking it in the oven, the grease drips onto tin foil for super simple clean-up!
Cook a Lot at Once: Instead of batch-cooking your bacon on the stove, you can cook up to 2 lbs. at once depending on the size of your oven. It truly is perfect for cooking for a crowd.
Perfect Every Time: The bacon cooks super evenly and your bacon comes out literally perfect every time.
What You Need for Bacon in the Oven
Before we get started with the actual recipe, there are a few things you're going to need to cook bacon in the oven. First and foremost…BACON.
Bacon
Bacon is the only ingredient you need in order to make perfect baked bacon. Crazy, right? There are a lot of different kinds of bacon on the market and to be honest, it's all about preference.
Are you a thin and crunchy bacon kind of person or a thick and chewy bacon kind of person? Whatever kind you prefer, they all work! My one piece of advice is to spend a little extra money to buy high-quality bacon that is free of nitrates and additives.
different kinds of bacon you can use
So, here are the different kinds of bacon you can buy:
Thin: for ultra-quick cooking, crispy bacon
Medium: for perfectly in-between bacon
Thick: for a thicker, chewier bacon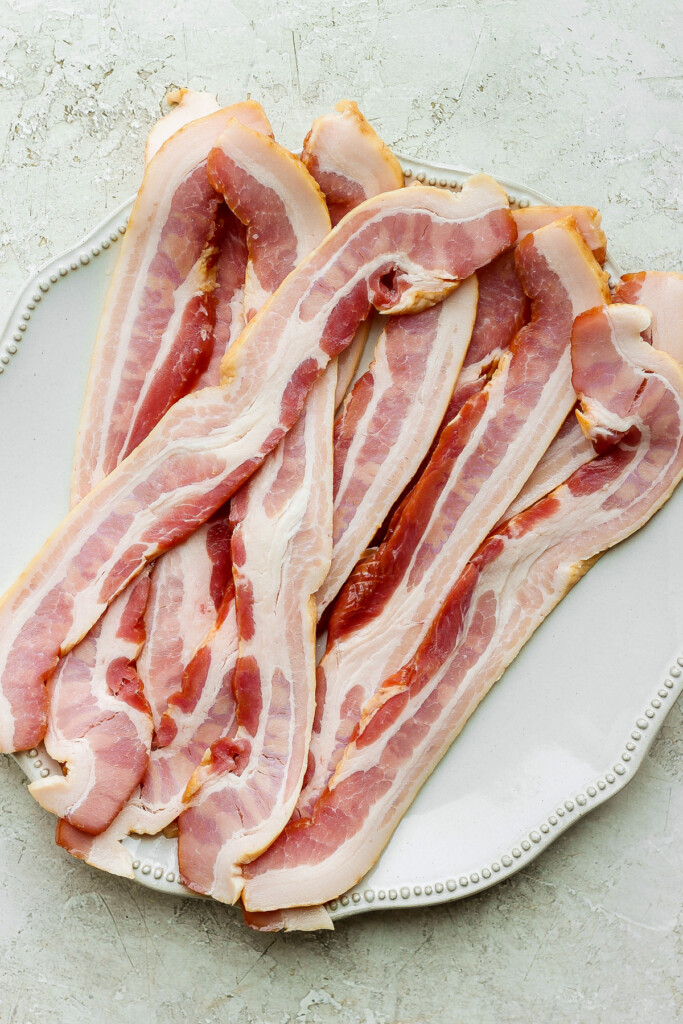 Metal Baking Rack
A metal baking rack is an important part of this recipe, so don't skip it! The low down on a metal baking rack is that it allows your bacon to cook more evenly because the fat falls off of the bacon onto the cookie sheet.
If you can imagine bacon sizzling on the stovetop in its own grease. It bubbles, curls, and burns easier.
By cooking bacon on a metal rack, the grease falls to the bottom and allows your bacon to cook more evenly.
Do I have to use a metal baking rack? We've used this recipe without a metal baking rack and it still works. However, the bacon does not come out as evenly cooked and it is a bit of a mess because the bacon is sitting in bacon grease.
Baking Sheet (with Aluminum foil)
Whatever you do, DON'T FORGET TO THE BAKING SHEET WITH FOIL. The baking sheet is what's going to catch all of that grease as it falls off the meat. If you forget the baking sheet, it's going to drip all over your oven and that isn't fun for anyone.
pro tip
line your cookie sheet with tin foil so that you can easily remove the bacon grease after it sets for easy cleanup!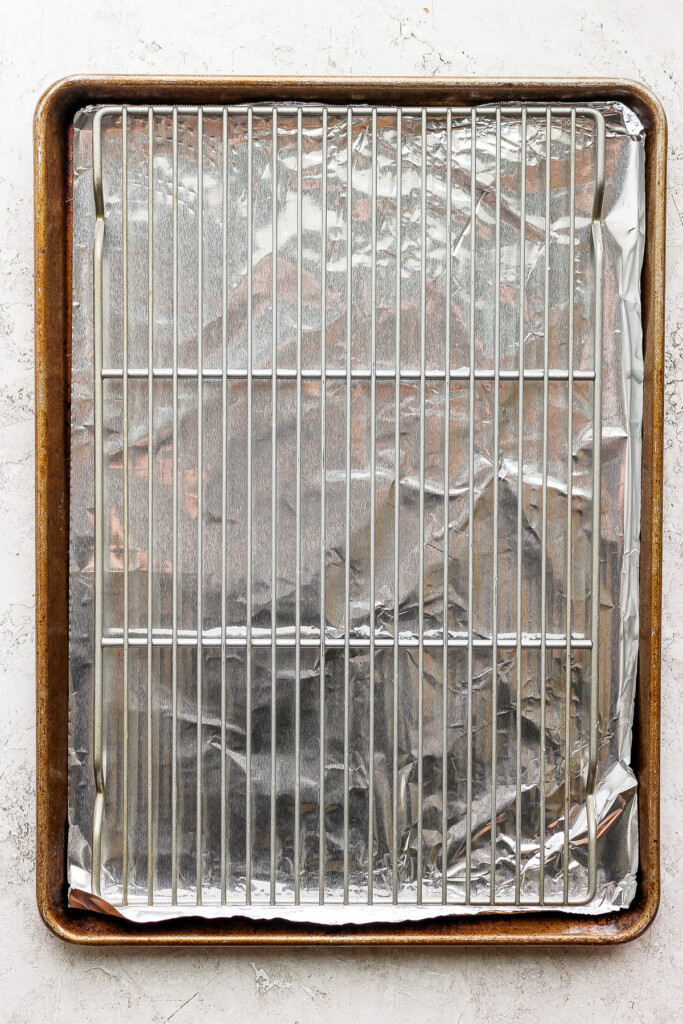 How to Bake Bacon
Who's ready for the most perfect oven baked bacon on the planet? This is an easy, fool-proof tutorial for cooking bacon in the oven. Best part? Breakfast is served in less than 30 minutes!
First, preheat your oven to 400ºF and then line a baking sheet with tin foil.
Then, place a metal baking rack on top of the tin foil.
Next, lay each strip of bacon on top of the bacon rack. Make sure that none of the bacon pieces overlap. However, they can be touching because they will shrink a bit as they cook.
Then, place baking sheet into the oven and use the following bake times depending on the thickness of your bacon:
Thin: 10-15 minutes
Medium: 15-20 minutes
Thick: 20-25 minutes
Once your bacon is at the desired texture, remove it from the oven and let rest for a few minutes to cool down.
Then, transfer the bacon to a paper towel-lined plate and use a few pieces more of paper towel to remove excess grease.
keep your eye on the prize!
Make sure to keep an eye on your bacon so that it doesn't burn. No one likes burnt bacon! …or maybe they do 😛
Baking Bacon FAQ
How long do you let bacon cook in the oven?

Cook bacon in the oven at 400ºF for 15-20 minutes for medium-cut bacon.
How do you know bacon is done?

You know your bacon is done when it turns darker in color and is firm to the touch.
Should you flip bacon in the oven?

You do not need to flip your bacon over when baking it in the oven because of the wire rack. The wire rack helps circulate the heat, therefore you do not need to flip it.
Can I cook bacon in the oven without foil?

Yes, you can cook bacon in oven without foil, but your cleanup will not be as easy. The foil allows you to keep the baking sheet free of bacon grease. So, if you don't use foil, you'll have a heftier cleanup.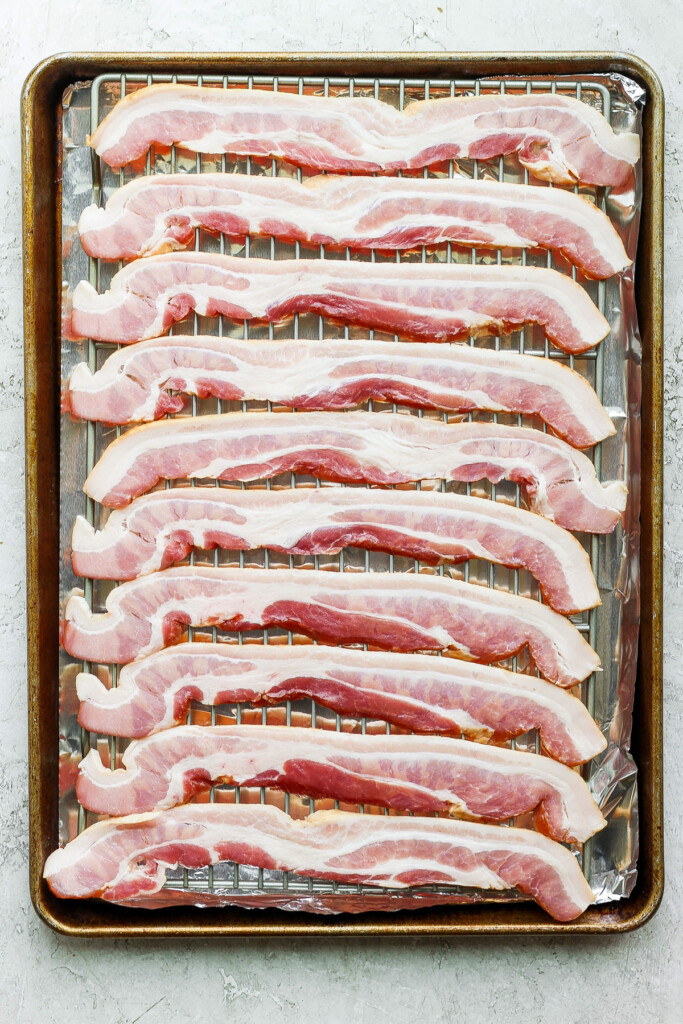 5 Tips for Cooking Bacon in the Oven PERFECTLY Every Time
Oven Temp: make sure to cook your bacon at a higher temperature. We've found that 400ºF hits the spot for baking bacon.
Wire Baking Rack: A wire baking rack is not only important for even cooking, but will make your life a whole lot easier when you go to clean up the bacon grease.
Keep An Eye on the Prize: Bacon can go from perfectly cooked to perfectly burned very quickly. Make sure you watch your bacon so that it doesn't over-cook!
High-Quality Bacon: Your bacon matters. When possible, buy nitrate-free, local bacon. Not only does it cook better, but it tastes better too!
The Thickness of the Bacon Matters: we hands-down prefer thick-cut bacon when baking bacon. It comes out chewy and slightly crispy. But, if you love super crispy bacon, make sure to buy something more thin or medium cut!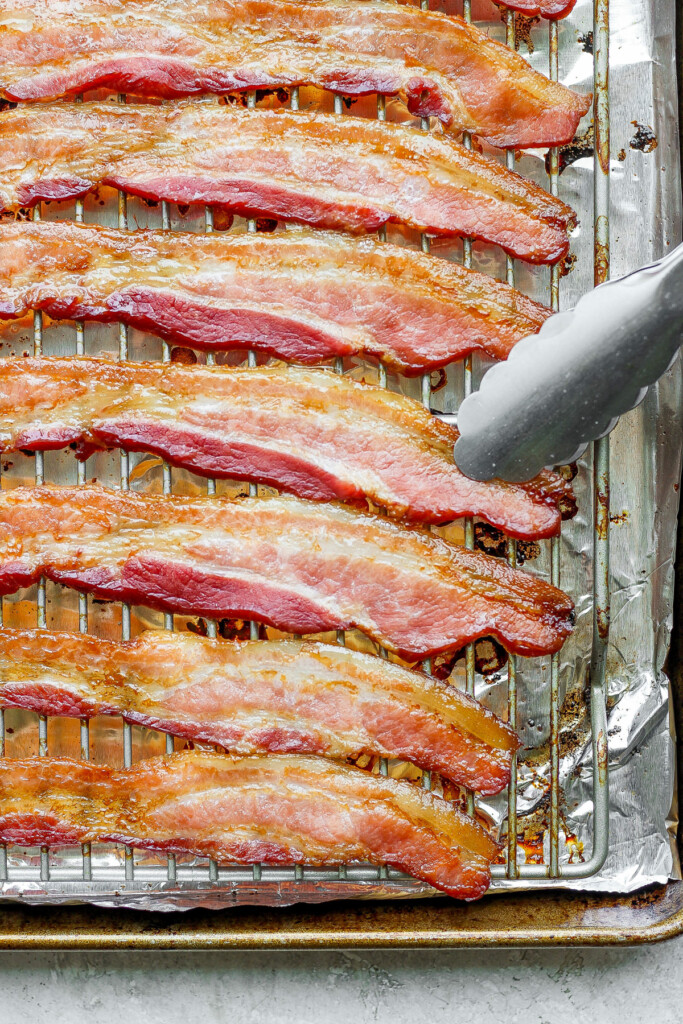 Healthy Breakfast Pairings
Because every piece of bacon deserves to be served next to something delicious. Here are some easy breakfast pairings for you to eat your baked bacon with!
How to Store Cooked Bacon
Let bacon cool completely, then transfer it into an airtight container and store in the fridge for up to 3-5 days.
How to Reheat Cooked Bacon
The easiest way to reheat cooked bacon is in the microwave. Place bacon on a microwave-safe plate. Then place a piece of paper towel on top of it.
Microwave on high for 60-90 seconds or until hot.
What to Do with Leftover Bacon
Can you freeze cooked bacon?
You can easily freeze cooked bacon. First, let it cool completely. Then, transfer it into a freezer-safe gallon-size bag and remove as much air as possible and seal. Will last in the freezer for up to 3 months.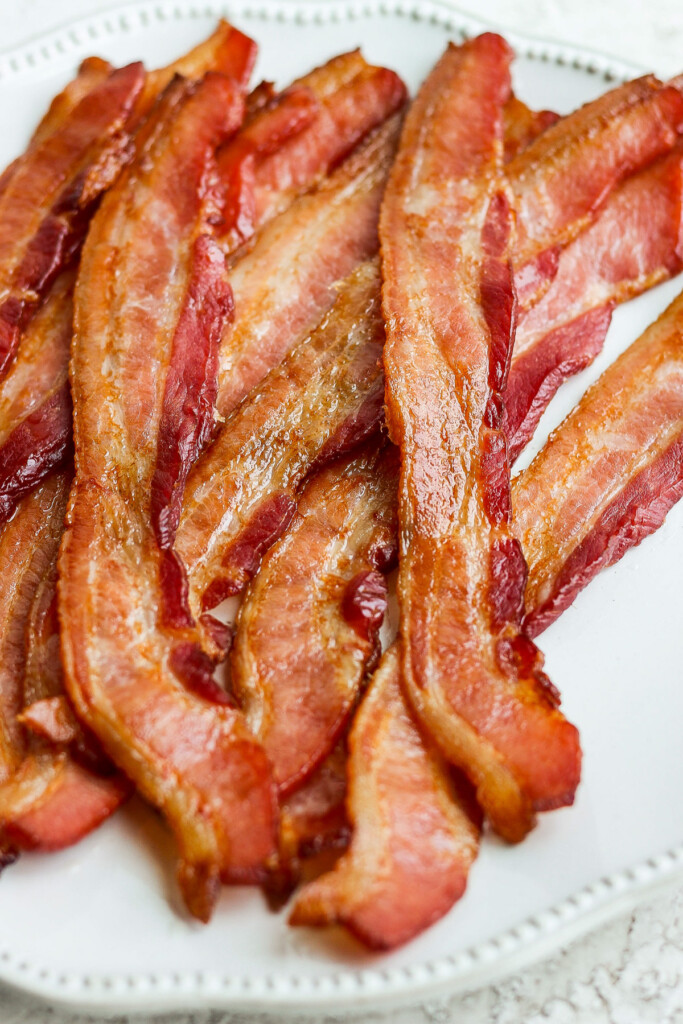 Photography: photos taken in this post are by Erin from The Wooden Skillet.