This fresh and easy cucumber tomato salad is a great side dish any time of year, but especially for summer! We use cherry tomatoes, cucumber, quick pickled onions.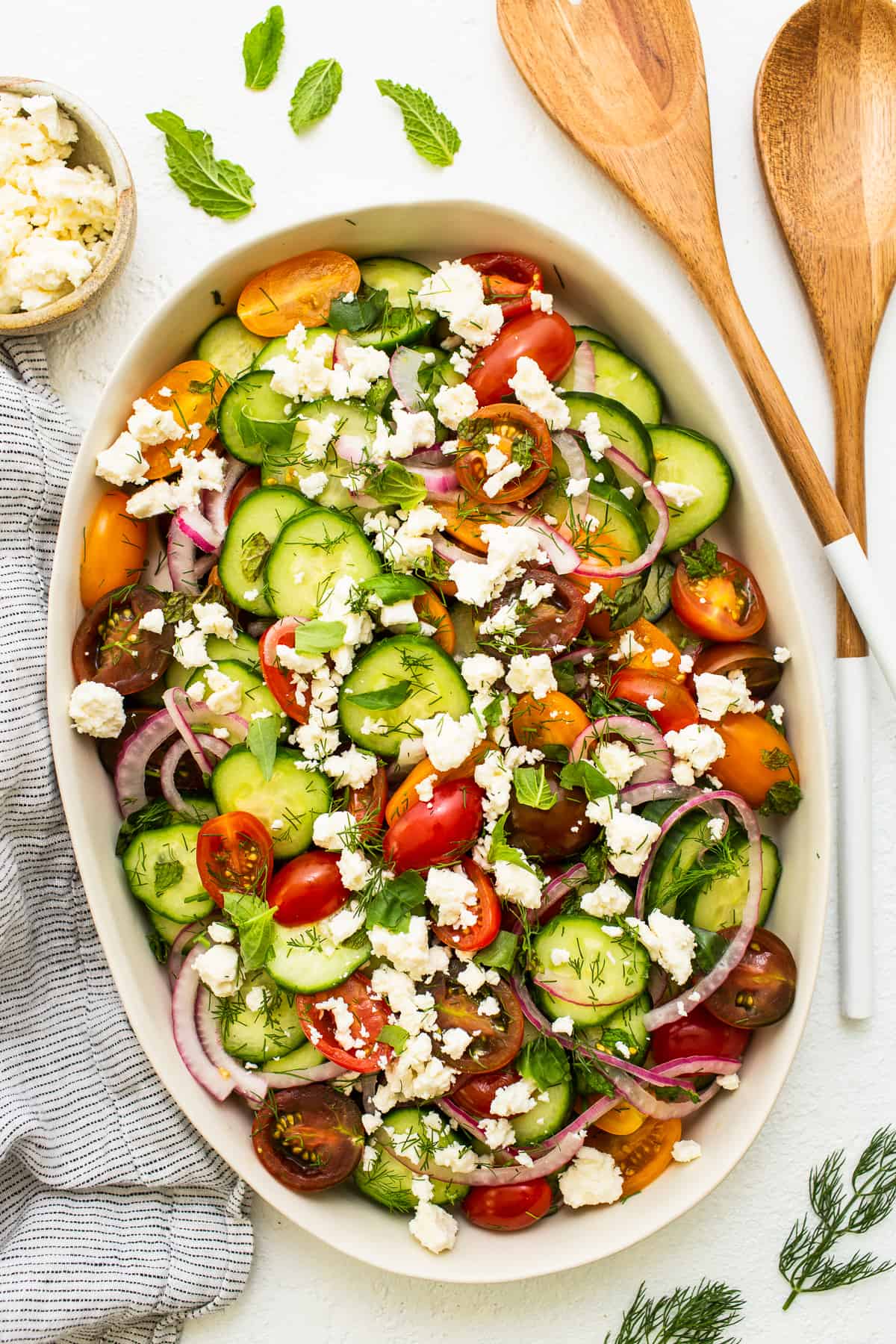 Why Make a Cucumber and Tomato Salad?
A classic cucumber tomato salad is a Greek-inspired salad that is served with cucumbers, tomatoes, red onion, and herbs.
We added a handful of fresh herbs (basil, mint, and dill) and a simple vinegar-forward dressing to give it our own addicting twist and truly believe it is better than any other cucumber tomato salad on the internet!
Plus, you can use any kind of tomato you want, making this a versatile "garden salad." And, it wouldn't be a salad without the cheese, so we topped ours with feta.
Why you'll love it!
It is fresh, flavorful, and a great side dish for any dish.
This salad is a great addition to any bowl!
This cucumber tomato salad can last a week in the fridge.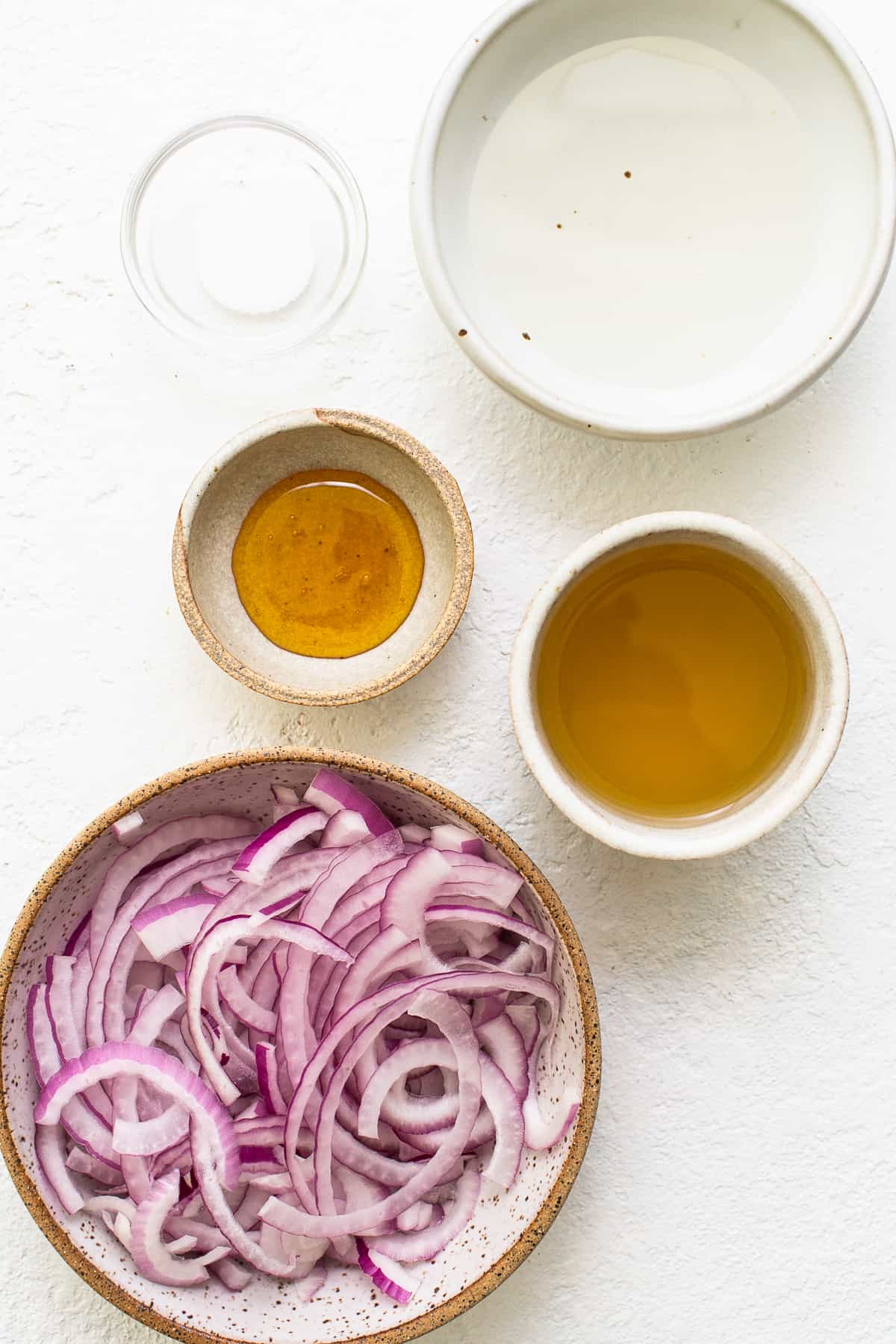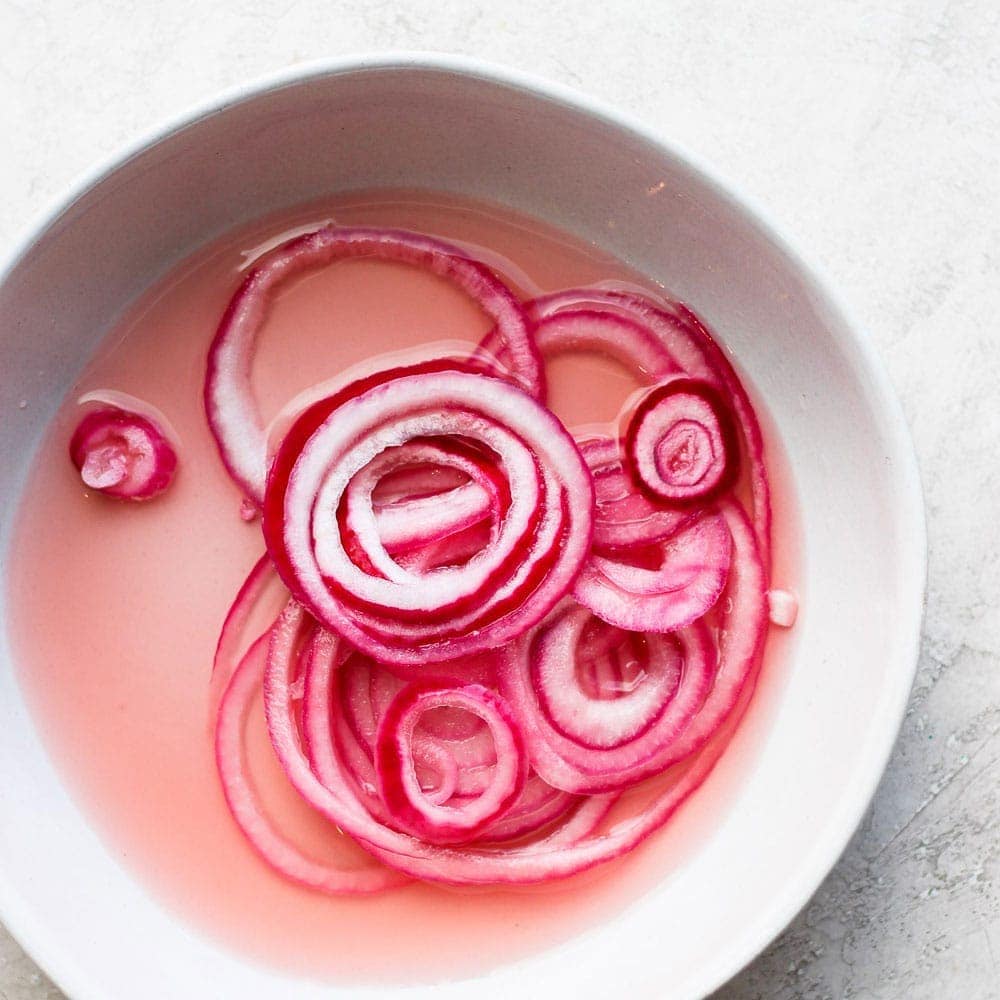 easy
Quick Pickled Onions
Make a batch of quick pickled onions to have on hand for salads, sandwiches, and more!
What You Need
Tomatoes: we use cherry tomatoes for this version of a cucumber tomato salad. Be sure you half the tomatoes before tossing them in salt.
Cucumbers: as long as you chop the cucumbers thin and bite-sized, any cucumber will work.
Red onion: thin slices of red onion add a bite of flavor and a bit of sweetness, especially tossed with vinegar.
Vinegar: we use a mixture of white wine vinegar and apple cider vinegar as the vinegar for this salad. We toss the onions with the vinegar and use the whole darn mixture for the dressing.
Feta: adding feta to this salad cuts the tartness of the salad. If you aren't a cheese person, feel free to omit the feta.
Ingredient Swaps
Don't have cherry tomatoes? It's ok to use any kind of tomato for this salad, but be sure to cut them into bite-sized pieces. Never skip salting the tomatoes. It draws out the liquid in the tomatoes so you don't end up with a watery salad.
English cucumbers, Persian cucumbers, and regular cucumbers will all work for this recipe. Be sure to cut the cucumbers into half moons or bite sized pieces. We also like to leave the skin on the cucumbers for a bit of texture, but feel free to peel them if you want to.
Feel free to swap the white wine vinegar and apple cider vinegar for any combination of vinegars. You can use white vinegar, rice vinegar, or balsamic vinegar.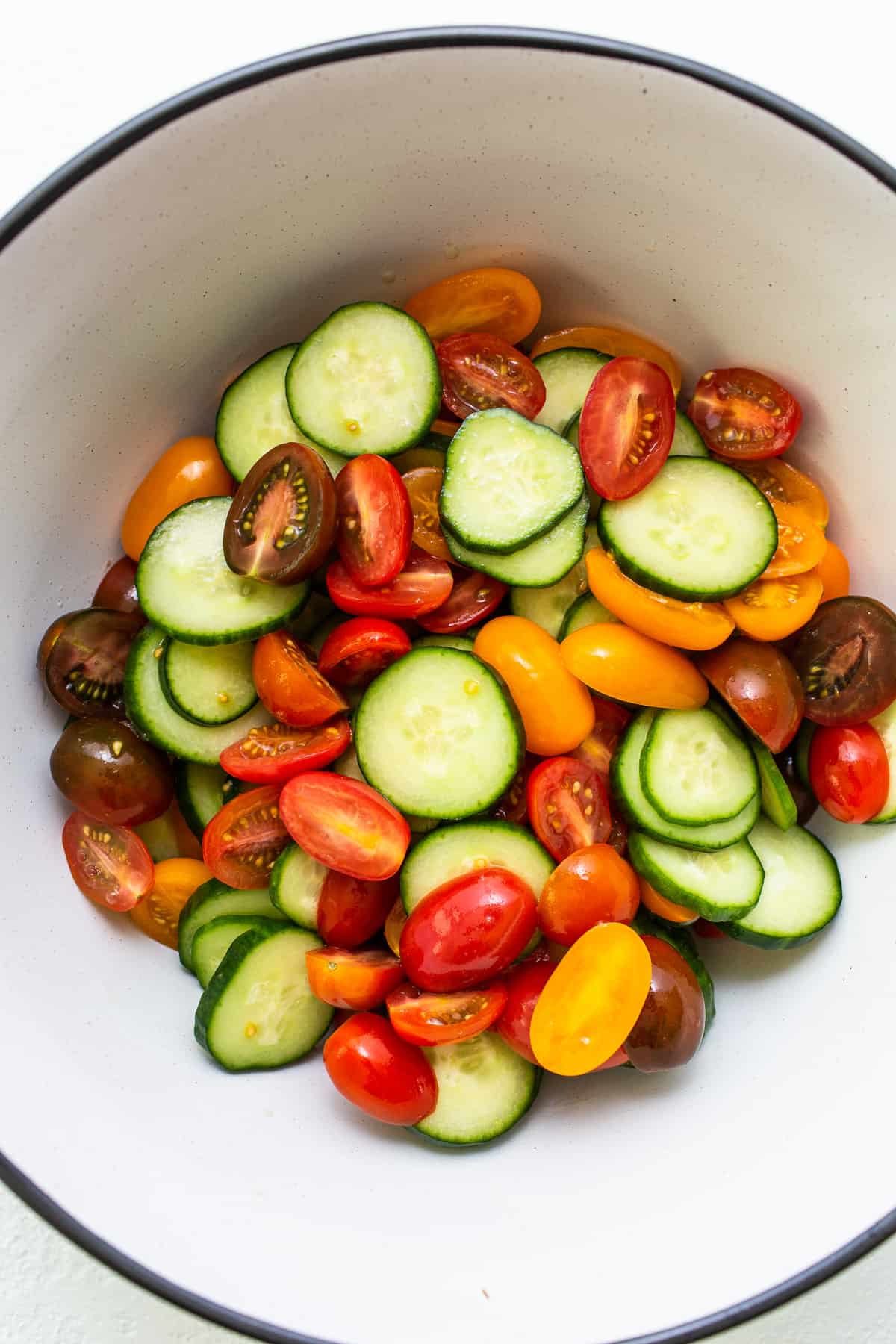 Quick Instructions for How to Make a Cucumber Tomato Salad
Make the dressing.
Quick pickle the onions.
Salt the tomatoes + cucumbers.
Toss everything together.
Top Tips for a Perfectly Crunchy Cucumber Tomato Salad
Don't skip salting the cucumbers before making the salad. This is a very important step, so we are reminding you.
Store this salad in a sieve. Storing this salad in a sieve in the refrigerator will or a salad spinner will keep your salad fresher (aka crunchier) for longer.
Add 4-oz. of pasta to this cucumber tomato salad to make a simple and delicious pasta salad.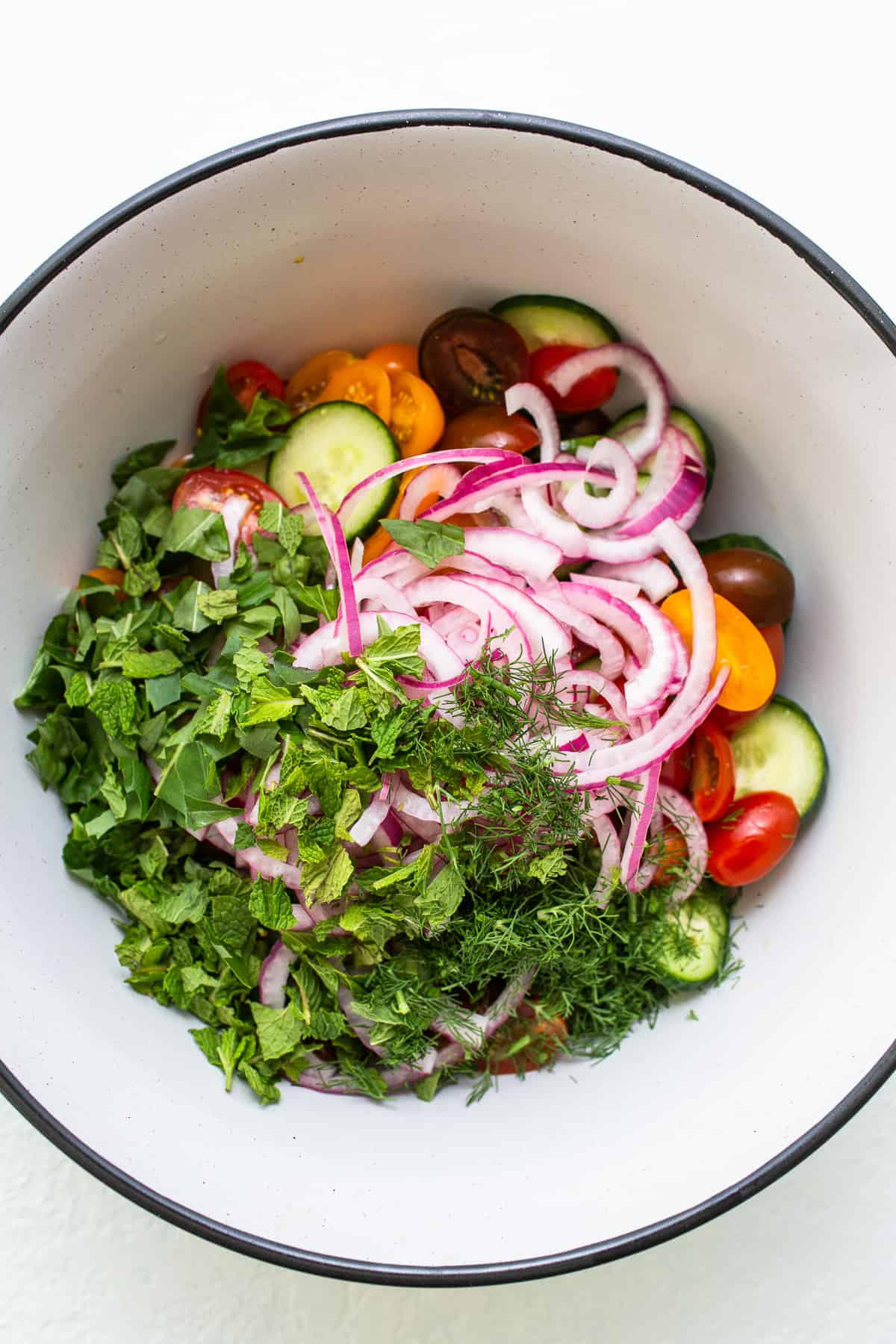 FAQ
Is cucumber and tomato salad good for you?

Yes, it is veggie packed and fresh. Perfect to get all those vitamins and minerals.
How do you keep cucumber salad from getting watery?

Make sure you salt the cucumbers before tossing them in the salad.
What can I add to cucumber tomato salad?

You can add diced bell pepper, fresh spinach, or arugula to this salad.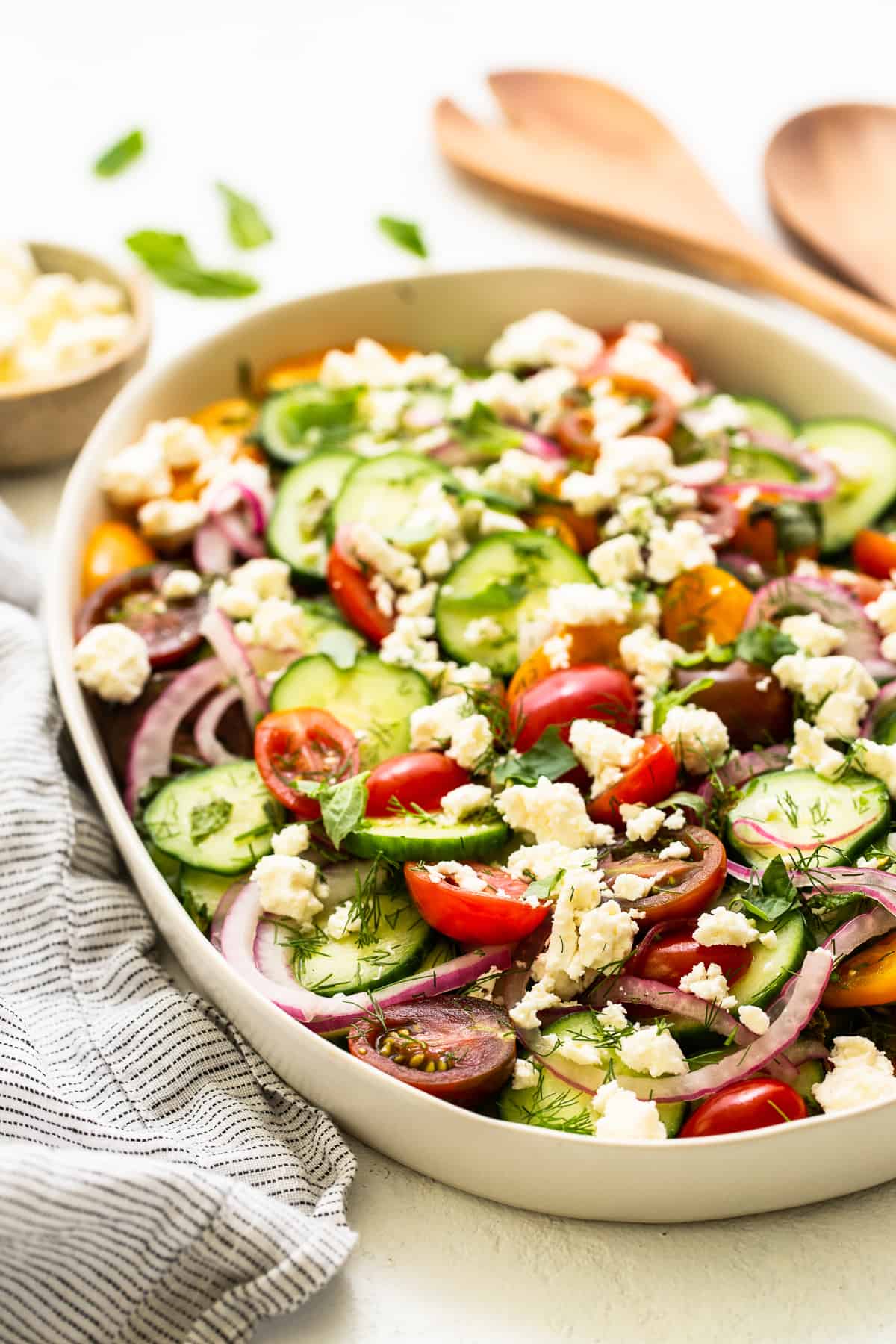 Storage
Store this salad in a sieve to allow the excess water to drip from the salad. Store the salad in the refrigerator for up to 5 days.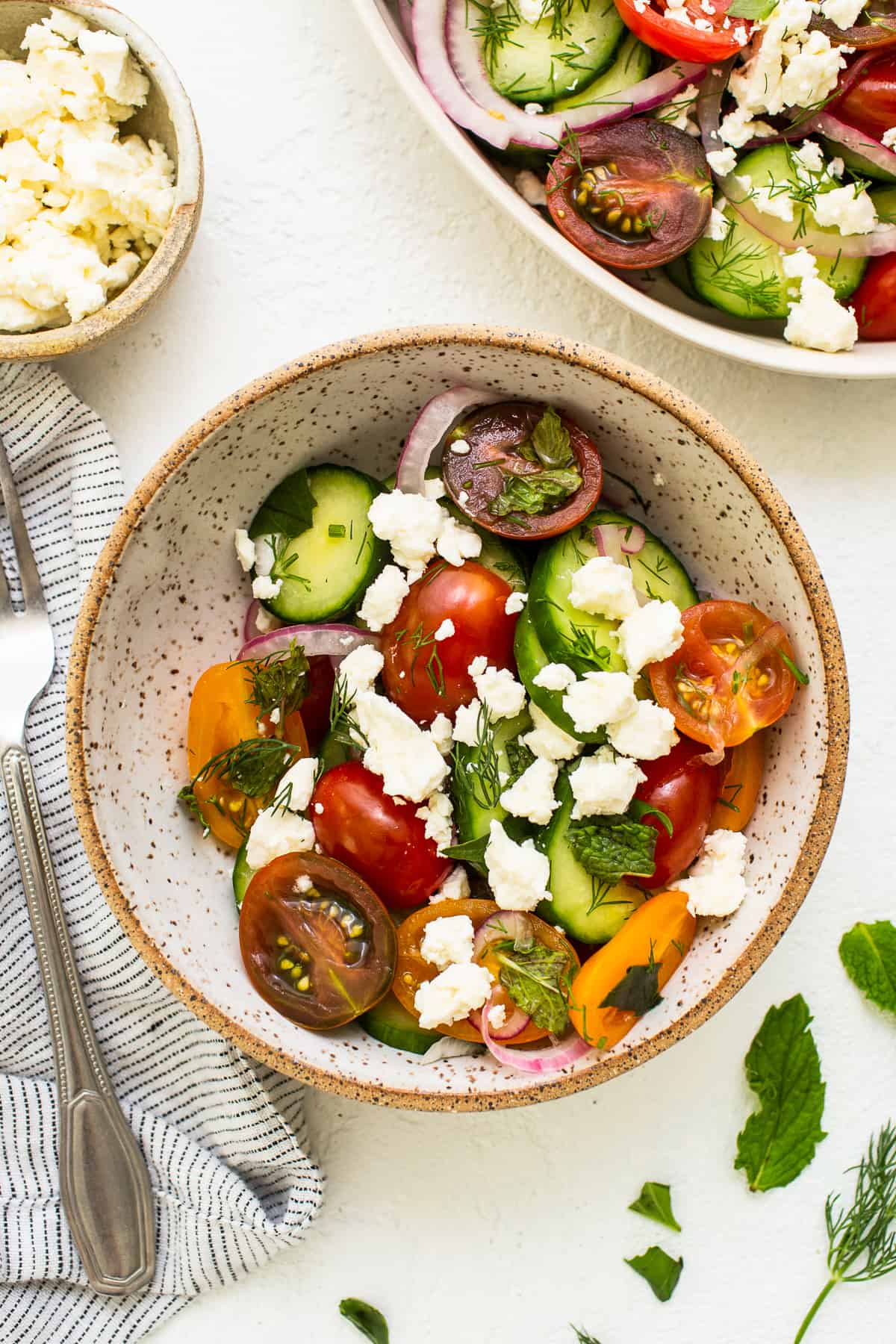 Ingredients
¼

cup

white wine vinegar

½

cup

apple cider vinegar

2

teaspoons

honey

1.5

teaspoons

salt

separated

½

medium purple onion

thinly sliced

4-6

English cucumbers

sliced (roughly 4 cups)

3

cups

cherry tomatoes

halved

¼

cup

fresh basil leaves

ripped

¼

cup

fresh mint leaves

ripped

2

tablespoons

fresh dill

roughly chopped

¼

cup

feta cheese crumbles
Tips & Notes
You can use regular cucumbers for this recipe, as well. We recommend that you slice them into half moons.
You can swap out any of the vinegars used with red wine vinegar, rice vinegar, etc.
Nutrition facts
Calories: 118kcal Carbohydrates: 21g Protein: 5g Fat: 3g Fiber: 3g Sugar: 11g
Photography: photos taken in this post are by Ashley McGlaughlin from The Edible Perspective.