These sweet and savory pan-fried pork loin rolls are filled with creamy Japanese potato salad and glazed with homemade teriyaki sauce. Enjoy this Japanese home-cooked dish for dinner or your bento lunchbox!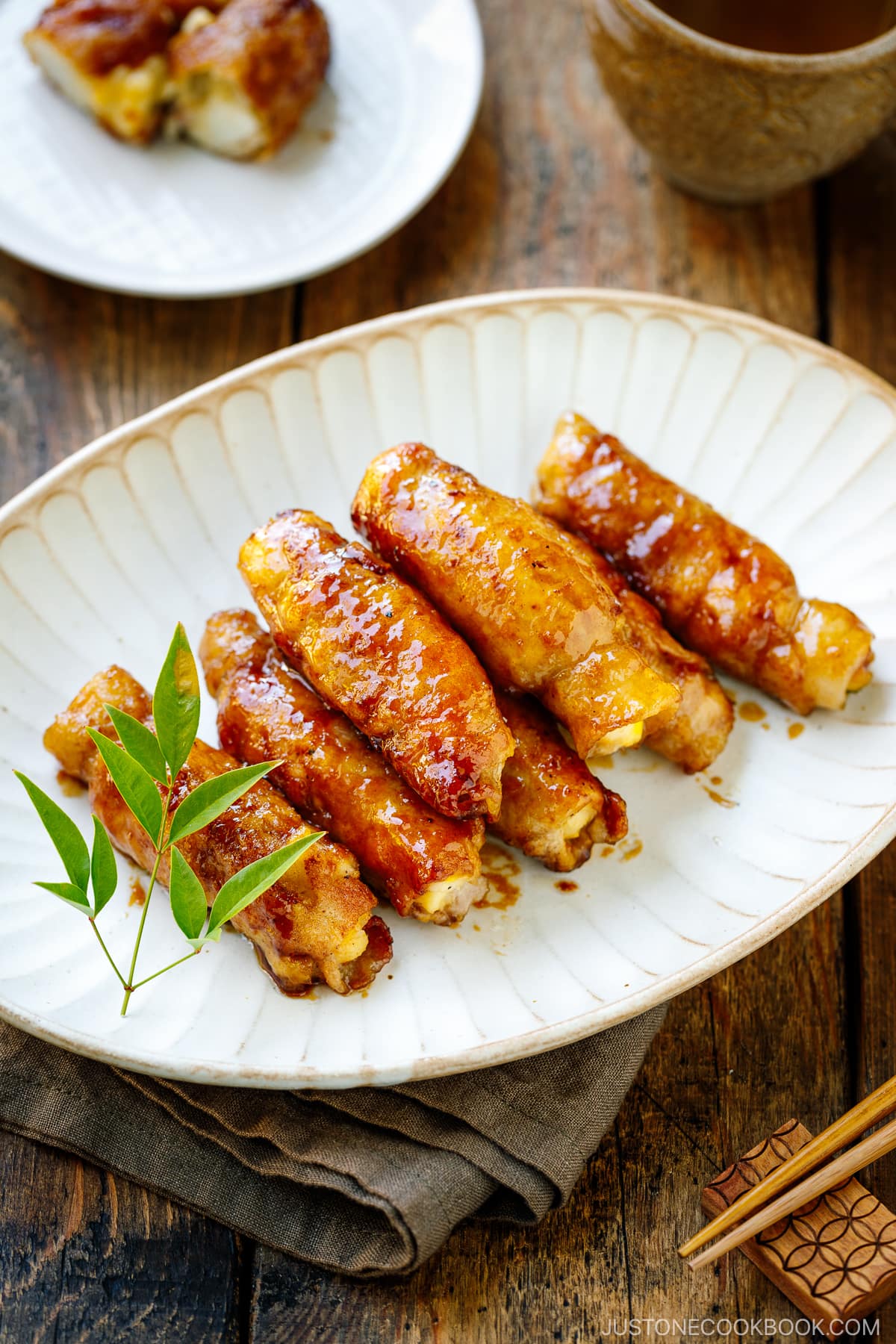 These Potato Salad Pork Rolls are one of my favorites, probably close to my number one favorite dish Korokke. My mom used to put these in my bento and I still remember that feeling when I open the lunch box and see the pork rolls inside.
When you make a lot of Japanese Potato Salad for a party or potluck, this is the most delicious way to use up the leftovers.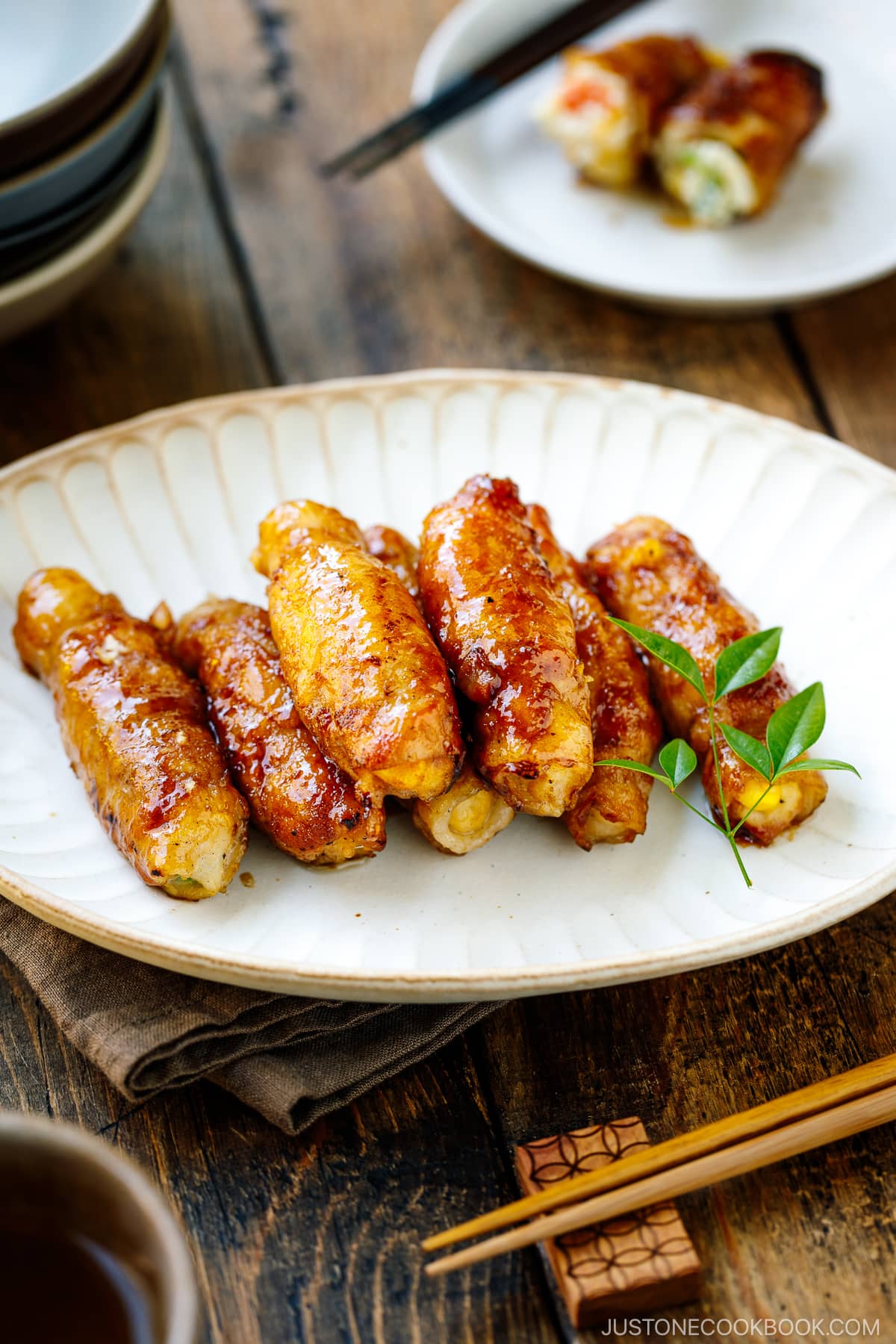 What are Japanese Pork Rolls?
Japanese pork rolls, or what we call niku maki (肉巻き), are a dish where you roll up various filling ingredient(s) in a piece of thinly sliced pork loin (or beef). We add carrots, green beans, asparagus, mushrooms…literally all kinds of things! Check out my Teriyaki Steak Rolls and Carrot Beef Rolls.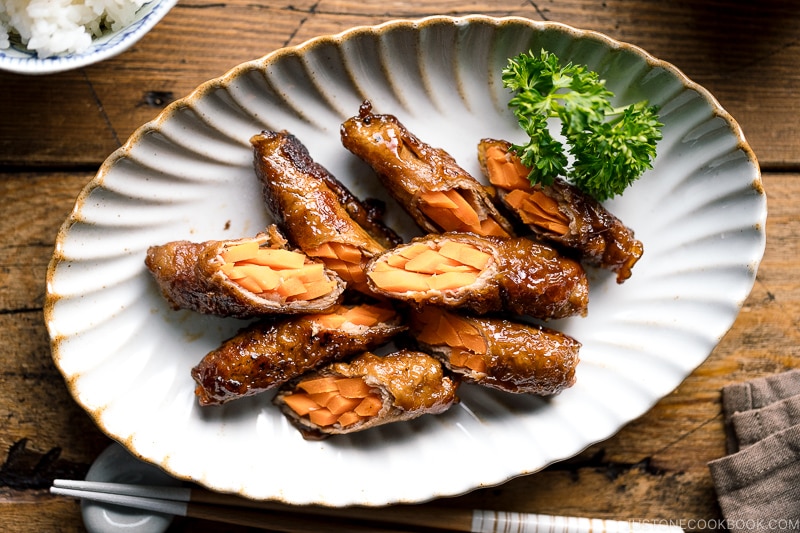 In fact, majority of Japanese meat dishes use these paper-thin slices of beef and pork, from Nikujaga (Meat and Potato Stew) to Gyudon (Beef Bowl) to Shogayaki (Ginger Pork). I rarely see a big chunk of meat being cooked in my mom's kitchen.
You can find these pre-sliced meats in packages at Japanese (Korean and Chinese) grocery stores.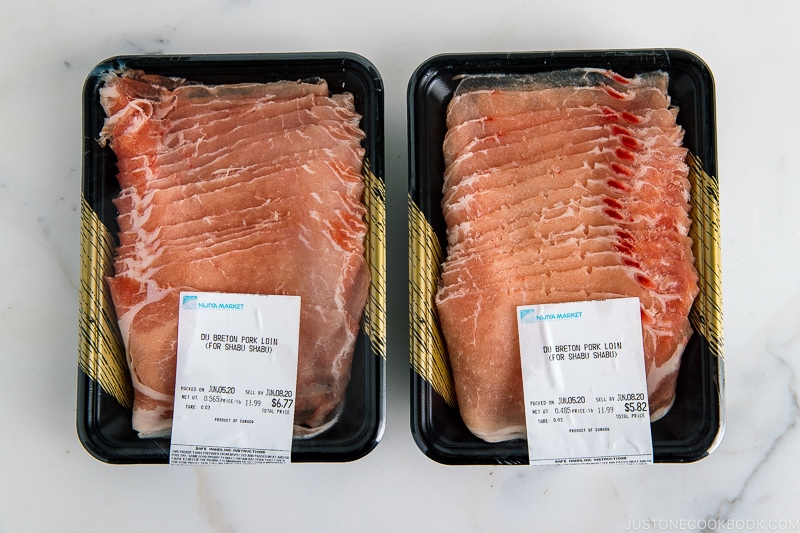 We often cook these thinly sliced meats with vegetables so you naturally eat a more balanced meal. When my children were younger, I used to hide veggies in the meat rolls so they would finish the vegetables with the meat. It was also a creative way to introduce different vegetables to them.
Today we'll repurpose the Japanese potato salad I made the previous day.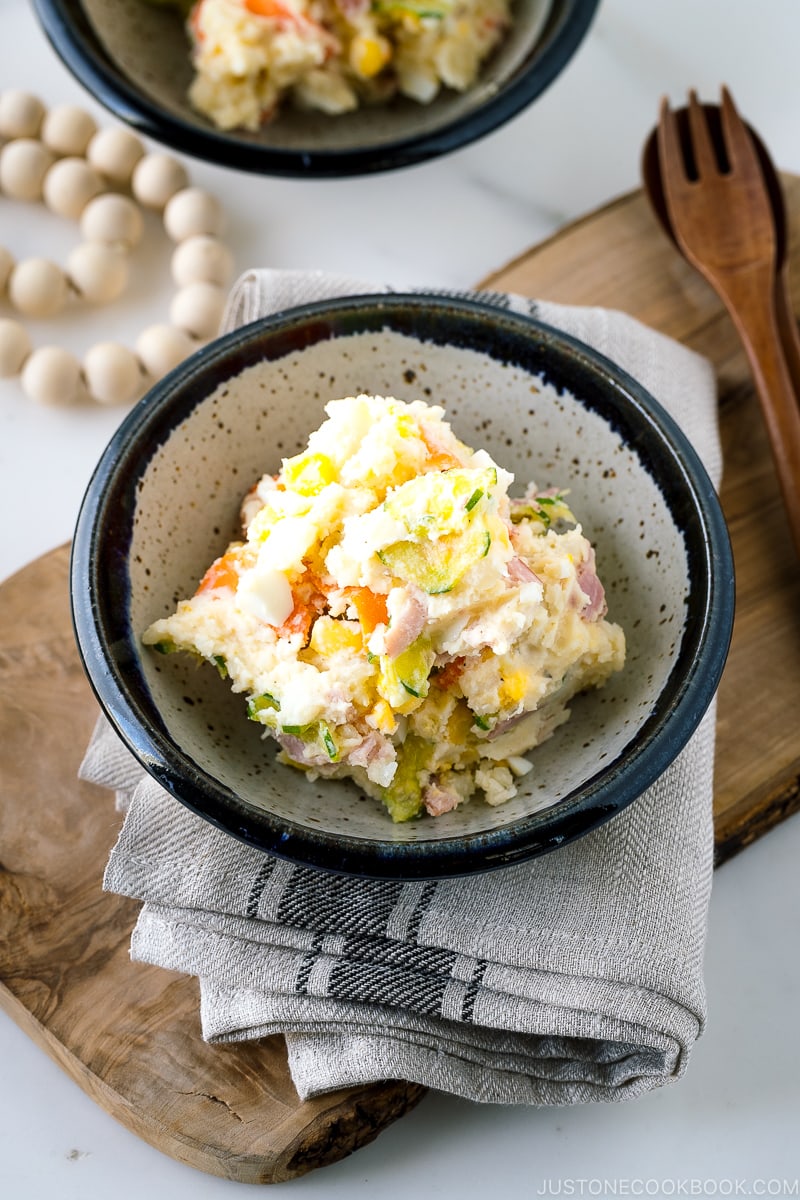 The Crowd-Pleasing Japanese Potato Salad
Japanese Potato Salad is made with mashed potatoes with the addition of vegetables and sometimes ham, and seasoned with the best-tasting Kewpie Japanese mayonnaise.
When the leftover potato salad gets rolled up with thin sliced pork loin and pan-fried until golden brown, it transforms into another genius recipe at once! The outside is crispy and glazed with the caramelized teriyaki sauce while the inside bursts with creamy textural contrast.
The potato salad pork rolls are seriously good that I actually look forward to making (and eating) them. So I always double the amount when I make Japanese potato salad. That way, I'd get two delicious dishes one after another.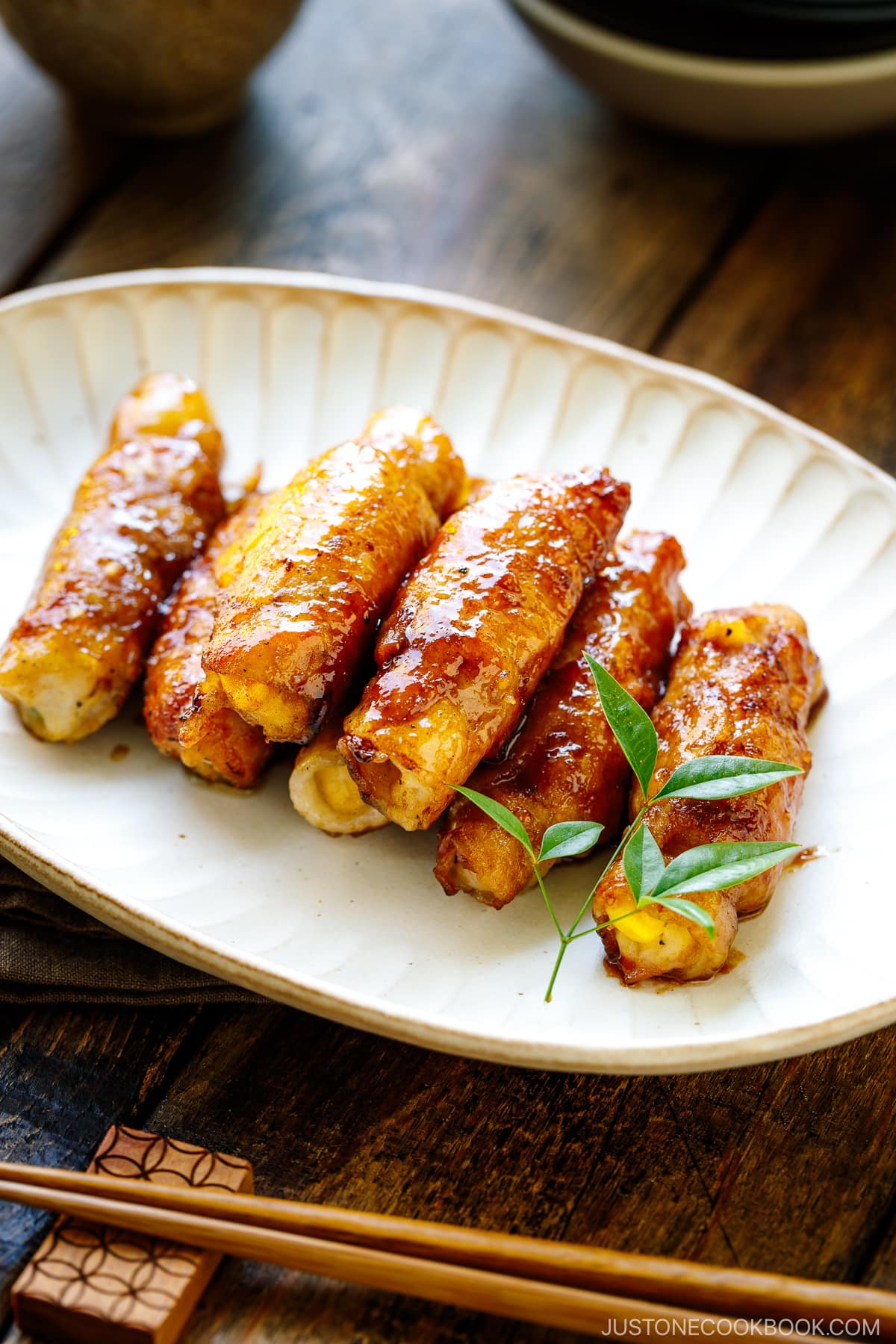 How to Make Potato Salad Pork Rolls
Ingredients You'll Need
Thinly sliced pork loin – If you can't get thinly sliced pork loin (usually the package label says it's for Shabu Shabu), you can thinly slice the pork loin yourself following my tutorial.
Potato starch (cornstarch) – Potato starch is commonly used in Japanese households, but you can certainly use cornstarch.
Teriyaki sauce: sake, mirin, soy sauce, sugar, and ginger.
Substitution Tips and Variations
No Japanese potato salad? You can roll up mashed potatoes (similar to this recipe) or blanched vegetables (carrots, green beans, asparagus to start) in the thinly sliced pork.
Pork – You can totally swap it with thinly sliced beef. In Japan, we use both interchangeably.
Teriyaki sauce – you can use honey instead of sugar, and you can add garlic instead of ginger, etc. The basic teriyaki sauce does not include garlic or ginger, but you can make variations of teriyaki sauce based on how the sauce is used in the recipe.
The Cooking Steps
Roll up the Japanese potato salad with thinly sliced pork loin.
Coat the pork rolls with potato starch.
Pan-fry the pork rolls until golden brown.
Add the teriyaki sauce and coat well with the sauce.
Serve immediately.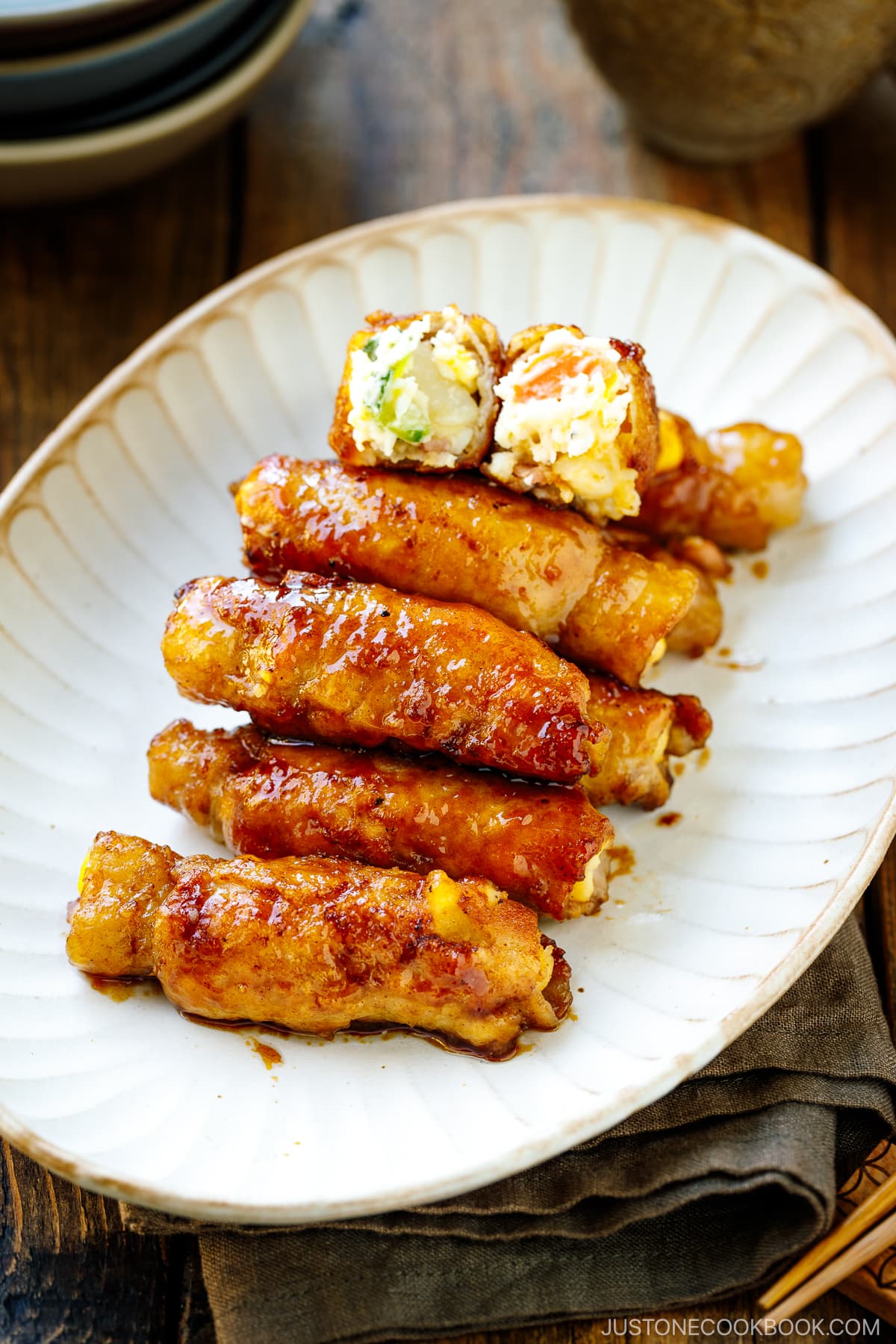 Cooking Tips for Pork Rolls
Do not overstuff the pork rolls. To make sturdy pork rolls, you need to roll up multiple times so that the potato salad is in multiple layers of pork. This creates more solid rolls. When you overstuff the filling, the layers will be thinner and the pork rolls can fall apart.
Coat with potato starch (cornstarch). Two reasons why we do this: 1) locking in the moisture and juice from the meat, yielding more juicy meat, and 2) potato starch will help thicken the teriyaki sauce once the sauce is added.
Do not touch too often while pan-searing. I'm guilty of this as I'm impatient. But remember, when you agitate or pick up the pork rolls with chopsticks or tongs, the pressure squeezes out the potato salad filling. Therefore, take a breath and let the pork rolls take time to sear on each side.
Turn off the heat as soon as the sauce achieves desirable thickness. Because of the potato starch coating and sugar in the sauce, the sauce will thicken fast as you cook. If you want to drizzle some sauce over the finished dish, turn off the heat after the sauce gets sizzling. Then, you can coat the pork rolls well with the sauce with the remaining heat. I prefer thick and caramelized sauce around the pork rolls and do not need the extra sauce, so I continue to cook a bit longer.
Other Pork and Beef Rolls You'll Enjoy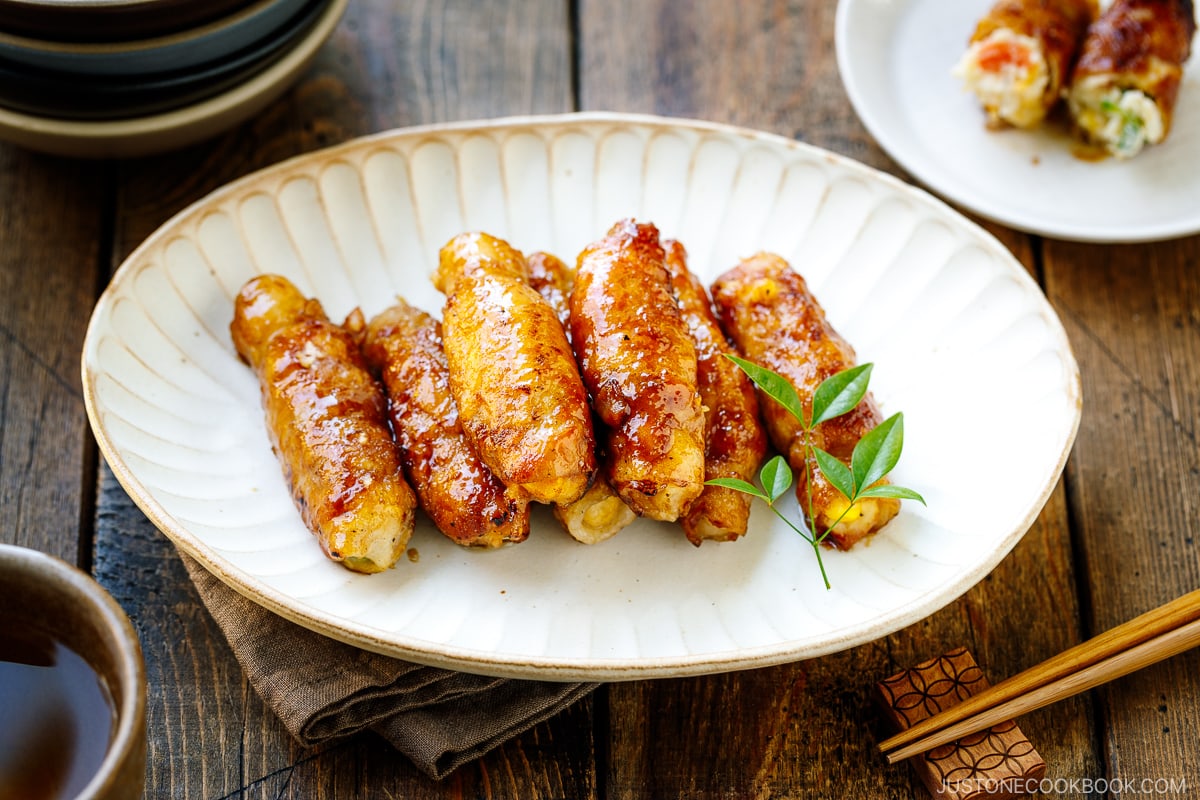 This is my mother's recipe, and I remember my dad, my brother, and I used to love eating this. It's one of the dishes that I still feel nostalgic about. I hope you enjoy these yummy pork rolls!
Wish to learn more about Japanese cooking? Sign up for our free newsletter to receive cooking tips & recipe updates! And stay in touch with me on Facebook, Pinterest, YouTube, and Instagram.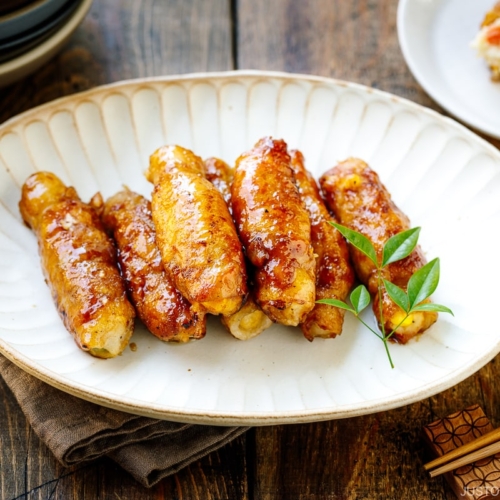 Potato Salad Pork Rolls
These sweet and savory pan-fried pork loin rolls are filled with creamy Japanese potato salad and glazed with homemade teriyaki sauce. This Japanese home-cooked dish is great for dinner or your bento lunchbox!
Japanese Ingredient Substitution:
If you want substitutes for Japanese condiments and ingredients, click
here
.
Prevent your screen from going dark
Instructions 
Gather all the ingredients. I preportioned the potato salad into 8 balls with a small cookie scoop.
To Make the Teriyaki Sauce
Combine 2 Tbsp sake, 2 Tbsp mirin, 2 Tbsp soy sauce, and ½ Tbsp sugar in a bowl. Stir to dissolve the sugar.

Grate

1 knob ginger

(I use a ceramic grater) and add to the sauce in the bowl.
To Prepare the Pork Rolls
Place 8 slices thinly sliced pork loin on the working surface. Portion 8 heaping Tbsp Japanese potato salad and place 1 heaping Tbsp at the bottom end of each pork slice. Then, gently but tightly roll them up. Tip: Do not overstuff the rolls or they may fall apart.

Gently dredge the pork rolls in ¼ cup potato starch or cornstarch and remove any excess starch.
To Cook the Pork Rolls
Heat a large frying pan over medium heat. When it's hot, add 1 Tbsp neutral oil to the pan and evenly distribute it. Gently place the pork rolls seam side down in the pan and cook until all sides are golden brown, turning them with a pair of chopsticks or tongs. Tip: Try not to touch them too much; the pressure you add to the pork rolls may squeeze out the potato salad.

Since the meat is very thin, it cooks pretty quickly. If the rolls are browning too fast, lower the heat. If your pork loin slices are longer or thicker than mine, you may want to reduce the heat to medium-low and cook, covered, for 1–2 more minutes, making sure the inner layer of pork is cooked through.

When the pork rolls are golden brown, add the teriyaki sauce and quickly shake the pan to distribute the sauce. If you want to drizzle the teriyaki sauce over the pork rolls for the final presentation, turn off the heat now and remove the pan from the heat. With the residual heat, coat the Potato Salad Pork Rolls with the sauce and transfer to a serving dish with the pan sauce poured on top.

Alternatively, you can skip the extra sauce and continue to cook on medium-low heat. Rotate the pork rolls in the teriyaki sauce to coat and season them well. When the sauce has thickened, turn off the heat and transfer the rolls to a serving dish.

Enjoy!
Nutrition
Nutrition Facts
Potato Salad Pork Rolls
Amount per Serving
% Daily Value*
* Percent Daily Values are based on a 2000 calorie diet.
©JustOneCookbook.com Content and photographs are copyright protected. Sharing of this recipe is both encouraged and appreciated. Copying and/or pasting full recipes to any website or social media is strictly prohibited. Please view my photo use policy
here
.
Editor's Note: This post was originally published on September 2, 2011. It's been republished with updated content and new images on June 21, 2023.