Don't throw away your watermelon rinds! With a few condiments, you can turn them into incredibly delicious Pickled Watermelon Rinds. I use Japanese seasonings and a simple pickling method to make these sweet and crunchy pickles. They are perfect as a dinner side dish or cocktail hour snack.
One of the fun recipe experiments I did recently was to turn watermelon rind into pickles. Yes, the white part right underneath the green skin of the watermelon. Once pickled, they are sweet, crunchy, and very addicting. My whole family is blown away by how amazing Pickled Watermelon Rind (スイカの漬物) tastes. And now we feel like we are enjoying the entire watermelon without waste.
Is Watermelon Rind Edible?
Everyone in my family is crazy about watermelon. They would devour the fruit regardless of the flavors, but I, on the other hand, only like my watermelon when it's really sweet, like pure sugar. I will only eat the red flesh and not touch any part that is 1/2 inch closer to the rind. Call me spoiled!
So when a few Just One Cookbook readers reached out to me this summer and asked about the Pickled Watermelon Rind recipe, I was intrigued. Who would eat the rind?! But they've got my attention. I had to check it out myself and discovered some whole new ways of eating watermelon rind.
These watermelon rind pickles turned out to be one of the most delicious things. I am still shocked that I had missed out on such a delightful dish for 4 decades of my life! It also has taught me to appreciate some of the lesser-appreciated parts of fruits and vegetables.
Benefits of Watermelon (Rind and All)
Watermelon is great for hydration since it is 90 percent water, which makes it low in calories; only 49 calories per cup. Combined with the amount of fiber it has, the fruit is a great snack when you don't have much appetite during the hot and humid summer months.
Did you know watermelon, rind and all, helps reduce blood pressure? Another benefit of watermelon is that it's a rich source of fiber, which aids in digestion. It fills up your tummy and reduces the risk of developing diseases of the colon.
In short, watermelon including rind is good for you, and you save some compost/garbage space by enjoying the delicious watermelon rind.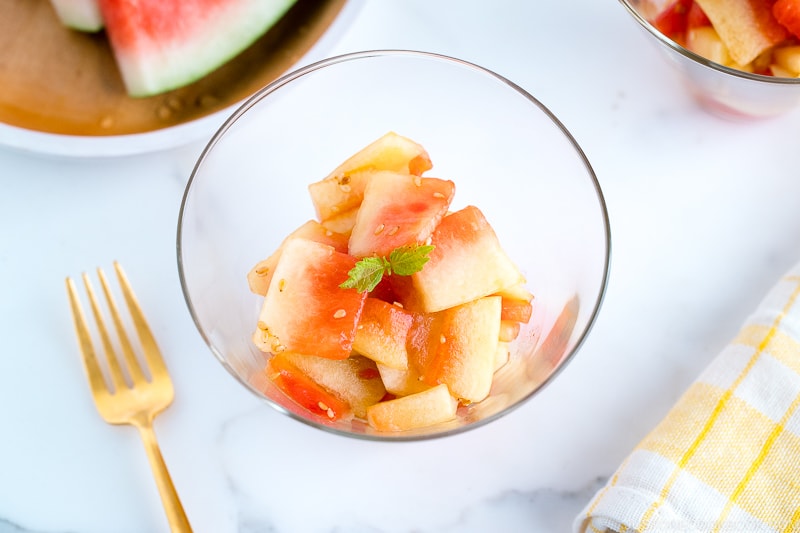 How to Make Pickled Watermelon Rind
The Ingredients You'll Need
I've tried a few variations for the pickling solutions, but I'm sharing what my family enjoyed most. It only requires:
Rice vinegar
Sugar
Soy sauce
Sesame oil
Sesame seeds
Unlike the typical American method where you include spices and stronger-flavored vinegar, this pickled watermelon rind recipe is ridiculously simple. Bonus: You don't need to boil the brine, so it is quick and fast.
Feel free to play around with the ratio so you don't get bored with the same flavor. Even just rice vinegar and sugar make delicious pickles.
The Cooking Steps
Cut the rind into the same size and shape.
Pickle/marinate in the seasonings overnight.
Enjoy!
I learned that pickled watermelon rind is also popular in the Southern region of the US. However, it is quite different in terms of how we would make the pickles in Japan. The Japanese version uses a simple method and relies on just a few basic seasonings for the pickling marinade. If you've been making pickled watermelon rind for a long time, I hope you give this one a try too!
3 Important Cooking Tips
1. Include small parts of the red flesh.
When you serve the watermelon for eating, keep some red parts attached to the rind. They add really nice natural sweetness to the pickles!
2. Cut the rind into a similar size and shape.
This is a basic cooking tip and applies just the same to the pickle recipe. It's important that each piece should take up the same amount of pickling time. This will solve the equation and even taste.
3. Use a plastic bag for even pickling.
Normally, I'm not in favor of using a plastic bag and try to use a glass container or mason jars to pickle. However, considering that you will be cutting quarter, half, or whole melon at once, it makes the pickling much easier when you use a resealable plastic bag. You won't end up with so many mason jars, and you would need much less amount of condiments for the recipe.
Also, with the plastic bag, you can rub the watermelon rind and pickle solution easily, and evenly distribute all around the rind, which makes better pickles. I usually flip the bag every few hours.
Best Ways to Enjoy Pickled Watermelon Rind
I've been serving the pickled watermelon rind as a side to complement rice or a dinner meal. I think it would also make a great beer snack, just like edamame! The thought of it is enough to make me drool.
More Summer Recipes You'll Love
Wish to learn more about Japanese cooking? Sign up for our free newsletter to receive cooking tips & recipe updates! And stay in touch with me on Facebook, Pinterest, YouTube, and Instagram.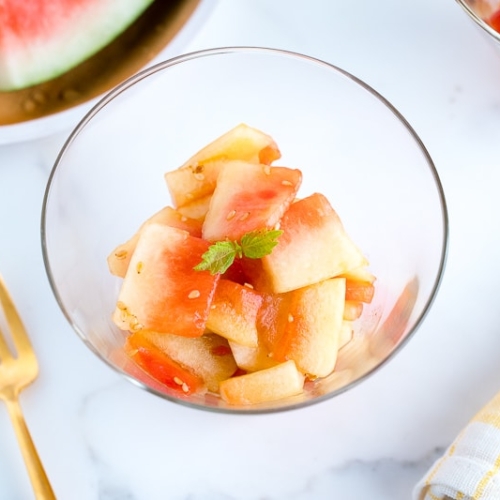 Pickled Watermelon Rind
Don't throw away your watermelon rinds! With a few condiments, you can turn them into incredibly delicious Pickled Watermelon Rinds. I use Japanese seasonings and a simple pickling method to make a sweet and crunchy pickle that's perfect as a dinner side dish or cocktail hour snack.
Servings: 6 (as side dish)
Ingredients 
For the Pickling Solution
Japanese Ingredient Substitution:
If you want substitutes for Japanese condiments and ingredients, click
here
.
Prevent your screen from going dark
Instructions 
To Make the Pickling Solution
In a resealable plastic bag, combine 4 Tbsp rice vinegar (unseasoned), 4 Tbsp sugar, 2 Tbsp soy sauce, 1 Tbsp roasted sesame oil, 1 Tbsp toasted white sesame seeds, and a few strips of ginger (optional). Mix well to dissolve the sugar. Set aside. Tip: Read the reason why I use a plastic bag in the blog post.
To Separate the Watermelon Flesh and Rind
To Slice the Rind
Cut off and discard the tough, dark green skin from the white part of the rind.

Now, slice the white watermelon rind into a uniform size and shape for optimal pickling. For this batch, I used thin slices about ¼ inch (6 mm) thick, but you can cut yours into cubes or other shapes. We now have about 6 cups (803 g or 1.8 lb) of watermelon rind without skin.
To Pickle the Rind
Add the rind slices to the resealable plastic bag with the pickling solution.

Seal the bag, pressing out as much of the air as possible so that the rind slices are immersed in the pickling solution. Rub through the sealed bag to distribute the pickling solution into the rind slices. Then, let it pickle in the refrigerator for at least 12 hours or overnight.
To Serve
Remove from the pickling solution and transfer to a serving bowl. Serve Pickled Watermelon Rind as a side dish to complement rice, barbecue, or a meat main dish. It also makes a great snack with beer or cocktails.
Nutrition
Nutrition Facts
Pickled Watermelon Rind
Amount per Serving
% Daily Value*
* Percent Daily Values are based on a 2000 calorie diet.
©JustOneCookbook.com Content and photographs are copyright protected. Sharing of this recipe is both encouraged and appreciated. Copying and/or pasting full recipes to any website or social media is strictly prohibited. Please view my photo use policy
here
.
Editor's Note: This post was originally published on September 16, 2020. It's been republished with more content on June 26, 2023.