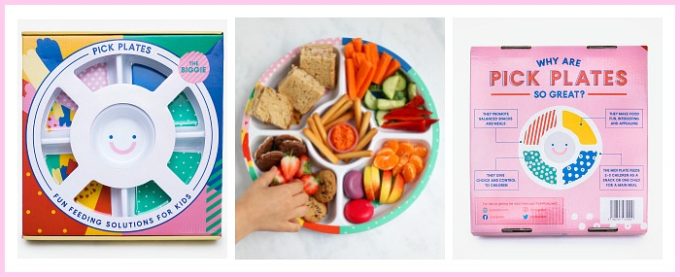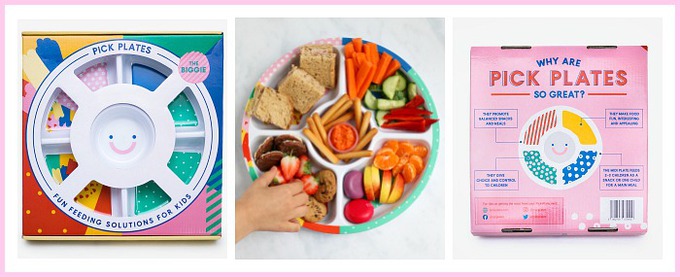 Want to save yourself some time on busy mornings? Then check out our list of 15 favourite easy make-ahead breakfast recipes & ideas for kids!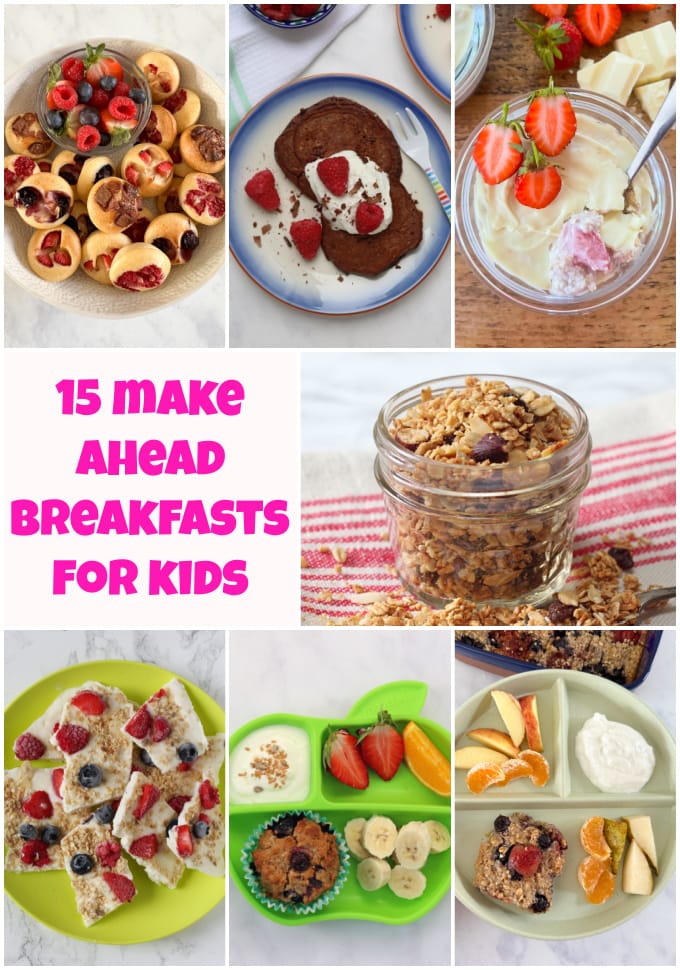 Are you stuck in a breakfast rut? Serving the same old breakfasts day in day out? 
If you've got kids, then chances are your morning routine will be hectic!
Getting everyone washed, dressed, fed and out the door on time sometimes feels like an impossible task.
And so it's no surprise that we quite often fall back on serving the same old easy breakfasts that we've been serving for what feels like forever!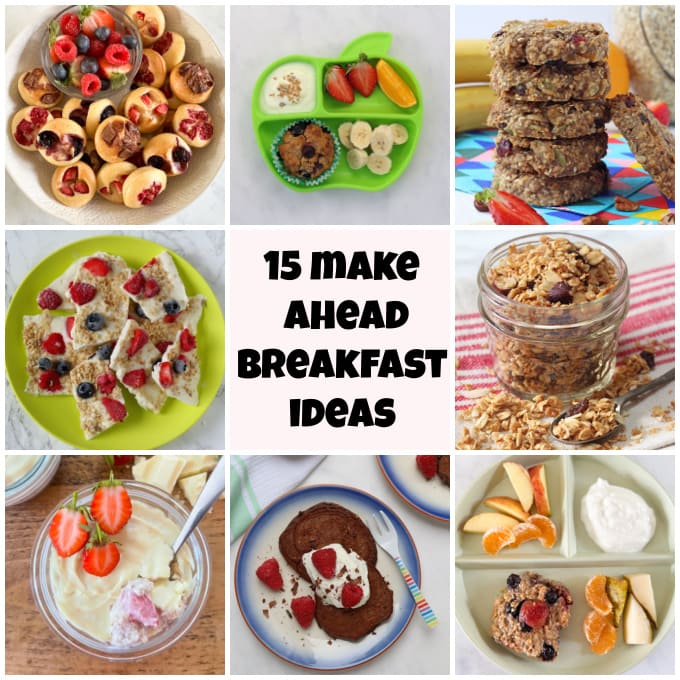 Our Easy Make-Ahead Breakfast Recipes & Ideas For Kids
Don't worry we've got you! With a little bit of meal prep you can be serving up a whole new repertoire of healthy breakfast ideas without the stress first thing! 
All these breakfast recipes can be made in advance and stored in the fridge or freezer and are perfect for starting your kid's day on the right foot!
​I've been making these sheet pan pancakes  for a few years now but these Mini Pancake Bites have now become a firm favourite with the kids. Make a double batch of the pancake batter and you'll have loads to freeze ready to whip out when you need them!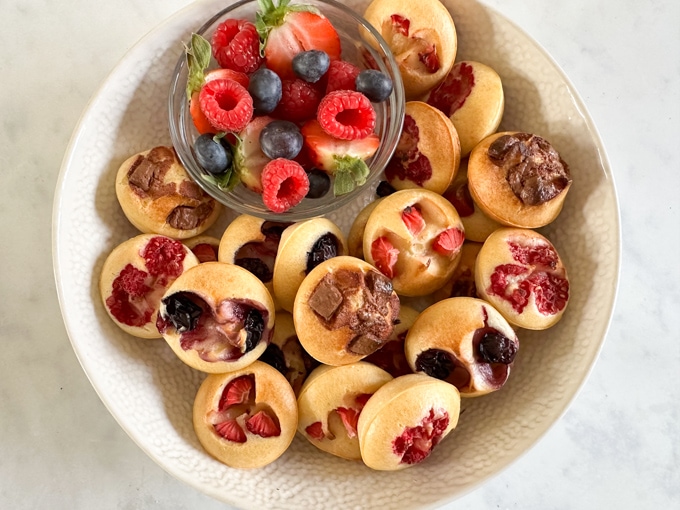 These deliciously soft oat bars are full of wholesome ingredients and are perfect served with fresh fruit and yogurt.
Make a batch of these and they will keep in the fridge for up to 3 days but they can also be frozen and defrosted in the fridge overnight, all ready for breakfast the following morning.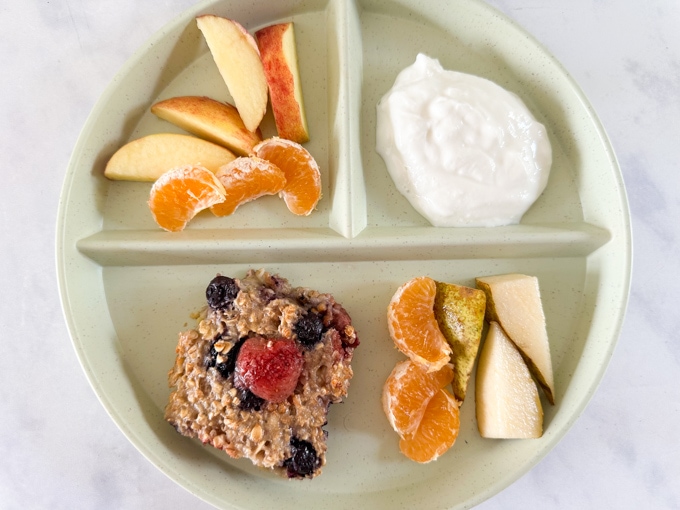 ​Overnight Oat Recipes are  brilliant make-ahead breakfast options as there are so many different flavour combinations that you can try and they really are so easy to get ready and then stash in the fridge. I've made this recipe a little bit special though with a white chocolate shell on top! Still healthy but just a little bit fun and indulgent for kids!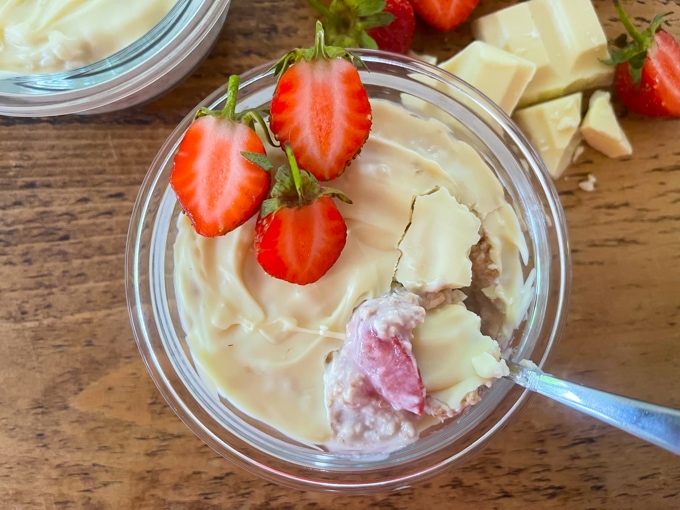 Frozen yogurt bark has been around for years now and this Raspberry Ripple Frozen Yogurt Bark is always a huge hit with my kids and their friends over the summer.
So with summer very much on the horizon and the promise of warmer weather, I wanted to come up with a breakfast version of one of their favorite summer snacks.
My Breakfast Frozen Yogurt Bark has a novelty factor that kids will love but is full of healthy ingredients.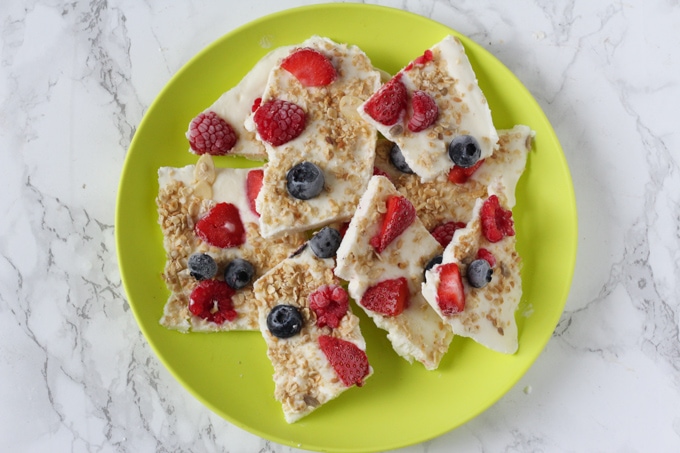 ​Since our weaning days, Banana Pancakes have been a huge hit in our house so I've expanded on one of my earliest recipes to create these Chocolate Raspberry Pancakes now that this kids are a bit older.
These pancakes whilst seemingly indulgent are actually a really healthy and hearty breakfast that will keep the kids full for hours.
Make a batch of these at the weekend and then freeze them for a filling breakfast during the week.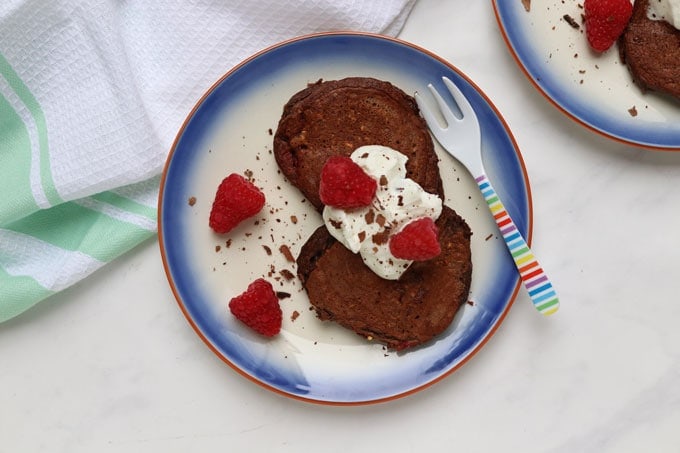 These bars are packed with porridge oats which are great for slow-releasing energy and are full of fibre too.
The coconut flakes give them a slightly tropical feel perfect for summer.
They are sweetened with bananas and just a little honey and contain healthy plant-based fats from the almond butter and coconut milk.
Make up a big batch of these and pop them in the freezer!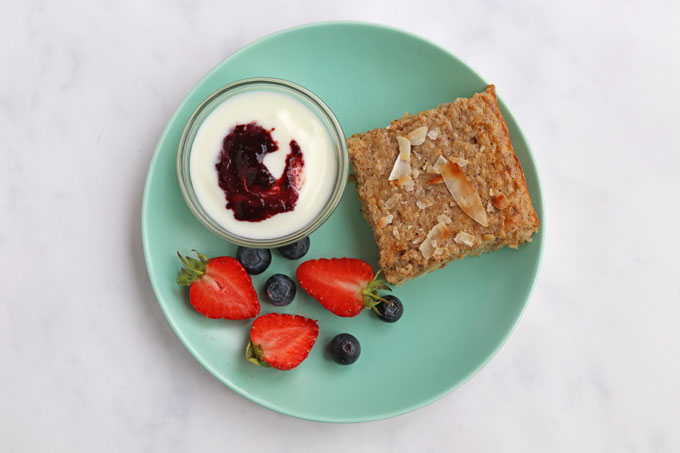 If your kids aren't fans of cereal then these healthy muffins might be the solution to getting them enjoying all the whole grains, vitamins and iron that are contained in Weetabix!
Stash in the freezer then defrost overnight when you need them. The perfect make-ahead breakfast served with a side serving of yogurt and fresh fruit!
These breakfast cookies are one of our go-to breakfasts on busy mornings!
If you aren't sure about cookies for the kids for breakfast, then rest assured that these cookies are packed with slow releasing carbs and fibre too.
Perfect for filling up little tummies at breakfast time!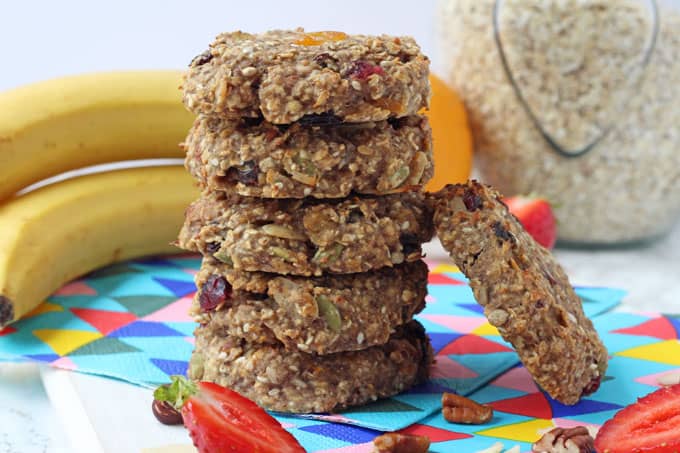 A delicious and filling breakfast bar recipe, packed full of healthy ingredients such as quinoa, oats, bananas and fresh strawberries.
These bars make the perfect nutritious start to the day for the whole family and are a great grab and go breakfast!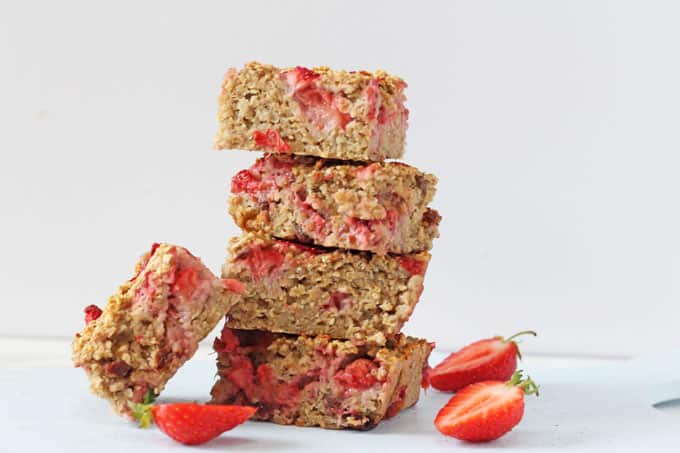 I know that you can easily buy granola in the supermarket or grocery store buy boy is that stuff expensive these days!
We eat a lot of granola in our housed and we can easily get through a bag of granola in a week between the four of us!
Not only is this homemade granola cheaper, it only takes 5 minutes to make and you can customise it depending on what your kids like in their granola!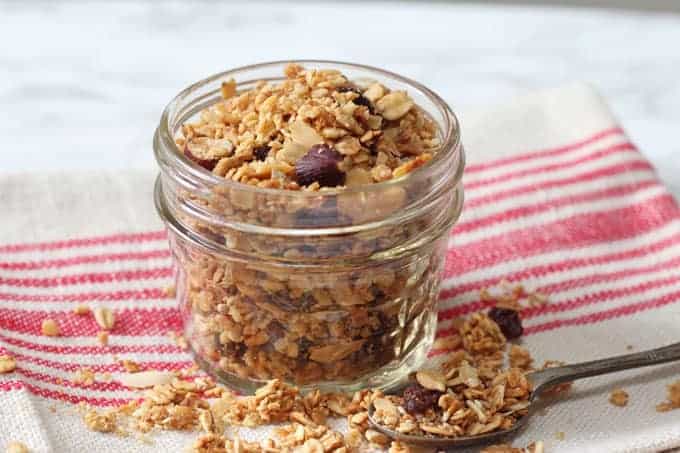 When I'm looking for quick breakfasts, smoothies are one of my go to's.
They are a brilliant way of packing in loads of healthy and nutritious fruits, vegetables, nuts, seeds and even grains (that they might otherwise refuse if served on a plate!) into your child's diet.
But measuring out all the ingredients and chopping fruit and veg can be time consuming when morning's are already hectic.
So put some of these smoothie bags together at the weekend and pop them in the freezer ready to go for the week ahead!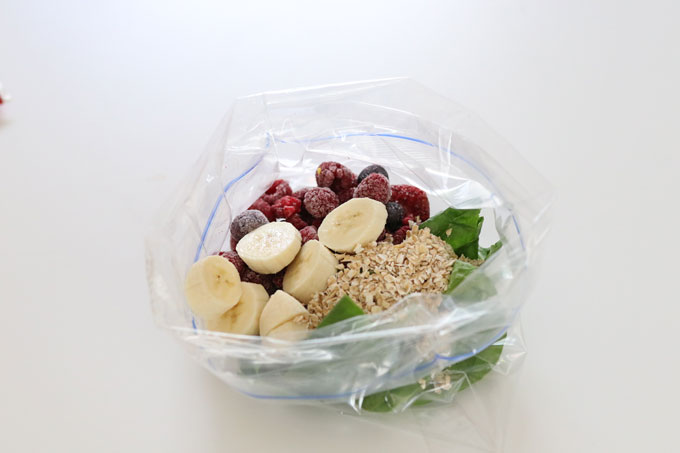 One of my favourite get ahead breakfast ideas is muffins!
These muffins are made with wholemeal flour and oats which will help to fill kids up and keep them full until lunchtime.
They also contain yogurt for a protein boost and are sweetened only with bananas and a little honey.
Make these at the weekend and then have them on hand to serve up during the week!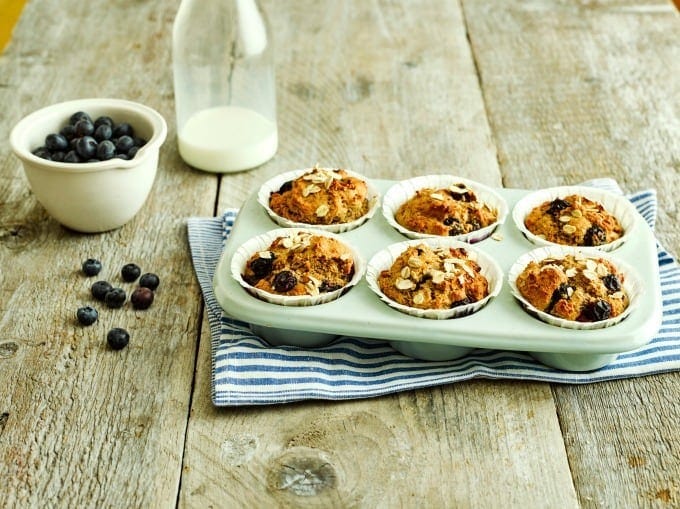 These bars are made with oats and quinoa, along with tinned or canned peach slices, making them really filling and the perfect healthy start to the day for the whole family. 
You can then keep them in the fridge for up to 3 days, on hand for a grab-and-go breakfast in the morning.
They can also be frozen for up to 6 weeks and left out to defrost overnight. If you don't want to eat them cold they can easily be reheated in the microwave.
I'm sure most kids would agree there's no better way to start the day than with a cookie!
Made predominantly with oats, these cookies are packed full of slow releasing carbs which will help keep you and your little ones full until lunch time.
They also contain a bunch of super nutritious ingredients including flaxseed, goji berries, pumpkin, sunflower and chia seeds making these probably one of the healthiest cookies I've ever had!
​If your kids prefer savory breakfasts then these egg muffins are a great way to get eggs on the menu in mere minutes!
They will keep in a sealed container in the fridge for up to 3 days so can be prepped ahead of time.
Serve with a side of chopped fruit and veggies for the kids fresh avocado for the adults!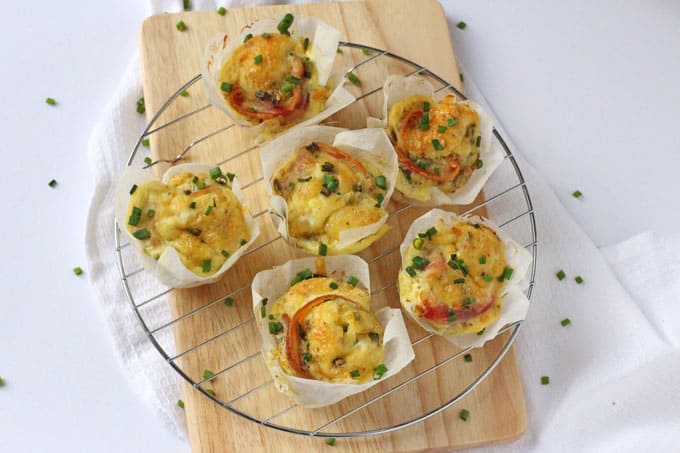 If you try any of these make ahead breakfast recipes, please do leave me a comment and share your pictures with me on Instagram. I always love to see your creations!
ORDER my new book THE FUSS-FREE FAMILY COOKBOOK out now. 100 healthy easy and quick recipes that the whole family will enjoy!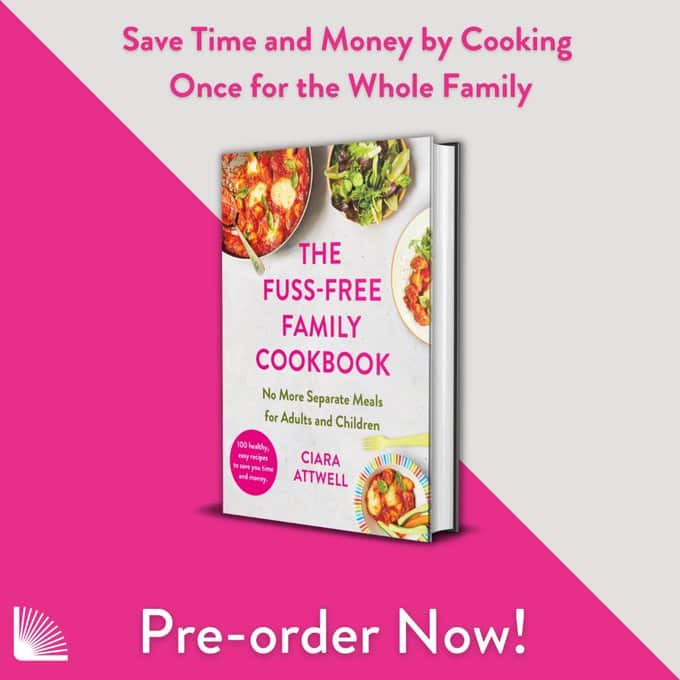 If you enjoyed our 15 Easy Make-Ahead Breakfast Recipes & Ideas For Kids, then you might also like the following recipe collections:
How To Batch Cook & Freeze Snacks
My top tips on how to batch cook and freeze snacks for kids. Save time, money and stress by batch cooking these delicious family friendly treats and storing them in the freezer for busy days.
20 Of The Best Non Sandwich Lunchbox Ideas
20 Delicious and Healthy Lunch Box Ideas for Kids That Aren't Sandwiches!